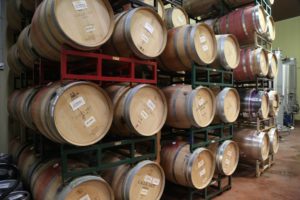 Calla Lily Estate & Winery traces its recent history back to the property's previous owner Budge Brown. Budge built the winery on site after he purchased the existing vineyard. He produced wines to raise money to fight breast cancer – and the images of a number of breast cancer survivors were used on their labels. Tragically Budge died when he crashed his single engine plane into the El Dorado National Forest in 2011.
The property sat vacant for several years before Hong Kong based friends and now business partners Anthony Fung (owns a variety of businesses in Hong Kong including a wine distribution company, CCF Wines) and Andy Chui (a mortician) began looking for property in the Napa Valley. Through a local real estate agent, they were connected with one of the most experienced wine consultants in the Napa Valley, Cary Gott. When providing Fung and Chui information about local vineyards, Cary learned of the former Budge Brown property.
Twenty acres of vines were already established with the oldest vines dating back to 1995 including a small block planted on AXR rootstock that has never been infected with phylloxera. The vineyard is at an elevation of around 800 feet with vines planted east on the hills backing up against the Howell Mountain appellation.
This is a quieter part of the Napa Valley that few first-time tourists to the region ever see – a part of the county that is certainly worth seeking out. It is rural with few wineries and a nice balance of natural landscape and vineyards. It is more likely you will hear birds rather than the noises of passing vehicles in this part of Napa.
Cary's contributions to the wine industry are significant; he is a 4th generation winemaker (his father was winemaker and president of Inglenook in the 1960s). Cary grew up on the grounds of Petri Winery, just outside of tiny Escalon in California's Central Valley. Initially wanting to flee the wine business he chose to study architecture at USC in Los Angeles. In 1965 the nearby Watts Riots happened and combined with the tensions in the city and not so sure about his continued interest in architecture, he switched schools, moved to Davis where he enrolled at UC Davis. He remembers taking a class by prominent wine professor Maynard Amerine and being completely engrossed by what he was learning. Wine soon became a passion. His first job in Napa Valley was working at Sterling Vineyards in 1969 with founding winemaker, Ric Foreman. Interestingly, some of the first Sterling wines were stored at Schramsberg Vineyards until the caves were completed at Sterling. Sterling's hospitality center and winery on top of the hill were not yet completed at that time.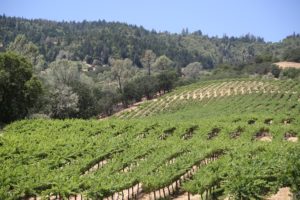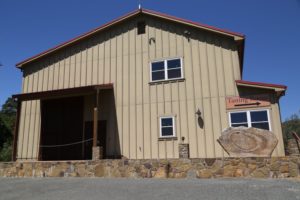 Cary founded Monteviña Wines in Amador County in 1971 (in the basement of his house) focusing on Zinfandel and was their winemaker and president until 1982. Incidentally of historical interest, winemaker Scott Harvey was his first hire (see our photos of this winery at the end of this review). Not one to sit still – Cary was winemaker and President of Corbett Canyon Vineyards in San Luis Obispo from 1983 to 1986. At the time they were a startup winery – and over the years morphed into a very successful brand – their success came quickly; Cary recalls over 100,000 cases were being produced in their early years. Later he worked for Seagram Classics Wine Company overseeing production for both The Monterey Vineyard and later Sterling and Mumm Vineyards.
And Cary's last name is probably very familiar to those who live in the Napa Valley – Cary partnered with his sons Joel and Duncan to lease what was Taylor's Refresher in 1999 – now Gott's Roadside Cafe in St. Helena. As of 2018 they now operate 7 Gott's from Napa to parts of the San Francisco Bay Area.
Cary founded Vineyard and Winery Estates in 1997 – offering his consulting services for both brands and wineries. Today Cary oversees the wine making at Calla Lily. His philosophy of wine making is that one is not going to get more out of grapes then what they give you" referring to the importance of using grapes from premium vineyards. When he was brought on to manage the Pope Valley estate, he immediately set about improving the quality of the vines – taking it "up several notches" as he recalls.
Both Fung and Chui chose the image of a Calla Lily for their brand – this flower represents elegance, beauty and in China, is the typical flower you give someone when in love. Cary has worked with long time graphic artist Lin Weber – the image she created mirrors the elegance of the real flower. The first vintage of Calla Lily was in 2011 from purchased grapes – by 2014 their production was entirely from their Pope Valley Estate.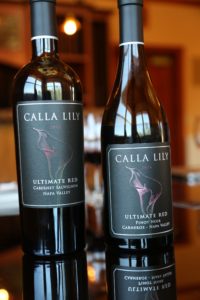 The 2014 Calla Lily Ultimate Red Pinot Noir was sourced from the Truchard Vineyard in Napa's Carneros district. Dynamic in its aromatic presentation – shows bright red fruit, an earthiness, hints of mushroom, white pepper and spicy plum. Mostly red fruit shows on the palate including flavors of raspberry and strawberry, complemented by with baking spices. Excellent acidity with a lively finish featuring earthy somewhat dusty tannins. Soft, yet noticeable these persist for some time.
The 2013 Calla Lily Ultimate Red Cabernet Sauvignon showcases the aromatic power that this vintage often brings. Complex and with depth it reveals herbal notes, a hint of cigar smoke, red licorice, red cherry and currants. Very bright aromatics. Darker in fruit flavor on the palate then what shows on the bouquet, it offers flavors of black licorice, blackberry, plum and hints of cedar. The texture of the tannins feel good – they are slightly chewy and long lasting on a persistent finish.
And their flagship wine, the Audux means bold or courageous in Latin and is a tribute Cabernet Sauvignon to all the wine pioneers who have left their mark in the Napa Valley starting with George Yount who planted the valley's first wine grapes in the 1830s. The 2012 Calla Lily Audax reveals bright fruit including blackberry and boysenberry with a whisper of brown chocolate. Very pretty aromatics. A surprising softness on the entry, this wine is mouthwatering juicy with excellent integration of fruit and structure. Shows blackberry, black pepper and tobacco leaf with tannins that run the length of the palate and persist for quite some time.
Total production annually is around 3000 cases with the majority of the wine distributed to China and select other Asian markets. For more information or to inquire about distribution, visit: www.callalilywines.com
Calla Lilly Estate

Montevina (now Terra d'Oro Winery), Amador County