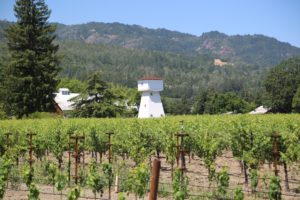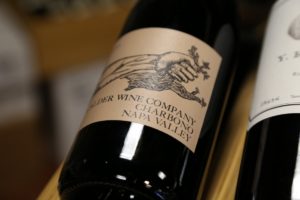 Calder Wines. Winemaker Rory Williams grew up in Napa Valley; both his parents are involved in winemaking having co-founded Frog's Leap Winery and his mother, Julie Johnson later started Tres Sabores – each located in Rutherford. Like many children of vintners in the Napa Valley, they go off to college (often rather far away) but then ultimately return to their roots in the wine country. Rory attended a small college in the eastern United States; during college he took a year to work several international harvests – in Italy and in Argentina but eventually returned to the Napa Valley to work at Frog's Leap Winery and start his own label, Calder Wine Company (his middle name).
The site for some of the fruit sources for the Calder wines is the old Rossi Ranch in Rutherford. The Rossi Family purchased this in 1903 and managed it for more than 100 years until Frog's Leap Winery purchased the 52-acre ranch in 2007 from the last remaining Rossi heir, Louise Rossi. Rory remembers spending time with Louise – especially on Sunday mornings and being enthralled by her stories about "old Napa."
Frog's Leap also purchased grapes from her for many years. Other vintners would cajole her with presents – and request to be first in line to purchase the ranch, should she ever sell it. When hearing a request like this, she would immediately call up her lawyer and tell him to add these certain names to the "do not sell to list". Fortunately the Williams never asked her to buy her property, they developed a good relationship with her and as a result, were never added to the "do not sell to list"! Louise died at the ripe old age of 97 in 2007.
Upon purchase of prime vineyard land such as this (in the heart of Rutherford), most owners would have immediately cleared out the old heritage varieties that were growing here. The Williams Family and the ownership of Frog's Leap Winery did no such thing. The Williams Family strongly respects Napa's winemaking heritage and set to work preserving much of the historic vineyard and its old head pruned vines.
Today much of the ranch still grows varieties that were common in Napa decades ago, but today are difficult to find in valley. Varieties such as Riesling, Carignane, Charbono, Mouvedre and even a small block of Napa Gamay still grow here. Rory's focus with farming this property is to preserve and pay respect to Napa's winemaking heritage.
Original head pruned vines are carefully managed – certain blocks have been replaced, but often with varieties that were once common in Napa. The old style of farming is thriving here – their grapes are dry farmed (there are no water pipes at all between the vines). Each head pruned vine is centered by a single redwood stake. They practice traditional and organic methods of farming.
The still standing Rachel Rossi Winery is the old physical centerpiece of the Rossi Ranch. This historic winery is like walking back into time – an extremely rare glimpse into a previously working Napa winery that was active from the 1930's through the 1960s' – which has not yet been restored. There are very few un-restored original winery buildings in Napa. The iconic and picturesque water tower stands above the winery and has certainly drawn more than a passing glance from nearby motorists on Highway 29.
Vintage notes still intact from many years ago hang on the walls – one entry from the early 1960's noted: "Petite Sirah came in this morning, good condition". The original presses and large redwood tanks stand where they were last used. Writing in original chalk still shows on some of the tanks. Based on the proximity of this winery to the Napa train tracks (the tracks where the Napa Wine Train now operates on), a pipe underground used to connect the winery to the tracks. Railcars in the 1930's and 1940's used to stop and load up on wine – piped directly from the winery tanks. Imagine doing that today – although passengers of the wine train probably wouldn't complain!
Calder's first commercial vintage dates from 2009. Rory's first Riesling is from 2011 and is from 300 vines, all of which are at least a minimum of 50 years old. Rory likes "vine age" with this particular variety – and the aromatic depth it brings to his wines. The petrol flavor and other nuances that this variety is known for when it ages, ie, the "Riesling" character, requires plenty of sunshine during the growing season to develop the grape's "sunscreen" as he calls it. With that said, Riesling is a variety that will raisin and dimple quickly – so harvest dates must always be carefully assessed. It is his job to find that balance between too ripe and ready to pick.
Rory is living the life of what in French is referred to as a "Vigneron" – someone who not only is personally involved in tending to the vines but also is the winemaker – and an individual who we might add, is viticulturally wise beyond his years. In addition to operating Calder wines, he works with his family at Frog's Leap Winery – spending most of his time working with vineyard crews among the vines.
The predominately Hispanic vineyard workers as a vital asset to Napa's wine making operations rarely come up in conversation during our interviews for this project. As a result, it is refreshing to hear Rory speak very highly of the Mexican and Mexican American labor force that manages much of the Napa Valley (and beyond) vineyards. He is impressed by the amount of generational and highly specific vineyard knowledge these workers possess. They can quickly look at a vine and know how it was maintained in the past year and then know exactly what to do to prepare it for the next year's growth. Rory works directly with his family's vineyard crew in the vineyards tending to some of the same vines that produces the grapes for his own wines.
Calder Wines are generally moderate in alcohol (as to are the wines produced by Frog's Leap). Rory believes in farming for flavor which has a direct relationship to lower alcohol and ultimately creating a better-balanced wine. He farms the grapes to be picked when ripe – but not overly ripe.
Select Wines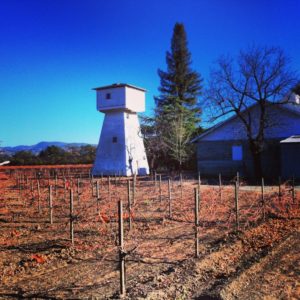 The 2012 Riesling is 12.4% alcohol – initially aromatically it shows notes of pencil shavings, almost a steely component – but as the wine breathes more fruit comes forward – both tropical nuances (honeysuckle) as well as hints of white peach and red apple. This wine has very good acidity which is one of the philosophy cornerstones of all Calder wines. Rory uses both cold and warm fermentation when making this wine – splitting up the lots into both stainless-steel tanks and oak barrels. In part this technique helps draw out the great aromatics that he seeks from Riesling. The wine goes through no secondary (malolactic) fermentation, he does not rack it after the initial gross lees are removed and it is bottled un-fined and unfiltered. Fruit from 300 vines does not go far – usually production is 100 cases or slightly less.
Charbono is a variety that is only grown commercially across about 80 acres in the state of California, of which about half of that comes from the Napa Valley – namely the Calistoga sub appellation. This variety has its historical roots in France (not really grown or commercially produced there much anymore) – aside from California it is also grown in Argentina – which is where Rory became more familiar with it. He has seen references to Charbono back to the 1870's when it was growing in Amador County (foothills of California's Sierra Nevada mountains).
This variety is naturally lighter color – it has inherently good acidity and also produces lighter structure wines. Rory enjoys working with this variety – it can be a challenge to grow as it can be extremely slow to ripen on the vine – and is ripe often when the sugars are still much below other red varieties. It does well in Calistoga because of the diurnal temperature difference between day and night – often 35-50 degrees on a summer day.
While challenging to manage in the vineyard Rory says this variety can be "infuriating to make" in the winery. It goes through so many peaks and valleys during its aging process – one day it will be exquisite showcasing the fruit well – then a week later it will close down and both aroma and flavor will be severely muted. It can be a temperamental variety that as he puts it, "isn't always happy being in barrel"!
He was first turned on to this variety when he and his father tasted a 1964 Inglenook Charbono. His respect for the variety and its history partially comes from the fact a number of well-regarded local Napa winemakers used to make this including André Tchelistcheff (who influenced several vintners in the north part of the valley to plant specific varieties including Charbono) and John Daniel, head winemaker at Inglenook for many years.
The vines Rory sourced from to make his first few vintages of Charbono are all between 40 and 50 years old, growing in Calistoga. In fact, the specific vineyard was planted to this variety to originally provide the fruit source for John Daniel at Inglenook. A block of Charbono is now growing at their Rossi Ranch in Rutherford and moving forward, this will be the vineyard source for this wine.
The 2012 Calder Charbono has terrific aromatics – bright lively red fruit with an earthy component to the bouquet. Delicious is often overused but this wine certainly has an appealing flavor profile. It shows great acidity and an energetic palate that finishes with silky smooth well integrated tannins.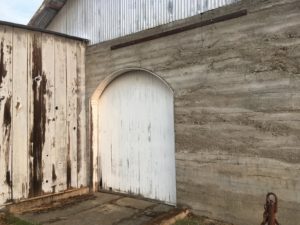 For his Carignane, Rory sources fruit from northern Mendocino County, almost near the Humboldt County line. His wines of this variety tend to be high in acidity and low in alcohol. The 2012 Calder Carignane was 13.4% alcohol. The wine is a dark ruby color in the glass. This vintage (and variety in general) shows a large range of fruit driven and floral aromatics. Blueberry, red fruit – cherry, darker raspberry. The palate is rounded and smooth upon entry with a bit of spice and nuances of white pepper on the finish. This grape is known for its robust tannins – this vintage certainly has plenty of structure, but the tannins are well managed.
Carignane is a variety that grows in leaps and bounds, it is often planted with and near Zinfandel and as Rory says, "when young, it is often the vine you see winding its way up telephone poles or other vertical objects" that happen to be in a vineyard. Like with their other varieties, Calder sources fruit from older Carignane vines. But this is especially important with this variety as when the vines reach a certain age the vegetation and the fruit starts to balance out – theoretically helping result in more balanced wines.
—
With a total production each year hovering around 600 cases, the wine is selectively distributed – to restaurants and premium retail wine shops in California – and in parts of Maryland, Washington DC and Virginia. For more information and to join the mailing list, visit: www.calderwine.com