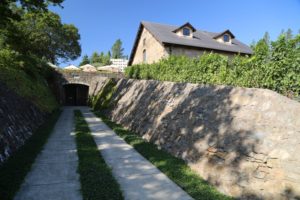 13th Vineyard by CADE. In September 2016 The PlumpJack Group purchased what was Ladera Winery and vineyards on Howell Mountain. The three principals in the Plumpjack Group include businessman and philanthropist Gordon Getty, former mayor of San Francisco Gavin Newsom and General Manager, John Conover. In addition to this property, they currently own three other winery properties in the Napa Valley including Plumpjack in Oakville, Odette Estate in the Stags Leap District and CADE Estate Winery.
As the crow flies, this winery is only about 1/2 a mile from the original CADE Estate Winery. The property is planted to 86 acres of vines, the majority being to Cabernet Sauvignon with smaller amounts of Merlot, Petit Verdot, Malbec and Sauvignon Blanc. The first vintage from the estate bottled under the CADE label is from 2016. As of 2017, they are working towards fully organic certification of the vineyards (approximately a 3-year process).
Since the acquisition the winery has been outfitted to serve their own wine making needs – with additional tanks (small and large added). Their production is around 13,000 cases but with the additional vineyards on site and space inside the winery, they plan to grow to approximately 20,000 cases. Despite about 1/2 of the CADE wines being Sauvignon Blanc, this winery is only used to make red wines.
The property is richly endowed with an intriguing historical wine pedigree; it features an old 'Ghost' stone winery that dates from 1886. The property has seen a number of changes over the years depending on ownership. The original founders Jean Brun (originally from Bordeaux) and W. J. Chaix his business partner from Napa formed a company called Brun & Chaix. Together they founded a winery in Oakville in 1877 called Nouveau Médoc Winery (the site is now home to Napa Wine Co) which was California's 9th bonded winery. Following this winery, they were among the first to plant grapes on Howell Mountain and called the vineyard site of what is now CADE at 13th Vineyard, the Nouveau Medoc Vineyard. This was California's 13th bonded winery – and CADE has appropriately adopted that name for this second CADE location.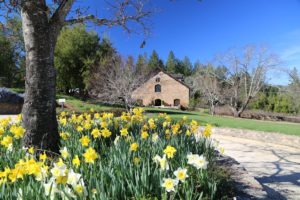 And in an interesting twist of fate connected by geography some 130+ years later – Brun & Chaix first began their wine operations in Oakville – as did The Plumpjack Group with Plumpjack Winery, also in Oakville.
Even early on the vineyard proved itself in producing wines of excellence. By by mid 1880's Brun & Chaix had produced a wine that earned a bronze medal in the 1889 Paris World Competition (for Zinfandel). The winery was built in 1886 with stone quarried from nearby Angwin and was one of Napa's early gravity flow wineries. In a unique system of communication, during their ownership the winery used a large mirror on nearby "signal hill" to communicate to their other winery in Oakville when it was time to pick the grapes so they would have advance notice of when they would need to prepare the crush pad.
In 1980, former owners Francis and Françoise DeWavrin-Woltner who at one point held a sizable interest in Chateau La Mission Haut-Brion in Bordeaux and a stake in Napa's Conn Creek Winery, purchased the property and replanted much of the vineyard to Chardonnay. The sold some of the fruit to other wineries including Napa's Titus Vineyards who made a vineyard designate wine of this variety. The DeWavrin-Woltners renamed the winery to Chateau Woltner and operated it until they sold to Pat and Anne Stotesbery in 2000 (the founders of Ladera).
The Stotesbery's had caves drilled on site – these are located underneath the winery and run underneath one of the small vineyard blocks. The caves are approximately 16,000 square feet.
The grounds are gorgeous especially in mid spring – flowers, lawns and beautifully landscaped garden paths surround the winery. For visitors, the focus is on highly personalized experiences. The property features a diversity of locations for tastings – including inside the cave, a tasting room inside the winery or outdoors among the gardens. And visitors can purchase an enjoy bottles of wine on site.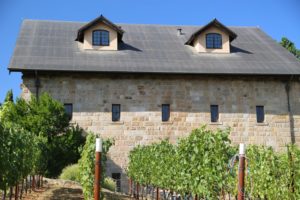 The experience here is tailored towards tasting Library Wines focusing on vintages of CADE Reserve Cabernet Sauvignon, Howell Mountain wines. Visitors may also request a tasting of the current release CADE Estate wines.
Select Wines
The 2015 CADE Estate Sauvignon Blanc, Oakville shows pale straw color in the glass leading one to perhaps think this is a lighter style of wine from this variety. Taking a closer look at this wine, one notices that it is not 100% varietal but rather has 57% Sauvignon Blanc Musqué, 37% Sauvignon Blanc, 5% Viognier and 1% Sémillon in the blend. Shows an appealing bouquet with citrus blossom, stone fruit aromas (peach) and tropical nuances. The wine is surprisingly rich with depth and weight on the palate. Creamy and rounded, with notes of apple and a lingering finish rich in fruit and weight. Drinks very well by itself.
We tasted a library vertical of Estate Howell Mountain Cabernet Sauvignon vintage 2009 through 2011. All are 100% Cabernet Sauvignon; these are wines that are highly distinguishable from each other – all with their own character represented of their respective vintages, age and style. Each are highly appealing for different reasons. And in what is still a very novel concept in the Napa Valley for premium wines, CADE and Plumpjack bottle their premium wines in screwcaps, but with a 'twist'. They actually bottle about 50% of these wines with cork and when customers purchase bottles – they receive wines bottled in both screwcap and cork.
The 2011 CADE Reserve Cabernet Sauvignon, Howell Mountain is another nice wine from a vintage in Napa that received less than stellar scores as a whole from wine critics. A hint of tobacco on the bouquet is complemented nicely by aromas of plum and blackberry. Lighter in style then the other vintages we tried; everything is nicely balanced on a plate. Shows dusty tannins on a clean finish. This is drinking very well six years after vintage. In general, a number of 2011's needed some time in bottle to show the grace that this vintage was ultimately capable of.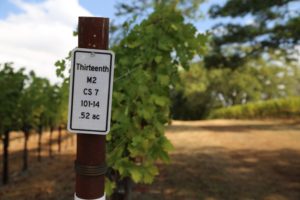 The 2010 CADE Reserve Cabernet Sauvignon, Howell Mountain offers depth of aroma. Initially reveals darker berry fruit (boysenberry, blackberry) along with a sage component, black olive and chocolate. Shows nice brightness and liveliness of fruit on the palate – with excellent acidity. Noticeably bigger then the 2011 vintage. Still good tannic grip on the finish after 7 years from the vintage date. Lingers with flavors of blueberry and a hint of toasted cedar.
The 2009 CADE Reserve Cabernet Sauvignon, Howell Mountain shows a noticeable sweetness of fruit on the bouquet – this smells the ripest of the vintages we tried – sweet berry, blackberry, dessert spice (molasses), ripe plum and black fig. Big but balanced on the palate. These are tannins that feel good in the mouth – not harsh but rounded and fairly well integrated.
The 2006 CADE Estate Cabernet Sauvignon, Howell Mountain (96% Cabernet Sauvigon, 4% Merlot) shows notes of black licorice and rasberry – these are pretty fruit aromatics. Dark fruit both in the bouquet and palate – including flavors of plum and black currant.
The 2014 CADE Reserve Cabernet Sauvignon, Howell Mountain in its youth is built with bright berry aromatics including blackberry and blueberry with more subtle notes of dark chocolate. The palate is juicy, mouthwatering and big – deeply layered and well textured. Finishes with fairly robust and somewhat chewy mountain tannins. This is an exciting wine to drink now. Also, of the reds we tried, this is the only wine that was made by Danielle Cyrot (she joined the wine making team in 2012).
—
The property can be selectively rented for events – they work with Meadowood to help cater the food portion of events. For more information, and to join their wine club or to request a private tasting, please visit: www.3thvineyard.com
Jean Adolph Brun, gravesite, St. Helena Public Cemetery