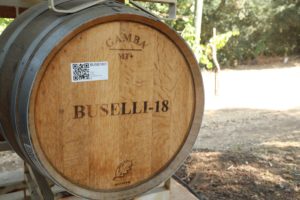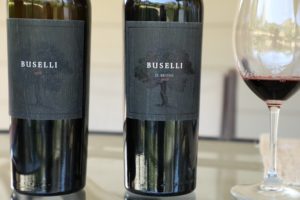 Buselli Wines. The origins of Buselli wines are rooted in the tiny village of Frontone in the Marche region of northeast Italy, the original home of Rosalia and Italo Buselli. Because of family in the U.S. and looking for a better life, they left Italy for Toronto in 1958. In 1961 they settled in San Francisco. The couple began looking for property in Napa Valley, ultimately purchasing nearly 11 acres of hillside land on the lower slopes of the Vaca mountain range in Oakville in 1989. The surrounding hillsides reminded the couple of Frontone. This site had never been planted to grapes. A year later the lower half of their property was planted by vineyard manager Michael Neal while the upper part of their property was later planted by winemaker Patrick Elan, of Elan Vineyard on Atlas Peak.
The property contains approximately 4.5 acres of vines, almost all to clone 8 of Cabernet Sauvignon on multiple rootstock. Two small blocks are planted to a currently unknown Italian white variety and several rows are Sangiovese, some of which were budded over from Chardonnay vines. The vineyard part of the property is divided into several small blocks with varying exposures ranging from just above the valley floor to several hundred feet higher in elevation. After Italo passed in 1996, Rosalia encouraged her two children, Tony and Maria to start making wine from the property. She even bought them a small press and crusher. So they did, producing their first home wine in 1997, a Chardonnay from purchased grapes grown on Atlas Peak. Both siblings remember their best home wine was in 2007; friends sometimes still ask them for bottles from that year.
Grapes from their vineyard have been sold to a number of producers over the years including to Oakville East (once one of their neighbors), Cakebread for inclusion in their Three Sisters Cabernet Sauvignon, Miner Family and currently to winemaker Thomas Rivers Brown for his Rivers-Marie brand.
While attending a release party at their neighbor Linda Neal's vineyard (Tierra Roja), they began drinking her wine with her then winemaker David DeSante. Both Tony and Maria noticed some interesting similarities between the Tierra Roja bottlings and their own home wine made from the Buselli property. This was not surprising since their property is just north of Tierra Roja and features similar elevations, iron-rich, red and rocky soils and comprable exposure. This special site is part of one of Napa Valley's most sought after regions with immediate winery or vineyard neighbors including Dalla Valle and Rudd directly across from their property. Other prominent sites within a very short distance include Screaming Eagle, Joseph Phelps' Backus Vineyard and the vineyard that produces the grapes for Bond's St. Eden bottling.
After their mother passed in 2011, Tony suggested they produce wines commercially. 2013 was their first commercial release. Farming this site requires significant manual labor. It is rocky and at times steep and the yields in several of their blocks are extremely low. And then unexpected natural events occur like in 2020 when they lost all their grapes due to smoke taint from the resulting Glass Fire or in 2022 during an extended extremely hot period centered around Labor Day weekend, when they lost a significant part of their crop.
Their respective roles in the business reflect each sibling's interest and talents. Maria oversees marketing and sales and has worked for several wine businesses including Wine Bridge Imports. Through wine she met Laura Whitfield, a wine broker who Maria considers one of her mentors. Maria has placed select vintages in retail outlets around the San Francisco Bay Area including in Napa Valley at Wine Country Connection in Yountville and at ACME Fine Wines in St. Helena. And to date a large portion of their small production has been sold through select wine clubs including Robb Report.
And it was because of Robb Report that we connected with the Busellis. While on a flight from Tashkent in Uzbekistan to Sharjah in the United Arab Emirates we were reading a digital version of Robb Report on the flights' provided internal network when we noticed the word Sommelier was misspelled in a description of Robb Report's wine club. We later wrote a note to Robb Report and the owner of Wine Savage (the same individual that curates Robb Report's wine club) soon wrote us back which soon led to an introduction with the Buselli's and may lead to a partnership in curating a wine club for readers of the Napa Wine Project.
Tony helps oversee their vineyard. He began to research taking winemaking and viticulture classes through a UC Davis extension program, but quickly realized he needed to take prerequisite math classes. So at age 58 he found himself taking algebra at a community college with students more than half his age. One of his more memorable experiences through the UC Davis Extension program was a field trip to the UC Davis owned Experimental Station in Oakville; incidentally this is a short drive from the Buselli property.
Select Wines
The 2016 Buselli Cabernet Sauvignon Oakville is deep ruby in color; the bouquet offers a fruit forward expression including dark plum, blackberry and dark cherry. But there is more here including sweaty leather, dust, a hint of chocolate and vanilla and a light tobacco smoke. As the wine evolves in the glass its aromatics become a bit more sweetly fruited accompanied with assorted baking spices. This wine offers rich flavors of blackberry, dark cherry, red plum and dark chocolate. The fruit in many hillside Napa Valley Cabernet Sauvignon bottlings we have tried over the years are dominated by powerful tannins. This is not one of those wines. The tannins are polished, fine grained and supple in their textural feel. The finish lingers with a light dryness, dried tobacco leaf and some notes of darker spices. This is a balanced bottling.
The 2016 Buselli Il Beone is primarily Cabernet Sauvignon but is co-fermented with Sangiovese. This wine is deep ruby in the glass and nearly opaque; the enticing bouquet is dark fruited including aromas of blackberry, boysenberry and mulberry along with notes of raspberry pie with some light notes of cardamom and clove. The bouquet is clearly focused on its core of fruit rather than any overt influence from its barrel aging. And this fruit continues to persist as the wine breathes. The flavors are a union of dark plum, blackberry and dark cherry. The tannins are well-integrated and show a moderate grip, lingering with a dusty/earthy component on the lengthy finish. Like the 2016 vintage of Buselli Cabernet Sauvignon, this wine was also aged for 19 months in 65% new French oak barrels. From personal experience, this bottling pairs very well with Italian salami.
The name Il Beone is an homage to Tony and Maria's grandfather on their father's side of the family. He liked to make wine and drink it. Tony and Maria recalled he usually ran out of his own wine by the middle of each year and would often visit neighbors to drink their wines. His friends and family always referred to him as Beone (his nickname).
—-
The property is surrounded by a number of oaks and other native vegetation. One such oak tree in particular stood out, a Blue Oak growing about 3/4 of the way up their property. An image of this tree is used on their wine labels (the front label is made of wood) which were designed by San Francisco Bay Area based Cult Partners. This firm is also responsible for the design of several other Napa Valley brands including Migliavacca and have worked with Trinchero, Clos Pegase and Napa Cellars.
Buselli Blue Oak

Buselli is rooted in this property but also in family. Italo always enjoyed growing things. This brand is in part homage to Italo's dream of one day producing wines from the property and carrying on his legacy. In a sea of wine labels, marketing their tiny production can be challenging. But as Maria told us, "we reach people one glass at a time".
Total production between both wines each year is only around 200 cases. For more information or to purchase wines, visit: www.buselliwines.com