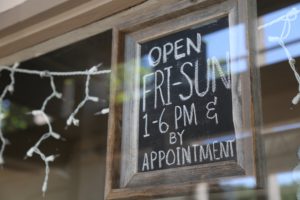 Bunter Spring Winery is a small winery located just east of the Napa city limits. Founder Mark Bunter grew up in the south part of the Napa Valley; his father purchased three acres in 1974 in what is now the Coombsville appellation although they did not plant grapes on site until many years later. Mark's introduction to wine began at Tulocay Winery, a small neighboring winery that was founded by Bill Cadman in 1974. Mark started working there only three years later in 1977 – while still in high school, helping Bill with his small bottling line.
This introduction to the wine world, and as Mark says, "many bottles of Pinot Noir later" perked his interest in wine making. He went on to earn two A.S. degrees at Napa College in both Viticulture and Winemaking while also taking wine making extension courses. Over the years he has worked at several prominent Napa wineries including at Charles Krug, Robert Mondavi and St. Supery (where he was assistant winemaker).
Mark never thought about making his own wine until a friend convinced him to do so. In 1991 he made his first home wine – small lots from second crop grapes. The next year he started planting Syrah grapes on his family's property – he recalls hand digging every hole for every grape vine with a pry bar. Ultimately, he was able to plant 1/2 an acre of Syrah. His father Arnie still tends to these vines.
After accompanying his wife Margaret to Virginia (where she took a job with the government), Mark became winemaker at Chrysalis Vineyards in Virginia (one of the top producers of the native American grape Norton).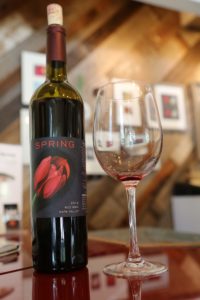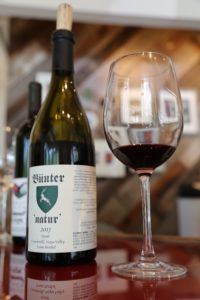 Eventually Mark moved back to California – and in 2008 bonded the 'garage' on their property in Coombsville as a working winery.
The winery takes its name from combining Mark's last name and Margaret's maiden name.
Any wines made organic and legally labeled as such (per the current USDA Organic Standards) must be under 10 ppm; these are wines that have no added sulfites – the only sulfites contained are naturally occurring. Any wines that Mark makes organic are bottled under Bünter Natur (with his family crest on the label). This includes the estate Coombsville Syrah, and a Pinot Noir sourced from the Santa Cruz Mountains.
The rest of their wines are bottled under the Spring label using an image of a tulip on each bottle. During harvest Mark is especially busy dividing his time between Carmel Valley Village and his winery in Coombsville. He makes all the Napa grown wines in Coombsville and produces his non-Napa wines at a winery near his home.
In addition to his estate Syrah, Mark also works with premium grapes from select vineyards from the north to the south part of the valley – including from a special vineyard that has both pedigree in ownership and vines, the Muir Hannah Vineyard. This particular vineyard is located in the Oak Knoll District and is owned by the direct descendants of naturalist John Muir. In addition, this vineyard provided much of the Chardonnay for Chateau Montelena's 1973 winning wine at the Paris Tasting of 1976.
Mark creates wines as simply and as naturally as possible – often using indigenous yeasts, bottling unfined and often unfiltered and using moderate amounts of sulfur dioxide (SO2) or in the case of his organic wines, no added sulfites. His own vineyard is organically farmed, and he tries to work with growers who also farm organically or biodynamically.

He also strongly believes in transparency and letting the consumer know what has been put into each bottle of wine. As a result, his labels include an "ingredient" listing – and sometimes very specific details about the winemaking process as it relates to a particular wine. He prefers wines that are under 14% alcohol and often creates wines that are lower alcohol (especially for Napa standards). His Napa wines generally do not taste like the style of Napa wines being produced by most wineries in Napa today.
A 'large' production for Bunter Spring would be 100 cases – all the wines are produced as very small lots often in the 50-case range.
While there are many Napa vineyards that are farmed organically, out of more than 1,100 Napa wineries and producers visited and reviewed on this site to date, we have come across extremely few Napa wines that are made organically (no sulfites added). The ones we have tasted were generally produced by winemakers wanting to experiment with making an organic wine and were not bottled for commercial release.
Select Wines

Every vintage of the Bunter Springs Syrah is made as an organic wine – the first vintage of this wine was in 2009. The 2013 Bünter "natur" Coombsville Estate Syrah initially shows an earthiness – notes of mushroom which reveals more fruit as the wine opens in the glass. Also, savory on the bouquet – somewhat floral. Very supple and smooth on the palate with just a kiss of tannins lingering delicately along with a red fruit tartness and a hint of pepper. Not a big spicy high alcohol Syrah. Drinks very well young. Continues to evolve nicely in the glass over time and can hold up to being open for a day or two. Very grill friendly!
The 2014 Primitivo is 76% Primitivo and 24% Syrah – shows a bright fruit on the bouquet – slightly floral with a hint of wintergreen. On the palate there is a sweetness of fruit (no sugar); it is juicy and mouthwatering. Excellent acidity. Balanced throughout the palate the wine delivers flavors of red cherry, plum and a lingering hint of spice on the finish.
The 2012 Spring Red Wine Napa Valley "Garagitage" reveals pretty aromas including fig notes and dessert spices. Ripe with good structure, it is not out of balance. Cherry, cranberry, and currants. Excellent acidity – with both a lingering tartness and fairly robust somewhat drying tannins on the finish.
—
In 2015 Mark opened a tiny tasting room in Carmel Valley Village (about three hours southwest of the city of Napa). Carmel Valley Village is home to some 25+ tasting rooms, many of which are easily within walking distance of each other. Mark has no staff and keeps his hours somewhat limited open Friday-Sunday from 1-6pm each day or by appointment. In a world of tasting rooms where you don't often meet the owner or winemaker, it is refreshing to talk directly with the person making the wines. And Mark is a wealth of information especially about the technical aspects of wine making.
And equally refreshing are Mark's prices – maintaining a very reasonable price to quality ratio (even for his Napa wines which have inherent higher costs then wines from other parts of California).
Mark does not distribute his wines or sells online – rather most of his sales are through his tasting room and wine club with select placements in parts of the San Francisco Bay area including Terroir Natural Wine Merchant in San Francisco and at Ad Hoc in Yountville and sometimes the Napa General Store (in the city of Napa). For more information please visit: www.bunterspringwinery.com