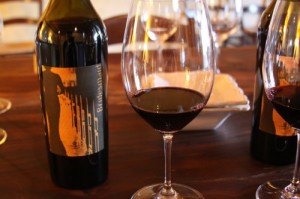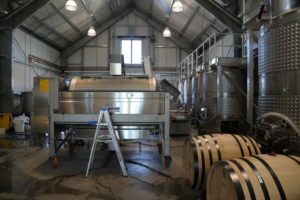 Bridesmaid Wines is a partnership between long time Napa vintner Pam Starr and Drew Nieman. Pam has made wine for a number of wineries in the valley including at Spottswoode. Drew worked with John Kongsgaard at Luna Winery and at Newton and also runs his own label, Nieman Cellars. The focus of Bridesmaid is on blended Bordeaux varietal wines produced at reasonable prices. Only two wines are produced each year, a blended white and a blended red.
As Bridesmaid says, "every year the vineyard sources are the same – its always a mystery!" Based on contacts from working at other wineries and an insider's knowledge of Napa's terroir, Pam and Drew are able to source from premium vineyards – they just doesn't know which vineyards from year to year. Their "Bride" wines are the estate wines (Crocker & Starr) and the Bridesmaid wines are from non estate vineyard sources.
The 2010 Bridesmaid White is blended with Semillon. The result is a very aromatic bouquet that is tropical in nature. Initially notes of pineapple, passion fruit and honeysuckle show – but as the wine evolves in the glass less pineapple shows and more nuances come to the forefront including citrus blossom, pineapple guava and even banana. The wine is creamy; it has good viscosity, a clean mid palate and a surprisingly long finish.
The Bridesmaid Red is a Cabernet Sauvignon/Merlot Bordeaux based blend that includes all five major Bordeaux varieties including lesser amounts of Cabernet Franc, Petit Verdot and Malbec. The 2006 vintage displays deep rich black fruit dominated aromas – almost a cherry liqueur, candied fruit and hints of mocha and cinnamon. The mouth feel is soft and plush with well integrated tannins that anchor a long finish.
The 2007 Bridesmaid Red, albeit is a year younger – shows more fruit up front then the 2006, both on the bouquet and the palate. Deep seductive aromas reveal mostly black fruit – with nice notes of blackberry. This is a very aromatic bouquet. Red and black fruit anchor the palate with tasty notes of mocha and toasted oak rounding out the finish.
Pam has planted a small Cabernet Sauvignon "heirloom" vineyard just east of the farmhouse and tasting room. This is a unique concept which helps preserve and highlight the history and pedigree of various Cabernet Sauvignon clones from around the valley. She has taken budwood from a number of well-regarded and known Cabernet Sauvignon clones in Napa and planted a different clone every other 5 rows. At the time of this review, the vineyard is still young but in the next few years there are plans to produce a very limited Cabernet Sauvignon made from a blend of these clones.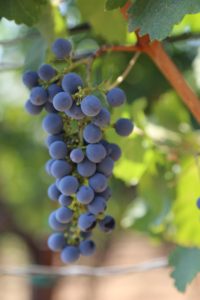 Tastings are for serious wine enthusiasts who are looking for a private personalized tasting experience. Tastings are either on the porch of their 1918 restored farmhouse (which serves as their offices for both Bridesmaid and the Crocker & Starr wines) or in an elegant one-room salon that was built with rock from the property (the Stone House). This salon building was modeled after an old brandy house that was built on the estate over 100 years ago. Note the old wooden "basket" press that is on display next to the tasting salon. You don't see wine presses like this anymore! It dates to the 1870's.
It is sometimes hard to find a smaller winery that offers lunch with visits. For longer visits consider their charcuterie pairing or reserve both a lunch and tasting. They are in the city of St. Helena but it feels far from the busy traffic that often starts stacking up where Dowdell Lane meets Highway 29 (about 90 seconds from their estate).
Either tasting location has a nice view of their estate vineyards but especially from their porch. Their vineyards are all organically farmed; vineyards on this land date back to the 1870's. They have about 120 planted vineyard acres of which much is sold to various wineries – and they hold back select acres to use in the Crocker & Starr Wines.
Their total annual production is around 2500 cases – and is distributed via a mailing list as well as in select wine shops and restaurants nationally including good distribution in the Midwest. It helps when the co-owner (Drew) co-owns a wine distribution company (Vanguard Wine) which focuses on premium wine labels.
For walk in tastings visit Crocker in Starr in St. Helena (visits are strictly by appointment) where both Bridesmaid Wines wines and the Crocker & Starr Wines are made. The wines used to be made at Napa Wine Co but Crocker and Starr has since built a state of the art winery. For more information or to join their mailing list, visit: www.bridesmaidwines.com
Video by Winerieff