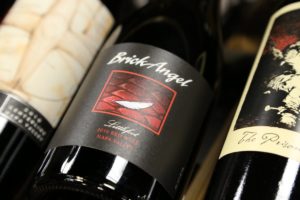 Brick Angel wines is a small project started by Jason & Angelique Ball in 2006. We had the opportunity to meet Jason several times at Moss Creek Winery where he makes his wines. He also consults and makes wine for another Napa winery. Brick Angel started out extremely small with just several hundred cases. Their first wine was a Cabernet Sauvignon rosé which was as it turns out developed into an "unexpected wine". His family makes port-style wine and during harvest they were bleeding off juice from this wine. Not having any specific plans for this juice Jason decided it would make a great house wine. Then a fellow winemaker bled off some of his own juice via the French saignée method and all of the sudden Jason had additional premium wine to work with.
The saignée style is one of several methods that winemakers use to make rosé. The name of this winery comes from the first names of their children and of course part of his wife's name. Jason is the winemaker, so his contribution to the label is quite obvious. He is currently making a very nice Sauvignon Blanc from the Mello Vineyard in Yountville, and the aforementioned Cabernet Sauvignon Rose.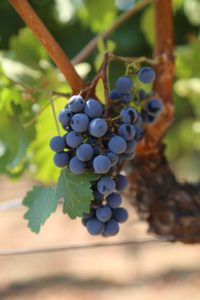 We tried the 2006 Brick Angel Sauvignon Blanc. This is a fun light wine and very easy to drink. Very refreshing to sip while chilled on a 100 degree day. Subtle citrus notes on the bouquet including lime, lemon and grapefruit lead to palate with a rounded mouth feel. Grassy notes, more citrus and some melon characteristics show mid palate through to the finish. Lingers with herbal and mineral qualities and even some very subtle hints of toast. Multiple Sauvignon Blanc clones were used in this wine; it was whole cluster pressed and fermented in stainless and neutral oak barrels. Definitely serve this wine chilled – besides a pool and patio sipper wine, it will pair well with spicy foods and also sea food.
As of the time of this review, look for two other wines in production, the 2006 Brick Angel Cabernet Sauvignon rosé (not a common wine in Napa), and the 2006 Brick Angel Littlefoot, a proprietary blend of Petite Syrah, Syrah and Zinfandel. Brick Angel may at some point work with other very small wineries to open a collective tasting room in the town of Yountville. We will be on top of this if it develops and will be among the first to taste whenever they open. While not open to the public this is a great chance to try very limited production "lighter" Napa wines at a very affordable price point. In the meantime, visit: http://brickangel.googlepages.com
Note: no longer making wines commercially. This review is now archived.