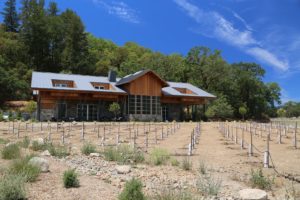 Brian Arden Winery opened in early May 2015. The winery is located just within the southern city limits of Calistoga in the northern part of the Napa Valley, sharing the same driveway as Aubert. The Four Seasons Resort is conveniently located across the highway and opened in late 2021. Brian Arden was founded by Arden "Burt" Harlan, his son Brian Harlan and Brian's wife Amanda. The name of the winery was created by combining the first names of father-son.
The family vineyard, the Burton Ranch is planted to Zinfandel and is located in the Kelsey Bench-Lake County AVA (to the north of Napa Valley). This vineyard has been owned by the family for three generations (Brian is the fourth). Brian's family originally purchased the vineyard in 1903; they have records showing the original vines on site were planted in 1886.
Today they still have old vines growing from the early 1900s; the "new" vines were planted in 1983. The vines are head pruned and grow at an elevation of above 1,400 feet above the shores of Clear Lake (the largest natural lake entirely within California).
The story of how and why Brian and Amanda are now living in Napa Valley running a winery is quite interesting and happened rather quickly. Both are from the Sacramento area – dated in high school and then completely lost contact with each other for many years afterwards. Brian moved to Southern California for college where he ultimately worked for Southern Wine and Spirits.
Amanda moved to Oklahoma City for college and then moved to Branson Missouri where she pursued a career as a singer and dancer. While in Missouri she acquired an interest in wine. Incidentally Missouri is one of America's most historical wine regions and was the nation's second largest wine producing state before Prohibition. Amanda started taking wine education classes and working at a local winery in the city of Augusta. Eventually she moved back to California and took a job at a small winery in the southern part of Napa Valley.
Meanwhile Brian had sold a lot of wine, had a degree in Biology but wasn't actually putting his degree to use. He wanted to get his hands dirty and really learn the hands-on process of how to make wine. In 2007 he packed up all his belongings from where he was living in Orange County and drove up to Calistoga. He took a job working in the cellar at Terra Valentine both learning the details of wine making as well as a wine making style from various winemakers, he worked with including Kirk Venge.
Both Brian and Amanda were now working in Napa Valley and through the use of the great online connector, Facebook they reconnected with each other, started dating again and married less than a year before their new winery opened.
Like any new wine venture in the valley, at the time, they invested a serious amount of time and effort into building this winery from the ground up.

Just by talking to either Brian or Amanda one quickly feels the passion for what they are doing – and it is contagious. And a sense of understated pride for what they have accomplished in a rather short amount of time.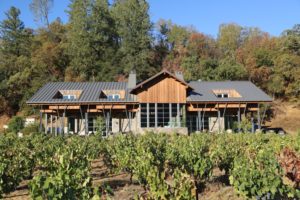 Fortunately the physical winery and hospitality center are within the Calistoga City limits (rather than in the county) so they are able to be open to the public by walk-in. They also take reservations for private tastings which are paired with a small charcuterie plate. The kitchen and private lounge recently opened so you can book a "Chef Bites" tasting by appointment. Their onsite Chef will host your party with delicious creations paired with Brian Arden Wines. During a recent visit small bites included Pork Rillette and Toast, House-Made Ricotta and Toast and Foraged Mushroom with Black Garlic and Parmesan among other tasty treats.
They also sell a small variety of edibles (that can be purchased on site to complement your wine tasting) including nuts, crostini's, cheese and meats etc.
The hospitality center was designed to feel like walking into someone's home with its cozy atmosphere, fireplace and plenty of places to sit down to relax. In addition, this building contains a generous helping of windows – the inside is open, airy and features plenty of views of the nearby jagged looking rocky Palisade outcrops (part of the Vaca mountain range). In addition, those who wish to do a tasting here can also bring their own food – several lounge chairs and tables are located outside the tasting room – all affording one excellent views of the nearby vineyards and mountains.
The winery itself is located directly behind the hospitality center – Brian designed the tanks himself, allowing each tank to ferment fruit either as open or closed top. A pneumatic punch down tool sits overhead on rails and can easily be moved between each tank.
While the Harlan family has owned their vineyard for 100+ years they have never made commercial wine from the property. Brian remembers his uncle made home wine in the late 1970's from the property – and as he says, "some of which is still palatable".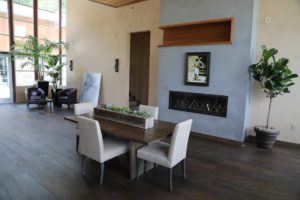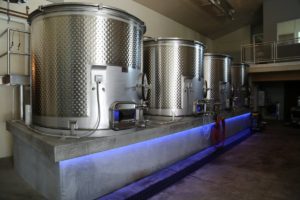 The first vintage of Brian Arden was 2007 – until their own winery was completed in time for the 2014 harvest Brian was a "nomadic" winemaker – making wine at various facilities around the valley. They don't make much wine, but they do make a number of various wines, nearly all made in quantities of 150 to 300 cases per wine.
With 260 vines planted around the winery – their estate vineyard is tiny; the first harvest from these vines was in 2019 – the fruit produces a separate bottling offered to wine club members. These vines are all Zinfandel – cuttings taken from the family's vineyard in Lake County. Honoring the tradition that still continues with mostly older vineyards in Calistoga (as well as in their own Burton Ranch Vineyard) – the vines are all head pruned rather than trellised.
They source grapes from a number of areas – their own vineyard in Lake County, neighboring Sonoma County and from 10+ growers in the Napa Valley from Coombsville to Calistoga. All their wines are single varietal other than the B.A. Red which is a blend. They make a wide diversity of wines including sparkling wine and a white and a red port-style wine.
You won't find any tasting notes for the wines provided from the winery – their philosophy is to let each person taste the wines and make their own decisions on preference, flavors aromas etc., rather than be influenced by provided notes.
Select Wines
Brian Arden produces a sparkling wine off site from Pinot Noir and Chardonnay – the Kay Rosé – named in memory of Brian's mother Sharon Kay Harlan. Part of the proceeds from the sales of this wine are donated towards cancer research. And they also produce a Riesling; the original bottlings of this wine stood out because it was bottled in the same smoky exterior looking glass that Grey Goose uses.
Very little Riesling grows in Napa Valley anymore; the latest Napa County crop reports 58 bearing acres of which Trefethen Vineyards has planted 18 acres. Brian Arden sources their Riesling from the Trefethen Vineyard in the Oak Knoll District.
The 2019 Brian Arden Napa Valley Riesling is medium gold in color; offers aromas of lychee, honeysuckle, ripe pomelo, citrus blossom, jasmine and a very subtle hint of vanilla deeper into the aromatics. The nose was a bit closed immediately upon opening and needed some time for the aromas to be teased out in the glass. The mouth feel is supple with a saline texture running across the palate. Reveals flavors of green apple, kiwi and lime. Lingers with a graphite minerality note. Finishes clean and finishes bright.
The 2009 Brian Arden Burton Ranch Zinfandel is an easy drinking non jammy style wine of this varietal. The bouquet shows notes of cedar along with sweet (but not overly sweet fruit aromas) – it is soft on the palate, with a rounded mouth feel. Both wood and fruit tannins linger on the finish along with a dusty chocolate component.
The 2009 B.A. Red Blend is a Zinfandel based wine that shows dark maroon in the glass. It reveals a black fruit and a black liqueur aroma. It is juicy and rounded on the palate with flavors of black licorice and black cherry and baking spices.
The 2008 Brian Arden Cabernet Franc was sourced from Chalk Hill in neighboring Sonoma County- they have only made this wine several times as they want to pick when this varietal is truly ready – usually in late October or early November. The vines grow at an elevation of 2000 feet – a cooler region based on the altitude. The wine shows sweet aromas on the bouquet including a red liqueur component, black cherry and mocha.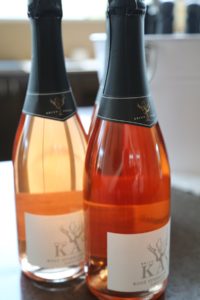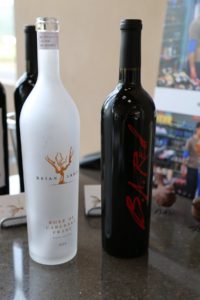 The 2009 Cabernet Sauvignon is from Howell Mountain – on the bouquet, it shows black licorice, a slight cedar aroma and an black olive component. This wine has very good acidity with both red and darker fruit on the palate. This medium bodied wine features broad based tannins that linger for some time.
—
During Brian's time in Southern California, he was able to secure placement in a number of select restaurants. Being one of the great centers of creativity for film and television on the planet – their wine was spotted by Hollywood. One of their bottles was shown in Season 6, Episode 24 of The Big Bang Theory and another bottle of their wine was shown more prominently in one of the series of Two and a Half Men.
As of our most recent update to this review, they sell their wine entirely direct through winery visits and online sales. Their wine club is cleverly named with three titles, Sommelier, Advanced Somm and Master Somm – and if you join the Master Somm level a dedicated vine will be named in your honor (in the tiny vineyard that surrounds the winery) – with a plaque above that particular vine.
The winery maintains a small orchard and a flock of chickens – located just below the small parking lot. Sometimes visitors will walk down to greet said chickens who often will gather next to the fence in anticipation of being fed.
For more information or to join either their mailing list or one of the wine clubs, visit: www.brianardenwines.com