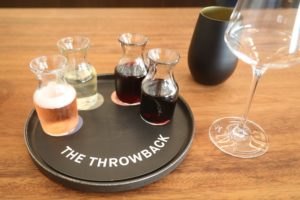 Brendel Wines produced their first vintage in 2019 and is part of Lawrence Wine Estates, a group of Napa Valley based wineries owned by proprietor Gaylon Lawrence including Burgess Cellars, Heitz Cellar, Ink Grade Estate, Stony Hill Vineyard and several other vineyard sites. Also under the same ownership is Demeine Estates, a Napa Valley based négociant & broker of these wineries and brands.
Brendel's namesake comes from Leon Brendel. Brendel was born in Alsace, France in 1884 into a family of winegrowers. In 1915 he moved to the state of Coahuila, in northern Mexico where he served as the wine chemist for the country's president at the time, Francisco I. Madero (Madero Winery). Incidentally, Madero Winery is the oldest winery in the America's having been founded in 1597 and continues to produce wine. We have seen their wine in select wine shops throughout parts of Mexico.
Brendel was in Mexico for 15 years until moving to Napa Valley in 1930. He was the founding winemaker and chemist at Freemark Abbey in 1940 following the sale of that property to the new owners at that time, the Ahern family. Brendel worked at Freemark Abbey through the 1950s and was described by a Napa Valley Register article dated September 10, 1952, as, "one of the county's best-established winemakers". He was also a member of the Wine Institute.
He was an experimenter and created several inventions relating to winemaking. According to a Joe Heitz interview by Ruth Teiser in 1985 as part of the UC Berkeley Napa Valley Vintners oral history project, Brendel was a perfumist; Heitz recalled that Brendel tested out his home-made perfume on the wrists of women who visited his little winery.
Brendel founded his own wine brand bottled under the label Only One at what was Brendel Winery (site of the Heitz Cellar tasting salon across from Hall Winery). Old newspaper records indicated he also used the facilities at Freemark Abbey for crushing his own grapes but then used his winery for aging them. His wine brand was appropriately named because the only wine he produced was from Grignolino. While this variety certainly stands out today and it certainly also did when he planted it, back then Napa Valley was planted to a much greater diversity of grapes than today. Trying to market a wine from a variety that had little recognition must have been challenging. It still is. One highlight was when prominent researcher, author and eventually chair of the Department of Viticulture and Enology at UC Davis, Maynard Amerine accepted Brendel's Gignolino at a San Francisco Food and Wine Society's tasting held at the Palace Hotel in San Francisco in 1952.
In 1961 Brendel sold his property to Joe Heitz along Highway 29 just south of St. Helena, the location where Heitz Cellar was founded. Brendel passed in 1963 at age 79. But Heitz kept producing Grignolino.
Upon tasting through the Brendel wines one word rose to the top describing all of their bottlings: fresh. These are wines that have a youthfulness, sure, but are crafted in a style both in the vineyard and the cellar which is certainly not typical for wines coming from contemporary Napa Valley. All the Brendel wines are from organically grown vineyards, entirely within Napa Valley.
Select Wines
Rather than continuing to produce both a red and a rosé wine from the Grignolino vines on the Heitz property, the decision was made to exclusively make a sparkling wine. While previously bottled under Heitz Cellar, this wine is now produced exclusively for Brendel. Grignolino is an oddity in Napa Valley, however it is commonly grown in the Piedmont region of northern Italy. Its name comes from the Piedmontese word grignolè referring to seeds. It is also known as the 'little strawberry' for its sometimes-pronounced strawberry aromatics. This variety often contains more seeds than most wine grapes and is known to be fairly tannic.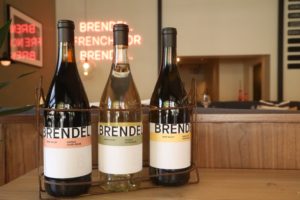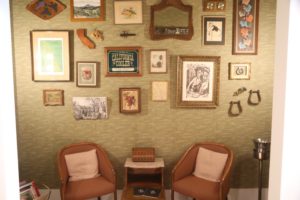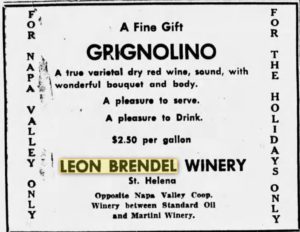 We have seen reference that this variety used to be grown around Rancho Cucamonga in Southern California prior to Prohibition. Brendel planted his Grignolino vines south of St. Helena in the 1940s surrounding the present-day Heitz Cellar tasting room. In 1966 the Heitz family took cuttings from this original site and planted them at their Taplin Road winery and estate property; today approximately 7 acres on their property remain of this variety. Besides previously producing a still wine from Grignolino, Heitz used to also produce a Grignolino port-style wine.
The 2019 Brendel Young Leon Frizzante Grignolino Rosé is salmon color in the glass; offers aromas of citrus blossom, dried rose petal and some minerality nuances. On the palate shows flavors of citrus including lime and green apple, along with rhubarb; it is anchored by a very bright acidity, but without being tart. Mouthwatering. This wine certainly makes a great palate cleanser after drinking a robust Napa Valley Cabernet Sauvignon.
The 2019 Brendel Noble One Chardonnay is the antithesis to the California oak driven buttery style of wines made from this variety; that is clearly evident after the first sip. This wine is medium yellow in the glass with a stony minerality aroma along with citrus blossom. And as the wine opens further, shows some light tropical aromas on the bouquet. Clean, crisp and concise in its presentation on the palate, one can clearly taste the varietal characteristics. This wine is not overly manipulated once the fruit reaches the cellar. Features flavors of green apple and gooseberry. This wine is energetic across the palate but especially so on the finish; its mouthwatering characteristics beg another sip. Made from 100% Oak Knoll grown Chardonnay (Quartz Vineyard). It sees no oak in the cellar, and it was aged for 8 months in stainless steel.
The core of the 2019 Brendel Chorus Cuvée Blanc is 70% Sauvignon Blanc with 10% Chardonnay, 10% Malvasia Bianca and 10% Fernao Pires and was inspired by white wine blends from Friuli, Italy. This wine is medium gold in color with a sweet aromatic thread throughout the bouquet. The aromas are part floral and part tropical with notes of honeysuckle, mango and citrus. The brightness on the palate is immediately noticeable; it lingers with a freshness. Shows flavors of lemon and lime with a citrus zest on the finish along with hints of lemongrass. Initially, without knowing the varietal blend, we immediately thought that this wine seemed like a Sauvignon Blanc as its varietal characteristics dominate, but with a texture that is creamier and more rounded than a typical 100% varietal Sauvignon Blanc. It is a very balanced showing.
And Brendel produces a Chorus red; the 2019 Brendel Chorus Cuvée Rouge (best serve chilled) is a very unique blend of 32% Tempranillo, 26% Touriga, 22% Tinta Cao, 12% Tinta Madeira and 8% Trousseau. Medium ruby in color the bouquet sports aromatics of red cherry, plum, dried herbs (sage) and a floral note including rose petal. This wine is distinctive, balanced and a throwback style to red field blends of lesser-known varieties, harvested at lower alcohol than wines from contemporary Napa Valley. The grippy tannins are still somewhat tightly woven in their youth but are not coarse in their feel. This wine is medium bodied with lingering flavors of red cherry and cranberry.
The 2019 Brendel 'Reserve' Cabernet Sauvignon is primarily Cabernet Sauvignon but is blended with small percentages of Merlot and Petit Verdot. This wine sees no new oak during its aging; it is fermented in stainless steel and then aged in large neutral oak casks. It is medium to dark ruby in color; offers sweeter plum notes, darker cherry and black licorice on the bouquet. Also features notes of dried herbs; the bouquet is slightly savory especially as it continues to open in the glass. It reveals flavors of darker cherry and berries. The tightly woven and chewy tannins are noticeably long lasting. Features plenty of depth and most certainly will be quite age worthy. Stylistically this wine is a bridge between old and new Napa but with more of an older stylistic leaning.
Brendel Tasting Room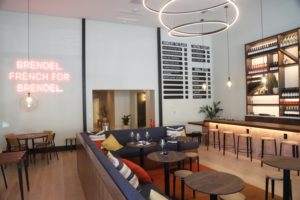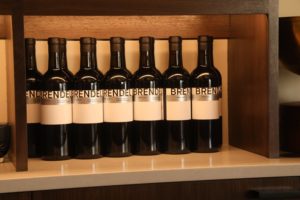 Brendel Wines opened a tasting room in the city of Napa on February 24 2022, located in the historic Migliavacca building dating from 1905. This space was most recently home to The Mustard Seed Clothing, a boutique store for women and before that, Shoes on First. This is in the heart of downtown Napa directly across from the Archer Hotel and next door to the historic Goodman Library. This building is named after the prominent Migliavacca family whose Napa wine operations were founded by patriarch Giacamo Migliavacca in 1866 in the city of Napa. It is not the only tasting room housed inside; Alpha Omega maintains a tasting room on the other side of the building.
The tasting room is contemporary, spacious and very welcoming. Wines are available by the glass or by flight. Master Sommelier Carlton McCoy curated a number of small bites that pair well with the Brendel wines using the service of downtown Napa based Contimo Provisions including charcuterie, a pâté and a tin of fish. Seating is at the bar, tables in either the back room or in front or some very limited seating outside. Note the small alcove in the back room; this contains a variety of historical items. Visitors to this room can also view a corkscrew collection.
Appointments are welcome but visitors can also stop in without a reservation, especially during slower weekdays. Select wines from several of their sister properties can also be purchased and or tasted here including from Heitz Cellar and Ink Grade. In addition to selling wines through the tasting room and website, select Brendel wines are distributed. Locally one can sometimes find them at Backroom Wines in the city of Napa. For more information, visit: www.brendelwines.com