Bourassa Vineyards is located just south of Napa; it is one of quite a few wineries south of Napa that we are aware of located in Industrial/Business parks. Don't let the business park "flavor" fool you – a tasting and tour at this winery is a unique experience and it is well worth your time to make an appointment if you are in the Napa area. From the outside it is just another boring business park building – but as soon as you enter their door you are whisked away to another world! Lose yourself in the wine and the atmosphere of the candle lit barrel surrounded Bordeaux style tasting room – a tasting here is an intimate and private experience.
Often the owner Vic Bourassa or their winemaker is present to conduct the tasting. The highlights are definitely the wine, meeting with Vic and or their winemaker, the educational aspects of the tasting, and a tour of a nearby barrel cooperage.
Owner Vic Bourassa originally was exposed to wine in Massachusetts from his Italian grandfathers, however not to premium fruit from the Napa Valley but rather grapes his grandfather bought at street markets and then fermented. After serving in the Navy in Vietnam, and during a career in real estate he was able to visit Napa for the first time in the early 1980′s. He then moved to the valley in 1996 and got the "wine bug". He worked at several area wineries and also increased his wine education by taking classes at UC Davis and Napa Valley College.
He then started making wine at home and ultimately served as president of the Napa Valley Home Winemakers Association.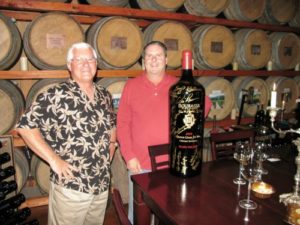 Robert Mondavi has been very influential on the careers of many winemakers in the Napa Valley. As chance would have it, a friend introduced Vic to Mr. Mondavi who visited Vic's house to try some of Vic's homemade Pinot Noir. As it were, Vic had just bottled this Pinot earlier that day and smartly added a computer made label using glue to the bottle. Packaging is nice, but of course its whats in the bottle that counts. After both men enjoyed a number of glasses Mr. Mondavi declared that Vic should consider making wine on a commercial basis. Vic was 50 years of age at that time but then Mondavi reminded him that he was 53 when he started Robert Mondavi Winery in 1966.
Bourassa's first vintage dates from 1999 – the Harmony3 – a Bordeaux style blend that they still make today. Gary Galleron is their long time winemaker.
Several tasting options are available including a Reserve tasting for their more limited production wines.
The 2010 Rutherford Chardonnay shows a very pleasing palate – it is a rich complex Chardonnay. The aromas show tangerine and other tropical fruit. The mouth feel is rounded and slightly creamy – the wine lingers for some time leaving notes of apricot and pear.
The 2007 Merlot is one of the "bigger" Merlots you will find in Napa. It delivers dark fruit and structure. Rich dominating fruit shows, especially from the mid palate to the finish. Lingering big tannins invite one to either cellar this wine or drink it with a juicy steak.
Two rewarding wines for their complexity and layers of flavor are the 2007 Harmony and the 2007 Cabernet Franc. In part the Franc contributes similar aromatic threads in both bouquets. The Harmony is somewhat perfumy on the nose with good structure throughout. The Franc has a complex nose – very ripe fruit and a more elegant palate.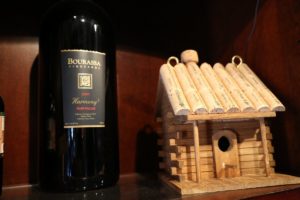 We have had their Solera port before but its always a treat to revisit this wine. Their port is made in the Solera style so that their "current release" is a mixture of various vintages. The oldest vintage in the particular release we tried is 8 years old. The bouquet can be a bit trickey – in that you may not be able to tell this is a sweet wine right away from its aromas. Initially it is a little dusty with notes of tobacco which as the wine opens sweet fruit starts to show through. This wine is beautifully balanced with a clean well integrated mid palate. The wine becomes richer on the palate towards the finish and lingers with a dark cherry liqueur characteristic as well as notes of toasted oak.
During our latest visit, we tried 6 different wines – our favorites were their Zinfandel (great nose on this one), Harmony blend, Cabernet Sauvignon, and their unbelievable Solera port – made from barrel aged brandy as well as 3 red varietals. Some of their wines have a theme of "3″ and you will see the number 3 on several of their labels. It can mean 3 vintages, 3 varietals or anything else that went into the wine relating to the number 3. Their Harmony is their most produced wine – it has a lot of fruit and is low in tannins. Their wines can be consumed at a young age without needing aging although additional cellaring isn't a bad idea if you can resist drinking them!
Good wine = good times = happy customers. Evidence of these prior visits can be seen; club members have signed their names and left comments on a number of the barrels that surround the tasting tables.
A real highlight of a tasting here is a tour of the very nearby cooperage Seguin Moreau. This was the first tasting combined tour of a cooperage out of nearly 1,000 Napa area wineries and producers visited and tasted with to date. The tour of the cooperage is a rare opportunity to see how barrels are built, aged, toasted and shipped. The staves typically sit outdoors for several years to let a beneficial type of mold grow on them, and some winemakers request only staves from the top of the stave piles as these have the most mold!
NOTE: we have received word this tasting room is now CLOSED. We will personally and physically verify this as time permits. And then we will check to make sure they are still actively producing wines.
Winery + Tasting Room

Seguin Moreau Cooper:

Video from TastingRoomers.com