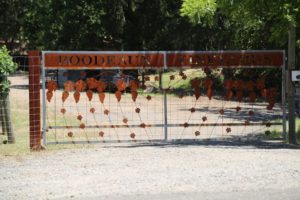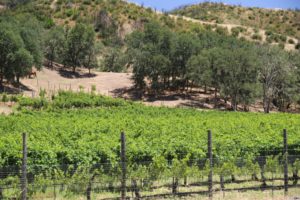 Boodeaux Vineyards are situated in an isolated location in Napa's East county (Capell Valley). Unlike many Napa wineries this winery is not named after the owner's last name, rather it is a combination of his dog's first name Boo, and and "deaux", taken from the Bordeaux region in France. The owner (Scott Becker), tongue in cheek, even refers to his dog as the winemaker and himself as the assistant winemaker.
Scott is a former prison guard turned vintner who actually grew up in the Napa area (graduated from St. Helena High) and was surrounded by the wine industry during his formative years. While paying the bills with his prison guard salary – he certainly wasn't having any part of the vineyard life that he grew up around.
He had the foresight in 1997 to purchase 20 acres in the Capell Valley which he then later planted to Cabernet Sauvignon, Primitive and Charbono. His vineyards are right against the hillside and are planted in pockets typically separated out by specific varietal. Being located in Napa county you almost have to make a Cabernet Sauvignon and Boodeaux makes a delicious one. It is an elegant wine which an observant palate will pick up hints of dill on the nose and certainly some black licorice in the mouth. The tannins are tightly structured and do not overpower the wine. The finish is long and smooth. Boodeaux also produces several varietals that you will typically not find in Napa including a Primativo.
After a very in depth tour of Hendry Winery Scott fell in love with the Primativo varietal which turned into an instant decision to plant this grape on his own property. He immediately returned to his vineyards, installed irrigation and then planted about an acre of this varietal within a week of taking Hendry's tour. We have tried several Primativo's in the valley and this is one of the finest. We tried his 2004 vintage. It has just a slight touch of premium Cabernet Sauvignon blended in and this really gives structure to both the front and finish. It is always remarkable how a small percentage of another varietal really contributes to the wine. The nose is slightly smoky; it is a full bodied wine that will pair great with food especially BBQ'd meats.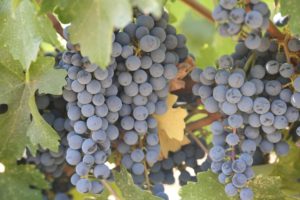 Boodeaux also produces a Charbono which you will be hard pressed to find in the Napa Valley area unless you are in the Calistoga area. This varietal thrives on hot summer days and cool summer nights with often rather large temperature fluctuations. As of press time total production is about 1000 cases with plans to ramp this up in the near future. For the quality to price ratio, Boodeaux's wines are actually quite reasonably priced.
Additional plans are in place to build a crush pad and drill caves on the property. This is definitely one of the more isolated vineyards in Napa County. You can find their wine at Cal Wine and at Dean & Deluca wine shop in St. Helena.
NOTE: this review has been identified as needing a MAJOR update. Not sure if Scott is actively still producing wines.