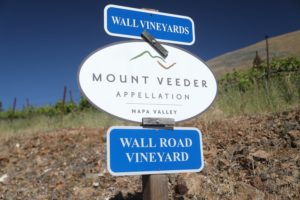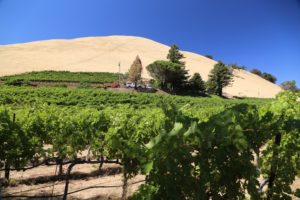 Boich Family Cellar. Founder John Boich lived in the San Francisco Bay Area for many years where he enjoyed a long career in finance serving as a portfolio manager for select companies and founding and running several investment firms. He began visiting Napa and Sonoma in the mid 1990's staying in the area for a few nights at a time. During one such trip while in St. Helena, after a lunch at Tra Vigne Restaurant he decided to go shopping for dish towels. As he was walking down Main Street, he spotted a Prudential real estate office and wandered in – casually asking about available properties for sale.
The agent mentioned a few properties but then hinted at another property that "may or may not be for sale" and invited him to see the property. The agent was Roberta Wall – John followed her up to almost the end of Wall Road off Trinity Road. This is the northern most tip of the Mt. Veeder appellation – remote, rugged and featuring picturesque terrain. John took one look at the view and uttered, "holy crap" – immediately falling in love with this special slice of Napa. Not so much a decision as he admits now, but more of an impulse – he purchased the property from Roberta and Duane Wall that day.
Boich Estate is now 36 acres – divided into a 16 acre and two 10-acre parcels. For 8 years John would come up on the weekends and spend time on the property (recalling only a camping shed and a picnic table were on site) preparing a steep rugged part of the property to eventually be planted to vines. In 2009 merely 220 Syrah vines, a 'home vineyard' were planted – today producing in a good year only about 50 cases of this coveted wine.
Later Duane and Roberta sold John another parcel – which was already planted (in 1999) to 3 acres of mostly Cabernet Sauvignon with a small amount of Cabernet Franc – the fruit was being sold at the time to Del Dotto Vineyards. The vineyard is in the shadow of Bald Mountain and grows at an elevation of 1850 feet in volcanic soils. The vineyard is mostly dry farmed but when water is needed – it is sourced from natural springs on the property. And Duane told us what while this vineyard is small, there are a number of soil types including sections of the vineyard which are much rockier than other parts and have much lower water retention capacities.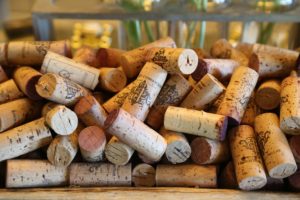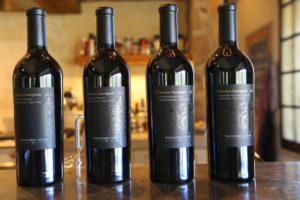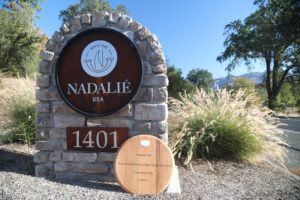 The property is almost at the end of Wall Road – a premium vineyard neighborhood including Boz Scagg's Vineyard, a vineyard owned by Robert Craig Winery and the former estate of Robin Williams (now owned by Alfred and Melanie Tesseron of Château Pontet-Canet in Pauillac, France – which we have also visited).
Duane grew up in the Napa Valley and worked for many years as a cooper at Nadalie Cooperage in Calistoga. His parents moved to this part of Napa in the 1930s and were the namesake for Wall Road. John considers Duane a mentor and a close friend; Duane has shared his years of knowledge and connections in the industry – and his expertise has been invaluable as an informal consultant for Boich Family Cellar. And through his work with Nadalie, Duane met many of the old timers in the valley – and is a rich resource of stories and heritage about the valley.
When deciding on who to hire as a winemaker – John invited a number of well-regarded winemakers to the property to share his vision, acess various personalities and try to determine who would be the best fit for the particular site. He was impressed with winemaker Jeff Ames – Jeff has made every vintage since the inaugural release, a 2012 Beckstoffer owned Georges III G Block. The first vintage of wines from the estate property was in 2014.
In 2011 Jnani Matson joined John as a partner. Jnani has led a diverse life – serving on the front lines in the Gulf War in 1991 and later working for a top Beverly Hills based securities firm providing protection for celebrities and others mostly in Los Angeles and later working in real estate. Also, a pilot, he enjoys flying over wine country although he now lives in Texas.
The focus of Boich Family Cellar is on creating primarily 100% varietal, single vineyard wines from proven iconic sites (including several of Beckstoffer's six 'heritage' vineyards, the top vineyards in his Napa Valley portfolio, all with historical pedigrees).
Select Wines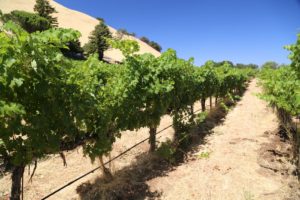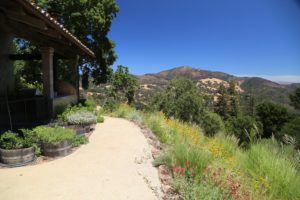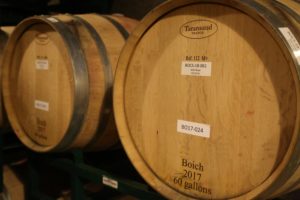 Their first white wine was from the 2016 vintage. Looking at a number of prominent cooler weather sites for Chardonnay in both Napa and Sonoma they finally found a section from a particular vineyard that fit the profile for the style of wine they wanted to produce from this variety. The vineyard is the Ritchie Vineyard in the heart of Sonoma County's Russian River Valley.
The 2016 Boich Family Cellar Ritchie Vineyard Chardonnay went through full malolactic fermentation and was not fined or filtered. The wine spent 10 months in barrel. Golden in the glass offers a pretty mix of both fruit, floral notes (honeysuckle) and baking spice aromas and as it breathes reveals additional notes of brown sugar. Also hints of popcorn on the bouquet. Shows a pleasing texture without being heavy on the palate – with flavors of baking spices, crème Brulé and a citrus nuance. Lingers for some time with intense flavor.
The 2015 Boich Family Cellar Beckstoffer Georges III G Block Cabernet Sauvignon reveals an elegant nose primarily about the fruit including red and dark cherry and strawberry. Hints of dust and an herbal note make this bouquet somewhat savory in is aromatic presentation. A refined opulence if you will. Shows mouthwatering acidity – juicy and salivating at times. Flavors of black cherry across the palate with hints of cedar on the finish. Firm but not gripping tannins anchor the finish. A very food friendly wine.
The 2017 Boich Family Missouri Hopper Cabernet Sauvignon is dark ruby to purple in the glass with aromas of dark fig, plum, boysenberry and blackberry. As the wines breathes further, notes of tobacco leaf and mocha begin to show. Big but really nicely balanced across the palate – the tannin structure is a hallmark of this wine. Dense, rounded and somewhat chalky in texture they continue to persist. Lingers with a darkness of both tannins and fruit – and some earthy notes. Very age worthy.
The 2015 Boich Family Cellar Howell Mountain Cabernet Sauvignon is sourced from a premium vineyard site east of St. Helena in the Howell Mountain AVA. This wine is dark in the glass showing darker fruit aromatics on the bouquet along with a floral note, hints of cigar smoke and cedar box. Reveals a sweetness of fruit and dessert spices as the wine opens. Shows good depth of aroma. Fairly supple on the entry gains in complexity rather quickly. Shows a youthful finish with still tight tannins that need time to open. Pleasing acidity.
The 2013 Boich Family Cellar Wall Road Vineyard Cabernet Sauvignon is a powerful wine from a burly vintage in general in the Napa Valley. Noticeably inky dark ruby in color – the wine is smoky on the bouquet with hints of cigar smoke and leather along with ripe and intense aromas of blackberry, boysenberry and black currant. A wine made for those who gravitate towards robust, complex and big bold Napa Cabernet Sauvignons. This wine is well-endowed with both flavor, acidity and structure – broad shouldered and muscular tannins carry an extremely lengthy finish. Hints of oak spice and vanilla also show. Recommended to decant when young. This wine has all the hallmarks of being able to age for a very long time. A very impressive showing.
The 2018 Boich Family Cellar Wall Road Vineyard Cabernet Sauvignon (unlike the other wines which are 100% varietal, this wine has a tiny bit of Cabernet Franc in the blend). Dark ruby in color with a nose that offers aromas of old cedar, rose petals with hints of tobacco leaf. Still a bit closed on the bouquet at the time of our tasting 2.5 years post vintage date. At nearly 16% alcohol, one doesn't notice the alcohol primarily due to this wine's vibrant energy on the palate from the lively acidity. Plum, red cherry and currant – the palate is juicy and mouthwatering all the way through to the finish. The tannins are still tightly wound, a little astringent and linger with a moderate long-lasting grip.
—
And in another unexplained case of miraculously surviving the devastating October 2017 fires (several Napa vintners we spoke with were also extremely lucky), John's house and wooden barn somehow survived unscathed despite the fire burning all the way to the edge of both structures and completely surrounding their home. Neighbors in very close proximity were not so lucky. Fortunately, most of the vines escaped damage.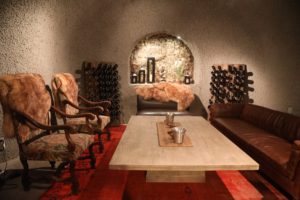 Visits are for serious wine enthusiasts and are held in a nicely decorated portal room inside Hunnicutt Winery in St. Helena (where the Boich wines are produced). Tasting experiences can also be centered around lunches from restaurants in Napa, Yountville or St. Helena, including at Bistro Don Giovanni (with their lovely outdoor patio setting) and at Charter Oak Restaurant in St. Helena.
Their wines are sold direct to consumer as well as through select distribution channels. In Los Angeles some of their wine is available at one of the best wine shops in the southland, Wally's Wine. Locally you can sometimes find the wine at ACME Wine Shop in St. Helena. Total production is typically around 200 cases of each wine per year – and growing and may reach approximately 2,000 cases per year. In additional to their Mt. Veeder properties, Boich Family Cellar also owns another vineyard in neighboring Sonoma County – a hillside property not far from the town of Sonoma.
For more information and or to join their member's list, please visit: www.boichfamilycellar.com