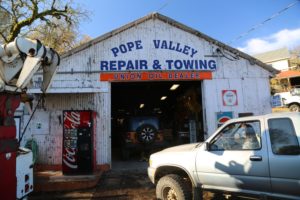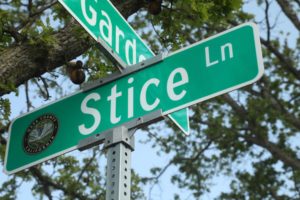 Bluford Wines. History, cars, mines and wines; all are passions of proprietor Jeff Parady. And remarkably he has been able to combine all of these interests into his business and lifestyle pursuits.
However, his story begins with history, and there is a lot of it as it relates to both mining and wine making. Our notes barely touch the tip of the iceberg. When we have some time, we will dig much deeper into Jeff's family history and will update our notes here accordingly.
To borrow from another Napa winery name, his 'roots run deep' in the valley; Jeff is the 7th generation of his family to live in Napa Valley and his children are the 8th generation. There are certainly not many Napa residents that can say this. Jeff's great, great, great grandfather, Buford Stice came to California by leading a team of wagons across country in 1856 from Missouri. Buford settled in Napa Valley (farmed land in what is now Rutherford) but then heard about a gold strike near Baker City, Oregon in the early 1860s and left the Napa Valley to become a gold miner.
Unfortunately, Buford met his demise in one of the hydraulic mines when part of the mine collapsed on him. However, his name lives on near Baker City; Stice's Gulch is named in tribute to his gold mining efforts. Before he died, he fathered a son, Lafayette Stice who eventually owned vineyards near what is now Stice Lane (south of the town of St. Helena). Lafayette became a prominent winemaker in his own right – working at the old Brun & Chaix Winery (now Cade at 13th Vineyard on Howell Mountain). In the early 1900's Lafayette became the director of wine making at Inglenook Vineyards.
And the wine story continues: Lafayette's son, Henry (Jeff's great grandfather) was also a winemaker and made the first vintage at the storied Beaulieu Vineyard in 1909 (after being hired by the founder of BV, Georges de Latour). Henry's son Lloyd was Jeff's grandfather and was the Fire Chief of St. Helena for a time and also ran St. Helena Feed and Seed at the corner of Spring and Main Street, supplying local farmers with various supplies.
And if that side of Jeff's family doesn't bring enough Napa heritage to the table, consider the history that another relative brings, Heinrich Thomann. Heinrich came to California in the 1850's and ultimately settled for a time in what was Sutter's Fort and directly worked for Captain John Sutter. The name Thomann Station is still used by some vintners on their bottlings. Incidentally John Sutter employed James Marshall who was credited with discovering gold at Sutter's Mill and sparking what become the California gold rush of 1849 over the ensuing years.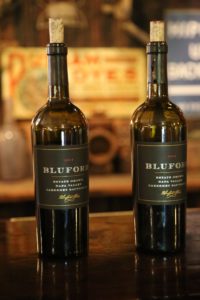 Heinrich built a saloon in what is now old town Sacramento and planted vineyards in the late 1840's (certainly among some of the earliest privately planted vineyards in Northern California). Eventually Heinrich convinced his nephew, John Thomann to move to California from Switzerland and John settled in the Napa Valley. John established a small winery in St. Helena which was sold to John Sutter's daughter and his son-in-law after his death, and they named the property Sutter Home. Eventually the Trinchero Family purchased this property which became the foundation for their now nationally recognized Sutter Home wines (incidentally, Jeff's mother Judy has worked at Sutter Home for 30+ years).
And if you connect the heritage back far enough, the Parady's aren't the only long time Napa wine making family related to Buford Stice; the Wagner family (Caymus Vineyards) and the Pina family (Pina Vineyards) are also connected to this historical pioneer.
Today Jeff remains busy with a number of business interests. In 2015 he and his family purchased the Pope Valley Repair & Towing shop located at the intersection of Howell Mountain Road and Pope Valley Road. While only about a 15-minute drive from the Silverado Trail and the floor of Napa Valley, the feel in Pope Valley is decidedly different. Physical wineries are far and few between, the roads are not heavily used and there are less people who live in this part of Napa compared to the actual valley floor.
The history continues with this old repair shop. It dates from 1915, a time in the early development of automobiles and continues to serve as a repair shop including for farm equipment. And in another piece of automotive history, this was the first shop in California to contract with AAA in 1927. Jeff also provides a valuable towing service for this part of Napa Valley and during harvest is busy trucking grapes from vineyards to wineries.
An original building dating from 1875 is located near the repair shop (the old Pope Valley store). It originally was used as a store, a bar and a post office with hotel rooms located upstairs. The post office had to be moved out of the building to another building a few feet away in the late 1930's after a law was implemented forbidding post offices be in the same buildings as bars.
Jeff has intriguing plans for restoring this old Pope Valley store including bringing back several hotel rooms, renovating the old buildings on site and opening the old bar as a place to taste Bluford Wines. Walking into this saloon is like walking back in time. It smells old. Perhaps there would be bartender with a long beard and a leather jacket. There might be horses parked in front. It might be nice if it was actually the late 1870's for an afternoon.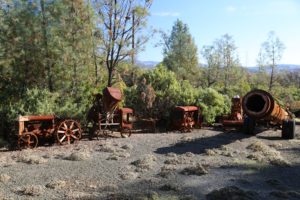 Jeff also owns 18 acres in the hills just east of Howell Mountain (above Pope Valley). His hillside 'ranch' was once in the thriving township of Aetna Springs, a town built around quicksilver (cinnabar ore) mines. His property is next to the first Cinnabar Mine established in Napa County in 1861, the Phoenix Mine. Ultimately 21 miles of tunnels were drilled into the hillsides. For some 40 years between the 1860's and early 20th century, Napa County was once one of the most prominent quicksilver regions in the state.
Quicksilver from Napa County was an integral part of California's gold mining heritage – as quicksilver transported from Napa County to the Sierra Nevada gold fields was used for extracting gold and silver from the ore bearing rock.
Jeff honors the local mining heritage in a number of ways. In 2007 Jeff was told the nearby Aetna Springs Clubhouse (dating from 1925) was going to be torn down and if he wanted to keep the old building, he had 6 days to make arrangements. Going to work quickly, Jeff rounded up a number of friends and volunteers, sawed the building in half and then transported it about a mile from its original location to his ranch where he and friends re-attached both halves together. The interior contained a treasure trove of items related to local mining heritage as over the years Jeff collected numerous mining implements, old signs, geological specimens and documents from both local and nearby mines. This was probably the most in-depth private mining collection in all of Napa Valley. If there was another word more descriptive than tragic, we would use it to describe the loss of this entire clubhouse and all of its contents, when it all burned in the LNU Fire in 2020. Certainly, anguish at losing this invaluable collection is an appropriate descriptor.
Some of the more interesting mining relics he has acquired included mining equipment directly tied to quicksilver mines. Processing cinnabar ore is a time intensive process. Ore is crushed into a fine powder and in one process is fed into a rotary type of furnace (Jeff has an old furnace from a WWI destroyer) containing a long tube which is anchored at a slight angle. The ore powder is heated for up to 8 hours in a tube which rotates so that the heated ore falls to one end of the tube. Eventually the mercury rises as a vapor, goes through condensing tubes and ultimately is deposited into buckets as a liquid form.
The Washington Mine (Adjacent to the Phoenix Mine) is on Jeff's property. When he purchased the land, an old shaft extended into the hillside. He closed this up and built a structurally robust wooden entrance – which ended at a large vein of serpentine. Unbelievably the LNU Fire burned into this mine shaft and destroyed the wooden beams and some of the items that Jeff was able to put in here last minute before the flames burned through the property.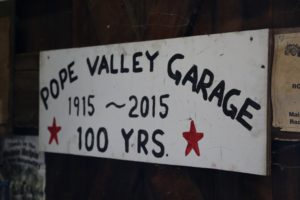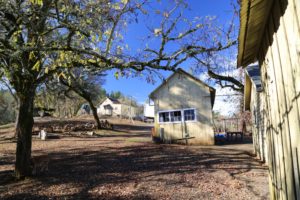 Jeff's parents Larry and Judy own 50 acres in the hills above Pope Valley of which 4 acres are planted to vine. They purchased this land in 1993 and Larry and Jeff planted the first block of vines here in 1998 themselves (entirely Cabernet Sauvignon with some of the vineyard planted from cuttings from Martha's Vineyard (in Oakville). Larry worked for ATT for many years (based in St. Helena), and this was his retirement project. Retired from ATT but not retired from grapevines, he continues to oversee the management of their 4 acres of vines. Most of the fruit is sold but they do hold some back for Bluford wines.
The property was originally planted to grapes in the late 1860's and by the early 1870s a ghost winery called the Haug Winery was built (but never bonded). Wine was shipped to San Francisco for several decades until phylloxera ultimately wiped out the vines in the 1890's. The age of this winery puts it among an extremely select company of Napa Valley based wineries that are still standing from the 1860's and early 1870's. The original first floor and its stone rock walls (quarried nearby) still stand. The second story was replaced with wood in the early 1940's from the Olive Hill School (located nearby). And when the Parady's purchased the property – the original wine press was still standing in the cellar.
Ore Cart Wines was their original label with its first vintage from 2010 – made with Jeff and their winemaker at the time Scott Brown. They only made several vintages of this wine before introducing Bluford Wine in 2012. The wines are made at a small winery on Howell Mountain by Jeff and several well-respected other winemakers. Initially, Bluford Cellars produces one wine each year, a Bluford Cabernet Sauvignon and more recently a Chardonnay bottled under the label, Charlotte Katherine.
Select Wines
The 2021 Charlotte Katherine Chardonnay Knights Valley Sonoma County is medium golden in color; the bouquet is both sweetly fruited and floral with aromas of honeysuckle, jasmine, lychees, pineapple and guava. Its aromatics are highly attractive. The rich palate sports flavors of melon, citrus, and pineapple guava along with pear and mandarin. There is a more citrusy undertone including a flavor of lemon juice. The finish is bright and long lasting with a rounded and creamy-like texture. Based on both the bouquet and the palate we like to think we could pick this out of a blind tasting of California oaky and buttery Chardonnays. This wine would stand out due to its stylistic differences.
The 2018 Ore Cart Cabernet Sauvignon Dry Creek Valley Sonoma County is deep ruby in color; the bouquet offers ripe aromatics but never crosses into the opulent territory. Its scents include dark cherry, plum, licorice and some light baking spices as it further evolves in the glass. The barrel influences are kept at a minimum. This is a brightly lit bottling of this variety which shows more high toned red fruits than darker fruits across the palate. It reveals flavors of red plum, cherry, plum and currant with a mouthwatering and tart red-fruited finish. The youthful tannins sport a gravelly texture and anchor a long fruit filled finish along with a note of crushed pink peppercorn.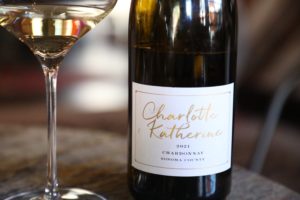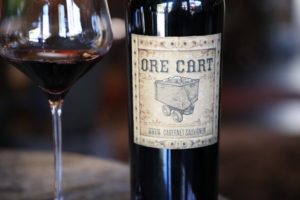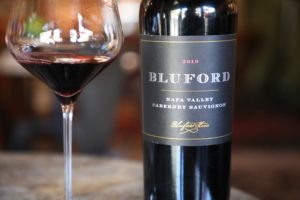 The 2019 Bluford Cabernet Sauvignon is deep ruby and nearly opaque; the bouquet is well-layered offering primarily dark fruited aromas of plum, cherry, a ripe blackberry sweetness which almost crosses into the territory of blackberry jam, and more subtle underlying notes of oak spice and chocolate. The palate is a mouthful of dark and rich fruit supported by firm, gravelly and pixelated tannins. We kept waiting for the tannins to drop off on the extended finish but their grip continues to persist for some time. Lingers with a drying character, an oak spice note and a savory nuance including dark spices. Steak please.
The 2013 Bluford Cabernet Sauvignon is representative of a 'bigger' vintage in Napa Valley. It is noticeably dark in the glass and shows darker fruit on the nose. It is initially somewhat earthy with notes of black olive and a noticeable berry type sweetness (blackberry and boysenberry) with a kiss of vanilla. As it opens more fruit shows on the bouquet including a sweet cherry component. Drinks well young – shows bright ripe fruit on the palate with decent structure. The tannins are fairly well integrated and somewhat chewy on the finish. No robust grippy tannins here.
The 2014 Bluford Cabernet Sauvignon shows bright fruit on the bouquet including blueberry and blackberry with a hint of dessert spice. This wine packs plenty of flavor including notes of blackberry. It is fairly supple and round upon the entry; this texture continues across the palate. It sports pleasing fine grained tannins that linger for some time. Somewhat dusty. A clean finish. This wine is highly approachable and drinks very well young.
—
Blueford Meat Clubs, Parady Ranch
Jeff's brother Doug and his wife Dianne raise cattle on the several hundred-acre Parady Ranch along with leased lands in the small town of Standish in Honey Lake Valley in Lassen County. This is a beautiful county in the far reaches of northeastern California and is where we have spent a fair amount of time prospecting for gold over the years (one of our hobbies).
Doug has been ranching much of his life, while living in Pope Valley one of his friends from Idaho introduced him early on to to raising cattle. He and Dianne moved to Standish where Doug took a job for the Swickard family, cattle ranchers who own Five Dot Ranch and incidentally operate Five Dot Ranch retail in Oxbow Public Market in Napa. Doug used to spend 6 days a week riding horses, as he puts it, herding cattle. Eventually he and Dianne purchased their own land; they raise their own alfalfa, and their free-range cattle are grass fed for approximately 150 days a year and then are fed corn and grain to gain their final amount of weight.
With the help of an employee Doug built a series of corrals; some of the wood used for the fencing came from the old wooden barns that used to house various materials at Central Valley, a construction and vineyard supply company located in St. Helena.
The inception for the Bluford meat clubs began when Doug sent a a full steer's worth of meat down to his parents; Jeff tried some of the meat and wondered if there was some way, he could combine wine tasting with grass-fed top-grade beef. His initial thoughts were to pair select cuts of meat with some of his winemaker or club member dinners. But then he took his idea a step further. Beginning in 2022, sourcing beef from Doug's cattle, Bluford Cellars created several 'meat clubs' ranging from a quarter to a half to a full steer – each club membership is offered on the Bluford website.
Doug's satisfied clients (locals in Honey Lake Valley) continue to purchase beef from him. One customer told him, "His beef is the beast meat I've ever tasted." This statement certainly validates his passion and and hard work seven days a week required to raise premium cattle on a small ranch.
And for those interested in an event that in part features both Doug's beef and Bluford wines consider attending the annual Taste of Beef Sip of Wine event hosted by the Lassen County Cattlewomen and Cattlemen, typically held sometime between mid-February and early March. This event is always held at the historic Elks Lodge in Susanville.
VAULT Wine + Artifacts
Bluford is part of a select group of vintners hosting tastings by appointment in VAULT Wine + Artifacts in Calistoga. This space was previously the home of ROAM Antiques; in early 2021 ROAM Antiques closed permanently, and the building underwent a major renovation which was completed by late summer 2021. The VAULT Wine + Artifacts space anchoring the south side of Lincoln Avenue on the far west side of Calistoga is a partnership between Mario Sculatti and Trevor Mallett. While visiting with Jeff one day at the Pope Valley Garage Mario mentioned the VAULT and told him he thought this space would be a great fit for the Bluford Wines. Bluford began showing their wines here in 2022.
The space re-opened as VAULT Wine + Artifacts in Fall 2021, a wine tasting space for several brands owned by Trevor and Mario, along with select other wines from Stringer Cellars and Sarah Francis, among others. In the spirit of the previous antiques business, a number of historical wine objects are displayed inside. These include winemaking equipment, hand-blown glass and an impressive collection of corkscrews. Other than the large items, most everything is for sale in the gallery.
The centerpiece of the space is an old Roman press, whose heritage Trevor told us, is possibly from either Austria or the Ukraine. Old wooden Roman presses are extremely rare in Napa Valley. The only two wineries we know of who own Roman presses from earlier winemaking days are Nichelini Family Winery and Yates Family Vineyards. Another smaller wooden press is from Germany with words in German engraved in the wood which roughly translate to: "In good times and in bad times we still make red and white wine"!
As of our latest update to this review, VAULT Wine + Artifacts offers three tastings including Valley Floor, Mountain and Unique Varieties. Visits are preferably by appointment, but staff will try to accommodate walk-ins if not busy. A side room seats up to 8 people for a private and more intimate tasting. A large mirror greets visitors inside this room; it doubles as a secret door to another room, containing a library and office.
For the longest time Bluford had no website or social media presence. This has changed in the last few years. Interested parties can visit Jeff's website to purchase wines, join one of a number of wine clubs, the meat clubs, purchase olive bottled under the Beroldo name, or request an appointment for a tasting. For more information, visit: https://bluford.com
Those interested in purchasing wine can call Jeff at: (707) 965-1199
Pope Valley Towing & Repair

Pope Valley Store

Mining History