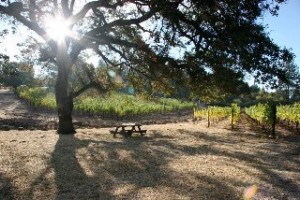 Blue Hall Vineyard is a 5 acre site on Howell Mountain of which 3 acres are planted entirely to Cabernet Sauvignon. The vineyard is owned by two medical doctors, Andrew Zolopa & Annie Talbot. Andrew has devoted his medical career to caring for those with HIV and AIDS and was instrumental in starting the HIV program at Stanford University in 1994. For 20 years, Andrew was a professor at the Stanford School of Medicine (now professor emeritus).
Andrew and Annie had just returned from sub-Saharan Africa merely days before our meeting where they were working to implement prevention policies for at risk for HIV teenagers in Rwanda. They are working with orphans who were affected by the terrible genocide in 1994 and are now coming of age. Their invaluable work in Rwanda may lead to a number of public policy changes in regards to HIV treatment in that country as well as the increased availability of various drugs.
The name "Blue Hall" comes from the "Silverado Squatters", written by Robert Louis Stevenson – a book everyone should read with an interest in historical Napa Valley. Mr. Stevenson was on his honeymoon in the Napa Valley when he and his wife ran out of money (you don't typically hear about this type of situation occurring on honeymoons today!). Not wanting to cut his honeymoon short he and his wife found out about some quick silver mines on the flanks of Mt. St. Helena in the northern part of the valley. Setting up for the rest of their honeymoon they ended up living in a cabin on the edge of the mountain (the cabin site is still there surrounded by oak trees). Looking up at the blue sky he felt he had entered "the blue hall of heaven".
Andrew had been coming to Napa to enjoy fine wine for a number of years while working at Stanford and eventually decided to build a home away from home. He purchased his Howell Mountain property in 1998. It was not planted to grapes at that time and he had no intent of planting a vineyard. His property is surrounded by a Beringer owned vineyard and there was no doubt grapes would do well here. One day his real estate agent asked the question that is often asked in Napa when you own land that is not planted to grapes yet is surrounded by vineyards, "when are you going to put in a vineyard". Having tasted some of the wines from his neighbors, this question was timed well and Andrew soon oversaw the planting of his vineyard. Well-regarded and long time Napa family the Pina's planted and continue to manage the vineyard. This was in 2000. The Pina's control their own vineyard on Howell Mountain and actually manage vineyards for a number of Howell Mountain producers. They know this terroir very well. Blue Hall's first commercial release was 2005 although their 2004 while technically their first vintage will actually be released after the 2005 as a library wine.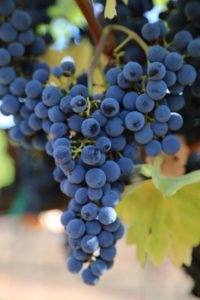 Blue Hall Vineyard produces one wine each year – their 100% Estate Cabernet Sauvignon made from two distinct clones. Andrew named this wine after his daughters Camille and Juliana by combining their names to Camiana. Ted Osborne is their winemaker; Ted is part of the "new" generation of young ambitious winemakers in the Napa Valley who have built their credentials through a lot of hard work from the ground up. Ted is self taught having entered the wine industry with a degree in English and no formal training. Along with other young area winemakers Ted has a plethora of International experience ranging from work at Passing Clouds in Australia, Rupert & Rothschild in South Africa, and Chateau du Seuil in Bordeaux. In addition he has put in significant cellar time working for two well-known Napa wineries, Cakebread and the northern most winery in the Napa Valley, Storybook Mountain. He has been head winemaker at Pina Winery and also runs his own label called Olibasi.
There are two blocks in the Blue Hall Vineyard, an upper and lower and fruit from each one is fermented apart and kept separate until the final blending decisions are made. One side of their vineyard will always be native vegetation as it is secured by the Napa Land Trust, an organization that acquires property in the Napa Valley and then preserves it in its natural environment.
We tried the 2008 while still in barrel – this is the first wine made for Blue Hall by winemaker Ted Osborne. As with other wines this young there are certainly some added oak characteristics that you will not find once the wine is bottled. This wine already shows their vineyard's fruit very well. Despite its hillside origins and tender young age, it is not a huge chewy tannic mountain wine. The 2008 shows an elegant bouquet with a palate revealing red sour cherry and plum components anchored by a finish showing broad finely grained tannins.
During a later follow up at a trade tasting we also tried their 2004 and 2005 vintages. The 2005 is a very food friendly wine with a pleasant elegant nose. The palate follows showing a soft entry with more red fruit than dark fruit, lively acidity and tannins that are already balanced. Their 2004 despite the additional year in the bottle is their "biggest" wine out of their first few vintages. It shows some herbal notes on the bouquet along with notes of red cherry and flavors that show rich layered fruit. This wine is well structured with meaty tannins and a fairly long finish – only 80 cases were made. With a single vineyard, Blue Hall makes a single wine each year; with small vineyards it is always nice to be able to taste the actual vintage variations and you can certainly do that with their wines.
Because of the very small production and recent first release, they are not yet distributed in many places. A typical production is around or under 200 cases – certainly one of the smaller producers in the valley. Locally you can find their wine in Solage Resort in Calistoga and because of Annie's heritage they will be distributed in Montreal, Canada.
NOTE: no longer producing commercially.