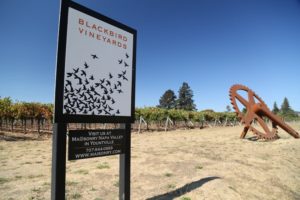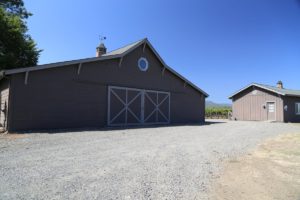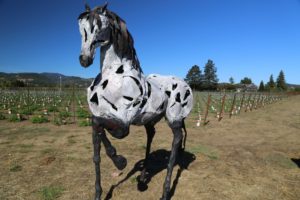 Blackbird Vineyards is located in the heart of the Oak Knoll district in the southern part of Napa Valley and was purchased in 2003 (previous owners were the Trefethen family of Trefethen Vineyards). The vineyards (at one point, a walnut orchard) are entirely planted to Merlot and over the years this vineyard has provided fruit to many very high end Napa wineries including Shafer, Viader, and Lail. The property is nearly 10 acres of which 7 acres are planted to vine.
An early success from this vineyard was when well-regarded winemaker Mia Klein created a vineyard designate from this vineyard for her 1999 Selene Merlot (her own label).
Blackbird Vineyards was founded by Michael Polenske, an investment banker as well as an entrepreneur. He has been interested in wine for many years, and took a number of wine related classes while in college. Today, Blackbird is his passion – within seconds of walking out of his house or office he is in the vineyards. He follows "the business of leisure" model, or more simply stated, invest in what you love and turn that into a self sustaining business. He did this with Blackbird Vineyards followed by a number of interests in the art and design world including Ma(i)sonry in Yountville (since sold to Restoration Hardware).
Blackbird Vineyards is part of the Bespoke Collection which oversees several art galleries including in Yountville, Napa, and Healdsburg as well as curates a number of outdoor art collections in both Napa and Sonoma County. And other wine brands as part of the collection include: ÆRENA Wines and Recuerdo Wines.
The first vintage of Blackbird Vineyards was in 2003 but this was merely 90 cases as most of the fruit at that time was still being sold to area wineries. Sarah Gott made the first few vintages – well-regarded winemaker and raconteur Aaron Pott has made every vintage since 2006. Aaron's style of wines are ones that strike a well balanced approach between fruit, acidity, and structure. And they are built to age.
In 2019 John and Julia Hinshaw purchased a majority interest in Blackbird Vineyards and are now overseeing the company. They were previously investors in Blackbird and currently own an estate vineyard in the hills of the Vaca mountains east of Rutherford (called the 'birds nest'). John has enjoyed a successful career as an executive at a variety of companies including Verizon, The Boeing Company, Hewlett-Packard and HSBC. Julia is responsible for the philanthropic efforts for Blackbird Vineyards. And over the years Blackbird has a strong history of supporting a variety of charities – to date over 4 million dollars has been raised – primarily through a variety of wine auctions around the country.
Select Wines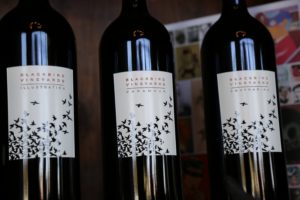 Invariably with even a little bit of time spent in Napa Valley, one will hear about Napa's "Cult Cabernet" wineries, however one never hears about a Napa cult Merlot, but if there was one, Blackbird would probably be the closest fit. And based on the small size of their vineyard they do not make a lot of wine each year.
The focus every vintage is on several red wine blends – each of which contains significant percentages of Merlot. All their reds are fermented with indigenous yeast and are not fined or filtered prior to bottling. Blackbird also produces a rosé wine of Cabernet Franc, Cabernet Sauvignon and Merlot (tends to sell out quickly). In addition to their Oak Knoll based estate vineyard (with its sometimes rotating outdoor sculptures at the intersection of Oak Knoll Ave and Big Ranch Road), they source from select very premium vineyards ranging from Carneros in the south to St. Helena in the north.
All their wines have proprietary names and a quote is associated with each wine. Some of the names or the quotes are taken from well-known songs or associated with musicians.
Incidentally, "Merlot" in patois (a French dialect) means Blackbird. The growing climate and soil types are somewhat similar to parts of Pomerol, France's prominent Merlot growing region.
We tried the 2004 and 2005 Blackbird Vineyards Merlot while visiting their Oak Knoll Vineyard; both wines are unfined and unfiltered for maximum flavor and both wines are really true to the flavors of this variety and terroir which is a testament to their acclaimed winemaker Sarah Gott and the vineyard source. The 2004 Blackbird Vineyards Merlot is 95% Merlot and 5% Cabernet Sauvignon. It is a dark wine with a bright lively fruit on the nose and a palate full of ripe cherry and blackberries with touches of mocha and chocolate. The finish is long and smooth.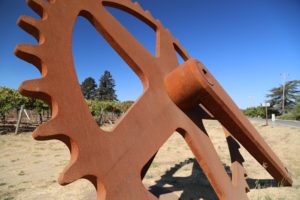 The 2005 Blackbird Vineyards Merlot includes a nearly identical blend, displays a deeper rich earthy aromatic profile with again a diversity of fruit flavors including plum and blueberry. It is a very well balanced wine with nice character on the finish.
The one white wine produced is the Sauvignon Blanc. The 2015 Dissonance Sauvignon Blanc does not have any grassy or green aromatic notes. Rather the nose shows notes of pear, honeysuckle and peach. Somewhat tropical floral notes as well. Aptly and simply described the palate is delicious; it is balanced with a richness of fruit tempered by good acidity. This wine offers decent weight for being 100% varietal Sauvignon Blanc. A subtle minerality component complements the finish.
The 2013 Blackbird Vineyards Paramour is a blend of 52% Cabernet Franc, 34% Merlot and 14% Cabernet Sauvignon. The density of color of this wine complements the density of structure on the palate. Savory aromas show including mostly darker fruits – blueberry and blackberry complemented by floral notes. The tannins are sediment like, dark, brooding, complex and long lasting. Well layered both in flavor and in the tannin textural profile.
In unique offering, in 2009 Blackbird Vineyards partnered with GrammyTM Award-winning artist Martina McBride to produce a "signature series" Napa wine. Each bottle has Martina's stamped autograph is is offered exclusively to members of her fan community. Martina first tasted Blackbird's wines while touring Napa Valley.
—
Blackbird Vineyards continues to grow in appeal among serious wine enthusiasts. The Select vintages of the Blackbird wines can currently be tasted at Ma(i)sonry in Yountville (just down the street from the famed French Laundry restaurant).
RiverHouse by Bespoke Collection (Permanently closed)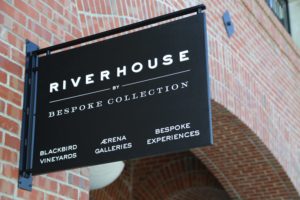 This tasting space closed in December 2021. We keep our notes and photographs here for historical reference.
Several tasting experiences were offered at the RiverHouse (where wine was paired with art) including the Portfolio Tasting which included the current releases of Blackbird Wines and the Bento Box tasting, a Bento Box lunch prepared by their culinary neighbor, Morimoto Napa. This was paired with the current releases of the Blackbird wines. And a number of other exclusive experiences were offered including a flight, yacht tour and customized activities using the expertise of their concierge staff.
The RiverHouse opened in September 2016 along the Napa Riverfront Walk just off of Main Street (almost directly behind the Napa Valley Welcome Center). Tasting were originally conducted inside but but later tastings were offered on the walkway directly outside.
NOTE: this review has been identified as needing a *major* update.
For more information or to join the flock in their appropriately named, Blackmail Membership, visit: www.blackbirdvineyards.com
Blackbird Vineyards, Oak Knoll