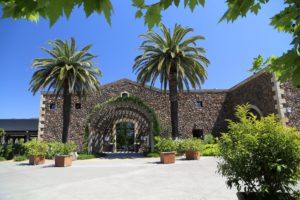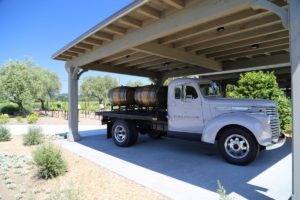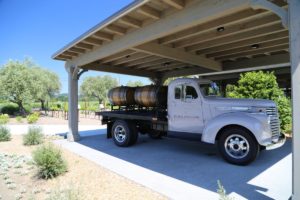 Black Stallion Winery began virtually – meaning they did not own a physical winery or property (their first release dates from 2002). Their hospitality center opened to the public in May 2007.
The 38 acre property is located off of the southern part of Silverado Trail in the Oak Knoll Appellation. We visited several times during the construction (tasting was in a trailer at that point – how far they've come since then) as well as after the "new winery" officially opened. Look for the large statue of the black stallion in the front – don't actually park here – the main parking lot is located in the back of the winery accessible via another driveway slightly to the north, directly off of the Silverado Trail.
The winery site used to be horse stables and an equestrian center called the Silverado Horseman's Center and had a long rich history before closing in the 1990's. It housed an indoor riding track with an outdoor arena that seated up to 3000 people. The original equestrian center (behind the tasting room building) has now been remodeled for winery production uses. Historical information about this and the Silverado Trail hangs on the wall near the tasting counter.
Also of note is one scene in the movie, Apocalypse Now was filmed here. Director Francis Ford Coppola has had a long time connection to Napa (through his own winery, Inglenook Estate).
Black Stallion was founded by two brothers Terrance and Michael Maglich, owners of MGM Wine & Spirits, a Minnesota based brand of alcohol retail outlets centered in and around Minneapolis. In 2010 they sold Black Stallion to the Indelicato family. This family owns Delicato Family Wines – founded in 1935 in Manteca California (home of their sizable winery along with a tasting room open to the public).
The Indelicato family's domestic wine origins start with Gaspare Indelicato and his brother-in-law Sebastiano Luppino who began a vineyard and grape shipping business in Lodi in 1924. This was during prohibition and their grapes were shipped mainly to Chicago for home winemakers. After Prohibition was repealed, demand for grapes for home winemaking decreased and both men decided to start a winery, founding Sam-Jasper Winery in 1935. This original winery was named after both men's 'American' nicknames.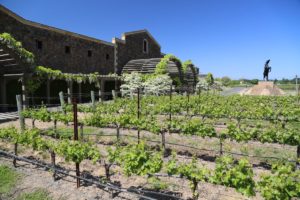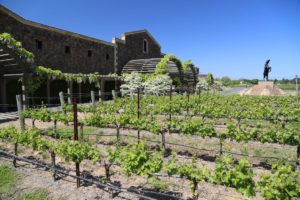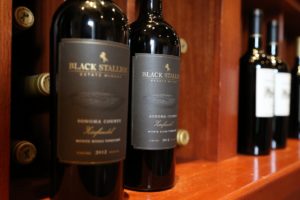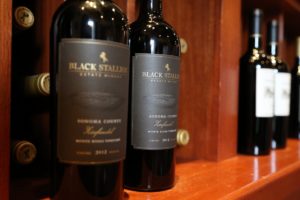 The Inedelicatos own several physical wineries and over 15 wine brands including perhaps their most known brands, Gnarly Head (not to be confused with Louis M. Martini's Gnarly Vine wine) and Bota Box – reasonably priced wine in a pouch contained within a box. Through a partnership with musician Zac Brown, they also produce a number of wines under the label Z. Alexander Brown wines. The Indelicatos are one of the largest by case production wine producers in the USA.
Some of the wines are from the 10 acres of vines surrounding the winery – this vineyard was originally planted when the winery was built – all the vines are Cabernet Sauvignon. This is the Gaspare Vineyard, named in honor of the Delicato's Italian immigrant patriarch Gaspare Indelicato. Later additional adjoining acreage was acquired and also planted to more vineyards. Black Stallion also sources grapes from local vineyards not under their ownership, mostly in the Napa Valley also also selectively in Sonoma County. In 2008 a full-time winemaker was hired to oversee the Black Stallion wines.
This winery has no affiliation with the Black Stallion movie – so no souvenirs for this movie are sold here – although for marketing purposes this would not be a bad idea. Visitors can however purchase some artsy looking horses as well as rusted iron "good" luck horseshoes. This is the only Napa winery we have seen selling horseshoes inside the tasting room – although it certainly fits when you take into account the properties' history. And in a random coincidence, the director of the original Black Stallion film, Carroll Ballard, lives in the Napa Valley and along with his wife operate a tiny wine brand.
Of interest to visitors, is a small signed demonstration vineyard on the side of the winery next to the outdoor tasting lounge area. This is one of the few demonstration vineyards in the Napa Valley that is labeled row by row depending on the variety planted. 17 varieties are planted here – it can be quite interesting to look at these vines during critical times of the year, such as bud break and or veraison – certain varieties are fully leafed out while other varieties haven't even gone through bud break yet – or the grapes on certain vines are still green and others have fully gone through veraison.
What most visitors do not see when they stop here are the gardens in the back of the winery complete with a walking path. There are several benches located here – on a warm spring or summer day this is a great place to sit and relax. Raised beds with vegetables are also located here. And once a year in September, the Taste of Atlas Peak is held among the gardens – featuring the wines of numerous nearby Atlas Peak wineries and producers, most of which do not have tasting rooms.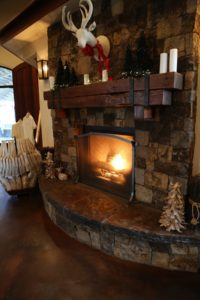 As of our latest update to this review, Napa County has approved a winery to be called Sam-Jasper to be built next to Black Stallion. We will update this review and provide a separate review once this winery is built.
The inside of the tasting room is plush with high ceilings and is tastefully decorated. A rectangular tasting bar can accommodate large numbers and on the weekends and even many summer weekdays it can be very crowded inside. Initially, part of the reason for the the lively atmosphere was Black Stallion crafted a robust marketing effort to bring people here for tastings (focusing on the San Francisco Bay Area).
One end of the tasting counter looks out the window onto their vineyards – from another direction guests have views into their barrel room. Wine Club members can take advantage of a more private space, a separate Members only Club Lounge room. Tastings are either at the bar or seated at small tables. Several tastings are offered (each tasting flight features four wines) including a Cabernet Sauvignon only flight and a higher end tasting which includes Bucephalus, one of their premium red wines (a red blend). Scholars of ancient Greek and Roman history will immediately recognize the name Bucephalus as referring to the black horse that Alexander the Great always rode into battle.
Select Wines
Black Stallion produces a diversity of wines including some of which can only be tasted at the winery. The winery produces both white and red wines categorized into three tiers; Prestige (extremely limited, hand crafted wines – the best of the best), Limited Release (estate and other single vineyard bottlings) and Heritage wines (must larger productions, generally available in select states through distribution).
Production has grown significantly since the early years – when we first stopped by in 2006/2007 we were told production was around 4,000 cases a year – today they produce around 10,000 cases between the Prestige and the Limited Release wines.
The Black Stallion 2015 Limited Release Howell Mountain Zinfandel (100% varietal) was sourced from own of Napa's most well-regarded mountain Zinfandel sites (and one of the highest in the county), Black Sears (with an uppermost vineyard elevation of 2,500 feet). This wine offers a spiciness on the bouquet including aromas of white pepper along with plenty of red fruit and a dried rose petal nuance. The wine dances across the palate, lively like a young ballerina dancer. Features mostly red fruit flavors including red cherry and currant. Excellent acidity – a style that is decidedly more leaner than some of the riper higher alcohol California grown Zinfandels that are commonly produced these days. Anchored by red fruit on the finish and short length tannins.
The Black Stallion 2015 Mt. Veeder Cabernet Sauvignon (100% varietal) offers an intriguing variety of both fruit and spice aromatics – initially dried cigar, black licorice, cranberry, white pepper and as the wine breathes, clove. Mostly red fruit flavors on the palate including red cherry and currant with a spicy plum note on the finish along with tobacco. Still somewhat tightly woven (but not coarse) tannins anchoring a mouth watering finish.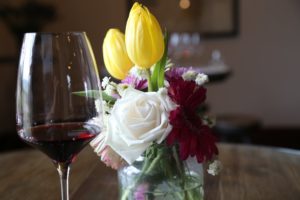 The Black Stallion 2015 Bucephalus was harvested from select vineyards across 6 of the Napa Valley's 16 American Viticulture Areas – with the primary sources coming from Howell Mountain and Atlas Peak. This vintage is a blend of 73% Cabernet Sauvignon, 20% Syrah and 7% Petit Verdot. Shows aromas of old cedar box and tobacco – also somewhat brambly or briary with berry fruits, red cherry and a hint of mocha. A noticeably more robust wine then the other reds we tried, but still very food friendly featuring excellent acidity. Lingers with flavors of plum, cranberry and red cherry – loads of fruit flavor on the palate. Full bodied with long lasting tannins, albeit somewhat drying on the finish. A bit of oak spiciness also lingers.
And in 2017 a 2012 Black Stallion Napa Valley Cabernet Sauvignon was served at US President Donald Trump's inauguration dinner.
—
Besides owning Black Stallion and its estate vineyards in the Napa Valley, the Indelicatos also own Clay Station Vineyard in Lodi (over 1,000 planted acres) and several vineyards in Monterey County including the San Bernabe Vineyard located slightly south of King City (planted to over 20 different types of wine grapes spread over 5,000 planted acres) with a sizable nearby winery. Their overall vineyard holdings are large; currently they farm some 6,000+ acres of vines in California. While their primary winery is located in Manteca, their headquarters are just south of the city of Napa.
The tasting room in Manteca has an old school feel – with a sizable bar that features numerous wines across their variety of brands including several of the Black Stallion wines. Guests can choose from a list of wines to taste at the bar ranging from whites, reds, several sweeter wines as well as a tiny selection of sparkling wines. And what you will not find at any Napa Valley based tasting room – a small corner of the tasting room is set aside as a wine makers shop – featuring a number of wine making products. And three wooden wine vats dating from when Gaspar Indelicato began his new winery in 1935 are located directly in front of the tasting room.
For more information or to join one of their several wine clubs, visit: www.blackstallionwinery.com
Black Stallion Winery, Exterior

Black Stallion Winery, Interior

Delicato Family Vineyards Tasting Room, Manteca

San Bernabe Vineyard + Winery, King City