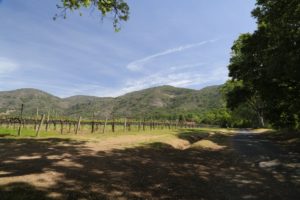 Black Coyote Winery was founded in 2000 by Dr. Ernest Bates (and 3 partners). Dr. Bates is an esteemed neurosurgeon who created one of the first African American owned wineries in the Napa Valley (Bates Creek). He has lived in the Napa area full time since 1999 and was one of the founding members of the Association of African American Vintners. He has been active on the Board of Directors for the Copia Wine Center (now closed), in the town of Napa. He is now retired and has more time to dedicate to his wine and charity interests. His wine is made at Judd's Hill Winery by the well known winemaker Marco DiGuilio and Art Finklestein (owner of Judd's Hill).
Black Coyote produces two wines in very limited quantities, a Chardonnay sourced from fruit from California's Monterey County, and Cabernet Sauvignon from Dr. Bates' own vineyard in the Coombsville area just east of the town of Napa. Black Coyote takes its name from a frequent coyote that used to visit the property and kill his geese. However, Bates did not want to have this animal removed or killed as he was aware of an old Indian belief that coyotes have mystical powers.
The winemakers philosophy is to take the best grapes they can find and then produce a wine which really highlights the fruit characteristics. We tried their 2004 Cabernet Sauvignon. The bouquet is full of ripe black cherry aromas which tend to become stronger and envelop the glass the longer you let this wine breath. Additionally, exotic spices and subtle oak are found on the nose. The tannins are mild as you would expect from a well-balanced wine ready to drink now. The finish lingers well after swallowing and exhibits a slight smokiness as well as notes of cedar. This is a very food friendly wine.
Despite numerous awards for their wines, the owners haven't quickly raised the price as their philosophy is good wine should not price out huge parts of the market. Because of the low production of their wines, they are found in select wine shops and restaurants typically within the Napa and San Francisco region.
NOTE: this review is now archived. No longer making wine.