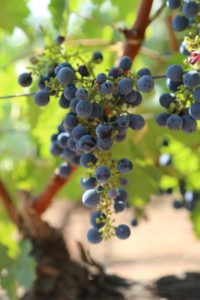 Black Cordon was founded by the husband wife team of David and Karen Dunphy with their first vintage from 2007. Both are from Minnesota. David has been a self-admitted "wine geek" since the age of 18. He was introduced to Napa Valley in 1978 after hearing about the Judgment of Paris tasting held in Paris two years prior. while living in Minnesota he and Karen would visit Napa – often 2-3 times per year.
David recalls this period in Napa's wine making history as a time when there were far fewer wineries in the valley and very few tasting rooms. He met and became friends with some of Napa's old timers – Charlie Wagner at Caymus, Justin Meyer at Silver Oak and Cathy Corison when she was still at Etude (before starting her own winery). David remembers tasting with them at their homes or in their kitchens, reaching a level of tasting personalized with the owners far beyond what one typically finds at a tasting room these days.
After David and Karen married in Napa in 1987, they continued to visit each year until they purchased their first land in the valley in 2004.
Today David and Karen own 15 vineyard acres in the Napa Valley. They have selectively purchased small vineyard sites ranging from mountain top to valley floor – from Howell Mountain to Yountville to Coombsville. The three-acre vineyard next to their home sits on a hillside on the edge of Mt. Veeder and the Oak Knoll District. This part of Redwood Road along the "Dry Creek Corridor" as David calls it is home to many small family-owned vineyards with a number of them making small production wines commercially.
This is a little visited part of Napa Valley because there are no tasting rooms here, the few small wineries that are here are not open to the public.
The name Black Cordon came about somewhat accidentally. One day David mixed up his cordon trellising terms and announced to his family and vineyard guys they were going to trellis all their vineyards in a "black cordon" style – when in actuality this term refers to the color of the vines when they are wet.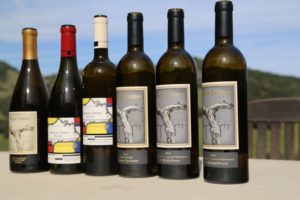 In 2012 David and Karen took over all the vineyard management decisions. Vineyards have become their passion – they both work among the vines alongside their crew in each of the vineyards they own in the valley (some 15 planted acres).
Noted winemaker Paul Hobbs has made their wines since the first vintage (although today David and Paul's assistant winemaker do most of the wine making work). David's first meeting with Paul was by chance – David's vineyard manager at the time had a meeting with Paul and invited David to join him at the Red Hen Cantina, a popular Mexican bar sandwiched between several hotels in north Napa.
David and Paul hit it off immediately, so David showed him a list of potential winemakers he was interested in hiring. Paul had worked with all the winemakers before and gave his feedback, but then stopped and said, "how about I make your wine". David was taken back as the thought of Paul offering this had not crossed his mind. When asked why he was interested in making their wine, Paul told him it was because of two reasons – he liked David's passion and strong interest in learning more about viticulture and that he missed working with a small producer.
Fruit is used from both their mountain & hillside vineyards to bring a complexity and intensity to the wine – complemented by the valley fruit from their Yountville and Coombsville vineyards to "calm" as David says, "the structure and tannins of their hillside fruit". They do not follow a wine making formula each year, instead they work with what mother nature gives them and make blending decisions accordingly.
Each section of their vineyard is harvested, vinified and aged separately in barrel up to two years. Temperature plays an important role in their fermentation and is determined by each vintage based on a variety of factors including thickness of skins. Only when they hold their blending sessions do they determine which vineyard blocks will be in the final blends.
David has access to quality Chardonnay in Sonoma County from the Russian River appellation as well as Sonoma Coast; he prefers Chardonnay grown close to the cooler coastline. A number of vintners were buying from the same vineyards and all making single vineyard Chardonnay. Instead of making a single vineyard designate, David decided to combine fruit from some of the best vineyards in these regions to make a chardonnay from multiple premium vineyards.
Paul pioneered a way to have the secondary fermentation (malolactic) occur at the same time as the primary alcoholic fermentation. Diacetyl (a compound created during the secondary fermentation that causes the perception of a buttery notes in a wine" is actually metabolized based on what occurs during these simultaneous fermentations (all native yeasts are used). In some cases, their Chardonnay fermentation moves along extremely slowly – up to 8 months.
Select Wines
The 2012 Black Cordon Russian River Reserve Chardonnay was carefully and slowly whole cluster pressed – the wine was barrel fermented in 50% new French oak. This wine shows golden straw color in the glass with notes of pineapple and orange blossom on the bouquet. The wine is rounded and soft texturally with wonderful balance on the palate. The finish is lively with pleasing lingering flavors of citrus.
David describes their 2010 Black Cordon Cabernet Sauvignon as a long-lived vintage; we can see why after trying this wine. It is a dark wine – the nose draws one in – dessert in a glass, baking spices, cherry pie, and floral scents (violets) and hints of dark chocolate as the wine breathes. This wine has excellent depth and structure – it still drinks young despite being 4.5 years old at the time of this review. The oak is integrated well – fruit tannins show boldly – and are long lasting.
The 2012 Black Cordon is dark purple in the glass and soon reveals elegant floral notes on the bouquet as well as cinnamon spice, blueberry and mocha – the nose is as complex as on the palate. It is surprisingly soft initially on the palate but then words such as density, complexity and richness of flavor quickly come to mind when describing the body of this wine. Black and blue fruit show, a cedar box component – coffee grinds and chewy dense tannins (not harsh) linger for quite some time.
The 2012 Black Cordon Reserve Cru Cabernet Sauvignon is a barrel selection (3 barrels). Unlike the other reds we tried this is a single vineyard single varietal from their Coombsville Vineyard.
The dark fruit showing on the bouquet continues on the palate – generous layers of mouth filling fruit – black currant, black licorice and black cherry "stuffed" is a word David mentioned to describe this wine. It is dense and well extracted like the younger vintage we tried. The tannins are earthy and slightly chalky. The intensity of flavors lingers, and then does so some more.
—
Between both Black Cordon and Sixteen by Twenty Wines, their production is usually around 3000 cases total per year. Each wine is typically only several hundred cases. As of the time of this review, they are selectively distributed in 17 states and parts of Japan. Their wines have been well regarded in the market with the wonderful word of mouth driving sales. For more information and to purchase wines, visit: www.blackcordon.com