Bevan Cellars was founded by Russell Bevan and his then wife, Victoria De Crescenzo in 2005. Both are co-proprietors of the brand. Russell's personality is considerable; he is a straight shooter, a doer, someone who thinks outside of the box and who has brought his own style of vineyard management and wine making to Napa Valley. In contemporary Napa Valley wine making, he is leading the charge – working with some of the best vineyards in the valley and producing wines that are opulent, energetic and rich – well-textured, both on the bouquet and palate.
Russell has a led a varied life – born in Ukiah, CA he earned his Master's in Philosophy from Gonzaga University, worked in Minneapolis selling dental equipment, wrote a syndicated column which was published in the Wine Spectator and then became a self-taught winemaker with his first vintage in 2005. He met Victoria at a dental convention in Des Moines. She introduced Russell to a number of wines early in their relationship – bringing home mostly Italian wines (which they would often try in a blind tasting). Russell's interest was piqued, and he began to explore wines from other regions including Bordeaux and Burgundy.
As he became more passionate about wine, in 1998 he began frequenting the online public wine forums on the Wine Spectator's website. Being a sponge and building his knowledge rather quickly, he soon became a sought-after resource on the internet for wine advice and bottle recommendations. After making their first trip to Napa Valley in 1996 Russell and Victoria returned numerous times, often hosting other wine enthusiasts for dinners or winemaker events.
As fortune would have it, Russell's company transferred him to the San Francisco Bay Area and he and Victoria purchased a small vineyard and a home in the Bennett Valley AVA near Santa Rosa. Russell continued to develop relationships with a number of vintners he had met over the years including Kal & Dorothy Showket owners of what was the Showket Vineyard at the time (later the vineyard was sold to Peter Michael Winery). During a party at the Showkets in early 2003, Kal casually asked Russell if he wanted to purchase some of his Cabernet Sauvignon. The answer was yes. Russell's first 'garage' wine was from the Showket Vineyard – with friends, the vineyard was picked by hand and the grapes carefully sorted into bins, categorized as ripe, over ripe and under ripe fruit (each of these lots was fermented separately).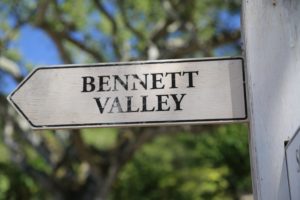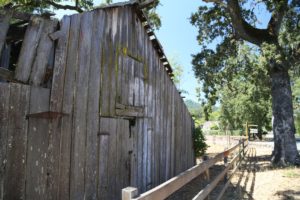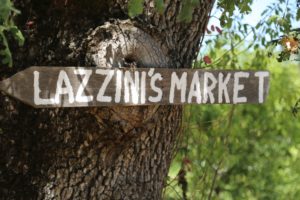 When Russell presented Kal with a bottle of his home wine, Kal was duly impressed. Russell realized he was onto something good. And Kal soon hired him as the Showket winemaker, Russell's first winemaking job in the Napa Valley. Russell then purchased more fruit from the Showket Vineyard along with fruit from the Haystack Vineyard in the Bennett Valley AVA in Sonoma County – and in 2005 made limited production vineyard designate wines from each of these sites, the inaugural releases of Bevan Cellars.
Robert Parker tasted Bevan Cellars barrel samples in 2007 and awarded them high scores. Receiving critical acclaim combined with praise from consumers, Russell and Victoria decided to take their fledgling brand to the next level. They cashed out their 401K, IRA and took out a mortgage on their home to raise capital to fund their winemaking ventures. Bad timing – the global economic downturn began in 2008 – not necessarily a good time to be building a young wine brand. But then came the Epstein Rescue. Eric Epstein, a friend of Bevan's from New York had visited Russell previously and enjoyed the Bevan Wines; when needing capital just to finish bottling one of their vintages and keep the young brand afloat, Russell reached out to Eric asking for help. They mutually decided to host a party featuring wines from Bevan Cellars; Eric invited a bunch of his friends who then purchased wine and futures enabling Bevan Cellars to continue to grow. Today Russell produces a wine in Eric's honor, the EE Red Wine from the Tench Vineyard.
In subsequent years, wines from Bevan Cellars began to earn scores in the high 90's from Robert Parker's The Wine Advocate. Sales began to increase, and the wines gained more notoriety. And then in 2011 Russell had access to the Tin Box Vineyard (one of the vineyard sites that Screaming Eagle founder, Jean Philips acquired after the sale of Screaming Eagle). Russell's wine from this vineyard from this vintage was the only wine in Napa that year to earn a 100-point score from Robert Parker.
In Napa Valley, Russell looks for vineyards that have what he calls the "wow factor" and more often than not, these are vineyards located in eastern Oakville, arguably one of the valley's sweetest spots for premium red wines. This vineyard neighborhood reads like the who's who of some of Napa's most well-regarded producers including Dalla Valle, Oakville Ranch, the Backus Vineyard owned by Joseph Phelps and Screaming Eagle.
And in 2015, Russell and Victoria bought into this exclusive neighborhood; they purchased the 41-acre Saunders Vineyard (located on the eastern slopes of Oakville between Peter Michael's Au Paradis Vineyard (formerly Showket) and Oakville Ranch. The site is planted to 7 acres of vines including Cabernet Sauvignon, Cabernet Franc and Petit Verdot. NOTE: Bevan Cellars has since sold this vineyard to Miner Family.
Russell learned early on about one significant requirement for all vineyards he works with: he must maintain full control of the farming practices. And while each of the Bevan wines we tried are all unique, Russell has his own style. His wines are sturdy and concentrated yet despite these powerful attributes are remarkably approachable in their youth. One of Russell's hallmark stylistic influences on wine is texture – how he deftly manages tannins while creating wines that feature a seamless quality, a harmonious integration between fruit and firm, yet supple tannins.
Russell has access to a block within the Wildefoot Vineyards in the Stags Leap District. Purchased by Jean Phillips (founder of Screaming Eagle) in 2011 this 114-acre site was originally developed by Si and June Foote, the founders of the Napa Valley Land Trust. In 2022 Wildfoote Vineyard was purchased by Shafer Vineyards. The 2016 Bevan Cellars Wildefoot Vixen Vineyard Cabernet Sauvignon is 100% varietal; it shows a captivating bouquet, an interesting mix of aromas including blackberry, bacon fat and dark chocolate. Very concentrated, the wine reveals flavors of plum, ripe blackberry and raspberry, anchored by long lasting tightly woven yet-fine grained tannins.
In another eastern Oakville play, Russell sources fruit from the Tench Vineyard, 42 planted acres on a site growing premium Cabernet Sauvignon and Merlot (and what is rare for Oakville, a small part of the vineyard is planted to Sauvignon Blanc). The soils change dramatically from the east to the west sides of the property, to the east featuring red rocky iron rich soils that are characteristic of the eastern Oakville benchlands and higher into Pritchard Hill – and to the west, the property features alluvial and clay soils. One of Russell's favorite activities while introducing visitors to the Tench Vineyard is to throw his vehicle in reverse and show visitors how quickly the soil types change. Or simply walking through the vineyard rows, it is fairly easy to see the dividing line between these two remarkably different soil types. This is a prime part of Oakville- immediate neighbors are Screaming Eagle, Gargiulo Vineyards and Harbison.
Tench Vineyard

The 2016 Bevan Cellars Tench Vineyard Cabernet Sauvignon is sourced from two distinctive blocks within this vineyard and is a blend of 92% Cabernet Sauvignon and 8% Merlot. Dark, dark and darker in the glass. This wine is meaty and savory on the bouquet, with aromas of mushroom, black olive and white pepper along with blackberry and a thread of mocha as the wine breathes further. The savory aspects of the bouquet continue somewhat onto the palate – richly layered this wine showcases a remarkable depth of flavor (black fruits) without harsh structure. Juicy on the finish and mouthwatering. Dense and dusty tannins are firm yet fine grained. They complement the stature of the wine rather than detract.
One of Napa's larger and more impressive vineyards is Sugarloaf Vineyard (at nearly 700 acres, vines flow in all directions along the rolling hills overlooking San Pablo Bay to the south and the southern Napa city limits). Bevan sources his Cabernet Franc from select blocks within the vineyard. This vineyard is predominately planted to Bordeaux varieties – growing in a part of Napa historically thought to be too cold to ripen red varieties. An important characteristic of this vineyard (despite its size) is a consistency of rocks throughout the property. Russell describes the site as a 'no soil' vineyard – when one has a chance to walk through block after block, one clearly sees what he means.
Piles of rock literally line some of the vineyard rows for as far as the eye can see. Despite the closer proximity to the cooling influences of the San Pablo Bay, it is this rock that actually helps mitigate some of the cooler temperatures at night. It acts as a huge heat sink or solar collector during the day and then radiates back some of this collected heat at night. Afternoon breezes often kick up – cooling things down later in the day. Fog is common in the morning. Hang time is long with harvest often occurring in October and sometimes in November.
Russell practices what he calls "aggressive farming" of the Cabernet Franc block used in the Bevan Cellars wine from this vineyard. This involves denuding (removing) the leaf canopy right around the fruit zone on the vines during fruit set (very early in the growing season). As a result, these grapes receive more direct sunshine throughout the rest of the season. When one walks this vineyard block (in stark contrast to all the neighboring blocks) one clearly sees the fruit isn't immediately protected by leaves, leaving it exposed to more direct sunshine and air flow throughout the day.
And perception is not always reality. Several premium winemakers were offered fruit from the blocks that Russell now manages, but they turned down the offer due to the vineyard's southern location and their perception that this vineyard is in a location that would not properly ripen every year.
Sugarloaf Vineyard

The 2016 Bevan Cellars Sugarloaf Vineyard is a blend of 60% Merlot and 40% Cabernet Franc. Savory on the palate, shows aromas of old cedar box, black fruit including blackberry, Graham cracker and as the wine opens a dessert spice nuance shows. Offers a remarkable intensity on the palate – one would be hard pressed to identify the majority of this wine as Merlot in a blind tasting. The tannins are slightly dusty, long lasting and without any harsh edges whatsoever. A big wine with power but also with restraint – this a very impressive showing.
Russell also produces extremely limited production wines from several premium east Oakville located vineyards including Tin Box (owned by Jean Phillips) and Harbison, a tiny vineyard sandwiched between Screaming Eagle and Tench Vineyard. These wines are usually only a barrel or two a year and bottles are highly allocated among their club members.
The 2018 Bevan Cellars Harbison Vineyard is dark ruby in color; initially offers a slight mushroom and earthy note before the wine has had much time to breathe in the glass. Give this wine time to open and when it does the fruit begins to show including notes of blue fruits along with a lavender/floral note. Also, some hints of dried herbs. Offers plenty of fruit across the palate and is anchored by gravelly tannins of medium grip. The finish lingers somewhat savory with darker spices and some earthy/dusty notes. Offered plenty of complexity, especially on the palate, to pique our interest.
The 2014 Bevan Cellars McGah Vineyard Cabernet Sauvignon is dark purple to black in color; the bouquet shows a sweet yet elegant note, a ripeness if you will but not a jamminess. Aromas of both fruit (blackberry and raspberry) and dessert spices including hints of cinnamon and brown sugar. As the wine breathes almost an iron quality comes out in the aromas, subtle, but there, nonetheless. Immediately noticeable on the palate is a density and intensity – both in flavor and in structure. Darker fruit mostly, plum and blackberry. The tannins are pronounced but without any harsh edges. They are grainier and denser in their textural feel rather than coarse and gritty. Bevan Cellars only produced wines from this particular vineyard for several years and no longer makes wines from this vineyard. McGah Vineyard was owned by the same family that co-founded the Oakland Raiders.
—
Total production is around 8,000 cases annually but varies slightly depending on the year. Bevan Cellars offers two releases a year, a Spring Release of lighter style varieties including Chardonnay and Pinot Noir from Sonoma County and what they call the Bordeaux Release, Napa red wines in the Fall. As of our latest update, Bevan Cellars produces wines in two locations, one in St. Helena and the other in Oakville; visits can be arranged to taste the wines at Brasswood in St. Helena, hosted by one of their hospitality team members. For more information or to order wine, visit www.bevancellars.com
In early 2021, Russell and his wife Heidi launched a brand called Adversity Cellars primarily focusing on wines from a very limited number of premium vineyard sites in Napa Valley.