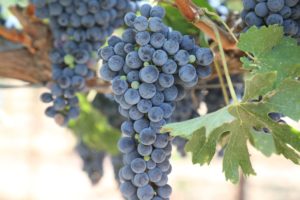 Benton Family Wines was founded by North Carolinian Daniel Benton and his wife Kara in 2015. But the history of their wines dates back much further. Gary Wooton, a longtime resident in the Napa Valley (who we originally met with at his home in Yountville) along with his wife Suzanne founded both Croze and the Smith-Wooton labels (Suzanne created the original designs for the labels) – with their inaugural vintage dating from 1998. When living in Napa Valley (he now lives in Arizona), Gary consulted for a number of smaller wineries, helping them get established. For many years he kept his production small – usually no more than 400 cases for both labels.
It is always interesting to hear how winemakers got into the business – especially those who were not raised by wine making families. Gary began making home wine in the early 1980s; some businessmen from Texas tasted his wine and liked it so much they hired him to produce wine exclusively for their own uses.
Gary told us about filling up his car with gas at the only gas station in Yountville many years ago when he spotted Robert Mondavi, who was also filling up his car at the same time. Mondavi who was already producing tens of thousands of cases of wine told Gary about the benefits of sourcing grapes rather than owning vineyards. Gary took that advice to heart; Croze Wines does not own vineyards, rather they work with a diversity of vineyards, mostly in the Napa Valley but also with vineyards in the Sierra Nevada foothills and sometimes from neighboring counties. They maintain long term contracts with premium vineyards.
Considering retirement but with no children to pass on Croze and Smith-Wooton to, Gary began to explore various options for selling the brands. Through one of his distributors, he was introduced to winemaker Daniel Benton – who had recently entered a rosé in the San Francisco Chronicle Wine Competition and earned a double gold medal. Gary took note of this and became interested in meeting Gary – so in 2009 Gary flew out to North Carolina and after their initial dinner in Morrisville they both realized they shared the same winemaking philosophy.
Daniel graduated from Catawba College in North Carolina with a degree in Biology. The work world took him away from his topic of study – prior to making wine, Daniel worked for Enterprise Rent-A-Car commonly entertaining executives during business meetings. Invariably, wine was often the topic of conversation; Daniel's initial interest in wine was to further his own education so he could better connect with his clients and sound halfway knowledgeable when meeting them. Ultimately leaving his corporate job he studied viticulture and enology at Surry Community College (the Shelton-Badgett NC Center for Viticulture and Enology) earning his degree in Viticulture and Enology.
Like Napa Valley College, Surry College also maintains a bonded winery and produces their own wines under the label, Surry Cellars. Daniel taught several classes here and also helped make wine for Surry Cellars.
After meeting Gary, Daniel decided to come to Napa and help with a harvest. That was in 2009. A year later he and Kara and their young son drove across country and relocated to the Napa Valley. Both Gary and Daniel worked the 2011 harvest – Daniel invested in both brands and by 2015 he and Kara had taken full ownership of both Croze and Smith-Wooton.
In our experience in Napa Valley, very few small brands are able to successfully continue to produce wines by transferring wine making and ownership to non-family members, once the founder reaches a point in their life where they are ready to retire. So, Croze Wines is to be commended for this and are certainly in the minority of Napa Valley based small wineries or brands having been able to do so.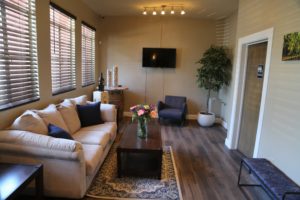 Early on, one useful piece of advice that Gary passed on to Daniel was this; go down to the Yountville deli inside the Ranch Market Too! on a certain day of the week in the early morning and eavesdrop on some old timer farmers who always gather to socialize. Daniel did so and overheard one vintner mention some of his favorite small vineyards in Napa Valley – Daniel later contacted the owners of those vineyards and ultimately was able to source grapes from those special sites.
And in part, in order to gain access to other premium and small vineyard sites around the valley, Daniel started his own vineyard management company called Brix. Today he and his small team farm vineyard sites generally in the range from 1 to 5 acres (gentleman farmer sites he calls them) and by doing so have been able to establish relationships where he is able to use the fruit from some of these vineyards for the Benton Family Wines.
For Daniel winemaking is personal – he loves the hands-on part of the production both in the vineyard and in the winery. He studied (and tried) some of the Napa Valley's great wines from the 1960s and 1970s – their balance and longevity appeals to him – qualities he tries to emulate in his own winemaking style. And he has noticed the longer he makes wines, the less technology he uses referring to some of the world's great wines – made well before the latest and greatest advances in tools used in contemporary winemaking.
Benton Family Wines focuses on several wine brands including Croze (mostly Cabernet Sauvignon), named after the groove found in the staves of a wine barrel where the head of the barrel fits in. Smith-Wooton features very limited production single variety wines including the flagship and original wine made under this label, a 100% Cabernet Franc. Gary originally made a barrel of Cabernet Franc to use for blending purposes but after tasting that particular wine, determined it was excellent as a standalone variety and ended up bottling it. More recently, Benton Family Wines introduced Corvus, a non-Napa Valley sourced wine created specifically for by the glass programs at restaurants. Corvus is the genus name of the family, Corvidae which includes crows and ravens – or as one of their distributors calls it, "the baby crows' wine".
Tasting Room/Winery
Note: the Benton Family Wines tasting room is permanently closed. We keep our notes here for historical references.
Home to a beer distributor in the 1970s this space has been bonded as a winery since sometime in that decade; for many years it was the oldest continuously operating winery within the city limits of Napa. Numerous producers have made wines here over the years including Robert Craig, Ehlers Estate, Spelletich and Vinoche. Located in a mixed-use part of town just north of the downtown the space is surrounded by numerous auto body shops.
At our last count there are over 40 tasting rooms within or right next to downtown Napa. This was one of the rare ones that was also a working winery – certainly part of the appeal to Daniel and Kara when they were searching for retail and winery spaces.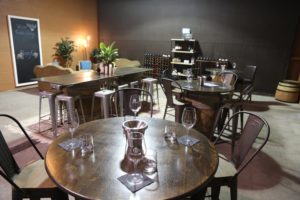 Daniel and Kara oversaw a significant remodel inside (a huge change as compared to when the previous tenants occupied the space) – at one point discovering rot in some walls almost up to the ceiling level left over from when significant parts of downtown Napa last flooded in late December and early January 2005. They remodeled a side room to showcase some of their library and select premium wines – which during their occupancy, was also used to host private tastings. A larger hospitality space is next to their production area – this was casual place where one can enjoy wines at the bar or on sofas. Rather than isolate guests from the winemaking part of the building they blended both spaces together, so guests were able to easily see the operations side of the business while enjoying a tasting.
Walk-in tastings were gladly accepted – however, interested parties may make reservations for more private experiences. For Daniel, the relationships he has formed with others over the years is perhaps what he values the most in this business. His employees are extensions of his own family as he puts it, and a visit here was a very personalized and relaxed experience; Daniel was often around to say hi to guests.
Select Wines
Daniel references a specific point famed winemaker and viticulturist André Tchelistcheff once made regarding aging wines – something like, 'no one should tell you a wine is ready, the wine will tell you itself'. Gary always aged his wines longer than many area wineries and Daniel continues to do so on a case-by-case basis. As a result, some of their current vintages are often several years older than what is commonly found on the market. Their barrel aging program lasts up to 35+ months – all the wines are tasted during this time and are removed from barrel and bottled when they are ready; their aging profile is certainly not formulaic. And after bottling the wines may spend up to another year before being released.
The Smith-Wooton Chardonnay is barrel fermented (several barrels are kept at the winery with clear plastic heads so during harvest, visitors can see the fermentation happening inside). The wine then ages for about 12 months inside the barrel with weekly stirring of the lees (for texture, complexity and flavor). This vineyard is located in a cooler part of the Oak Knoll District on its west side (often a few degrees cooler than a Cabernet Franc vineyard they manage on the east side of the Oak Knoll District). The 2017 Smith-Wooton Chardonnay shows plenty of aromatic intrigue with appealing notes of honeysuckle, citrus blossom and toast. A perceptible sweet thread of fruit shows throughout the bouquet. Very balanced with flavors of pear and apple. A suppleness – soft but not creamy this wine features excellent acidity with a clean finish that lingers with notes of citrus. No secondary fermentation.
Gary began working with a 1.5-acre vineyard located in the Oak Knoll District in 1995. Originally owned by grower Brian Gallagher, this vineyard was known as Gallagher's Vineyard until Judy Flinn purchased the site – now it is known as the Flinn Vineyard. But first to backtrack slightly – when Brian purchased the piece of property there were no grapes planted on site. He made the short drive up to Stag's Leap Wine Cellars and asked what he should plant – he talked to a long-time employee who instructed him to plant Cabernet Franc. Brian asked for a nursery recommendation and the reply was something like, "we will give you cuttings from our historic Faye Vineyard" and they told him Stag's Leap Wine Cellars would purchase the fruit when it was ready.
Eventually Stag's Leap Wine Cellars removed all their own Cabernet Franc – and in later years when they decided to add this variety back to their vineyards they took cuttings from the original cuttings they had given Brian. Daniel calls this the "ugliest vineyard" he works with (one he goes on to say won't ever make the cover of any Napa Valley publication promoting the region's visual beauty) – nevertheless, this site has been producing excellent fruit for years. It is west facing with a thin layer of soil over volcanic rocks – the vines struggle. Multiple pruning styles have been used on the vines over the years – Daniel has settled on a style he feels is appropriate to the site – and after several years of farming for maturity found that the perfect ratio of leaves to cluster is 14 to 1.
The 2014 Smith-Wooton Flinn Vineyard Cabernet Franc, simply put, smells nice – with aromas of black licorice, blackberry and an herbal nuance but no pyrazine type greenness – also hints of sage. Elegant. Very good acidity – mouthwatering with flavors of red cherry, currant and other mostly red fruits. This wine is well-structured with dusty and gravely type tannins anchoring a long finish along with notes of tobacco.
The 2016 Croze Oakville Cabernet Sauvignon is dark garnet in color featuring generous aromatics of ripe fruit on the bouquet including plum. Shows darker desert spices (hints of cinnamon), olive tapenade, sage and bittersweet chocolate – slightly savory. Soft on the entry but well layered with flavors of plum, blackberry and darker licorice. Earthy somewhat gravelly in texture tannins anchor a very long finish.
And collectors take note, their Avatar (flagship Cabernet Sauvignon) is always sourced from the very best vineyards within their vineyard portfolio. This was the name of Gary's parent company – after Daniel and Kara took ownership, they continue to work with select vineyards to produce this wine (although it is not made every year).
The 2015 Croze Avatar Cabernet Sauvignon. This wine spent 36 months in French oak with vineyard sources from Diamond Mountain, Howell Mountain and Oakville. The bouquet is diverse and layered; initially shows a hint of green pepper and cigar smoke but quickly evolves to reveal darker fruit aromatics including blackberry and ripe plum. A dark fruit sweetness. Also hints of old cedar box, espresso and mocha. Savory and somewhat meaty aromatics. Intensely flavored across the palate the finish is big and robust with a sizable grip of tannins. Juicy and mouthwatering with great acidity.
The 2002 Croze Cabernet Sauvignon is a very well-balanced wine between acidity, fruit and tannin structure. After 40+ months in oak one might think this wine would be oak driven, but not at all. There is nothing harsh about this wine; it offers pretty fruit flavors along with exotic spices on the palate.
'Vin d' Une Nuit rosé is a unique of a kind wine with origins in Languedoc-Roussillon in southern France. It translates to the Vine of One Night. This wine is left in contact with the skins overnight which gives it a color darker than most rosé wines. The 2004 Croze Vin d' Une Nuit rosé with its 3.5 years of aging would have compromised the color and probably the flavors on lesser rosé wines but not this one. It is slightly off dry at 0.5% Residual sugar which is a level not perceptible by everyone. It is dark pink with pretty fruit driven aromatics and appealing flavors of wild strawberry.
Not many Napa wineries make a Port-styled wine, and of the ones who do the most common variety used is Zinfandel. Croze being Cabernet Sauvignon focused used to produce a highly affordable Napa-Port style wine from Cabernet Sauvignon. Gary fortified this wine with barrel aged spirits rather than "raw" spirits – helping intensify flavor and aromatics. Time spent in the barrel imparts a smoothness and richness not obtained by using raw spirits. The 2005 Croze Port-style wine is well layered with rich flavors of dark chocolate and blackberry.
Production has increased significantly since Gary began making wines – today they produce anywhere from 4,000 to 5,000 cases per year. The wines are well distributed – as of our latest update in more than 20 states – often in select restaurants around the country. Locally you can find some of the wine at Backroom Wines in the city of Napa. For more information or to join one of their wine clubs, visit: www.bentonfamilywines.com