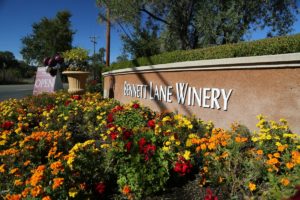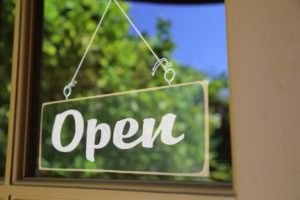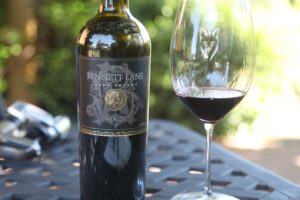 Bennett Lane Winery is one of the most northerly located wineries in Napa Valley; this slice of Napa is much less visited than the southern part of the valley. Fewer tourists equate to less traffic and crowds in tasting rooms. The winery is located about 3 miles north of Calistoga in the cradle of the Napa Valley where the eastern Vaca mountains come together with the western Mayacamas mountains. And a short drive north of here, one will be winding through the hills of Sonoma County down into Knights Valley. Bennett Lane Road is located slightly north of the winery, but the winery entrance is actually located just off of Highway 128.
Their motto incorporates their geographic location, "Crafting Fine Wine at the Pinnacle of Napa Valley."
Bennett Lane was founded by Randy and Lisa Lynch, who both had no prior experience in the wine business before starting this winery. They fell in love with wine during many trips to Italy and decided to produce wine after they purchased what was an existing winery on site called Vigil Vineyards. Vigil was founded by Jamie Pawlak who purchased this Bennett Lane property in 1989 – originally the vines were planted in the 1940's but the vineyard had been abandoned slightly prior to his purchase. His first wine was from the 1992 vintage, and he built the winery in 1996. He later sold to Tom Leonardini (of Whitehall Winery) who in turn sold to Randy and Lisa in 2003.
One of Napa's most accomplished contemporary vintners, Dave Phinney (of Orin Swift fame) was Bennett Lane's founding winemaker.
In a previous career, Randy founded R.W. Lynch Company (in 1984) – a successful San Francisco Bay Area based advertising agency serving attorneys. His company created the Injury HelpLine® brand which pioneered 'group TV advertising' initially connecting consumers via television ads to numerous attorneys all specializing in personal injury litigation. The service was highly successful because it was fast, convenient and available at no charge to the consumer/viewer.
The winery features excellent views of the nearby mountains and vineyards including of Mt. St. Helena (which sometimes has a dusting of snow on its uppermost reaches in the winter months). When you drive in note the different grape varieties next to the parking lot – the ends of the rows are all labeled with the names of each variety. In addition to the estate vineyard surrounding the winery which is planted entirely to Cabernet Sauvignon (about 7 acres), they also own 14 acres (the Lynch Ranch) not contiguous, but also in Calistoga just north of the property close to nearby Chateau Montelena. The Lynch Ranch is also planted entirely to Cabernet Sauvignon (several acres). In addition to the two estate properties, Bennett Lane Vineyard sources grapes from other vineyards for both their whites and red wines.
The intimate tasting room is located in a modern Mediterranean style tile roof building – if one of the doors are open inside, one will be able to look right into their barrel room. And weather permitting, tastings are often held outside in their spacious and comfortable garden area. The ancient, gnarled vines growing next to this outdoor space are Carignane (more than 70 years old). Unlike most wineries in the valley, tastings often include some older vintages – or older vintages will be available to sample upon request.
Randy is a huge Nascar racing fan, has his own NASCAR team, and owns several cars and in 2013 was inducted into the Stock Car Racing Hall of Fame. His enthusiasm and passion for racing has carried to others who work at the winery. Even current winemaker, Rob Hunter is now a fan. During one visit a wide screen television was setup in their barrel room broadcasting live from Infineon Raceway in Sonoma. They are sponsors of the Bennett Lane Winery 200 at Infineon. In a racing world dominated by beer ads and sponsorship it is uniquely refreshing to find a winery involved!
Select Wines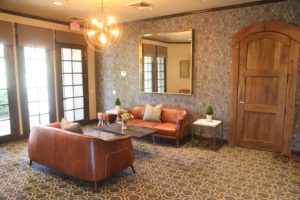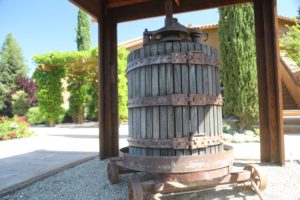 The 2019 Bennett Lane Reserve Chardonnay Sangiacomo Vineyard (on the Sonoma side of Carneros) went through 30% malolactic fermentation. The wine is medium gold in color sporting aromatics of pineapple, honeycomb, honeydew melon and hints of vanilla deeper into the bouquet. Showcases plenty of fruit on the bouquet. The richness of aromatics carries over onto the palate both in depth of flavor and texture. Rounded, creamy with flavors of baked apple, passion fruit and dessert spices. An enjoyable wine that drinks well by itself.
The first vintage of Ruby Fox was in 2012. This is the Bennett Lane's ultimate collector wine – a Cabernet Sauvignon produced from estate grown grapes. Only two barrels of this coveted offering are produced each year, the best two barrels that the winemaking team selects. The 2014 Bennett Lane Ruby Fox is medium ruby in color; offers an elegant bouquet in which the aromatics are nicely restrained (no over ripe fruit in this wine). Hints of mushroom, dried rose petal along with blackberry, plum and cassis as the wine breathes further. Offers a noticeable brightness across the palate with plenty of red fruit showing including cherry and red currant. The tannins bring a medium grip to the finish with both wood and grape tannins showing. Balance is an important hallmark of this wine's character. Along with also being very age worthy. Nearly 7 years post vintage date, this wine still shows plenty of youth. And wine collectors: looking for complexity without over ripeness? This is your wine.
The 2014 Bennett Lane Napa Valley Cabernet Sauvignon is produced from both their estate vineyards and another vineyard on the Silverado Trail north of St. Helena – all up-valley sources. Shows a savory sweetness on the bouquet, with a hint of menthol, blackberry, boysenberry, dust and some nice desert spices including cinnamon and cardamom. Brown chocolate shows as the wine breathes further. A balanced showing across the palate with flavors of cherry and plum. Bright acidity. The tannins linger for some time, dry and earthy in their feel – almost a little savory on the finish with a hint of dried cedar. Medium bodied with a good grip.
The 2016 Bennett Lane, Cabernet Sauvignon Reserve is a barrel selection (from the same three vineyard sources as for their Napa Valley Cabernet Sauvignon). Dark ruby in color – offers a distinctive nose with complexities of aromas beyond fruit. Features notes of shishito peppers, jalapeno and tobacco smoke. A garrigue characteristic, if you will, referring to the aromatics found on warm days especially from various shrubs and herbs growing in parts of southern France. Notes of white pepper, but this aroma does not dominate. The aromatics are not overly green. Shows a nice tension on the entry with flavors of plum and towards the finish, darker olive. Chalky but very densely appropriated tannins reach a crescendo on the long finish. Plenty of grip here.
The 2015 Bennet Lane Merlot is from Stagecoach Vineyard on Atlas Peak (at the time of our most recent update to this review, they continue to produce this wine each year). Like a couple of their offerings, this wine is only sold at the tasting room. Medium to darker ruby in color the nose has plenty of fruit but also shows some restraint. Hints of Asian spices deeper in the aromatics. It's an elegant bouquet that one doesn't want to stop smelling. Plenty of depth across the palate – but the fruit is complemented nicely with the mouthwatering acidity. Both darker and red berry fruits on the palate. The tannins are slightly chalky – with a medium grip. An ideal Merlot to pair with a variety of pasta or foods with heavier sauces.
The 2018 Bennett Lane Lynch Vineyard Cabernet Sauvignon offers very pretty aromatics including ripe Santa Rosa plum, black licorice, and earth notes with some darker dessert spices. This wine is well layered with both flavor and structure. Red cherry, plum both red and darker cherry notes. Offers a robust and memorable finish. While tasting this wine in its youth, it is obvious that it is still in the throes of excitement and needs a few years to find its equilibrium. A long life ahead. Those who enjoy robust Napa Valley Cabernet Sauvignon wines paired with a juicy rare to medium rare steak will gravitate towards this particular wine.
Maximus is a name synonymous with Bennett Lane Winery (both a red and white wine). It is named after the 2nd century Roman Emperor Magnus Maximus. Randy and Lisa have a collection of ancient European coins and each of their wines features an image of an old Roman coin on the label. Several original coins dating from several thousand years ago are displayed in a case hanging on the wall in the tasting room. The 2007 Bennett Lane White Maximus is an interesting blend of Sauvignon Blanc, Chardonnay and a touch of Muscat. In the past, staff have told us this is their "white feasting wine". Definitely serve chilled – it is ideal to drink on a hot summer's day. It is crisp and light with touches of stone fruit including white peach and nectarine. The 2005 Reserve Chardonnay comes from Carneros – offering notes of crème Brule and toasted nuts. A smooth creaminess lingers towards the finish.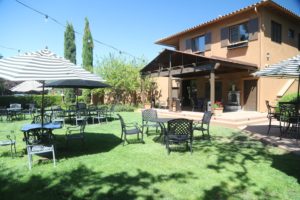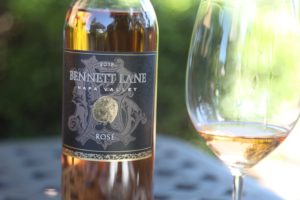 The 2005 Bennett Lane Maximus is a red blend which for the quality is available at a very decent price. Lots of fruit in this wine – plum, cherry, blueberry with exotic spice combinations coming together towards the finish. Jumping right into the 2005 Reserve Napa Valley Cabernet Sauvignon – this is a juicy, dark richly flavored wine. The nose is all about the mocha/cocoa and red fruit aromas which follow to raspberry, chocolate and cherry flavors on the palate. The finish is rich and super long.
Of special note is their non-vintage extremely limited production dessert wine; you won't find this blend of dessert wine anywhere else in the Napa Valley. They blend Cabernet Sauvignon, Petite Sirah and Carignane (an unusual variety in the Napa scene – originally hails from Spain) to form a unique flavored wine with notes of fig and cherry on the palate. The dark chocolate and black cherry aromas also continue onto the palate but are more subtle than on the bouquet.
—
Speaking of chocolate, every Saturday their Maximus & Cabernet Sauvignon are paired with various dark chocolates. As of our last update to this review, three wine clubs are available. One of the few wineries in the Napa Valley to offer a private blending experience – Bennett Lane's offering is probably the least known of the selected offerings in the valley. One of the highlights of this package is learning how to blend different wines – allow 2 to 3 hours. Guests will take home their final blends – their own take on the Bennett Lane Maxius red wine.
And in 2012 Bennett Lane partnered with Calistoga Balloons to offer guests rides in the first ever winery branded hot-air balloon in the United States. This special balloon was created in the Czech Republic. Experiences offered include a standard flight with a picnic at the winery or a private tasting flight combined with a limo ride to the winery to then enjoy several reserve wines. All experiences are reserved directly through Calistoga Balloons.
Lastly, their website has a very good explanation of the different wine growing regions within the Napa area. For more information or to join their wine club, visit: www.bennettlane.com