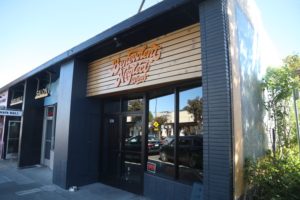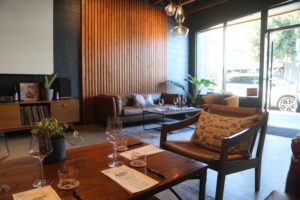 Benevolent Neglect was founded in 2013 by Benjamin Brenner and Matt Nagy. Both are from Boston and came to Napa Valley in the early 2010s. Matt first came to Napa Valley to take a position at Girard Winery; he thought he was going to be working in their tasting room but instead he began working in the cellar. And it turns out he enjoyed that type of work – being able to work with his hands and being a part of creating something tangible which people really enjoy. He has since worked with several of Napa's top winemakers including Thomas Rivers Brown and Steve Matthiasson. And he has worked at wineries from Long Island (Bedell Cellars) to the state of Washington and in New Zealand.
Ben came to Napa Valley and helped open Redd Wood in Yountville. He realized he didn't want to be a sommelier or clean bars every night after closing, so he began working hospitality at several wineries including Terra Valentine, Somerston Estate and Italics.
Napa Valley sometimes has a way of bringing people together who are originally from the same cities or states. Ben and Matt met at a house party in Napa; if Ben's memory serves him correctly, both were wearing Boston Red Sox hats. The focus of their wines (Matt is the winemaker) is on limited production bottlings, with the majority of their vineyard sources located outside of Napa Valley. They produce distinctive, balanced and bright wines, showcasing varietal characteristics and unique sites rather than oak or riper/higher alcohol bottlings. Matt told us that oak does more than impart flavor and he uses oak as 'invisible hands', to lightly complement their wines.
With such an opposition of wording referring to the name of this winery, benevolent meaning 'kind' and neglect meaning a 'failure to care for properly', one might wonder how the wines are actually made. The wines are made with kindness and caring but then they take more of a hands-off approach in the cellar, preferring minimal interventionist winemaking practices; in this case, neglect is a rare positive attribute.
Select Wines
There is very little of this variety planted in Napa Valley; we are aware of only three vineyard sites in Napa Valley including two on the Napa side of Carneros (Mahoney) and Steve Matthiasson's Cressida Vineyard and in Rutherford (Neal Family). The very few Napa Valley producers that make wines from Vermentino usually source grapes from outside of the county. According to the 2022 California State Grape Acreage Report in 2021 there were only 4 bearing acres of Vermentino growing in Napa Valley. This variety is widely planted in Provence, France where it is known as Rolle. The Benevolent Neglect Vermentino was sourced from the Windmill Vineyard in Dunnigan Hills (Yolo County).
The 2021 Benevolent Neglect Vermentino is deep straw in color; the aromatics are tropical, very floral and generous, offering notes of star jasmine, honeysuckle, lemongrass and citrus blossom along with yellow pineapple, lemon juice and guava. And they become even more inviting as the wine has time to open. The palate offers a textural creaminess from the entry through the end which is complemented by a refreshing and lively acidity which continues to linger on the finish, begging for another sip. It shows flavors of lime, green apple, a grassy note and grapefruit. We want to enjoy this with raw oysters straight from the farm at Tomales Bay Oyster Company on a warm early fall day. We've gotten a bit tired of tasting high alcohol white wines lately; refreshingly this wine is only 11.5% alcohol.
The 2019 Benevolent Neglect Massa Vineyard (Carmel Valley) Chardonnay is from grapes growing in two different old blocks within this vineyard: one from 1978 and the other from 1982. Remarkably these vines are own-rooted (not grafted to any rootstock) and are farmed organically. It was fermented in barrel and went through full malolactic fermentation. This wine is medium golden in the glass; the bouquet offers aromas of bruised and ripe apples, pear along with some sweet floral aromatics including of honeysuckle. Its texture is noteworthy – offering a creamy and supple mouth feel from start to finish, but without being heavy. The palate reveals flavors of melon, apple and some citrus notes. Very balanced.
While enjoying the Benevolent Neglect Counoise at their tasting room in Napa, we heard another visitor comment, "and what is this going into my glass". The reply was Counoise. The man immediately asked, "coon what?". And that is an appropriate reply for a rather unknown variety. This thin-skinned red grape grows mainly in France's Rhône Valley with small plantings in Châteauneuf-du-Pape where it is allowed to be blended into wines from this region. There aren't many plantings of it in California – Matt knows of only several sites including from Alder Springs in northern Mendocino County, the source of their bottling. There is at least one planting of this variety in Napa Valley, next to the Napa River in the Yountville appellation. This wine is destemmed and then fermented with gentle punch downs during its fermentation. Matt wants to highlight the varietal characteristics of this wine and its freshness; as a result, he ages it for a very short time in the oldest oak barrels they have.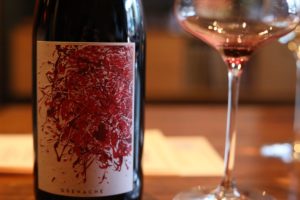 The 2021 Benevolent Neglect Alder Springs Vineyard Counoise is medium ruby in color with some purple tinges on the rim of the glass; the aromas shows some subtle hints of violets, a hint of licorice, red fruits and white pepper. The palate is juicy, bright and lively but not overly tart. It offers flavors of cranberries, sour cherry, a very subtle hint of jolly rancher watermelon candy and flavors of Icelandic crowberries (a short bush bearing dark fruits which are tart and feature high acidity). A light and short-lasting grip of lingering tannins and a green tea leaf like nuance shows on the finish. We immediately thought of pairing this with a pizza (preferably tomato based) from St. Helena based Tra Vigne Restaurant.
The 2019 Benevolent Neglect Alder Springs Grenache (100% varietal) is initially a bit shy in the glass and needs some time to open. It offers aromas of red cherry, raspberry and plum. The palate shows flavors of plum, cherry and cranberry along with white pepper. This wine was fermented 100% whole cluster which is noticeable in its type of tannin texture and feel. It lingers with tightly woven, slightly astringent, drying and long-lasting tannins. A note of dried tobacco leaf also shows along with lively acidity. We thought of pairing this wine with lamb or venison. The original intent with this wine was to blend it in their GSM bottling, but the Grenache stood out on its own. This wine is not always made every year; it was aged in neutral oak barrels.
The 2019 Benevolent Neglect North Coast GSM is 45% Syrah, 38% Grenache and 15% Mourvèdre (from the Fore vineyard in Lake County and Alder Springs Vineyard in Mendocino County). This wine sees only a small percentage of new oak barrels during its aging; Matt uses Hungarian oak, preferring its spicier characteristics to match the style of this wine, rather than baking spice notes imparted from French oak barrels. The bouquet offers darker spices including a 5-star Asian spice nuance along with blue fruits. The palate offers higher toned red fruit flavors including of cherry and pomegranate. A freshness of acidity persists along with lights notes of pepper and a slight dryness. The tannins are noteworthy because they are densely packed together but do not feel course on the palate, rather they are rounded without any harsh edges.
Syrah is Benevolent Neglect's flagship wine, having produced a bottling from this variety since their inaugural vintage. And their Syrah has always been produced from Las Madres Vineyard on the Sonoma side of Carneros. Dave Phinney, the founder of Orin Swift and the Prisoner used to source from this particular vineyard. The 2018 Las Madres Vineyard Syrah was fermented 50% whole-cluster. This wine is dark ruby in color; the bouquet immediately says, "I'll meet you with my darkness", offering brooding aromas of forest floor, mushrooms, damp leaves and some dark pepper notes. The palate shows bright acidity and loads of flavor including blackberry, dark spicy plum and bramble. The tannins offer a moderate grip which continues to persist for some time on the savory and dark finish. There is a reason why Syrah is often associated with BBQ meats and this bottling is a good example of such a wine.
In crafting their Napa Valley Cabernet Sauvignon, they prefer a style somewhere between Bordeaux and Napa wines of this variety which were made in the 1980s. Or as Ben told us, somewhere between the styles of winemakers' Thomas Rivers Brown and Steve Matthiasson. The 2018 Cabernet Sauvignon was sourced from the Meadowbrook Vineyard in the Oak Knoll District (owned by the producers of Kanpai Wines). This wine is dark ruby in color; the bouquet is elegant with a focus on its fruit rather than oak, offering darker notes of blackberry, plum and boysenberry. It shows more of a savory quality than ripeness. The palate is approachable in its youth with textured, well-integrated tannins of a medium grip. Lingers with a brambly note and a hint of wood spice. This wine was aged in 40% new French oak barrels.
And along with their Napa Valley grown Cabernet Sauvignon, they also produce a Napa Gamay (Valdiguié) from the Napa side of Carneros and a rare Ribolla Gialla from the Bengier Vineyard off of Dry Creek Road near the city of Napa (formerly the Vare Vineyard).
The colorful labels are the artwork of Charleston, South Carolina resident Dan Dickey; Matt first met Dan in college. Later they drove taxis together in Charleston. Dan now operates the Purple Buffalo in Charleston, a gathering space for artists and musicians.
Tasting space, downtown Napa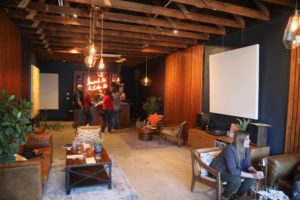 While the early vintages of Benevolent Neglect were produced in Napa Valley, today the wines are produced at a custom crush facility near Santa Rosa in neighboring Sonoma County. But Matt and Ben both live and work in Napa Valley; it made more sense to open their first retail space in Napa rather than closer to where the wines are produced. Benevolent Neglect opened for tastings in their space for the first time on Friday, October 21, 2022.
This part of 2nd Street (between Franklin & School streets, sometimes locally referred to as SoFi – south of First Street) has seen as much of a renaissance as any other part of downtown. It's a hip and happening place to hang out, especially on the weekends and features a variety of welcoming shops. And in the spirit of neighbors supporting neighbors, Jeffries General across the street also carries a limited number of Benevolent Neglect wines and also a nerf gun next to the counter for friendly neighborhood fights, primarily with the folks at Benevolent Neglect.
This space previously housed Shelton Dry Cleaners but the interior has completely been revamped, creating as Ben calls it, "a comfortable, casual and fun space" tying in well with their motto of: drink it & like it. Local artist Penelope Moore, known for her painting by taste, often displays a painting or two inside. And music from their sizable vinyl collection is usually playing in the background; guests are invited to bring their own records and play some of their favorite tunes.
A second room is located behind the main space and is used for hosting larger groups. Matt or Ben or often both are here to greet and hang out with visitors. And Friday and Monday late afternoons are happy hour times, with wines poured straight from several kegs they keep on premise. Most of their bottlings are produced in very small quantities, typically only several barrels of each wine. A limited number of library vintages are available for purchase at the tasting room.
For more information, to join their 6 or 12 bottle wine club with accompanying 20% discounts, or to purchase wines, visit: www.bnwines.com