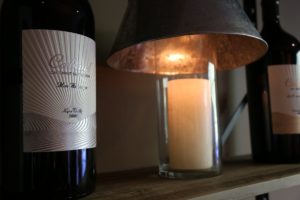 Benediction Estates was founded with the 2009 vintage by husband and wife, Phillip and Bonnie Cabaud. Note: they operated Cabaud Cellars for a number of years and was the wine we first met with them about. Neither are from the Napa Valley originally but both moved here along with their children and ultimately lived in St. Helena for three years. The move was motivated by Bonnie's love of farming and interest in introducing their children to a more rural lifestyle. The perspective that one can gain in their formative years from both a urban and a rural lifestyle is invaluable and the Napa Valley is certainly a good place to raise children.
During their time in St. Helena both Phillip and Bonnie became involved in their local community – and as is the case when your living up valley, you quickly discover that the wine industry can be an integral part of your lifestyle. Their friends were professional winemakers including several for premium local brands. When Phillip approached some of them and shared his idea of making home wine from fine vineyard sources – they quickly talked him out of this idea and convinced he and Bonnie to build a professional wine brand. But the family still holds true to their original idea and make about a 1/2 barrel of wine each year for their own consumption.
While no longer living in the Napa Valley, Phillip is in Napa at least once a month via a long distance commute from Houston. Since selling their property in St. Helena they have purchased five acres on Howell Mountain and have plans to develop a vineyard and create another wine built around this single vineyard.
Good friends like Juan Mercado (owner of Realm Cellars) and Luc Morlet – winemaker and owner of Morlet Vineyards have played an important role in the evolution of Cabaud Wines and Phillip's own wine education. Luc has been making their wines since day one. He was born in France to a fifth generation wine-grower family and spent nearly ten years there working in the wine industry before coming to Napa in 1993. Over the years he has worked with some of the brightest winemakers in Napa and has consulted for several premium Napa producers.
From tasting a number of wines that Luc has made, it is clear that he brings a wonderful balance to his wines, sourcing from vineyards he knows very well both in Sonoma and Napa county. Both of Cabaud's white wines, the Sauvignon Blanc and the Chardonnay are sourced from Sonoma County.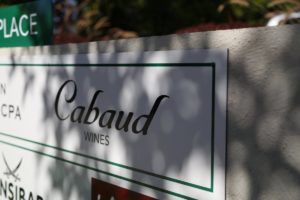 Only 70 cases were produced of the 2012 Sauvignon blanc (doubled in ensuing years). This wine sees no malolactic fermentation and is blended with 15% Semillon. Aromatically it is pleasing showing notes of dried straw and as the wine breathes, tropical nuances. On the palate it is complex with decent weight and some nice minerality characteristics (touches of graphite). The finish is clean and lingers for some time.
The 2012 Chardonnay is as Luc says, "brings a French bouquet with a new world palate". This wine has good color. The bouquet is inviting, showing aromas of warm baking spices and creme brule. The palate is rounded with good weight but is perfectly in balance. The fruit builds as it hits your palate and by the finish it is showing rich fruit that lingers for some time with good viscosity. This wine begs another sip.
Stylistically, both of their Cabernet Sauvignons are different from each other – this was part of the vision for these two wines. If one has to categorize each wine, the Mon Hommage has more feminine characteristics while the Benediction is a bigger more muscular wine. When Luc initially asked Phillip, "What type of Cabernet Sauvignon do you want to make?" Phillip told him he was interested in showcasing a wine that represented St. Helena.
Luc introduced Philip to a vineyard in St. Helena growing on an area known as "glass mountain". There is a reason for this name – the soils are full of black obsidian rock. This wine, Mon Hommage was the first wine produced under Cabaud with most of the fruit for this wine coming from this same vineyard each year.
This wine shows very well when young (2012 vintage). Aromatically the wine presents a depth of red fruit (red cherry), displays a dusty almost dry rock component, a hint of vanilla and as it opens becomes more floral. It has an elegant bouquet. The palate shows higher toned fruit – the tannins are here and touch the front of the palate rather than the back and linger softly for some time. The influence of the oak is also there, but not overpowering – tobacco and just a note of cedar anchor the finish.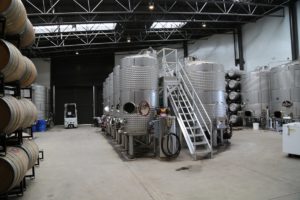 Phillip was familiar with the fruit from the acclaimed Missouri Hopper Vineyard in southern Oakville. When he was able to source some of this fruit for wine in the Cabaud program he jumped at the opportunity. Initially they tried to blend fruit from other vineyards and varieties into this wine but kept returning to the 100% varietal and ultimately bottled this as 100% varietal Cabernet Sauvignon. The 2012 vintage shows dark purple in the glass displaying darker fruit with nuances of dustiness, tobacco smoke and hints of chocolate. On the palate this wine had good character – with good structure. The tannins linger for some time throughout the palate.
In a tribute to people and or place Cabaud names each of their wines as a dedication. The Mon Hommage is a tribute to St. Helena – Benediction, meaning blessing is dedicated to his children and La Brume de la Mer is dedicated to his daughter. The Caubad's also produce another label called Benediction, featuring a Chardonnay and a Cabernet Sauvignon every vintage.
Their wines are distributed via a mailing list and selectively including in Ohio and Texas as well as in Napa and the San Francisco Bay Area. Locally you can find the wines at 750 Wines (wine shop in St. Helena) and at restaurants – Meadowood and Tra Vigne.
In May of 2014 Cabaud/Benediction moved into a small office in St. Helena – formerly a wine lab – and created a personalized tasting salon. They were only in this office a short while before vacating. Their wines are made at a premium winery located just north of the town of St. Helena. For more information and or to join their mailing list, visit: www.benedictionestates.com