Belted Vines. We love walking back into various era's of Napa's history, but in particular, extremely rare spaces that have not been restored including wineries or ranching operations. Places like the old wooden winery at the Rossi Ranch in Rutherford, Buhman Ranch, the old wooden Pellet & Carver Winery St. Helena, and before it tragically burned, La Perla Winery on Spring Mountain. But there is one place we drive by nearly every day which offers one of these rare unrestored glimpses back in time. This is Stewart Ranch which is bisected by Highway 29 and is located a few minutes drive south of the city of Napa.
John Stewart, of Scottish descent immigrated to the U.S. from Ireland in 1892 when he was 22 years old. He settled in Marin County where John worked as dairyman in the tiny community of Marshall. He and his wife Elizabeth purchased Stewart Ranch in 1903; remarkably the ancient wooden milk wagon they drove from Marin County to this site is still housed on the property in the old barn. And the original house on the property at the time of their purchase is still standing, estimated by a historian to date from 1895. The family paid cash to the Elizabeth McClure and her sister who were both living in the old house at the time, neither of whom ever married. The sisters decided to sell the property after their father passed and soon moved into the city of Napa.
Stewart built the original levees on the Napa River for flood control purposes. Two of his sons, Earl and his brother Wilbur and their sister Essie (who were children when their family purchased the ranch), later operated a dairy on the property and at one point were supplying all the milk produced from their cows to the residents of Vallejo. An article in the May 18, 1934 issue of the Napa Journal references the ranch was producing up to 182 gallons of milk daily. Cows from their operations used to be herded across what was called Old Sonoma Highway before the existing Highway 29 was built. This road is now the frontage road named Golden Gate Drive; we have spotted a number of mentions in old newspapers from the 1930s about accidents involving livestock and cars on this old road. A tunnel underneath Golden Gate Drive still exists but now only accesses a small strip of land sandwiched between the north and southbound lands of Highway 29. The sharp curve located just south of their property on Golden Gate Drive is referred to by locals as Stewart's Curve, the site of numerous accidents over the years due to people trying to pass.
A hand-dug cave (most likely built by Portuguese workers) is tunneled into the side of one of the hills behind the dairy building extending about 12 feet; this was used to store meat and other perishables. Sometimes the cows wander in here for cooler temperatures on particularly hot days.
The siblings operated the dairy until 1940 when Wilbur, bought his own property, moved off of the ranch and began a sheep business. However Earl continued dairy operations until 1956; it was called Stewart's Cash and Carry which at the time was Napa Valley's oldest dairy.
The brothers maintained a small air strip where vineyards are currently planted called "Stewart's Flying Field". A sizable hangar was located on land that is now being used by the highway and used to house the brother's planes. According to an article in the Napa Register dated March 27, 1976 Earl and Wilbur took their first flight in 1917 as passengers in a plane flown by a pilot based in the San Francisco Bay Area. Earl owned the first airplane housed in Napa County in 1927, a Lincoln Standard. An article from the May 4, 1930 issue of the Napa Journal references that for the first time in Napa County's history, an agricultural product produced within the county was transported by a Travelair biplane. Wilbur flew 18 gallons of milk by plane to market in Oakland. And then the next day loaded up a young Jersey calf and flew it from the strip to what was Freitas Ranch at Napa Junction.
A year later Wilbur was involved in a serious crash in Richfield Utah; he survived but his passenger, fellow Napan Joseph Elmore was killed. And Wilbur's 17 day stay in a Utah hospital led to a romance with his nurse Bertha and eventual marriage.
Earl was a volunteer fire fighter and maintained Stewart's Dairy Volunteer Fire Department on the ranch for many years. The ranch had several fire hydrants and a fire truck was kept on site until the late 1960s. He even was called into duty on his own property on January 27, 1949 to save the old ranch house which sustained $1000 in damages. His grand daughter Ailene recalls that as a child, she would go on calls with him but was not allowed to get out of the truck. Earl also helped install and maintained the first telephone lines in parts of Carneros. And apparently he was a prankster; one stunt involved him standing on his head on top of a telephone pole.
Ailene and her husband Paul Tarap live on the ranch and oversee it's operations including cattle, miniature horses and vineyards. Those who drive by on Highway 29 will invariably spot the Belted Galloway cattle (or often referred to as the 'Oreo cows'), easily seen based on their distinctive "belt" color. Ailene first saw this Scottish breed of cattle during a trip to Maine. In 1991 she purchased several from a herd living in Washington; she is now the oldest continuous breeder of Belted Galloways in California. And it is these cattle who are the namesake for their wine brand, Belted Vines.
Years ago, Aileen spotted an ad for a miniature horse, harness and related hauling cart for sale on Craig's List. She didn't know anything about miniature horses at the time but soon discovered a variety of miniature horse shows and events. She wanted in to this world. And as she told us, "When I get in it, I want to win it". So she began purchasing miniature horses, breeding them and entering them into a variety of competitions. Her horses have won numerous competitions including many world championships. In 2018 a beautiful building with stalls was constructed on the property to house their horses.
Paul (grew up near Lake Berryessa) used to work for the Christian Brothers from 2000 through 2009; during first year working at Mount La Salle Ranch (next to Hess Collection on Mt. Veeder) he began raising animals to sell in order to raise money for at risk youth within Napa County. The program as part of the Christian Brothers ended in 2010, so Paul started a 501C non profit called Ag 4 Youth. This organization raises money for Napa County at risk youth through an annual fundraiser event and the sale of animals at the Napa County Fair. Money raised from the sale of animals is kept until each child turns 18 and then can be used for a variety of needs including college education.
And other family members are actively involved in the brand including Aileen's children. James helps with distribution and sales, his brother Robert, a fireman assists with ranch work and their sister, Paige oversees events for the ranch.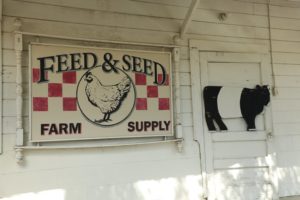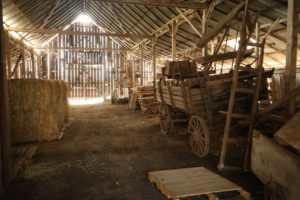 Today about 44 acres of vines grow on the east side of the highway. Plans eventually call for planting vines in the hills on the west side of the ranch. What Paul and Eileen call "the canyon" is a very cool part of the property with temperatures often much cooler than other parts of the ranch. This is classic Carneros with temperatures much cooler than north of Yountville, with fog often present in the early mornings, burning off by late morning and breezy conditions typically in the afternoon.
The ranch has been used for a number of agricultural purposes over the years including hay and giant pumpkins. A Napa Journal article dated November 14, 1941 calls that years pumpkin harvest, "the greatest crop of pumpkins every raised in Napa County".
The ranch used to be much larger but after 5 different eminent domains including for the highway which was built in 1972 and for flood control, the original 300 acre ranch is now about 90 acres located both on the flats east of the highway and the hills to the west of the highway. Both parts of the ranch are entirely within the Carneros District (the far north eastern reaches of this sub appellation).
With such a prominent location and enthusiastic owners including Ailene's children, the property has been the recipient of a number of media outlets including Good Morning America. One request for a visit came from a prominent executive who noticed the Belted cows while driving by and wanted his daughter to celebrate her birthday at the ranch.
After the Napa County micro winery ordinance passed in 2022 and their 25 year vineyard lease with Doug Hill expired (Doug continues to be their vineyard manager), Ailene and Paul decided to apply for a winery permit including a limited number of visitation on site. This is currently being worked on with plans to convert a small section of their property into an outdoor tasting area and renovate the old dairy building into a tasting space. This building dates from 1928 and contains a number of old dairy lockers. All renovations will be done in mind to preserve this part of Napa Valley's history.
The first vintage of Belted Vines was an Albariño in 2021. One of Ailene's mentors and the woman who encouraged her to start her own wine brand is Rebecca Laird (Laird Family Winery). She met Rebecca through Rebecca's daughter Jillian one summer at the Napa County Fair when Ailene noticed Jillian was exceptionally well trained in how to handle show animals. And it is Napa Valley, so Jillian has a lovely red blend named in her honor called Jillian's Blend (bottled by Laird Family Winery). Belted Vines produces their wines at Laird Winery with one of Napa Valley's most talented winemakers (and incidentally one of our favorite winemakers) at the helm, Allison Doran.
Select Wines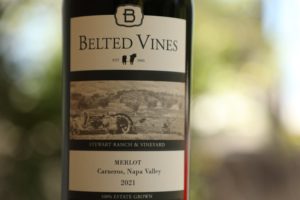 Currently all grapes growing at Stewart Ranch are located on the east side of the highway. This part of the ranch is planted to Albariño, Sauvignon Blanc, Merlot, Pinot Noir and two rows of Chardonnay. This is Napa Valley's lowest by elevation vineyard ranging from 6 to 12 feet above sea level. It was planted by viticulturist Doug Hill in 1997. He is also the one who suggested planting Albariño, a very rare for Napa Valley variety. These were the first Albariño vines ever planted in Napa Valley; today the ranch is planted to three acres of this variety. Currently along with this vineyard, there are only a select few other vineyards in Napa Valley that grow Albariño including a vineyard in American Canyon, Carneros, Deer Park and on the slopes of Mt. Veeder.
We have been familiar with the wines from this vineyard for a number of years as grapes have been used in Hill Family wines and winemaker Michael Havens was purchasing Albariño for his now defunct Cave Dog brand.
The 2022 Belted Vines Stewart Ranch Albariño Carneros is pale yellow in color; the highly aromatic bouquet offers scents of pineapple and pineapple guava which is an aroma we are highly familiar with having picked these fruits from bushes growing next to gravesites in Santa Rosa's Oddfellow Cemetery for more than 30 years every fall. Incidentally, this is the same cemetery that Robert Ripley of Ripley's Believe it or Not is buried in. The aromatics continue to be expressive as the wine evolves in the glass showing additional notes of honeysuckle, jasmine, passionfruit, lemon juice, kiwi, lemongrass and recently cut Gravenstein apple. Its superb balance is immediately noticeable with rich flavors (on the citrus spectrum), supported by a creamy and almost saline texture and plenty of bright acidity lingering on the mouthwatering finish. This wine pairs wonderfully with one of our favorite Thai dishes, Nam sod (Thai Spicy Salad With minced Pork) and eggplant cooked in the oven. Or it simply drinks far too easily by itself.
The 2021 Belted Vines Stewart Ranch Pinot Noir Carneros is pale ruby in color; there is nothing shy about these aromatics. The bouquet is a union of both darker spices and energetic fruit. It offers scents of white pepper, a gamey or meaty nuance, mushroom, freshly tilled soil, rose petals, dried herbs, red cherry, red plum and dark raspberry. A hint of cardamom also lingers deeper in the aromas. The fruit becomes the star of the show here as the wine opens in the glass. This wine is texturally soft with rounded and supple tannins accompanied by a rich flavor profile which includes raspberry, cherry, black tea and a lingering light note of dark pepper which contributes to a savory finish. Tasting this bottling reminded us of possibly paring this wine with duck and brought back memories of cooking duck in the ground over hot rocks and coals at our friend's house.
The 2021 Belted Vines Stewart Ranch Merlot Carneros is medium to deep ruby; the bouquet features a sweeter thread of fruit including wild blackberries, raspberries and dark plum along with some spice notes including of tobacco, pepper and dried sage. We also noted a stem like nuance – a character first pointed out to us in one of the Opus One bottlings by their winemaker Michael Silacci. A hint of vanilla shows deeper in the bouquet. If we were to choose one word to categorize its aromatic profile it would be savory. It sports flavors of red plum, cherry and black currant. This wine lingers juicy with grainy and persistent tannins, a light red-fruited tartness and a pronounced dark savory spice which continues to persist for quite some time. We enjoyed this wine with roasted rabbit and homemade ratatouille.
—
The image on the front of all their wine labels is that of a Model 25 1918 tractor built by Stockton, CA based Samson Sieve-Grip Tractor Company. The family still has the original bill of sale; they paid $1900 for this new tractor. This company built tractors from 1900 to 1923. General Motors owned the company for its last 6 years before closing operations in 1923. The company also built trucks and produced one automobile prototype but never commercially manufactured it. And Ailene and Paul still own an original 1918 Samson tractor including with the original owner's manual. They plan to fully restore this old beauty.
Total production is under 1,000 cases annually. The wines have limited distribution in Texas and in Napa Valley. Locally they can sometimes be found at Backroom Wines and Compline in the city of Napa, V Wine Cellars in Yountville. And the Stanly Lane Smokehouse. This smokehouse is within a very short drive of Stewart Ranch and is where we first tasted their Albariño. For more information and or to purchase wine, please visit: www.beltedvines.com