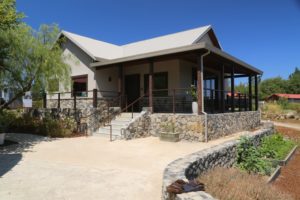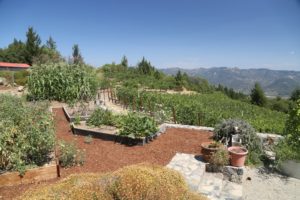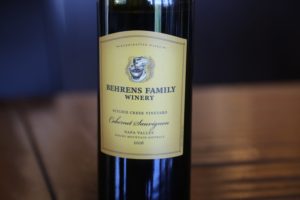 Behrens Family Winery (formerly Behrens & Hitchcock) is located on the top of the Spring Mountain District near the Sonoma County line – about a 20 minute drive from the town of St. Helena. The winery is at the end of this district's infamous "summit wine road" which leads off the very windy Spring Mountain Road. This summit road is also home to a number of other Spring Mountain wineries. Two couples founded the original winery: Les Behrens and Lisa Drinkward and Bob and Lily Hitchcock.
Les and Lisa met in Arcata, California (near the city of Eureka) – married and then started a restaurant in 1991 called Folie Douce. It was through the restaurant that they met future business partners Bob and Lily Hitchcock. Eventually Les decided to make home wine – but then soon started making limited quantities of commercial wine from premium grape sources in the Napa Valley. For several years Les made the arduous 8-10 hour round trip drive from Arcata to Napa to pick up the grapes and drive them back to Humboldt County (shout out to Eureka based 101.5 KEKA Thunder Country with its 100,000 watts of broadcasting power) where he made the wine in a garage. Their first crush was in 1993, a mere 175 cases – and production moved from their garage to a stand-alone building next to Les and Lisa's home in Arcata.
Les and Lisa sold Folie Douce Restaurant in 1997 and moved their production to the Napa Valley. In 1999 they purchased land high on Spring Mountain and soon after Les and his son Sean constructed a small winery. From the beginning, their model has been to work with premium vineyards (but not actually own their own vines). All their wines are produced and bottled at their winery. They source from a variety of Napa Valley vineyards from Calistoga to the southern part of the valley (10+ at the last count) as well as select vineyards from Sonoma County.
Sometimes in certain industries, regardless of background, when someone is passionate about something they often create something just as good as those who were formally trained in a particular field. Such is the case with Les. He was a former grave digger, wood worker, turned construction worker turned restaurant owner, turned vintner. His wines have received exemplary ratings and a loyal following from his customers including from Robert Parker who first wrote about them in the late 1990s (helping expose their wines to numerous collectors).
In 2005 Bob & Lily Hitchcock decided to retire and Les and Lisa bought out their share of the winery and changed their name to Behrens Family Winery. The first vintage of Behrens and Hitchcock was in 1993. The last vintage bottled under the Behrens and Hitchcock label was a 20-year anniversary red blend from 2013.
Wine making here involves both family and friends; several other labels have been made at the winery over the years (or are still made at the winery) including Drinkward-Peschon (a partnership between Lisa and winemaker Françoise Peschon), Robert Nenow, Relic Cellars, Zeitgeist Cellars and Les's son Sean who founded Sova Wines. Behrens Family Winery produces red wines exclusively, focusing on Cabernet Sauvignon and a variety of blends. A number of their labels are based on specific pieces of art – usually paintings. Total production as of the time of our latest update is about 4,500 cases per year.
Behrens was one of the earlier wineries to begin pushing the envelope on ripeness; initially harvesting grapes riper than many of their counterparts. Never formally trained in wine making – Les has subscribed to the "learn by doing" motto – he has been the primary winemaker for every vintage since 1993. Sean says their core wine making practices haven't changed over the years, but they are making cleaner wines and have streamlined they're over all operations over the years, becoming more efficient in what they do.
Their operations define artisan crafted wines; the winemaking side of their business is all managed by family members, by hand. Les and Lisa's partnership is an ideal one as Les directly oversees the winemaking and Lisa manages the viticulture side of their operations. Their wines are made in small lot productions and are known for their distinctive and engaging personalities, creative names and intriguing labels.
In 2020 the winery burned down during the devastating Glass Fire, but the recently built at that time, tasting room was fortunately spared. We visited a couple of days after the fire burned through this part of Spring Mountain; there were still flames burning on the property. As of mid 2022 the winery has been rebuilt.
Select Wines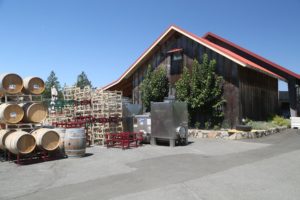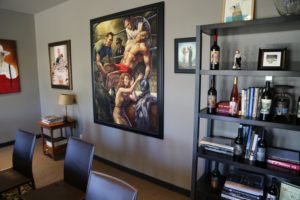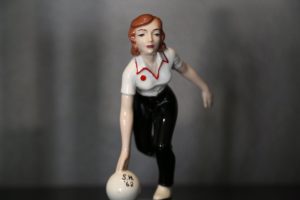 Ritchie Creek is a nearby winery and vineyard – one of Spring Mountain's more historical properties with wines produced under the Ritchie Creek label beginning in 1974. Today the second generation manage this vineyard, and while they are no longer producing wines themselves – as of our latest update to this review, they sell grapes exclusively to Behrens Family Winery. The 2016 Behrens Family Winery Ritchie Creek Vineyard Cabernet Sauvignon is dark purple in the glass with big bold darker fruit aromas including of blackberry and plum along with toasted oak, cedar and darker spice notes. Big fruit, big flavors and big structure – this wine has the depth of a mountain grown Cabernet Sauvignon. Great acidity with chewy persistent tannins.
Spare Me is a blend that changes every year – it is a barrel selection of wines that do not fit into their other wines. The very unique label is of a woman bowling, based off a statue they purchased on Ebay – two random details on the statue stand out, one are the letters SH (one could take this to mean St. Helena and the year 1962 – the year Lisa was born). The 2013 Behrens Family Winery Spare Me is dark in the glass with darker fruit aromas including blackberry along with notes of leather and cedar box on the bouquet. A very approachable wine in its youth, it is somewhat juicy on the palate with mouthwatering acidity. Medium bodied with somewhat dusty fairly well integrated tannins anchor the finish.
While they produce some wines year after year – a number of their wines/labels are only produced for a few vintages.
Two other wines we have enjoyed during previous visits include: Cemetery and the Family Reserve. The Cemetery name is interesting for two reasons; Les used to be a gravedigger and the vineyard providing the fruit for this wine is adjacent to the historic St. Helena Cemetery (walk through here and almost everywhere you look you will be greeted by gravestones of deceased vintners).
The label for their Cemetery bottling was drawn by the acclaimed artist Rosemary Feit Covey. It is one of the darkest wines one will ever see, is robust in its stature – a very full-bodied showing. In comparison the Reserve is a totally different wine. It is a blend of four Bordeaux varieties and is only made when they feel the "juice" is of the highest standards. It is generally a very elegant wine, soft on the palate and smooth on the finish.
Hospitality
Tastings are appointment only for serious wine enthusiasts and are always kept private for your party. In late summer 2019, Behrens Family opened a new tasting room. Positioned perfectly to take full advantage of their memorable panoramic vistas, the tasting room doors swing fully open so that visitors have views of surrounding vineyards, mountain ranges and parts of the valley far below in the distance. And Sean used his skills from years in the construction to build this tasting room.
A visit to the winery used to incorporate one of the Napa Valley's more unique tasting experiences. Les and Lisa acquired a 1947 Westcraft trailer which served as their tasting room for a number of years prior to the construction of the current tasting room. This type of trailer was top of the line at the time.
Tasting Studio (no longer open)
Opting for a more accessible tasting room, for several years Behrens Family Winery maintained a tasting room 'hidden' just off of Main Street in the southern part of St. Helena. The 'little yellow house' was open for tastings by appointment and was located next to one of St. Helena's most auspicious and well-known vineyards – Dr. Crane. This is not the first time this home has been used as a tasting space – prior occupant was Karl Lawrence Cellars.
Despite being so close to Highway 29 this was a relaxing place to sit and enjoy wine either inside their tiny tasting salon or outside in their small patio area. The traffic from the nearby highway was never a distraction.
NOTE: as of 2019 this studio is now closed; we keep this information here for historical record purposes only. All tastings by appointment are now held at the winery.
—-
Folie Douce Restaurant, Arcata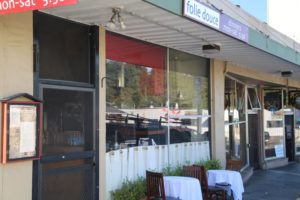 Les and Lisa founded this restaurant in 1991 in Arcata. The name means tender madness in French and also refers to a 1951 French film of the same name. Lisa focused on the cuisine (French inspired) and Les curated the wine list eventually receiving the Wine Spectator's Award of Excellence.
The restaurant changed hands several times since Les and Lisa sold it, mostly recently in late 2018 – but remarkably survived the transition in ownership years afterwards and continued to serve fine food with a much-downsized wine list from when Les and Lisa owned it. Each owner has had some connection to the restaurant over the years. But during a meal we did spot a Behrens Family wine available by the glass. The current ownership has changed the menu somewhat from prior ownership – adding some Lebanese dishes.
Several curbside 2-hour parking spots are available directly in front of Folie Douce on G Street and there is additional parking directly behind the restaurant in a small parking lot. Paintings from local artists decorate the inside walls and are for sale. The restaurant works with a number of local purveyors for ingredients and other culinary supplies. Locally sourced oysters and fresh caught fish show up on the menu. Great flat bread – especially when it comes directly to your table out of the oven and still piping hot.
Folie Douce Restaurant closed in late 2019 and remained closed until it was sold in 2021. As of our latest update to this review, the space reopened on November 11, 2021, as The Kitchen Arcata which focuses on innovative dishes from primarily locally sourced ingredients. As of our latest update to this review, this restaurant is only open for dinner.
—
For more information, to schedule an appointment to their tasting room and or to join their mailing list, visit: www.behrensfamilywinery.com
Winery Photos