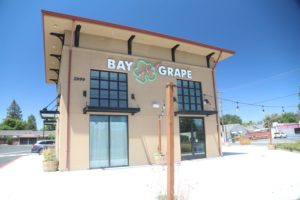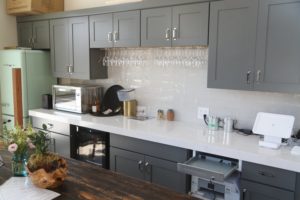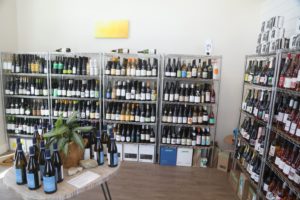 Bay Grape was founded by husband-wife, Josiah Baldivino and Stevie Stacionis. They opened their first and flagship wine shop in August of 2014 in Oakland. At the end of March 2020, they opened their second location on Soscol Avenue in the city of Napa, a space that for a short time was previously used as a show model for the nearby Watermark at Napa Valley, an Independent Living, Assisted Living and Memory Care Center.
The core focus of their operations is on being an integral part of the community and offering a place geared towards local residents to learn about and enjoy wine in a casual and welcoming setting. And providing an intriguing and interesting inventory available at reasonable prices. As Stevie is quick to admit, their passion and reason for being is deeply rooted in hospitality and wine – and this certainly shows in the character of their two stores.
Stevie began working in restaurants at age 15 recalling her first job involved slicing bread and taking out the trash at a restaurant in Minneapolis. After graduating from the University of Southern California, she began her career as a writer, focusing on food and travel and later wine.
Josiah graduated from Cal State University Northridge, worked in Los Angeles, New York City and in the San Francisco Bay Area where received his Advanced Sommelier Certification from the Court of Master Sommeliers. During his time in San Francisco, he was the lead sommelier at the acclaimed Michael Mina Restaurant. In 2017, both Josiah and Stevie were named one of Wine Enthusiast's Top 40 Under 40 Tastemakers.
It was in the late 1990s while working at Il Fornaio in Pasadena that Stevie met Josiah. One year, the restaurant manager organized a wine tasting trip to Santa Barbara and the Santa Ynez for restaurant employees. A number of employees were initially scheduled to go on this trip, but ultimately the only two employees who were able to participate on this trip were Stevie and Josiah. Stevie recalls the enthusiasm they both had for this trip, new places visited and being able to taste for free since they both worked in the trade. Not all trips go perfectly – the managers truck broke down on the way back to Los Angeles, so they had to spend an extra day in wine country.
Bay Grape Oakland
While walking to the weekend farmers' market along Grand Avenue in their Oakland neighborhood, Stevie and Josiah would walk past an old empty shop. The windows were always covered with paper but one Saturday they noticed the paper had slid off one of the windows, so they peered inside and were intrigued by the interior. Weeks went by and they would have casual conversations among themselves while walking to the farmers' market – asking themselves does their neighborhood need a wine shop? Ultimately the answer was yes.
Their opening day was memorable. Bay Grape, Oakland opened the day of the Napa Valley centered earthquake in August 2014 but fortunately they did not lose any product. The community support has been an integral part of this shop's presence with regular customers becoming friends.
This shop has a similar selection and layout of wines as compared to the wines sold in their Napa store.
If the weather is decent, a short walk to relax along the grass covered hillsides above picturesque Lakeside Park is warranted.
Bay Grape, Napa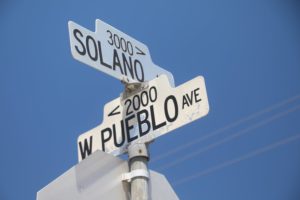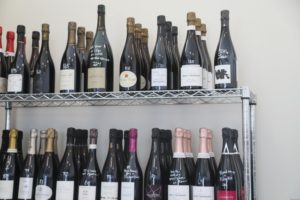 With many friends in the Napa Valley, clients at their Oakland shop often asking about wineries in the Napa Valley and the welcoming feel of the community, it was only time before Stevie and Josiah made the move north – initially temporary which has morphed into a permanent move.
Bay Grape Napa is located in a small shopping center at 2999 Solano Ave, a short drive from downtown Napa. The nearby service-oriented businesses typically operate until 4 or 5 pm at which point the parking lot clears later in the afternoon and provides plenty of parking for clients of evening visitors to Bay Grape. The store features a diversity of wines not commonly seen in Napa Valley and spans a selection including parts of six continents. Both Stevie and Josiah knew that they did not want to organize their selection by variety or region so instead the wines are displayed ranging from lightest to heaviest in style. They made this decision based on client interests and level of education – making their layout easier to find wines for customers simply based more on palate preferences.
Monthly tastings highlight a single small producer; during their first year open in 2021, these tastings were focused on a producer with at least some ties to the Napa Valley. Each producer is required to be at the store presenting their wines at least two Saturdays every month but can certainly be present more often. The producers highlighted are always small, and do not have their own tasting rooms. Their wines are offered for tastings by the glass or by flight.
Any wines sold in the shop can also be enjoyed on site for a small corkage fee. While there is no commercial kitchen on site, the store works with primarily local vendors (including Contimo Provisions), to provide small bites that can be paired with the wines.
Noticing the winds that blow through this part of the valley, primarily gaining strength in the afternoon, and realizing that other wine regions around the world have names assigned to their particular winds, Stevie decided to host a 'name the Napa Valley winds contest". The winner, Jen Martin suggested the winning name of Tina. So between 2 and 6pm, Bay Grape hosts a happy hour named AperTina and features several unique offerings including a pink slushy.
Unlike the store in Oakland, the clientele are primarily industry folks looking for a casual and relaxed space to hang out with friends and enjoy a variety of wines not commonly found in the Napa Valley. And there is plenty of space for socializing and enjoying good wine on the outdoor patio.
MAMA, Oakland
Located within a one-minute walk of Bay Grape, the inception for this restaurant came about in several ways. Customers of Bay Grape would often inquire why Stevie and Josiah had not yet opened a restaurant. Over time, Josiah began to miss the service part of owning and operating a restaurant as well the satisfaction of creating a wine list.
This space was empty for months – eventually the landlord approached them to see if they would take the lease. And so, they did, opening MAMA in 2019, armed with a collection of recipes from Stevie's grandmother including her personal favorite, the Sugo meatballs. Open only for dinner – seats 40.
Bâtonnage Forum
Stevie is the co-founder of this non-profit organization; it was created to work with and support women professionals across a wide range of wine related jobs including but not limited to winemakers, vineyard workers, writers and marketers, salespeople and sommeliers. Its most important components are two-fold, including an annual forum with a diversity of speakers covering a wide range of topics and a mentorship program which focuses on providing equal opportunities to those in the industry who have been overlooked for whatever reason.
Cans of wine bottled under Nomadica are sold in both shops and 100% of proceeds from sales of these cans is used to support the Bâtonnage mentorship program.
—
For more information including to join their wine club with access to three favorite wines chosen each month by staff, visit: www.baygrapewine.com