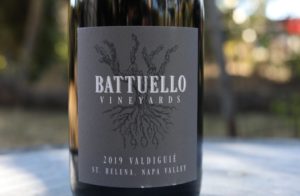 Battuello Vineyards. Driving onto the Battuello Vineyards property one can clearly see this is a working ranch with decades of equipment accumulated on the historic property including old trucks, tractors, wind fans and other farming implements. And one immediately notices the ancient wooden barn dating back to the 1870s; it has a historical connection to the nearby Bale Grist Mill. There is no 'Napa flash' here; the focus is on farming premium wine grapes.
The family story in Napa Valley begins with Matteo Battuello (1884-1966) who left his native northern Italy village of Favria (north of Turin) in 1906 and arrived at Ellis Island via steamship. He moved west, to New Mexico worked in mines and then eventually came to Napa Valley in 1909 following friends from Italy who had previously moved to Napa Valley and who had recommended the region. He arrived in 1909 and purchased land north of St. Helena on Ehlers Lane. He planted grapes back then, but grapes were not the major crop – rather he grew prunes and walnuts.
His wife, Serafina (Sera) joined him several years later; his job description on his marriage certificate was listed as laborer – his family had been involved in carpentry while Sera was described as a "well doer" indicating she was well off financially. Both worked the property for years, having two children Dominic and Joseph. Dominic took over ownership and farming from his parents after World War II and acquired additional acreage.
Dominic and his wife Ellen's son Craig eventually took over the farming of the property and today along with his son Dave, manage the vines and oversee the ranch and Dave's wife Torey oversees the business aspect of the operations. Like his father, Craig also acquired a neighboring parcel to increase their overall acreage.
A generational connection to the land is very important in farming; the Battuello's heritage in Napa Valley dates back to 1909. Unfortunately, not all families are able to successfully transition both ownership of property and business between generations, but the Battuello's have successfully farmed this land for four generations, and it remains under family ownership (with hopefully the 5th generation to eventually take over the operations).
Vineyards today are managed much differently than 'early' Napa Valley both in types of trellising, changes in water management, harvest decisions, the use of technology to help with more informed decisions and growing different varieties. And also farming for quality rather than quantity.
Contemporary Napa Valley is dominated by Cabernet Sauvignon plantings, but by the 1880s Zinfandel was the most common red variety planted in the region. Varieties planted by Matteo early on included Zinfandel, Petite Sirah, Mondeuse Noire, Carignan, Alicante Bouschet and Valdiguié. The Battuello's have been growing this variety since the 1930s and at its height, approximately 1/2 of their vineyard was planted to Valdiguié. From an economics standpoint Valdiguié earns far less per ton than Cabernet Sauvignon. Dave wanted to remove all of the Valdiguié in favor of more economically friendly red varieties, but his father cautioned that they should leave some in the ground. Battuello Vineyards is one of only a select handful of producers in Napa Valley producing wine from Valdiguié although in recent years there has been a renewed interest in this variety.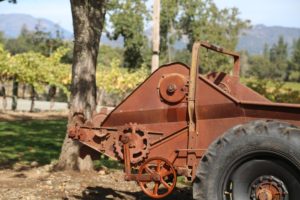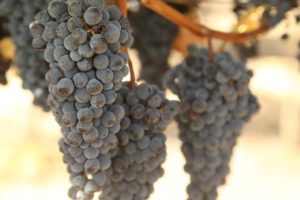 Valdiguié is primarily grown in the Languedoc-Roussillon region of southern France. In California, Valdiguié was historically and incorrectly referred to as Napa Gamay but in 1980 it was finally and correctly identified. This variety sets large berries and very large clusters. It does well in in hot weather as its sugars do not overly spike in conjunction with acids dropping and generally produces lower alcohol wines.
The Battuello property is 82 acres of which 68 are planted to four varieties including the majority Cabernet Sauvignon with also Petit Verdot, and tiny blocks of Sauvignon Blanc and the Valdiguié. And several Cabernet Sauvignon vines the family keeps for nostalgia that they estimate to date back to some of the original plantings from the early 1900s. The property is separated into some 20+ blocks including one of their most coveted Cabernet Sauvignon sections, a part of the vineyard (Block 1) referred to as Rockpile. One quickly realizes how this name was chosen after seeing all the river cobble among the vines and seeing the piles of rocks that they moved to encircle several stately old oak trees. One edge of their property backs up against the Napa River.
While vineyards are their focus – the edges of some of the vineyard blocks are reminders of what used to be planted here including walnuts, stone fruit trees and one of Craig's passions, a number of olive trees.
One might wonder why it took the family more than 100 years to produce their own wines commercially – but in reality, the Battuello's have been making home wine for many years, while focusing on growing grapes and selling to other wineries. Over the decades they have sold to several wineries including Charles Krug and Conn Creek Vineyards; today they sell the majority of their grapes to Stag's Leap Wine Cellars (who makes a Battuello Vineyard designate Cabernet Sauvignon); all the Battuello wines are estate grown.
The family produced their first commercial wine in 2016 and in 2017 hired winemaker Michael Trujillo to make the wines. Of all his years making wine in Napa Valley and working with some of the region's premier vineyards, Michael had never produced wine from Valdiguié before. Prior to working with this variety, he acquired Napa Valley Valdiguié wines from select producers to get a feel for its various styles. Battuello produces both a rosé and a red wine from their several long rows of Valdiguié.
The Battuello balance is evident in all their wines; by this we mean these wines showcase the varietal characteristics and are not dominated by oak, display a freshness from natural acidity and showcase a textural softness from approachable tannins, even in their youth.
Select Wines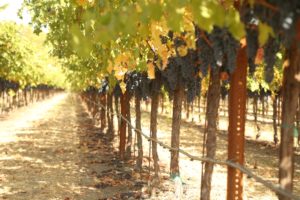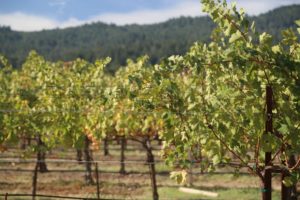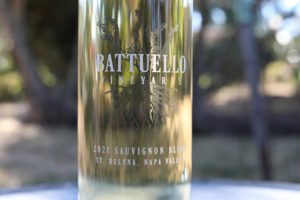 For the first time in 2021 Battuello Vineyards produced a Sauvignon Blanc primarily because Torey really enjoys drinking this wine. So do we, especially this particular bottling. Unfortunately, only 35 cases of this inaugural vintage were produced but hopefully production will increase in the coming years. It needs to: more Sauvignon Blanc enthusiasts need to try this bottling. The 2021 Battuello Vineyards Sauvignon Blanc is medium gold in color; the bouquet offers aromas of grapefruit, honeydew melon, juniper berry and peppermint. This bottling is neither green nor grassy or tropical but stylistically is somewhere in between. The palate showcases both the ripeness and intensity of Napa Valley sunshine but also a simultaneous freshness and brightness of acidity. This is a more mineral than fruit-driven wine on the palate with a complementary supple and velvet-like texture; it offers flavors of mandarin, crisp apple and gooseberry. Recently we have been tasting Napa Valley Sauvignon Blancs and other white wines in the 14+ percent alcohol range. It is refreshing to note this wine is 12.5% alcohol.
Battuello Vineyards harvests only the west facing Valdiguié grapes for the rosé; this side of the vineyard rows receives a longer period of sun exposure and ripens slightly faster than the grapes hanging on the eastern side of the rows. As a result, these western facing grapes don't develop as intense a color and for rosé wines, the juice is pressed off of the skins quickly, so color development is not as important as it is for their red Valdiguié wine.
The 2018 Battuello Vineyards Valdiguié Rosé is salmon color in the glass. This wine features elegant aromatics including of citrus blossom, lime zest, cranberry, a flinty nuance and dried rose petal. The flinty notes continue onto the palate with additional flavors of gooseberry and key lime. Balanced and crisp from start to finish, this bottling lingers with a lime zest. Bright acidity carries this wine to an elegant and clean finish. And rather than having a paper label which erodes quickly when wet, this bottle is thoughtfully screen printed which is especially nice when its sitting in a bucket of ice.
The 2019 Battuello Vineyards Valdiguié is medium ruby in color with some light purplish tinges on the rim of the glass; the bouquet is a bit briary, brambly and savory with notes of cherry cola framed with darker spices including old cedar box, pipe tobacco, dried herbs and hints of old leather. Some darker dessert spices show as the wine has time to evolve in the glass. The palate is bright, juicy and refreshing showing mostly higher-toned red fruits including red cherry, red berries and currant. The tannins are present but light in their feel and show a fine gravel-like texture. This wine lingers with a mouthwatering finish; we immediately thought of pairing this bottling with a tomato-based pasta.
The 2017 Battuello Vineyards Cabernet Sauvignon is 100% varietal. Right out of the bottling this wine offers bright aromatics including red cherry, cranberry and currant. As the wine breathes secondary aromas start showing including an earthy nuance and saddle leather. It is somewhat savory. Seamless from start to finish on the palate, the beauty of this wine is its excellent acidity and texture with a suppleness showing from fine-grained tannins. The palate offers flavors of cherry, cranberry and blueberry. Lingers softly with notes of tobacco, toasted oak and mocha. While packed with flavor this bottling is not anchored by robust tannins resulting in a very easy-drinking wine in its youth.
The 2018 Battuello Vineyards Cabernet Sauvignon is dark ruby; the bouquet offers aromas of blackberry and boysenberry with some darker spices highlighting the background aromatics including of tobacco. The presence of oak is merely complementary rather than influencing the aromatics. This is a balanced bottling that is light to medium bodied in texture. It offers flavors of plum and boysenberry with a hint of black licorice. The finish is lightly savory showcasing dusty finely woven tannins. All aspects of this wine are integrated quite nicely in its youth.
The 2018 Battuello Vineyards Petite Verdot is dark ruby and almost purple in color; the bouquet on this bottling is clearly about the fruit offering dark plum, blackberry and boysenberry complemented by additional light aromatics of bittersweet chocolate and mocha. The palate offers flavors of red plums and blackberry with a noticeable density of dusty and chalk-like tannins lingering on the finish. It also shows hints of dried tobacco leaf. This bottling showcases the variety rather than any overt influences from the oak aging.
—
For a short while, the wines were among a select few small family-owned vintners featured for tastings at the Bottle Shop in downtown St. Helena (owned by another very long time Napa Valley winemaking family, the Beringers). However, the Bottle Shop closed permanently in 2020 and has since become part of the Orin Swift tasting room. Select Battuelo wines are available at Sunshine Market in St. Helena and at several restaurants in Southern California.
The family has plans to build a small winery near one of their family homes on the property. Total production is generally slightly less than 1000 cases. For more information, to schedule a private tasting or to join their allocation membership (6 bottles each shipment, sent twice a year in the spring and fall), visit: www.battuellovineyards.com