Battuello Vineyards. Driving one the Battuello Vineyards property one can clearly see this is a working ranch with decades of equipment accumulated on the historic property including old trucks, tractors, wind fans and other farming implements. And a wooden barn that dates back to the 1870s. There is no 'Napa flash' here; the focus is on farming premium wine grapes.
The family story begins with Matteo Battuello (1884-1966) who left his native northern Italy village of Favria (north of Turin) in 1906 and arrived at Ellis Island via steamship. He moved west, to New Mexico worked in mines and then eventually came to Napa Valley in 1909 following friends from Italy who had previously moved to Napa Valley and who had recommended the region. He arrived in 1909 and purchased land north of St. Helena on Ehlers Lane. He planted grapes back then, but grapes were not the major crop – rather he grew prunes and walnuts.
His wife, Serafina (Sera) joined him several years later; his job description on his marriage certificate was listed as laborer – his family had been involved in carpentry and Sera's was something like "well doer" indicating she was well off financially. Both worked the property for years, having two children Dominic and Joseph. Dominic took over from his parents after World War II and acquired additional acreage.
Dominic and his wife Ellen's son Craig eventually took over the farming of the property and today along with his son David, manage the vines and oversee the ranch. Like his father, Craig also acquired a neighboring parcel to increase their overall acreage.
A generational connection to the land is very important in farming; the Battuello's heritage in Napa Valley dates back to 1909. Unfortunately not all families are able to successfully transition both ownership of property and business between generations but the Battuello's have successfully farmed this land for four generations and it remains under family ownership (with hopefully the 5th generation to eventually take over the operations).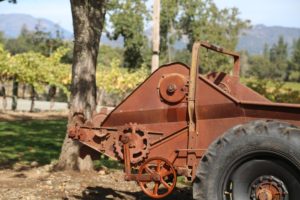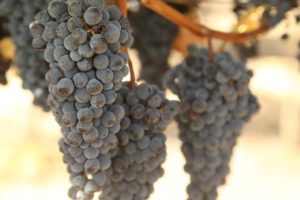 Vineyards today are managed much differently than 'early' Napa Valley both ih trellising, changes in water management, harvest decisions and different varieties. And farming for quality rather than quantity. The varieties planted by Matteo early on included Zinfandel, Petite Sirah, Mondeuse Noire, Carignan, Napa Gamay (Valdiguié) and Alicante Bouschet. It is hard to believe in contemporary Napa Valley, but by the 1880s Zinfandel was the most common red variety planted in the region. Of these, only the Napa Gamay continues to be grown on site and Battuello Vineyards is one of only a select handful of producers in Napa Valley producing wine from this variety.
The property is 82 acres of which 68 are planted to four varieties including the majority Cabernet Sauvignon with also Petit Verdot, and tiny blocks of Sauvignon Blanc and the Valdiguié. And several Cabernet Sauvignon vines the family keeps for nostalgia that they estimate to date back to some of the original plantings from the early 1900s. The property is separated into some 20+ blocks including one of their most coveted Cabernet Sauvignon sections, a part of the vineyard (Block 1) referred to as Rockpile. One quickly realizes how this name was chosen after seeing all the river cobble among the vines. One edge of their property backs up against the Napa River.
While vineyards are their focus – on the periphery are reminders of what the property used to be planted to with some walnuts, stone fruit trees and one of Craig's passions, a number of olive trees.
One might wonder why it took the family more then 100 years to produce their own wines commercially – but in reality the Battuello's have been making home wine for many years, while focusing on growing grapes and selling to other wineries. Over the decades they have sold to several wineries including Charles Krug and Conn Creek Vineyards; today they sell the majority of their grapes to Stag's Leap Wine Cellars (who makes a Battuello Vineyard designate Cabernet Sauvignon); Battuello holds back a small portion for their own wines.
The family produced their first commercial wine in 2016 and in 2017 hired winemaker Michael Trujillo to make the wines. Of all his years making wine in the Napa Valley and working with some of the region's premier vineyards, Michael had never produced wine from Valdiguié before. Prior to working with this variety, he acquired Napa Valley Valdiguié wines from select producers to get a feel for the various styles that this wine is produced in. Battuello produces both a rosé and a red wine from their several long rows of Valdiguié.
Select Wines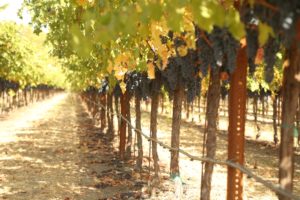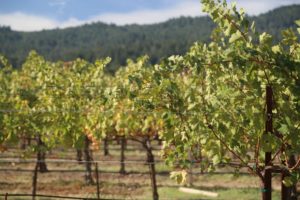 The 2018 Battuello Vineyards Valdiguié Rosé is salmon color in the glass. Features elegant aromatics with aromas of citrus blossom, lime zest, cranberry, a flinty nuance and dried rose petal. The flinty notes continue onto the palate with additional flavors of gooseberry and key lime. Balanced and crisp from start to finish lingers with a lime zest. Bright acidity carries this wine to an elegant and clean finish.
The 2017 Battuello Vineyards Cabernet Sauvignon is 100% varietal. Immediately offers bright aromatics including red cherry, cranberry and currant. As the wine breathes secondary aromas start showing including an earthy nuance and saddle leather. Somewhat savory. Seamless from start to finish on the palate, the beauty of this wine is its excellent acidity and texture with a suppleness showing from fine-grained tannins. The palate offers flavors of cherry, cranberry and blueberry. Lingers softly with notes of tobacco, toasted oak and mocha. It is very easy drinking in its youth – but also packed with plenty of flavor.
—
For a short while, the wines were among a select few small family owned vintners featured for tastings at the Bottle Shop in downtown St. Helena (owned by another very long time Napa Valley winemaking family, the Beringers).However the Bottle Shop closed down in 2020. Select Battuelo wines are available at Sunshine Market in St. Helena and at several restaurants in Southern California. The family has plans to build a small winery near one of their family homes on the property. Total production is generally slightly less than 1000 cases. For more information, to schedule a private tasting or to join their wine club, visit: www.battuellovineyards.com