Bardessono Vineyards is owned and managed by Tom Bardessono. His family has deep agricultural roots in the Napa Valley dating back to 1926 when his grandfather and his brother-in-law purchased property in Yountville. Prior to this, they were copper miners working a mine in British Columbia, Canada (certainly not the first Napa wine family with ties to the mining industry). They eventually sold their Yountville property to Tom's father and his uncle – where they farmed both wine grapes, prunes and walnuts.
Tom's father and uncle farmed the property for more then 50 years – the roots of the wines from Bardessono Family Vineyards were in the 1980s when Tom's father and uncle produced wine commercially from Sauvignon Blanc grapes (from their property). After selling this vineyard – they stopped making wine commercially. And those familiar with Yountville, will certainly recognize one of the towns most highly regarded hotels – The Bardessono Hotel & Spa – when the original owners of the hotel acquired the property from the Bardessono's they named their hotel after the family. The Bardessono Hotel & Spa is one of the most premium hotels in all of the Napa Valley.
After the family stopped making wine commercially, Tom continued to make a few barrels of wine over the next 15 years with his family – but never released it commercially. At the same time, Tom was gaining invaluable winemaking knowledge through his work at Robert Mondavi where he took a cellar master job for 6 years, Opus One and Kendall-Jackson. He also picked up additional barrel experience during a stint with a French cooperage. He furthered his knowledge by taking wine making classes at UC Davis. He began Bardessono Family Vineyards with his inaugural release in 2003.
Today Tom is vineyard manager for his 3 acres of Cabernet Sauvignon and is also the winemaker. This vineyard is located on the valley floor in the Yountville town limits.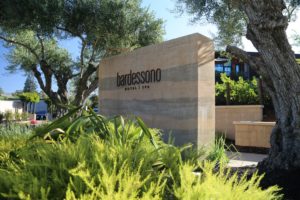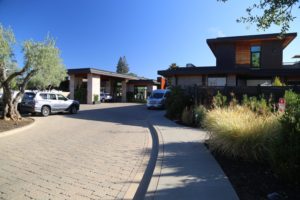 Initially Tom focused on two wines, a 100% Cabernet Sauvignon from his family vineyard (Maxine's Vineyard) and a Napa Valley Petite Sirah. Today he produces several Cabernet Sauvignon wines and a Sauvignon Blanc. Tom graduated from college with a business degree and then worked for a company selling office equipment. This is not the most usual door into the wine industry, but Tom having grown up in the Napa Valley and having made wine with his father for a number of years already had wine making experience.
Tom's focus on the winemaking starts in the vineyard – where he is very detailed in his efforts. In the winery, he curates rather then manipulates the wines – preferring to take a step back and do as little to the wine as possible. His wines are fermented using non inoculated yeasts (indigenous) – the wines are then aged in French oak barrels.
We caught up with Tom when he was the cellar master and assistant winemaker at Miner Family which conveniently is where he made his own wine for many years (until Miner Family decided to focus more on using their winery space for their own wine production). We tried a number of barrel samples of the Petite Sirah, each with their own nuances – until Tom creates his final blend. Bardessono uses several different barrels for their aging program and having worked at a cooperage before, Tom knows well the characteristics each of the barrels bring to the wine.
The 2006 Bardessono Vineyards Petite Sirah is sourced from a vineyard in the northern part of the valley. All the juice for this wine is fermented in 1/2 ton small bins and then aged in a combination of French and American oak. Over the years, we have tried some rather "large" Petite Sirahs from the Napa Valley but this not one of those. Rather it is more refined and elegant with a lush rounded mouth feel. Nice earthiness and mineral elements are present in the nose followed by rich ripe fruit. The smooth tannins whisper on the palate and provide a supple and appealing finish. This is a delicious wine and is ready to drink in its youth.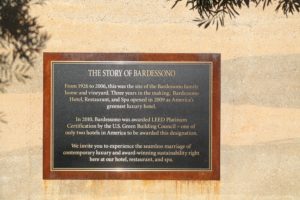 For several years, Bardessono took a break from the primary source for his Cabernet Sauvignon – the Maxine's vineyard (named in honor of his mother) while it was replanted and the vines matured. The 2005 Bardessono Vineyards 'Maxine's Vineyard' Cabernet Sauvignon shows nice color (dark purple) with lively aromas containing blackberry and black currant notes as well as some herbal qualities. The palate is full of rich fruit, spices and some nuances of oak.
We also tried the 2006 vintage well before its release but after it was bottled. The 2006 Bardessono Vineyards 'Maxine's Vineyard' Cabernet Sauvignon already has a lovely elegant nose full of ripe fruit. Nuances of black cherry, graphite and vanilla are found on the aromas. The palate is rich and layered with tobacco and earth notes; it is a wine that has good acidity and is well balanced with a very long finish. With only 177 cases this wine won't go far.
The Bardessono wines have broad appeal with rounded mouth feels, lush fruit and soft smooth tannins. You know a Bardessono wine bottle immediately by the hand wrapped hemp string that circles the neck of each bottle. This is a neat tribute to Tom's Italian heritage and you won't see this on any other Napa wine bottle packaging. It also has a practical application as it helps stop drips when the wine is being poured.
You can find the wine locally at V Wine Cellars in Yountville and for a short while, the wines were available to taste at Vintner's Collective in downtown Napa. This is a multi vintner tasting room which has an excellent reputation for only carrying some of the Napa's finest small and established producers who don't typically have their own tasting rooms. As of our latest update to this review, the wines are no longer available for tasting at Vintner's Collective – contact Tom directly to arrange a visit to his vineyard.
Their typical production is merely several hundred cases per year.