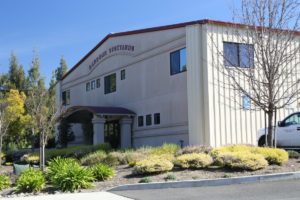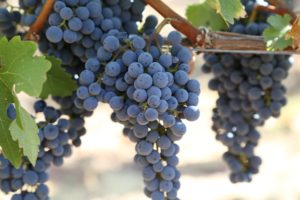 Barbour Vineyards is owned by long time Napa resident and vineyard manager Jim Barbour and his daughter Fiona. We originally met with Barbour Vineyards General Manager, Kathy Simpson (and Jim's wife). Jim first moved to the Napa Valley with his family from San Francisco when he was a young boy in 1962. His family-owned property called Rancho de Los Ojos Azules in the 1960's where Sequoia Grove winery is currently located (Rutherford). Jim's dad sold the property to Sequoia Grove founder Jim Allen in 1978.
Barbour remembers Highway 29 when he was growing up as a place you could freely ride your bicycle; it certainly did not have the traffic it does today. This was before most of Napa Valley was planted to wine grapes and his family grew prunes, apples and table grapes. Jim convinced his father to plant 5 acres of Chardonnay grapes and when the demand for these grapes outpaced their production, they converted over their entire farm to wine grapes. Jim has been growing grapes in the Napa Valley for over 40 years with a focus on hillside vineyards.
Jim wasn't always sure he wanted to work in the wine industry. Prior to college he was leaning towards being a parole officer and actually attended Chico State in their criminal justice program. Learning about the low pay and tough job conditions, Jim then transferred to UC Davis.
At UC Davis he completed his studies and upon graduating with a degree in plant science, returned to Napa Valley. He worked for Napa vineyard management pioneer Frank (Laurie) Wood from 1975 to 1989 helping control 1200 acres of area vineyards. After Laurie retired in 1990, that same year Jim branched out on his own and began Barbour Vineyard management company; word of mouth spread about his vineyard expertise; today his company manages over 500 vineyard acres in Napa and he has been responsible for either planting or maintaining some of the top vineyards in the valley including Blankiet, Fantesca, Grace Family (while working for Laurie, Jim planted the original vines on this property in 1976 for Dick and Ann Grace), Chiarello, Casa Piena, Hundred Acre and many more. And over the years Jim has worked with some of the top winemakers in all of Napa Valley.
Some of Jim's first clients were referred by Laurie or through connections he had made working with Laurie including the Snowden's (Peter & Linda) who used to run Rockledge Vineyards.
In 1992 Jim purchased a 7-acre piece of property just south of St. Helena (Tokay Lane) and planted 4 acres of this to Cabernet Sauvignon. The soils are loamy with lots of gravel; the vineyard is situated fairly close to the base of the Mayacamas Mountains. Barbour sourced the original bud wood from the Grace Family Vineyard to the north of St. Helena. Jim keeps the production low, usually merely 1 to 2 tons per acre (certainly low for valley floor fruit). In addition, his vineyard is dry farmed each year. His first commercial vintage dates from 1995, merely 50 cases of Cabernet Sauvignon and every year since has produced a single vineyard Cabernet Sauvignon. Their current production is usually around 300 cases. And Jim's first few vintages were made at Grace Family Winery (the tiny winery on the Grace family property).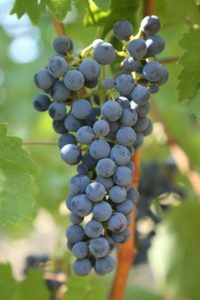 Jim has worked in conjunction with a number of Napa winemakers over the years but none closer than Heidi Peterson Barrett. He currently manages vineyards for a number of producers where she is the winemaker; for 15 vintages, Heidi was the winemaker for Barbour wines.
Today well-regarded winemaker Celia Welch crafts the Barbour wines; she has been making wine in the valley for more than 30 years and has consulted for select premium clients over the years including Scarecrow. She also produces her own small label here called Corra.
Born and raised in Medford, Oregon – her introduction to wine came early through her father's passion for wine. He was a home winemaker and collector, and she grew up helping him make wine. Her first introduction to the Napa Valley was in the 1960's during trips with her family. She graduated from UC Davis in 1982 with a degree B.S. degree in Fermentation Science at a time when a number of now prominent women winemakers were enrolled including Pam Starr and Heidi Peterson Barrett and others who work in Napa and beyond.
Continuing her education after graduating, she embarked in extensive travels through a number of wine regions including domestically in the Pacific Northwest, the East Coast and then New Zealand – finally working in the Barossa Valley in Australia. She then moved to the Napa Valley and worked at a number of wineries including Silverado Vineyards in 1987, was assistant winemaker at Robert Pepi Winery (now the home of Cardinale) and began her consulting career in 1992 for Staglin Family Winery.
Her focus of consulting is generally for premium producers who own their own vineyards (rather than labels who source fruit) – often (but not always) from hillside locations in the valley. And her work has been highly recognized throughout the industry – in 2008 she was named Winemaker of the Year by Food and Wine Magazine and has been inducted into the Winemakers Hall of Fame through the organization, Women for Winesense.
The 2006 Barbour Vineyards Cabernet Sauvignon is 97% Cabernet Sauvignon and 3% Cabernet Franc. Jim tries to find a balance between picking the fruit so that the grapes are not extremely high in sugar at the time they are harvested. This is an elegant wine that drinks very well by itself but certainly will pair with a number of foods. It has lively natural acidity and an exceptional taste profile that holds its own even without food. The bouquet is appealing with its refined aromas of toffee, mocha, Asian spices and plum. The palate is soft, elegant and shows both plum and red cherry and is layered in flavor. Notes of espresso from the barrels kiss the long clean finish which is anchored by fine-grained delicate tannins. This wine is most definitely in balance.
Barbour Vineyards is distributed direct through their mailing list and their website. You can find their wines locally at 750 Wines in St. Helena. You may taste Barbour's current release at Revana Winery (north of the town of St. Helena), by prior appointment only. For more information visit: www.barbourwines.com