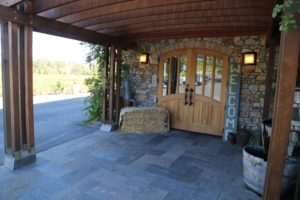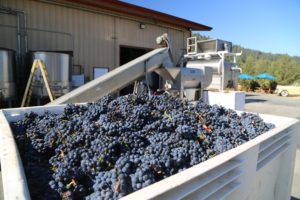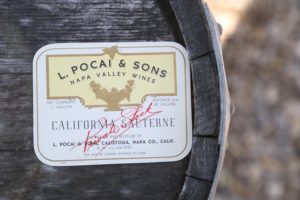 Ballentine Vineyards is located directly across from Faust Winery (previously St. Clement Winery). One driving by on Highway 128 used to only see their sign from the northbound direction (that is no longer the case); during early visits, we used to see bumper stickers in their tasting room that read, "Where the Hell is Ballentine Vineyards"! The answer to that question is simply, just north of the town of St. Helena.
The winery was founded by William "Van" and Betty Ballentine (Van passed away in 2019 and Betty in 2023) – today their son Frank Ballentine is the general manager – he is also currently the president of San Francisco based, GreenLeaf Produce. GreenLeaf began in 1976 and has evolved to carry a variety of specialty items including vegetables, dairy, meats, baked goods and cheese – supplying restaurants in the San Francisco Bay Area.
Today there are numerous small family-owned wineries in the Napa Valley, but only a few wine making families in Napa Valley have as old or as rich of a heritage (on both sides of the family). Their history in the Napa Valley dates back to 1906 when Betty's grandfather, Libero Pocai, an immigrant from Lucca, Italy purchased 60 acres of land in the northern part of Napa Valley and six years later founded a winery called L. Pocai & Sons Winery and Vineyards. 1906 was also the year of the terrible earthquake in San Francisco – and was the primary reason why he and his wife moved out of the city. Remarkably this physical winery is still standing although it is no longer being used for winemaking (and we heard the bond expired back in the 1960s).
Van's father John Ballentine moved to Napa Valley in 1922 and in a gutsy move (considering this was early Prohibition years) purchased 160 acres and a winery in the hills of what is now known as the community of Deer Park. This site was the original home of John Sutter Wine Company (later founded as Sutter Home Winery by the Trinchero family at their current location in the southern part of St. Helena). Today Bremer Family Winery operates on the old John Sutter Wine Company property. And if you ever wondered how Deer Park got its name (no, it wasn't named for the deer that used to and still sometimes roam the hillsides), rather John Ballentine named it after his family farm in Ireland.
As soon as Prohibition ended, John produced his first wine in 1933, bottled under John J. Ballentine in Sanitarium, California (Sanitarium, named for the nearby hospital was the original name of this community before Deer Park).
Van and Betty have grown up in agriculture and in or among the wine business for all of their lives. Betty used to work at Charles Krug for a time and Van was the vineyard manager for the old Christian Brothers Winery and their affiliated properties in the late 1950's and 1960's.
And their other son Bill Ballentine owns the prestigious and very tiny production William Cole Winery – almost on the other side of the highway from Ballentine Vineyards. Bills son Cole is actively involved there along with other wine brands, Predecessor Estate and Smoking Gun.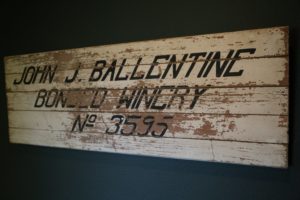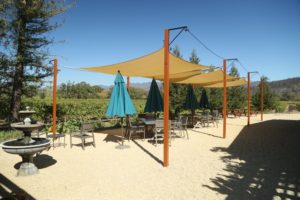 Before starting their own winery, the Ballentines sold grapes to many premium area wineries including Caymus, Robert Mondavi and Rombauer. Fast forward some 30+ years since John Ballentine bottled his last bottle of wine; Van and Betty decided to make their own wine in 1992. Initially they produced their wine at another winery for a few years until they built their own winery in 1995 (just south of their vineyard home). A sizable barrel room is on site – and is home to not only their own wines but to also a number of mostly small premium custom crush clients. While their production at their high point was around 15,000 cases, today they are much smaller focusing on direct-to-consumer sales (rather than retail and restaurants) – with wine sold primarily through their tasting room and wine club. As of our last update to this review, they are producing around 2,500 cases annually.
All grapes come from three long time family-owned properties (they still sell grapes to various wineries). The longest under family ownership is the Pocai Vineyard (purchased by Betty's grandfather in 1906) in exchange for gold coins. This lengthy vineyard is quite historical – located next to one of Napa's iconic vineyards, the Three Palms Vineyard (originally owned by Lillie Hitchock Coit – the namesake of San Francisco's Coit Tower).
The second oldest owned vineyards are Betty's Vineyard (the property next to the winery) which was purchased in 1944 by Van and his father John. Today Betty's Vineyard is planted to a number of varietals including Merlot and Syrah and what are now extremely rare white varietals in the Napa Valley, Chenin Blanc and Malvasia Bianca (two blocks of Chenin Blanc and a small section of Malvasia Bianca located right next to the tasting room and outdoor tasting area).
And their 'newest' vineyard, the Fig Tree Vineyard was purchased in 1949 and is located on the northeastern edge of the St. Helena appellation. The vineyard takes its name from two fig trees on site given to the family from a friend who brought them back from Italy.
Select Wines
In part, Ballentine has built a reputation among Chenin Blanc enthusiasts for their own limited production bottling of this variety. Chenin Blanc is a wine rarely produced any more from Napa Valley based wineries – despite being formerly widely planted throughout the valley. The economics of growing Chenin Blanc versus Cabernet Sauvignon and other red varieties do not make sense and the planted acreage began dwindling quickly by the late 1980s. The 2019 Ballentine Betty's Vineyard Chenin Blanc is medium golden in color and offers aromas of lemongrass, lime, green apple and a wintergreen nuance. As the wine breathes, the aromas begin to show some tropical fruit notes including mango and pineapple. Juicy with expansive flavors across the palate including grapefruit, lemon/lime and kiwi. Clean and balanced from start to the end with a bright finish. This is a dry wine, with no residual sugar.
The 2017 Ballentine Betty's Vineyard Malvasia Bianca (Frizzante wine) is made from a white variety that is rarely grown in the Napa Valley. Ballentine Vineyards has made this wine dry before – this vintage is off dry with noticeable residual sugar. Pale gold in color with a bouquet that is fairly easily recognizable with notes of petrol, lemon meringue and ruby grapefruit. Clean and sweet across the palate with tropical flavors including guava, passion fruit and pineapple. The bright acidity helps temper the sweetness. Those who enjoy drinking well-made sweet wines will surely want to seek out this one.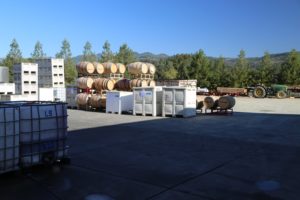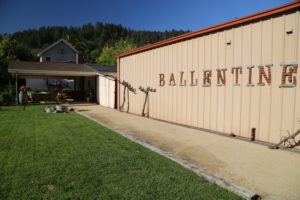 Their primary focus is on red wines with excellent Zinfandels (several Zinfandel wines are made from separate blocks in their vineyards). In fact, they have a number of wines available for tasting including 100% Cabernet Franc and 100% Petit Verdot which in the Napa Valley, are varietals not often made as standalone wines. And often slightly older wines will also be available for tasting or purchase at the tasting room.
During past visits, we have really enjoyed their Zinfandel Port-style wine. These wines have not been overly rich or viscous or syrupy sweet like some of the Zinfandel ports we have tried.
The 2017 Ballentine Reserve Zinfandel (93% Zinfandel, 4.5% Petite Verdot, 1.5% Lagrein-an extremely rare variety – and 1% Petite Sirah) is dark ruby in color; aromatically this wine is intense with ripe blackberry, plum, violets and notes of sage and cracked pepper. Also, secondary aromas of mocha and vanilla (almost similar to aromas from a Thai iced tea) and some toasted cedar. Sports a very intriguing bouquet with a lot of aromatic depth that falls just short of being jammy. High octane on the palate with both an intensity of fruit and noticeable tannins along with 15.6% alcohol. Finishes with a grip of granular somewhat woodsy tannins and darker spices including pepper. Definitely a rich and hedonistic showing.
The 2005 Ballentine Vineyards Napa Valley Petit Verdot (tasted 17 years post vintage date) is dark brickish red/brown in color; the bouquet offers a variety of tertiary aromatics including of dried walnut, coffee, tar and hazelnut along with cooked blackberry, chocolate, darker baking spices and some notes of leather. The palate offers bright acidity with flavors of red plum, raspberry, dried currants and a lingering earthy, woodsy and savory note. The tannins must have been fairly robust in its youth; today they are still very much noticeable (but not heavy) and are gravelly in their textural feel. They continue to persist for quite some time.
Visitors seek out this winery when ready to try wines other than Cabernet Sauvignon – during our visits over the years we have always noticed the majority of wines available for tasting or purchase are non-Cabernet Sauvignon wines. And Ballentine Vineyards has always over delivered on their quality to price point.
—
Visitors to the tasting room can choose from a variety of experiences including a general tasting of their current releases, a reserve tasting focusing on their single vineyard and more limited production wines, a tour including highlights of their fascinating history in the valley and a tasting (including a barrel sample), and weather permitting – tastings outside.
The tasting room is small, feels informal and is all about the wine – no gift shops or loud music here. A tiny lab is even located near the actual tasting counter. Note that the tasting room can fill up fast if a group or tour van stops by. And in 2020 Ballentine Vineyards added/upgraded an outdoor space next to the tasting room – containing several tables under shade sails directly next to part of their vineyard.
For more information and or to join their wine club (access to quarterly release parties, discounts on wine, complimentary tastings), visit: www.ballentinevineyards.com