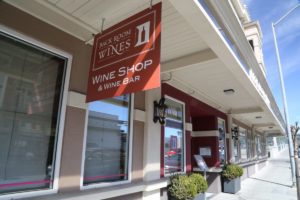 Backroom Wines (founded 2002) is located in downtown Napa almost directly across from the Bounty Hunter wine bar. Don't make the mistake and try to enter the 1000 Main Street building from Main Street – their entrance is actually on First Street. If there is no convenient street side parking – the parking lot off of nearby Pearl Street is a very short walk across a bridge over Napa Creek and through the Napa Opera House Plaza.
Any shop that has Johnny Cash's Folsom Prison album playing (as it was one morning) when we walked in already has been raised up a notch in our eyes! Backroom Wines is a boutique wine shop with an excellent selection of wines focusing on primarily small producers with an emphasis on Napa based producers but also carry a fine selection of both domestic and international wines. The wines are laid out very nicely – the shop is clean and well organized.
Founder Dan Dawson first caught a whiff of the wine industry when he started working at a restaurant in Eureka California. That was followed by additional restaurant experience in Las Vegas, Nevada. He moved to Napa in the early 1990s and caught the "Napa allure" working for a short while as the head sommelier at the French Laundry. Dan has enjoyed wine for many years along with a love of writing and communicating about wine with people.
Dan started Backroom Wines in 2001 and operated this wine shop at 974 Franklin Street in downtown Napa until 2008 when he moved his operations to its current location. For a number of years 974 Franklin was home to Trahan Wines and Prime Cellars. Prime Cellars vacated the space in early 2022 and Trahan left the space in the middle of 2022. In 2022, Dan became a partner in this space and the building located on the corner of First and Franklin Streets. He now uses his original Backroom Wines, 974 Franklin address for Outer Space Wines, a wine shop focusing on small production premium Napa bottlings along with select international wines (and a small tasting bar offers samples of select wines on site for guests).
In April 2016 Dan sold the wine shop and inventory to husband-and-wife Prashant and Felicia Patel. Dan remains in the Napa Valley now focusing on his Dawson Wine Advisor website and newsletter. Prashant has lived in the Napa Valley since the age of 2 and runs Invictus Marketing, a successful eCommerce and web design business with national accounts across a diversity of industries, but he also counts some local wineries as his clients. Today Backroom Wines is the oldest wine shop in downtown Napa.
Del Rio Wine & Spirits, Franklin TN
Conveniently Felicia helped run two family-owned wine and spirits shops in greater Nashville, Tennessee (where she is from) including Del Rio Wine & Spirits in Independence Square shopping center in Franklin (about a 30-minute drive south of downtown Nashville). Her family still owns both shops but as of our visit and latest update to this review, only Del Rio Wine & Spirits is open.
This store is much larger than one would expect from the outside – with an excellent selection of known Napa Valley based producers (especially a good selection of Napa Cabernet Sauvignon wines) as well as other domestic and international selections. And their selection encompasses a wide range of budgets from Franzia wines all the way to Opus One.
During her time helping in the stores, she was responsible for selecting wines, tasting appointments and overseeing their day-to-day operations. She moved to Napa in 2013 and worked at govino (unbreakable stemware) for several years as a customer service manager. Today she is the face of Backroom Wines – overseeing the operations on site bringing an enthusiasm and attentiveness to visitors to the store. Several long-time employees also stayed on for the transition.
In addition to the Napa and California wine selection, the store offers a variety of European wines with an additional focus on French wines – both whites and reds. As of our latest update to this review, their inventory is around 800 unique wines. Historically a number of small Napa based producers initially sold their wines here before they were "well known". For example, Napa area wineries such as Paloma, Switchback Ridge and T-Vine Cellars initially sold their first releases at Backroom Wines. These wineries are now well established and have won a number of high-end awards and ratings. Felicia continues to have a good selection of "new" producers. Like dessert wines? They have a number of European wine "sweets".
The original Backroom Wines location was on Franklin Street (now a joint tasting room featuring two small producers). The store moved their operations to their current location in mid 2008. It is much larger than their old shop and arguably a bit more central. They are open 7 days a week; the wine bar is also open daily with extended hours on Friday, Saturday and Sunday (no appointment needed). The "special" tastings are what separates this wine shop from some of the other local wine shops. Their "off the grid" tastings focus on small producers you typically won't see outside of the Napa Valley. Looking for an international perspective? Often Backroom chooses to highlight a specific international wine making region and focus on those wines.
In addition, they may have specific tastings in which small local area winemakers are on hand to taste their own wines; this is a great chance to actually meet someone in the Napa wine-making industry. Also popular is the "bring an interesting and good wine" night where you bring one or more of your favorite wines; this is a great chance to try an eclectic variety of wine. Aromatic and "guess the variety" tastings also sometimes offered. A varied collection of cheeses is also sold on site – ask which wine pairs with what cheese.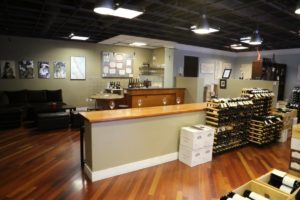 Sometimes their "house wine" is offered for tasting at the bar. Often times winemakers will have additional barrels of premium wine that for whatever reason doesn't fit into their wine making program. Backroom Wines' Corsair is such a wine. It is a Napa Valley Cabernet Sauvignon that Dan sourced from one of his friends who makes a semi cult wine up valley. Corsair is produced in extremely small quantities (the 2008 was 150 cases) and was only available at the store. As Dan originally told us, "As it turns out, college mascots make good names for wine labels". Corsair refers to a French Pirate, a WWII fighter plane, a computer memory company…and eventually a Napa Cabernet.
All events are scheduled well ahead of time so check their website for details. Speaking of their website, it is often updated and is a treasure trove of information including their newsletter, featured wine section and the wine diary. Be sure to sign up for their mailing list as almost weekly you will find an email with a plethora of wine information; it is a great resource for the latest Napa wines to hit the market. This is the email list we subscribe to in order to discover latest releases and the newest commercial wine producers in the valley and beyond.
A number of wine club options are available – and all can be highly customized based on your preferences. Joining one of their clubs is an excellent opportunity to acquire wines from extremely small producers (most of which have no tasting rooms and very limited retail distribution). When you join you are asked about your wine preferences, budget, variety and wine interests – effectively creating the club around the types of wines you enjoy. For more information, visit: www.backroomwines.com