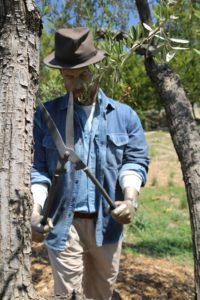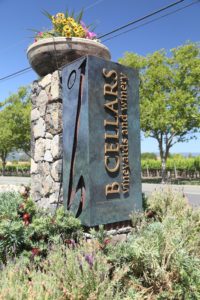 B Cellars (founded 2003) makes their wine in Napa Valley and uses primarily Napa Valley grown grapes with Sonoma County vineyards providing the majority of the grapes for their white wines. For years they maintained a business office in Orange County (south of Los Angeles). We first caught up with the owners at a tasting in Los Angeles (yes one of the many locations outside of Napa that we have been to during our Napa wine odyssey) and then conducted a follow up interview in Napa Valley which is where their wine is actually made by the master of Napa Cabernet Sauvignon, Kirk Venge.
Two partners, Jim Borsack and Duffy Keys (two of the nicest individuals we have met in Napa Valley), are both originally from Southern California and met by random chance at a 4th of July BBQ and discovered that each had similar aspirations in regard to someday making wine. Chance meetings that turn into business partnerships typically fail – even early on in the partnership and often after several years. When personalities, resources and an acumen for business align – really good things can happen. Both Jim and Duffy stayed in contact after their first meeting and two years later they formed B Cellars. This property, hospitality center, wine facilities and gorgeous grounds did not happen overnight.
Both Jim and Duffy made many trips to Napa Valley, interviewing growers, winery owners and vintners. They wanted to have a complete perspective of the wine industry before taking additional steps. They started small, virtually – making their wine at another winery and using the space in several Napa tasting rooms over the years to showcase the B Cellars wines.
Jim and Duffy are very involved in all aspects of this business. Their focused determination to succeed and consistently offer a top wine at a reasonable value is clearly evident. Both men have a diversity of backgrounds in the luxury and hospitality spaces. For more than 30 years Jim was co-owner of El Portal, whose primary products were women's handbags and designer goods – at one point operating over 100 stores. He was also instrumental in the creation of Swatch watch franchising. Duffy spent more than 20 years with Four Seasons Hotels & Resorts. And both Jim and Duffy have taken winemaking classes at UC Davis.
Jim has an excellent palate; both he and Duffy are always involved in all blending decisions with their winemaker Kirk Venge. Because they source from many different vineyards, sometimes not every vineyard is represented in their final wines – despite having already made the financial commitments. Quality is of the utmost importance in their wines, and they are not going to blend in anything that doesn't meet their strict standards.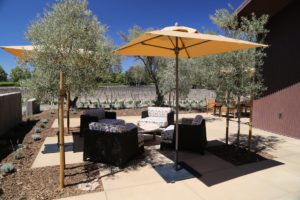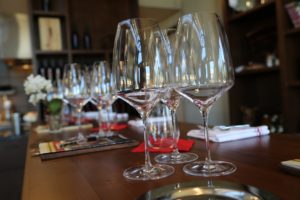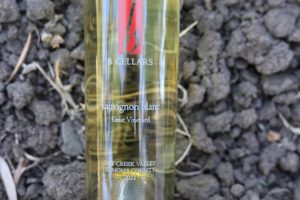 Their labels display the lower case "b" with a degree sign representing Brix, which is the symbol for how the sugar content of grapes are measured. However, 'b' in this case might as well stand for "blend" as all their wines are blends; even their 100% Cabernet Sauvignon is a blend of several vineyards and often multiple vineyards will be represented in their wines even for the same variety. As of the time of this review, B Cellars produces a Blend 23 (their one white wine), and Blend 24 through Blend 26 which are all red wines. In addition, they produce limited quantities of single varietal wines; the intent with these is to showcase some of the varieties that form the components of their blended wines.
All fruit is sourced from some of Napa Valley's highest quality vineyards (as of the time of this review 18 different vineyards are used!) including from what is arguably the most famous vineyard in American wine making, the historic To Kalon in the heart of Oakville – as well as Georges III and Stagecoach which sits high on the side of Atlas Peak. B Cellars is constantly looking for premier Napa vineyards as they are well aware that the fruit sources are key to the quality of their wines. They often source from different appellations as they recognize that unique terroir and clonal selections all bring individual complexities and nuances to the wine – which you may not always get from a single vineyard source.
B Cellars embraced the evolution of the wine tasting experience in Napa Valley with the opening of their estate property, winery and hospitality centers in late summer 2014. We have seen wine tasting in the valley evolve from simply dropping into a winery and walking up to the bar – to the more personalized sit-down tasting experiences. And finally, this: where food is an integral part of a winery visit.
They purchased this just under 12-acre property from Lisa Miller, widow of Frank Miller (who used to play for the San Francisco 49ers and several other football teams) who ran Clark Miller Distributing, a successful Napa Valley based alcohol distribution company.
A full-service kitchen and culinary staff are on site, and they source a number of herb ingredients from a number of raised planter beds located on the property. This is not just a commercial kitchen located in the "back" somewhere – rather this is an open interactive demonstration kitchen where visitors can watch chefs cook. And if you are so bold, you can talk to them about their craft. Several small rooms are available for more private tastings.
A limited number of primarily food, wine or related books are for sale in the main hospitality room. These include spices labeled with blend numbers and greeting cards designed by Duffy's wife Judy Keys; she also paints and creates necklaces at her studio in Southern California.
All visits are by appointment. Small plates are served with the wine or for a more in-depth food + culinary experience, check out the culinary extravaganza, 2-hour afternoon multi-course pairings with a variety of their wines. Tasting is either outdoors in front of their hospitality center, indoors or behind the kitchen where they have private tasting rooms as well as more outdoor seating overlooking vines and olive trees. Oakville Cross Road does not experience nearly the traffic that its two anchor roads do, i.e., Highway 29 and the Silverado Trail. As a result, weather permitting, this is a quiet and relaxing outdoor place to enjoy wine and the company of good friends or family.
A 15,000 plus square foot cave tunneled under a knoll that sits on their property provides ample wine making space. The winery building sits next to the cave at the edge of this hill. The inside of the cave serves a dual purpose – barrel storage as well as a section that is elegantly decorated for a number of private personalized tasting experiences. One room in the cave is called the "Heritage Room" but really it is an homage to prominent Napa based grower Andy Beckstoffer and to several of his managed vineyards that B Cellars sources grapes from.
Rotating works of art often are on display. Memorable life size "human' sculptures "working" or "walking" on the grounds were displayed in 2015. These real-life looking sculptures of fully dressed humans were created by the artist Seward Johnson. These pieces are eerie in the sense that when you walk the grounds you often catch glimpses of these sculptures in your peripheral vision and find yourself glancing around sensing the presence of another person. They are extremely lifelike looking and are created and are often placed in poses of work – using sheers to trim a bush, digging in the ground or simply just "walking" by.
The winery and hospitality buildings sit back from Oakville Crossroad and blend in fairly well with the surroundings based on the color, texture and building angles chosen. This is a modern, state of the art facility.
Select Wines
The 2021 B Cellars Grist Vineyard Dry Creek Valley Sonoma County Sauvignon Blanc is medium gold in color; the bouquet is floral, tropical and inviting, all at the same time. It offers aromas of lemongrass, citrus blossom and guava. As the bouquet opens it shows a more sweetly fruited aromatic including of honeysuckle, apricot and peach. This bottling is lively and fresh across the palate carried by its bright acidity and fruit which is complemented by a pleasing textural silkiness. It offers flavors of lemon and lime, apple, and a minerality nuance, which especially shows on the mouthwatering finish. This wine is bright without any linear greenness or tartness. We immediately thought of pairing this with spicy Thai stir-fried clams with basil and oyster sauce. For reference, this vineyard is located in the hills of west Dry Creek Valley at an elevation of about 1,000 feet. Other producers who purchase or have purchased grapes from the Grist Vineyard are primarily Sonoma County based, including Gary Farrell Winery, Day, Fogline Vineyards and Joseph Jewell.
The 2020 B Cellars Zinfandel Calistoga Napa Valley is dark ruby in color; the bouquet is powerful and expressive offering a combination of both barrel and fruit aromatics including of Thai iced tea, milk chocolate, mocha, espresso, vanilla bean, light peppercorn, sweet cinnamon stick, dark plum and ripe blackberry. Give this wine time to open; the ripe fruit aromas will open further. The aromatics smell like dessert. Ripe, juicy and richly flavored, this wine delivers plenty of opulence and crowd-pleasing comfort. This bottling shows flavors of raspberry, red licorice, black pepper and a toasted oak spice note, especially on the finish. The tannins are present and are felt more on the front of the palate rather than the end. They are dark, medium grained and slightly gravelly in texture.
The 2007 B Cellars Blend 23 is a very unique white wine, especially by Napa Valley standards. It is a blend of Chardonnay, Sauvignon Blanc and Viognier. This bottling offers expressive and fruit driven aromas, including pineapple along with being somewhat floral (notes of honeysuckle). The mouth feel is well balanced from start to finish; this wine has good weight or phenolic grip on the palate which actually makes it an excellent wine to pair with a variety of foods, not just the traditional "white wine foods". Be sure to let this wine open up in the glass and note how the aromas and flavors really change over time.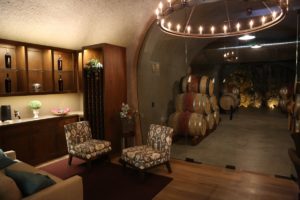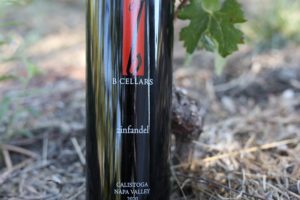 The 2004 B Cellars Blend 24 is a Super Tuscan unique blend of Cabernet Sauvignon, Merlot, Sangiovese and Petite Sirah. This is a delicate and elegant wine that is very well balanced and is a pleasure to drink even when it's young. The bouquet is almost briary with notes of earthiness and cigar smoke. It is noticeably supple across the palate with ripe juicy flavors and a velvety finish of great length.
The 2005 B Cellars Blend 25 is a blend of Cabernet Sauvignon and Syrah. With these two varieties blended together expect a mouthful of big fruit forward red wine. This blend delivers! It is a bigger bolder wine than the Blend 24. Lots of black cherry and blackberry on the nose follow through to the palate. The middle palate shows some spice and is almost chewy, fleshy – it is quite robust and finishes with hints of vanilla and well-structured yet delicate tannins.
The 2011 B Cellars Stagecoach Vineyard Syrah is inky dark in the glass. It shows dark fruit aromas complemented by pleasing notes of violets and pencil shavings along with a ripe berry component. In addition, the nose is someway 'meaty' – showing aromas of bacon fat. On the palate this wine shows dark fruit with some spices from mid palate through to the finish. Well integrated tannins.
The 2011 B Cellars To Kalon Vineyard Cabernet Sauvignon shows the power of this vineyard's terroir immediately by the darkness of the wine in the glass as well as on the bouquet. The nose is somewhat dusty and brambly showing pleasant aromas of blackberry. Expecting bigger structure based on some of the wines we have tried from this vineyard – this wine pleasantly surprises with how balanced it is in its youth. Perhaps partly a vintage characteristic, the tannins are firm and well-integrated into the wine's lively and powerful finish.
—
Their wines are very food friendly, with good acidity and are found in some of America's premium restaurants from Los Angeles to Vegas to New York. For the quality of the wine to the price ratio, this is one of the better luxury values coming out of Napa today. Larger format bottles as well as gift boxes are also available.
An electric vehicle plugin is available in the parking lot. They encourage compact fuel-efficient vehicles here – one half of the parking lot is dedicated to compact car parking. Unlike many wineries that offer a bocce ball court, B Cellars instead built a croquet green, and visitors can try their skill at this with possibly a glass of wine in hand!
And B Cellars maintains a small lounge type space for commercial tour group drivers, located next to their winery. This lounge usually contains drinks and sandwiches.
Sustainability is integral to their operations. In 2021 B Cellars transitioned away from Styrofoam packaging for all their wine shipping materials to Green Cell Foam (made from U.S. grown corn), an alternative which is ecofriendly and certified compostable. With water conservation ever on people's minds in California, B Cellars uses a Lyve System on site – a biological wastewater plant that re-uses treated water from their cellar operations for use in irrigation on their drought-tolerant landscaping.
Those long familiar with B Cellars have watched their evolution and truly have the perspective on how far they have come from their small production and under-the-radar beginnings from making their wines at Robert Pecota Winery in Calistoga, to Silenus Vintners to their tasting room in Calistoga where the old Silver Rose Resort was located (now a high end Four Seasons managed property).
For more information on this beautiful property and winery, to purchase wines or to schedule a reservation, please visit: www.bcellars.com
Grounds

Hospitality Center

Cave/Winery

Winemaking

Human Sculptures

Old B Cellars Location (we keep these photographs for historical reference)