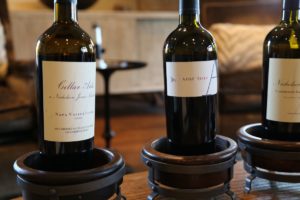 Azur Wines was founded by winemaker Julien Fayard with his first vintage in 2009. Julien was born in Saint Etienne in France and has a well rounded diverse background in wine making. His father grew grapes and their family has been involved in the wine business in France for several generations. His family's flagship property is Chateau Sainte Marguerite in southern France, acquired by his uncle in the 1970s (today a sizable producer of rosé).
Julien made his first wine at age 16 – and continued his education by working in Provence, the Loire Valley and Bordeaux (Lafite Rothschild). He met his then wife Élan (who is originally from Northern California) in the Loire Valley; while living in the Loire, she was studying wine French. Today Élan is the sole proprietor of Azur Wines.
After they married, they moved to the Napa Valley in 2006 – Élan to be closer to her family and for Julien it was an opportunity to make wine outside of France. Julien worked with noted winemaker Philippe Melka for seven years before branching out on his own where he currently makes wine for several clients.
In 2012 Julien and Élan, husband wife Cal Nicholson and his wife Pam, and husband wife Dave & Laura Nestor purchased a 12 acre site in Coombsville of which five acres are planted to vine. Julien has been attracted to the wines coming out of Coombsville for some time – he and his partners spent three years looking for property before they located this particular piece.
Part of the property is a knoll which boasts excellent views overlooking much of Coombsville and to the south including the San Pablo Bay in the distance. This knoll has proved useful in that geographically it provided the footprint for a wine cave – their 11,500 square foot cave was completed by late 2015. All prior vintages were made at other wineries. After the cave was completed in time for harvest 2015 – Julien moved his several brands here as well as Nicholson Jones.
Azur wines focuses on two brands – Azur and Empreinte, each wine produced in quantities of usually just several hundred cases.
For an overall small producer, Azur remarkably produces about 750 cases of rosé each year – the backbone of the program if you will. Many producers create a small production rosé using the French saignée method – or bleeding off a certain percentage from the overall must. The Azur rosé follows the Methode Provencale process (direct pressing or maceration and bleeding of the juice) along with a number of other steps similar to how this wine is made in Côtes de Provence, France (including no malolactic fermentation).
In addition, what is highly unusual in the Napa Valley is the grapes they purchase are grown specifically for the purpose of making a rosé wine including picking early – highlighting the acidity and liveliness of the fruit.
Select Wines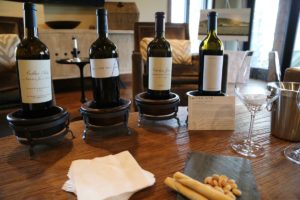 The 2013 Azur rosé was made from 100% Syrah fruit – from both Yountville and the Sierra Foothills (the only non Napa source and the only wine in their portfolio that uses non Napa fruit). It was fermented in all stainless steel tanks. This wine is salmon colored in the glass – aromatically it shows fresh aromas with floral notes. There is a delicate sweetness that passes on the front of the palate – entirely from the fruit as this wine has no residual sugar. Notes of watermelon and strawberry. It is crisp on the finish which lasts for some time. This wine has been very popular with restaurants.
The 2011 Azur proprietary red wine is roughly an equal blend in thirds of Cabernet Sauvignon, Cabernet Franc and Syrah. Julien strives to create a similar flavor profile each year for this wine regardless of varieties and blending compositions. Aromatically the Syrah shows more on this bouquet then perhaps the other two varieties – leather notes, blueberry and darker fruit. The palate is all about darker fruit – with good acidity and broad based tannins that linger for some time.
Empreinte in French translates to imprint – a faint outline of Juliens own hand is imprinted on this label. The name is well suited towards Julien's philosophy of wine making – lightly touch the wines as a winemaker but do not overpower them with your own style – rather let the vineyard do the work.
Wines from two varieties under this label are produced each year – a Sauvignon Blanc and Cabernet Sauvingon, both from single vineyard locations.
They tend to hold their Empreinte Sauvignon Blancs typically longer than most Napa wineries prior to release. This particular wine needs some time to age and integrate – the 2011 Empriente Sauvignon Blanc was just released at the time of this review. This wine spends 18 months in new French Oak sitting on the lees (with battonage occurring at regular intervals). This wine shows a golden hue in the glass. Aromatically the bouquet is not linear in aromas nor represents similarities to many Napa Sauvignon Blancs we have tried. It shows great depth of aroma and character – perfumy, somewhat floral with hints of baking spice. On the palate it has some weight without viscosity.
The 2012 Empreinte is a young wine that Julien thinks will show more red fruit after a few years than the darker fruit it currently shows. It is sourced from a premium vineyard on Pritchard Hill – fruit that Julien pursued for five years before he was able to secure a contract. It is 100% varietal Cabernet Sauvignon.
On the nose it shows black cherry, black berry with hints of cocoa powder showing through. This is a robust wine, big in flavor, alcohol and tannins. The tannins are not out of balance – the richness of flavor helps moderate their backbone.
—
Serious wine enthusiasts can make a reservation to taste at the estate or at the Green Room (a winery and hospitality space) in one of the industrial/business parks a short drive from downtown Napa. Regardless of the location, tastings are private for your party. Each sit down tasting includes the portfolio of Azur wines.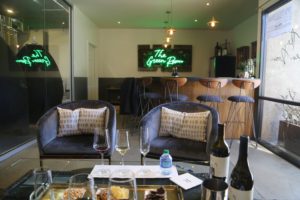 Azur Wine is also available at Vintner's Collective – the walk-in multi vintner tasting collective located in downtown Napa. And in early 2019, Azur opened The Green Room in an industrial park located just south of the city of Napa. This tasting space was formerly occupied by Holman Cellars and with a few updates, is now used for private tastings (by appointment) focusing on wines produced by Julien Fayard (including wines from some of his clients).
The idea behind the name is two-fold, Green Room is generally referred to as a room where actors or others about to go on live television or other performances take time to relax and calm the nerves – and it is also a surfing slang, referring to barreling a wave or getting time inside the hollow of a wave as it curls over before cresting. Appropriately named – the room is a calm space, intimate in size, it sits just outside the winery but close enough that visitors can watch the action through the adjoining windows. And the name ties into one of Julien's other passions, surfing. Eventually he plans to line the ceiling of the winery with surfboards.
And some of Julien's other brands can also be tasted here by appointment including Le Pich and Purlieu Wines. In a unique offering by a Napa winemaker, Purlieu offers a brandy produced from Napa Valley grown grapes – their first release came in early 2021.
NOTE: as of our latest update to this review we heard the Azur Wines have not been produced for several years. This review has been identified as needing a *major* update. We will keep a close eye on this producer and if production stops, we will archive this review.
For more information, to request a visit, or to signup for one of their allocation offerings, see: www.azurwines.com
Azur @ The Green Room