Azur Wines was founded by Elan Fayard; the first vintage was produced in 2009. Elan is from the San Francisco Bay Area and because of her interest in wine, studied in parts of France. Elan met her founding winemaker Julien Fayard in the Loire Valley where she was living and studying. Today Elan is the sole proprietor of Azur Wines. Elan eventually moved to Napa Valley to be closer to her family. Julien moved to California as an opportunity to make wine outside of France; he worked with noted winemaker Philippe Melka for seven years before starting his own consulting business where he currently makes wine for several clients.
In 2012 Elan was part of the group including winemaker Julien Fayard, Cal Nicholson and his wife Pam, and Dave & Laura Nestor who purchased a 12-acre site in Coombsville of which five acres are planted to vine. This is Covert Estate Winery. She was attracted to the wines coming out of Coombsville for some time; the group spent three years looking for property before they located this particular site.
Part of the property is a knoll which boasts excellent views overlooking much of Coombsville and to the south including the San Pablo Bay in the distance. This knoll has proved useful in that geographically it provided the footprint for a wine cave; their 11,500 square foot cave was completed by late 2015. All prior vintages were made at other wineries. After the cave was completed in time for harvest 2015, production was moved here for several small Napa Valley based producers.
Azur wines focuses on two brands: Azur and Empreinte and each wine is produced in quantities of usually just several hundred cases.
For a small producer, Azur has built their reputation on producing an excellent rosé each year; this is the backbone of their wine program if you will (although they produce a number of other white and red wines). Many producers create a small production rosé using the French saignée method or bleeding off a certain percentage from the must. The Azur rosé follows the Methode Provençale process which involves a direct pressing or maceration and bleeding of the juice. They use a number of other traditional steps in the cellar, similar to how this wine is made in Côtes de Provence, France (including no malolactic fermentation).
And what is highly unusual in Napa Valley is the grapes they purchase are grown specifically for the purpose of making a rosé wine. They harvest the fruit early which helps highlight the acidity and liveliness in the wine.
Select Wines
Azur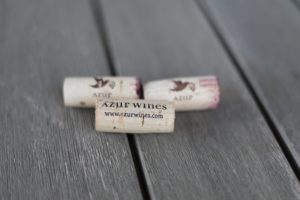 The 2021 Azur Rosé d'Or is medium copper in color; the bouquet is laden with both minerals and higher tone fruit aromatics including watermelon jolly rancher, pencil shavings, flint, mint, wild strawberry, raspberry, ruby grapefruit, green apple and citrus blossom. The mineral nuances on the aromas are also evident on the palate along with flavors of lime, grapefruit, gooseberry, green apple and very light fennel (more so on the finish). This bottling offers a saline texture that without acid would perhaps feel linear, but the acidity and richness of fruit give this wine its élan and keeps it multi-dimensional, lively and fresh. And this wine is bottled in a tall Provencal styled glass.
The 2021 Azur Sauvignon Blanc is medium yellow in color; the aromas are immediately engaging. We would like to think we could pick this bouquet out of a lineup of Sauvignon Blanc as it is a bit more distinctive as compared to many of Napa Valley's bottlings of this variety. The bouquet offers notes of pineapple, wintergreen, the fresh tips of young spruce needles, mint, jasmine, apricot and lychee fruit. The palate offers a light creamy texture accompanied by flavors of melon, honeycomb, tangerine and lemon juice. Its high acid is especially noticeable on the mouthwatering finish, but it doesn't have the tartness or overt greenness that wines from this variety often show from much cooler sites. Fresh and balanced, this is a beautiful bottling.
The 2013 Azur Rosé was made from 100% Syrah fruit from both Yountville and the Sierra Foothills; this originally was the only wine in their portfolio that used non-Napa Valley fruit. It was fermented in all stainless-steel tanks. This wine is salmon colored in the glass; aromatically it shows fresh aromas with floral notes. There is a delicate sweetness that is revealed on the front of the palate – entirely from the fruit as this wine has no residual sugar. This bottling offers flavors of watermelon and strawberry. It lingers crisp on the lengthy finish. This wine has been very popular with restaurants.
The 2011 Azur proprietary red wine is roughly an equal blend in thirds of Cabernet Sauvignon, Cabernet Franc and Syrah. Azur strives to create a similar flavor profile each year for this wine regardless of varieties and blending compositions. Aromatically the Syrah shows more on this bouquet than perhaps the other two varieties and includes notes of leather, blueberry and darker fruit. The palate is all about darker fruit including bright acidity and broad-based tannins which linger for some time.
Empreinte
Empreinte in French translates to imprint; a faint outline of Julien's own hand was imprinted on the early bottlings, but this has since transitioned to the handprint of Elan's son. The name is well suited towards their philosophy that a winemaker should have a light touch in the cellar, highlighting the vineyard terroir rather than any winemaker's style. These are single vineyard, single varietal and very limited production wines focusing on Sauvignon Blanc, Grenache and Cabernet Sauvignon.
One of the primary Empreinte vineyard sources is McGah Vineyard, neighboring one of Beckstoffer's heritage vineyards, Georges III in Rutherford. Empreinte sources their Sauvignon Blanc and Grenache from this site. When the McGah family decided to replant part of their vineyard they sought advice from winemakers Rudy Zuidema and Kale Anderson and their vineyard manager at the time. Perhaps expecting them to suggest other Bordeaux red varieties, the family must have been surprised when rather than encouraging them to plant more Cabernet Sauvignon, they suggested Grenache.
From an economic standpoint Grenache is a hard sell in the heart of Napa's Cabernet Sauvignon country. But after discussing how to farm it and acknowledging this varieties' tendency to produce a sizable crop, they elected to farm the vines as traditional head-trained spur pruned vine – saving additional farming and management costs associated with managing trellised vines. This 3.5-acre block within the vineyard consistently produces high quality grapes. Part of the block is shaded much of the day; some vines have partial shade and others see full sun throughout the day. This varying exposure imparts different nuances even among vines within the overall block.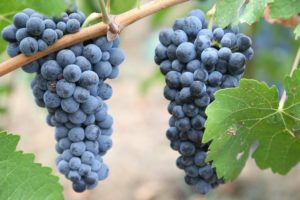 The 2017 Empreinte Grenache McGah Vineyard Rutherford is dark ruby in color; this wine is highly aromatic and presents an association of ripe fruit with plenty of secondary barrel influences. It offers aromas of ripe blackberry, boysenberry and dark licorice along with espresso, molasses, mocha, chocolate brownie, cinnamon, Graham cracker and old cedar box. The secondary aromas start to dissipate slightly as the wine evolves in the glass, showcasing more of the fruit. The palate is brambly and savory with medium acidity. The finish lingers with a density of earthy and woodsy but very well-rounded short-gripping tannins along with a lingering tobacco spice (dried tobacco leaf) and crushed black pepper. This is one of the few Grenache plantings in Rutherford, a sub appellation primarily known for Cabernet Sauvignon and other Bordeaux red varieties. France, Spain and Italy by far have the largest plantings of this variety.
The Empreinte Sauvignon Blancs are typically aged longer than most Napa Valley based wineries prior to release. The 2011 Empriente Sauvignon Blanc was just released at the time of our first tasting of the Azur wines. This wine spends 18 months in new French oak sitting on the lees (with battonage occurring at regular intervals). This wine shows a golden hue in the glass. Aromatically the bouquet is not linear in aroma nor represents similarities to many Napa Valley grown and produced Sauvignon Blancs. It shows layered aromatics and character both on the bouquet and the palate; the nose is somewhat floral, accompanied by hints of baking spices. This wine offers more weight than a cooler-weather grown bottling of this variety.
The 2012 Empreinte Cabernet Sauvignon is a young wine that most likely will show more red fruit after a few years than the darker fruit it showed in its youth at the time of our tasting. It is sourced from a premium vineyard on Pritchard Hill and is 100% varietal. On the nose it shows black cherry and black berry with hints of cocoa powder. This is a robust wine which is big in flavor, alcohol and tannins. However, the tannins are not out of balance as the richness of flavor helps moderate their grippy backbone.
Wine Lounge, Downtown Napa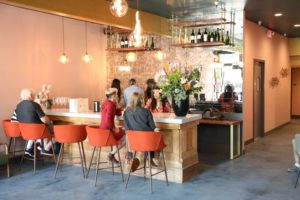 After several months of interior renovation and décor changes, on July 8, 2023, Azur opened a wine lounge in downtown Napa. Their space is not to be confused with the very nearby non wine related business named Azur Associates. The salon offers the Azur rosé on tap as well as small bites including cheese and charcuterie and showcases art from local artists. Wine can be ordered as a flight, by the glass, pichet (pitcher) or by the bottle. Several Azur champagnes are also available to order by the bottle. A small 'speakeasy' like room used for private tastings is also located within the lounge.
The Azur salon is located along Clinton Street in a space that was previously home to Calwine (a wine shop). Clinton Street has become its own little downtown Napa destination featuring several beverage and dining establishments; this street can be very busy, especially on the weekends. Parking is curbside on Clinton Street if available or in several very nearby small open air parking lots.
Not only is the space used for hosting tastings, but it is also available for rent for small corporate groups or others celebrating special events. And Azur often uses it for various workshops (i.e. watercolor painting, how to create floral arrangements, wreath making etc.).
This tiny part of downtown Napa used to be called "Spanish Town" – referring to the immigrant community who lived here from the 1860s through the 1930s with residents often from Hispanic speaking countries in South and Central America. And for decades, it was also Napa's red-light district (reference the Vintner's Collective building just down the street from the Azur space) and was the city of Napa's Chinatown.
The wines are available at some of the top restaurants in Napa Valley including the French Laundry and are selectively distributed online including through Wine Access. For more information, to request a visit, or to sign up for one of their allocation offerings, see: www.azurwines.com
Luminous Retreats
In addition to her own wines, and providing consulting services to select wineries in Napa Valley, Elan also offers a variety of wellness focused retreats and experiences at her beautiful oak tree covered property in Coombsville, located a short drive from downtown Napa.
These include meditation, full moon and new moon gatherings, individualized one on one sessions and group and corporate retreats for up to 12 people. Luminous Retreats also offers a variety of gift cards, merchandise, artwork, apparel, and jewelry. For more information, visit: www.luminousretreats.com
FORMER TASTING SPACES
Tastings, Vintner's Collective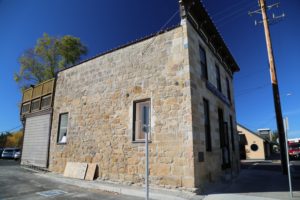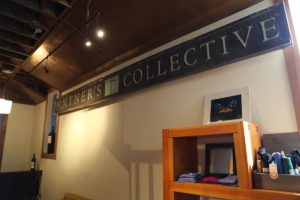 Until opening the Azur lounge, Azur was part of a coveted collection of vintners represented at Vintner's Collective, the city of Napa's oldest collective tasting room. Vintner's Collective showcases wines from a select group of mostly Napa Valley based producers – most of which do not have their own tasting rooms. And it's not easy to have one's wines represented here. Vintner's Collective has an in-depth vetting process to make sure the wines match what their customers are interested in, including varieties, price points and wine styles.
The tasting flights differ everyday which is certainly part of the appeal for visitors. Unless you are acutely tuned into the world of boutique Napa Valley producers, you probably will never have heard of any of the labels that are being poured, and that is not a bad thing. These wines represented are typically from producers who have a maximum production of 1000 cases. A number of tasting flights are offered – geared towards all levels of wine interest and prior knowledge.
Walk-in customers are generally welcome if space allows but appointments can also be requested including for more private tastings hosted upstairs.
Green Room
In early 2019, Azur opened The Green Room in an industrial park located just south of the city of Napa. This tasting space was formerly occupied by Holman Cellars and with a few updates, is now used for by appointment-only tastings focusing on wines produced by Julien Fayard (including wines from some of his clients). While the Green Room still offers tastings of select brands, Azur Wines are no longer represented here.
The idea behind the name is two-fold, Green Room is generally referred to as a room where actors or others about to go on live television or other performances take time to relax and calm the nerves and it is also a surfing slang, referring to barreling a wave or getting time inside the hollow of a wave as it curls over before cresting. Appropriately named, the room is a calm space, intimate in size and is located just outside the winery but close enough so visitors can watch the action through the adjoining windows. And the name ties into one of Julien's other passions, surfing. The ceiling of the winery is lined with surfboards.