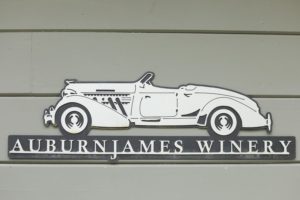 AuburnJames Winery was created as a joint venture between winemaker Jim Frost, Jim's sister Mary and Matt Ospeck. The idea for this winery was created after Jim and Matt met for the first time at a friend's pool party. James made wine under the label Hidden Creek for several years until Auburn James was formed in 2008. While James has long been attracted to the Bordeaux varieties and has sourced fruit from Napa Valley since their inception, the actual winery was located in the Livermore Valley until 2015 when they purchased an existing winery along the Silverado Trail in St. Helena. At one point this property was an abattoir; the words Sunshine Meat Co 1973 are still engraved in concrete on the property. In later years it was home to several prior wine brands including Napa Creek and Kent Rasmussen Winery. Auburn James made their first wine here in 2015.
James grew up near Cambridge in England and was exposed to wine at an early age. He remembers wine was always in integral part of meals. Both his grandfather and mother made home wine – not from grapes but rather from various fruits. He recalls his mother collecting wild berries for making wine. He did not become a winemaker until much later in life; prior he was involved in the biotechnology and engineering industries for more than 25 years. Work brought him to the U.S. in 1988. James learned wine making by doing – making home wine for a number of years until starting his own brand. In 2015 his son Jonathan joined him as assistant winemaker. Music is Jonathan's passion and after learning wine making on the job, he has come to the conclusion that both wine making and music share as many similarities as differences. Keep an eye on this talented father son wine making team.
The existing guest cottage on site has been converted into a tasting area for guests; they opened this to guests by prior appointment in June 2016. Tastings are intimate with your host and sometimes James or Jonathan will drop by to answer questions from guests. A cheese plate with small bites is sometimes paired with the wines. A visit here is highly personal and educational. A smaller more private room and an outdoor deck are also available for tastings. And if in the mood, guests can taste wine and enjoy a game of bocce ball.
This is not their first tasting room; their original tasting room opened in downtown Danville in 2011 and until that tasting room closed in 2017, most of their wine was sold through there. While they continue to source from select vineyards outside of Napa County, much of their production is from Napa Valley vineyards; having a base of operations here logistically made sense.
The winery name pays tribute to both James as the winemaker and co-founder Matt's love of automobiles. The Auburn Automobile was a short-lived company based in Indiana with years of production from (1930-1937). Today their cars are highly sought after by collectors. In the early 2000s Matt purchased the rights to use the Auburn vehicle trademark. Matt also used to design vehicles and was involved in the design of the Lincoln Navigator. One of his ideas was implemented in cars – placing an arrow next to one's fuel gauge indicating which side of the vehicle contained the gas cap.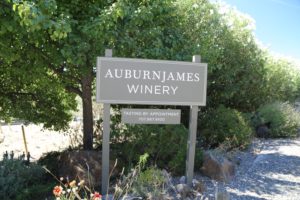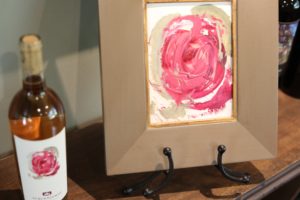 Auburn James employs (at the time of this review) a very unique system of aging a small portion of their wines in tank. They are using a product called the Wine Grenade on a trial basis comparing the same wine aged with this device versus aging in barrels without using this device. The Wine Grenade is a standalone micro-oxygenation product developed by five Auckland University students in New Zealand – it is far more cost effective then prior micro-oxygenation products. It is installed within a tank and is meant to help replicate oak barrel maturation but over a much quicker time period. The amount of oxygen imparted into the wine is controlled via a computer over the Internet. Auburn James estimates this may save up to 8 months in oak aging – and are looking to create a wine for distribution channels that is quicker to market as a result.
They currently produce over 8,000 cases of wine annually; their production includes a diversity of types of wines from not only Napa Valley but from several other regions in northern California. Many of their wines are produced in quantities of 400 cases or less. The focus of their wine making is on red Bordeaux styled wines which are approachable by themselves but are styled to pair with food. And they also produce Chardonnay and Pinot Noir.
James embraces both "the molecular level and sensory level of wine making" as he calls it – or in other words both the science and art of the craft. Their wines are by no means cookie cutter and each wine we have tried over the years stands out and is distinctive on its own merit. Refreshingly, these are wines that do not all smell or taste the same.
Select Wines
The label for the Auburn James rosé is colorful and immediately catches one's eye. James's sister Mary is an artist and is responsible for curating the art in the Auburn James tasting room. During her visits to Napa Valley, she is often inspired to paint; she created this beautiful image of a rose not with a paint brush but with a palette knife. The 2020 AuburnJames Clarksburg Rosé is a blend of Pinot Noir, Grenache and Malbec and was made by saignée in which prior to fermentation but after pressing, juice was drained off leaving a more concentrated wine. This wine is medium copper color in the glass; not one aromatic dominates on the bouquet, rather it shows layers of aromas including strawberry, citrus blossom and some mineralities. Offers a light creamy-like texture across the palate with flavors of citrus, cantaloupe, raspberry and peach. Lingers with a light touch (no tartness) of acidity.
The 2018 AuburnJames 1001 Napa Valley Chardonnay (Carneros) is deep gold in color; the bouquet offers sweet aromatics of ripe fruit including peach, apricot along with honeycomb, corn tassel and warm butter. Also offers some sweeter baking spices. The nose is certainly distinctive, and we would be able to pick this wine out of a lineup of other same vintage Napa Valley Chardonnays. It is very balanced across the palate with flavors of stone fruit including apricot and peach, butter and hints of pineapple. This wine lingers with a hint of crème Brule and light baking spices. The bright acidity continues to persist on the finish. Astute observers of AuburnJames wines will notice the 1001 on the label refers to their auspicious numbered address of the winery on the Silverado Trail.
The 2015 AuburnJames Phaeton is a red blend of 52% Merlot, 28% Malbec, 12% Cabernet Franc, 6% Cabernet Sauvignon and 2% Petit Verdot. This wine is medium to dark ruby in color; the bouquet shows a combination of several aromas including blackberry, spicy plum, old cedar wood, sweaty baseball mitt, a meatiness, dried tobacco leaf and bittersweet darker chocolate. This wine is very balanced from start; its core is built around darker savory characteristics and flavors. Lingers with a juicy acidity, darker spices including peppercorn, toasted oak and earthy but well-integrated rounded tannins. Did we already say this wine is savory?! We immediately thought of pairing this with BBQ ribs. This bottling is named after the 1935 Auburn 851 Phaeton, a classic vehicle, today, worth around 1 million dollars.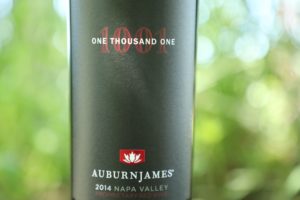 The 2014 AuburnJames 1001 One Thousand One Proprietary Red Wine is a blend of five Bordeaux varieties including Cabernet Sauvignon, Cabernet Franc, Petit Verdot, Merlot and Malbec. We tasted this wine 9 years post vintage. It is deep ruby in color with a slight brickish tinge on the rim in the glass; the bouquet offers a diversity of aromatics including both primary fruit, secondary aromas and light tertiary scents. It offers blackberry, ripe Santa Rosa plum, raspberry and mulberry, along with clove, cedar, chocolate and an attractive sweet pipe tobacco spice. The palate is fresh, savory, juicy and mouthwateringly bright. It offers flavors of red plum, red cherry, blackberry and raspberry. Unlike the bouquet which shows some bottle bouquet, the palate seems younger than its actual vintage. It lingers energetic and savory with red-fruited flavors along with grainy but rounded tannins accompanied by a persistent dryness on the finish. With proper cellaring, this wine has plenty of life ahead of it.
Their artists series are red wine blends featuring the works of various artists on the label. In 2010 the label for this wine was based on an original oil triptych painting (titled, Charleston Nocturne) by Rick Reinert (the original piece is on display in the tasting room). One can purchase three bottles of this same wine each with one panel of the triptych as a label. Lined up in a row they creatively mimic the original painting.
The 2010 AuburnJames Artist Series Meritage is a five Bordeaux varietal blend with the Cabernet Sauvignon coming from a vineyard they look too often for premium grapes – the Bella Vista Vineyard, a 200+ acre vineyard that is nearly half in Sonoma County and half in Napa County. These grapes were grown on the Napa side of the vineyard. There is a sweet note on the bouquet along with aromas of brown chocolate, clove and red licorice. A textural softness is immediately noticeable on the entry with a richness of flavor that soon shows mid palate through to the finish. The wine has good acidity. The tannins are somewhat earthy and last for some time.
The 2009 AuburnJames Napa Valley Meritage is a five Bordeaux varietal blend. Sweet red cherry aromas, blackberry and toasted cedar show on the bouquet. There is a richness of fruit mid palate anchored by dusty slightly chalky tannins which are well integrated into this wine's overall profile. The finish lingers for some time with both fruit and subtle structure.
The 2009 AuburnJames Napa Valley Bella Vista-Block 1&4 Cabernet Sauvignon shows distinctive earth nuances, cigar smoke, toasted cedar with lively notes of plum on the bouquet. Good acidity, great balance and very well integrated tannins. The 2009 RDH vintage was created from the best barrels from this production – with the name RDH in honor of the former owner of this vineyard, Bob Hayes.
Auburn James also produces a Pinot Noir and right before bottling adds a small percentage of Chardonnay to help enhance and extend the aromatics. And their original '1001' bottling, named in honor of their address was such a popular red blend that continue to produce this as well as other 1001 wines.
—
Some of the Auburn James wines are distributed including through BevMo! For more information about the wines, to join one of their club memberships (Flagship or Collector) or to request a tasting appointment at their Napa winery cottage (located a short drive from downtown St. Helena, the nearest town), visit: www.auburnjames.com
Auburn James enthusiasts may also want to visit the Auburn Lounge (formerly the Auburn James tasting room) in the heart of historic Danville, California about a 90-minute drive from Auburn James Winery. A speak easy theme, focuses on wine, beer and specialty cocktails. Open 7-days a week, from mid to late afternoon until late (depending on the day). The lounge continues to carry select bottlings from Auburn James.
Auburn Lounge & Wine Bar, Danville