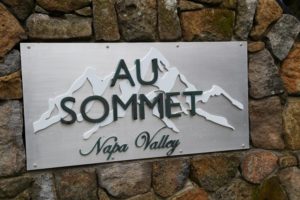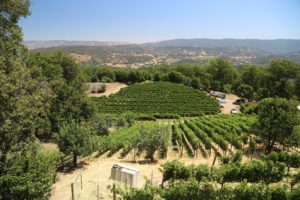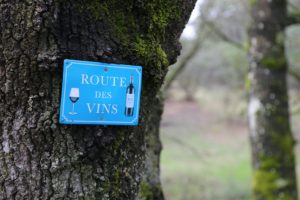 Au Sommet is a 45-acre property located high on the slopes of Atlas Peak (2,100 feet). Nine acres of vines are planted; the majority being Cabernet Sauvignon with two small blocks of Petit Verdot. These are vines with incredible views at times and on clear days they look east into the Central Valley, on very clear days the snowcapped mountains of some of the Sierra Nevada mountains can be seen from the property including a tiny view directly into Yosemite and Half Dome. Because of their elevation, the property sees a dusting of snow at times, including the day before one of our latest visits.
And we have to mention this; their normal rainfall is about 20 inches pear year but every so often their rainfall is dramatically higher like in 2016/2017 when the property received nearly 70 inches. These are rocky soils and despite the years with higher rainfall, their vineyards drain nicely. The vines are farmed organically including moving chicken hutches at times throughout the vineyard rows. A garden on site supplies fresh produce and goats produce milk which they turn into cheese.
Au Sommet (inaugural vintage 2008) is a partnership between vintner John Schwartz, viticulturist Jim Barbour and winemaker, Heidi Peterson Barrett, one of America's foremost winemakers. Heidi's father is Richard Peterson, an icon in the industry and her mother Diane was an artist. Wine making is both an art and a science and Heidi has used her talents in both disciplines to build an extremely successful career in Napa Valley.
She began her wine making studies at UC Davis, graduating in 1980 with a degree in Fermentation Science. Her first job in Napa Valley after graduating was for Justin Meyer at Franciscan Vineyards and Silver Oak. She later worked for several other wineries in Napa Valley until she became an independent/consulting winemaker in 1988. Her work with Dalla Valle Vineyards and Screaming Eagle was noteworthy – producing two 100 point scored wines (by Robert Parker) for both wineries. Today her talents are as sought after as ever; besides her own labels she continues to consult and make wine for a number of smaller producers in the valley.
Heidi and John have known each other for years; they first met when they were children. John is an extremely talented individual who has made food and wine an integral part of his life for several decades. His parents sent him to France to learn the culinary arts when he was young – later in his life he lived with noted chef, Julia Child for several months. He is involved in remarkable number of food & wine related projects. He is an avid traveler, collector of fine art, fine wines and proprietor of Napa Pearls Caviar. He is also involved with the American Assistance for Cambodia, an organization which is dedicated to providing opportunities for Cambodian youth and the impoverished living in rural parts of the country.
In addition to Au Sommet, both Heidi and John are associated with a number of well-regarded wines including Amuse Bouche with the following labels sold through Amuse Bouche: Prêt à Boire, Richard G. Peterson and Vin Perdu. And John is the proprietor of Coup de Foudre.
The name Au Sommet in French translates to "at the top" – in their case this has multiple meanings; the estate vineyard's lofty elevation high on the slopes of Atlas Peak and also refers to the high standard of excellence they set for themselves. This wine features a Cabernet Sauvignon based blend each year. Only estate grapes are used and in addition, no grapes from the property are sold to other vintners.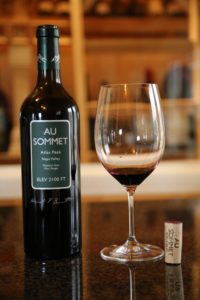 Amuse Bouche (meaning "appetizer" in French) was founded in 2002 (the first vintage). The focus of this wine is on producing a premium Napa Valley grown Merlot (simply called Red Wine) to rival some of France's best Merlot's (and perhaps a taste of this wine will change your perception of Merlot) in a very good way. This wine is a part of their artist series – a wine where the label changes each year, displaying a painting picked out by Heidi and John. The 2011 vintage featured a painting by Heidi's mother Diane and the 2016 vintage featured one of Heidi's own paintings. Works by other prominent artists including Chef Jacques Pépin, George Rodrigue (of blue dog fame) and Wayne Thiebaud have been used.
Coup de Foudre, sometimes is available for tasting at Ma(i)sonry Napa Valley in Yountville. The name translates from French as "something that happens quickly, not foreseen – usually love at first sight." As it is written on the label, "is best enjoyed when you want to capture a special moment in time and remember it forever". John met his wife while in France and the labels for this wine are images of his early letters to her (in French) written during their courtship. John also developed the 'peel back label' on this wine to further treasure the memories from when it is consumed; simply peel off the front label for a keepsake (marked with Who, Where, When, and Why on its back", leaving behind the 'real' label still adhered to the bottle. Heidi does not make these wines.
Richard G. Peterson is made by Heidi's father Dick Peterson and features an extremely rare wine because of its particular clone – a Brut Rosé from the Wrotham clone of Pinot Noir. Dick discovered this ancient clone of Pinot Noir growing in the village of Wrotham (south of London) in the early 1980s when he was in the UK judging a wine contest. He brought back several cuttings of this clone and dated it to nearly 2,000 years ago when the Romans introduced it to this part of what is now England. He planted three acres in Yountville (calling it his 'diddly squat vineyard'). It is resistant to powdery mildew (never has to spray sulfur) and made one of the most unique wines ever grown in Napa Valley, based on both the clone and the winemaker's fascinating pedigree.
Wrotham, UK

Dick's former Diddly Squat Vineyard, Yountville

The Brut Rosé was originally made from his Yountville vineyard. Dick gave some cuttings of this clone to a friend in the Santa Lucia Highlands AVA (Monterey County to the south of Napa County); today his friend now has 8 acres of this and one other Pinot Noir clone. Dick continues to produce Pinot Noir from this vineyard in Monterey County since his own vineyard was pulled out after he sold his own property.
Select Wines
Amuse Bouche
The 2021 Amuse Bouche Prêt à Boire Napa Valley Rosé is a blend of mountain grown Grenache and Syrah from the eastern hills of Rutherford. The name Prêt à Boire means 'ready to drink' in French. And this wine is most definitely ready to consume. It is dark pinkish somewhat salmon in color; the highly aromatic and fruited bouquet offers scents of watermelon, raspberry, rose petals and citrus blossoms. It's texture is creamy and rolls over one's palate softly, the same touch one experiences when running their hands over velvet. A perceived sweetness of fruit shows not from any residual sugar but from richness of fruit with flavors of black raspberry, citrus and watermelon. The long fruit-filled finish lingers along with a slight tanginess. In our humble opinion, this is among some of Napa Valley's best rosé wines.
The 2018 Amuse Bouche Red Wine is a blend of 92% Merlot and 8% Cabernet Franc. This wine deep ruby in color; the bouquet offers a diversity of aromatics including of dark raspberry, a raspberry jam note without being overly sweet or fruity, cherry, dried cranberry, red licorice, rose petals and a light toasted oak/old cedar box. But the focus here is clearly on the fruit. The palate reveals more red fruits than darker fruits including of plum and cherry. This wine sports a lovely texture with grainy-like but rounded tannins. It is made in an elegant style, with a noticeable balance between flavor, texture and acidity. The finish lingers bright, fresh and mouthwatering.
The 2013 Amuse Bouche Red Wine is 96% Merlot and 4% Cabernet Franc. The vineyard source for these grapes is about 1,600 feet in the hills of eastern Rutherford. Opens immediately with appealing floral and a core of sweet spice notes including fig and brown sugar interwoven with subtle oak influences. Great acidity and bright lively fruit with flavors of red cherry and blackberry. There is a lingering tartness with well-integrated slightly chewy tannins (supple on the palate).
Au Sommet
The 2013 Au Sommet Cabernet Sauvignon is 97% Cabernet Sauvignon with 3% Petit Verdot (all estate fruit). The bouquet is brooding at first – earthy with a mushroom quality – showing deeper darker aromatics. Letting it breath reveals layers of aroma including cigar smoke, coffee and a hint of burnt toffee along with plenty of fruit. This is a muscular wine with power, structure and flavor. Mouthwatering acidity. A very long finish with robust tannins. This is an ideal wine for someone from Texas (or anywhere else for that matter) who appreciates Cabernet Sauvignon with a good steak – and the power, yet balance of an exceptionally made Napa Valley mountain wine.
Vin Perdu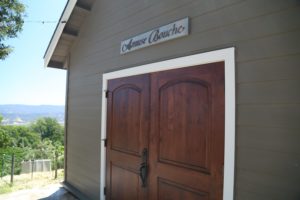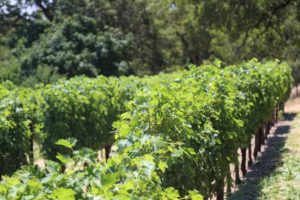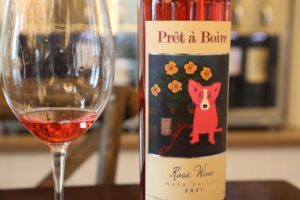 Vin Perdu (pronounced van perdoo) translates to "lost wine" from French. This wine is made each year with premium wines that do not fit into their other portfolios. These components might be "lost" each year when they create their other blends – but they are certainly found when they build the final Vin Perdu blend. Take note of the one-of-a-kind lenticular label – the artwork 'changes' when you tilt the bottle. For example, the 2014 vintage shows a loose interpretation of the God Bacchus holding a glass. As you tilt the bottle, the wine glass rotates to catch the now dripping grape juice from the grapes above his hand. The labels on previous years are equally as intriguing.
Coupe du Foudre
The 2015 Coupe du Foudre Sauvignon Blanc is 100% varietal and is made somewhat atypical of Napa Valley produced Sauvignon Blancs. It was aged 8 months sur lie. The aromas tend to be more tropical in nature then citrus like, with notes of white pineapple and a more subtle citrus nuance. The mouth feel is what sets this apart from lighter Sauvignon Blanc bottlings; it is creamy, almost oily with both a richness of weight and flavor. Peach/pear flavors show mid palate through to the long clean finish.
Richard G Peterson
The 2014 Santa Lucia Highlands Richard G. Peterson Pinot Noir is ruby red in color with pretty pink tinges on the edge of the wine's rim. Shows pleasing aromatics (sweet at times) including red cherry and cranberry and an earth spice component. Very balanced on the palate it shows red cherry, currant and a cardamom spice that Dick has identified often showing in his Wrotham clone. Drinks very well by itself.
Their wines appeal to serious wine enthusiasts and collectors and perhaps to those who are partial to fine art. And because John and Heidi produce a number of wines under various labels, collectors certainly have a diversity of wines to choose from in their portfolio. And a surprising offering for a Napa winery is their Lone Whisker, a 93.8 proof Bourbon Whiskey. Aged for 12 years in barrel, this whisky is remarkably smooth on the palate.
And PharohMoans was yet another project John was involved with. Joining efforts with chef Bryan Ogden and winemaker Guillaume Fabre, this brand was produced for over 10 years before its final vintage in 2018. This wine was sourced from California's central coast (Paso Robles) including a Syrah and a Grenache. It featured one of the most creative play on words and packaging one will ever see with the wine shipped in a pyramid shaped wooden box with a handle.
—
In early 2017 Amuse Bouche moved their offices slightly further north on Main Street in downtown Napa and in the process built out an art gallery (visits are by appointment). This elegant space is now used for hosting tastings for a variety of wine brands associated with Heidi or John. Indoor seating and several outdoor chairs, roped off from the sidewalk are used for tastings.
For more information about Au Sommet, to make a tasting reservation or to purchase wine, visit www.ausommetwine.com, Amuse Bouche, visit: www.amusebouchewine.com and Coupe de Foudre, www.coupdefoudrewine.com
Estate Photos

Amuse Bouche, downtown Napa