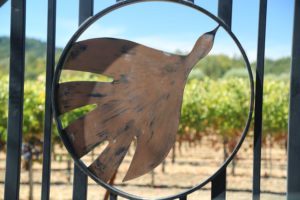 Atalon Winery is located north of the small town of Calistoga in "the shadow" of the area's tallest mountain, Mt. St. Helena which anchors the northern part of the valley. Atalon was founded by the Sonoma/Napa winery giant Jackson Family Estates (Kendall Jackson) and their wines were available for tasting at Jackson owned Cardinale until their present physical winery facility was purchased in 2006. This winery was originally Robert Pecota winery, and once he sold, Robert soon purchased additional land about 1/4 mile down the road.
To understand Atalon, first some history is in order.
Atalon itself is a relatively new winery releasing their first commercial vintage in 1997. When the brand was first founded the wine was made high on Howell Mountain at an old ghost winery built by W.S. Keyes. In the late 1800's Keyes was producing award winning and some of Napa's finest wines. Atalon is a derivative of a French word meaning "benchmark". The idea behind the winery was to produce high quality wines from the vineyards used in this original winery. Following up with the French meaning of benchmark, you could almost say Atalon is using the original W.S. Keyes winery as their own benchmark. Today they source fruit from a variety of vineyards in select locations within Napa Valley.
The winery sits in a bucolic location totally surrounded by vineyards just north of Tubbs Lane (near the Old Faithful Geyser). As a result of its location this is one of the most northerly based Napa wineries. We always like visiting this part of the valley as there are less people, less traffic, and the wineries are much more spread out.
After the transition in ownership, the winery finished a major renovation and upgrades; the gardens and outdoor landscaping were redesigned and Bob Pecota's old house was converted into a tasting area. Weather permitting, tastings were held outside on the patio near the pool otherwise they were held inside their cozy tasting room (note, Atalon tastings are no longer offered here). Atalon is known for merely two tiers of wines: a Napa Valley Cabernet Sauvignon and Merlot and in addition a hillside grown Cabernet Sauvignon and Merlot. However, note that their first white wine, a Sauvignon Blanc was released in 2008 – a wine they continue to make each year.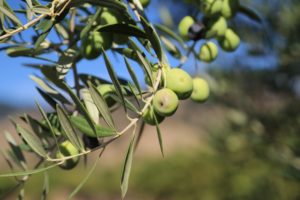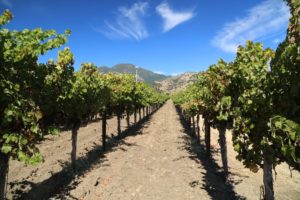 The Napa Valley vintages we tried were all very well balanced with soft smooth tannins. There are definitely some noticeable differences based on terroir and the hillside grown fruit versus the valley floor. The hillside grown wines tend to be bigger in structure with rich very ripe fruit flavors. The grapes used in their wines come from several premium vineyard locations in the Napa Valley historically known to produce very high quality grapes.
There are nice views of the vineyards and nearby hills from the wooden deck in the covered fermentation area. Also note the hand-prints of Bob Pecota in the concrete (former owner). We refer to the two "C's" which are the best bicycle friendly areas in Napa Valley. These are Carneros to the south and Calistoga here in the north. Bicyclists will find these small vineyard surrounded roads a joy to ride especially considering this part of the valley sees less traffic then much of the rest of Napa Valley.
MAJOR UPDATE: Other then a single small tank (to keep the winery bond active), this winery is no longer being used to produce Atalon's wines and all production has been moved to the wine making facilities at Cardinale Winery in Oakville. This property is now being used to host guests for the Spire Collection – a number of wines from both local wineries & regional wineries and International producers under the Jackson Family ownership (ranging from France, Italy, Australia, and South Africa).