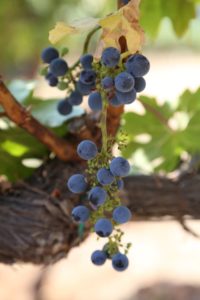 Astrale e Terra Winery was founded in 1996 by several partners; today two couples own the winery along with the primary partner, Paul Johnson of Napa. The name translates to "Heaven & Earth" in Italian. Mr. Johnson has lived an interesting life – from being a U.S. Air Force fighter pilot in Japan, to owning a resort in Jamaica to his involvement in the banking industry in Chicago. He and his friends (later business partners in the winery) were enjoying an especially long evening with good wine when they decided it would be fun to get into the wine industry. Most dreams like this discussed at long wine infused dinners fizzle by morning. Not so with Astale e Terra. For 6 months the owners scoured Napa for winery real estate and eventually arrived at the end of Soda Canyon Road where they fell in love with the property and quickly purchased it.
The vineyards are at an elevation ranging from 1200 to 1700 feet. As a result they are above the fog line and the growing season is long with lots of sunshine. However, lots of sunshine doesn't necessarily translate to warmer growing conditions mainly because of the elevation and their more southern location in Napa (closer to the moderating influences of the San Pablo Bay than say Calistoga in the north). The growing temperatures are quite moderate allowing for long hang time and slow development of flavors.
This is one of only two wineries in this part of Atlas Peak as most of the surrounding producers are growers not winemakers. Over the years Astrale e Terra has boasted a fine pedigree of winemakers from Pam Starr and Bill Ballentine; presently Scott Harvey is their consulting winemaker. Their primary winemaker lives next to the vineyards. The winery is small, not a typical "Napa Chateau" by any means. Its functional and is built right among their vineyards.
The property is 60 acres of which 35 are planted to vine. The majority is planted to Cabernet Sauvignon but they also grow Merlot, Petit Verdot, Cabernet Franc and Syrah.
Astrale e Terra tends to age their wines longer which results in a softening of the tannins and helps balance out the flavors and structure. As a result, they leave their wines longer in oak but use neutral oak so as not to overly influence the fruit characteristics. All their red wines are estate grown. Their wines are meant to be paired with food – with decent alcohol levels as well as acidity. They source fruit from several Napa vineyards for their one white wine.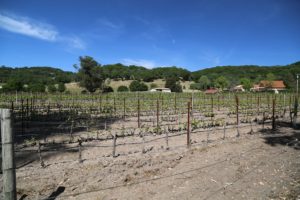 2008 was their first white wine vintage. The 2008 Sauvignon Blanc is blended slightly with some Semillon for weight or "body". This wine only sees a kiss of French Oak and does not undergo malolactic fermentation. As a result, the wine is rounded but not creamy and retains a nice crispness. Aromas of graphite, lemon and tropical fruit show. The palate also has some tropical notes with a finish that is zesty with some baking spices. Those who know Scott Harvey know his passion for Riesling – the 2009 vintage is slightly blended with Riesling.
The Merlot is only made in years they feel the quality is superior. The 2004 vintage has an elegant bouquet and is fairly smooth from start to finish with tannins that are now very well integrated. This wine is very well balanced. Usually under 200 cases are made.
The original vintage of their flagship wine (Arcturus) dates from 1999 and compromises the bulk of their production. Arcturus is named after the 4th brightest star in the sky – classified as a Red Supergiant. The parallels of the star to the actual wine are similar. It is on the "bigger" side of the wines they produce as far as structure as well as being their most produced wine. Hints of earth show on the bouquet complemented by raspberry and blackberry. The palate is rather soft and elegant upon approach showing ripe black cherry and notes of cedar. The tannins are broadly distributed and finish with notes of spice.
The Estate Cabernet Sauvignon is sometimes called a red blend when there is less than 75% Cabernet in the wine. They would rather have the flexibility of blending larger amounts of other wines if it helps with the flavor, aroma and structure rather than be tied to always using more than 75% varietal in order to call it a Cabernet Sauvignon. The bouquet on the 2005 vintage is very terroir driven – a noticeable earthiness is found on the bouquet which leads to a very approachable palate (at 5 years old, at the time of this review, this is their youngest current release). It has great acidity with just the right amount of tartness to pair with a variety of foods – showing plum and raspberry.
The Syrah is their "biggest" wine but age has treated it very well. It is a dark wine with an elegant bouquet – rich fruit aromas lead to a rich rounded mouth feel. It is a soft wine, voluptuous with a rounded entry. This is a wine that is certainly easy to drink by itself!
For a small Napa producer their prices are extremely reasonable. Looking for a short term offered special – how is this is for a good price? Their 2003 Syrah for the holidays (2010) is running $10/bottle when you purchase a case with free delivery if you live within Napa. This is as good an offer as you will find anywhere in Napa.
See http://p0.vresp.com/H9oEHg for details.
Tastings are for serious wine enthusiasts, typically for those who are members of their wine club. The wine is selectively distributed in 5 states; locally you can find the wine at Backroom wines in Napa and V Wine Cellars in Yountville as well as a number of local restaurants. For more information visit: www.astraleeterra.com or follow on Twitter: @astraleeterra