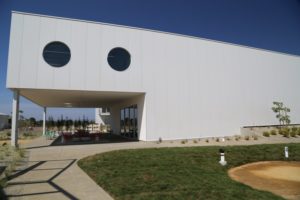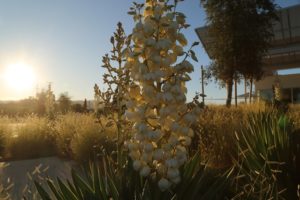 Ashes & Diamonds is conveniently located off of Highway 29 in the northern suburbs of the city of Napa. The winery is a very short drive from downtown Napa and often makes an ideal stop to either start or end your day. Nearby neighbors within walking distance, include long time restaurant Bistro Don Giovanni (a favorite stop for both locals and tourists) and the Craig and Katherine Hall owned Senza Hotel. As a new winery, refreshingly they have a coveted permit to allow visitors to walk in without needing an appointment (although they will also accept appointments). In addition, they are permitted to stay open later if needed – currently they are open until 6pm.
The property is 40 acres of which 55 acres are planted – primarily to Merlot (the vines towards the front of their driveway) and Cabernet Franc (behind the winery). Also, smaller blocks of other varieties which they sell to other area producers. Owner Kashy Khaledi is well connected in the world of advertising, multimedia, music and film. He has worked with MTV among other outlets. Today he divides his time between his primary residence in Los Angeles and the Napa Valley.
And Kashy is also well connected in the Napa wine world – his parents are Darioush and Shahpar Khaledi, the founders of nearby Darioush Winery.
In fact, this property used to be owned by Darioush (they still provide the vineyard management services on site). After Kashy purchased the property, when it was time to build a winery, he reached out to his connections in the entertainment world. Barbara Bestor is an architect based in Los Angeles who is known for designing a diversity of buildings including the Beats Electronics Headquarters in Culver City, Nasty Gal Headquarters in Los Angeles and a number of stores, restaurants, and private residences – mostly in Los Angeles. This is her first winery project.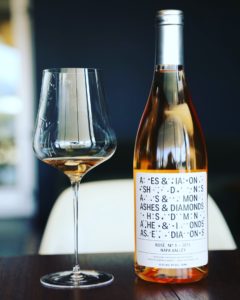 And when it came time to design their wine label, Kashy reached out to Los Angeles based artist and graphic designer Brian Roettinger. Brian has worked extensively with music album covers (including the design for Jay Z's Magna Carta Holy Grail) but this is his first work with a winery. Brian created two labels for their wines including the mesmerizing label with the words Ashes & Diamonds shown repeatedly but missing various characters replaced with asterisks. This label represents wines that are blends. And their other label is designed in black and white, contemporary in its appearance, it indicates their single vineyard wines.
In an homage to film and his entertainment career, Kashy chose the name Ashes and Diamonds from a Polish film that came out in 1958 (based on a novel written in 1948 by Polish writer Jerzy Andrzejewski). Polish film critics will argue this is one of the country's great masterpieces – and famous directors have referenced Ashes & Diamonds as one of their preferred films including Martin Scorsese and Napa's favorite adopted movie and wine personality, Francis Ford Coppola. The original name comes from a 19th-century poem by Polish poet and artist Cyprian Norwid.
A quote that appears in the film (written by Cyprian Norwid) caught Kashy's eye and it now appears imprinted on all their wine corks. It is a sizable amount of text, but it does fit with room left over:
So often, are you as a blazing torch with flames
of burning rags falling about you flaming,
you know not if flames bring freedom or death.
Consuming all that you must cherish
if ashes only will be left, and want Chaos and tempest
Or will the ashes hold the glory of a starlike diamond
The Morning Star of everlasting triumph.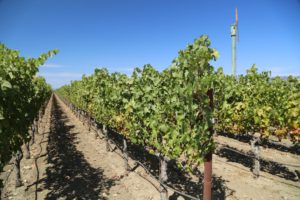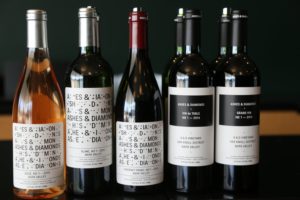 The winery is state of the art – with the production facility adjoining the barrel room. Guests to the property will also get to see the production facilities and learn about wine making (especially during harvest).
The Annex (also housed in the same building) is a soundproof studio quality room used for visiting VIP's or club members and also for screening select movies. And this room has already been used for a number of question-and-answer guest appearances (tickets sell fast) from distinguished Napa winemakers including Tim Mondavi and Cathy Corison as well as other accomplished individuals that Kashy knows or who have worked on Ashes & Diamonds.
And their primary hospitality center (opened in October 2017) features both a wine bar and sit-down areas along with a kitchen. In addition, their lawn area will be open during warmer weather for guests to enjoy each other's company, the wines (including by the bottle) and small bites.
Winery chef Emma Sears joined Ashes & Diamonds after working at Scribe Winery in Sonoma where she helped run a number of wine related events. She sources ingredients from a variety of local farmers' markets. Light fare pared with the wines is certainly one of the highlights of a visit to the property – focusing on mostly grilled vegetables with dips. Also, a nice selection of pickled vegetables. Those who don't typically enjoy radishes may be converted after trying the ones that Emma prepares! All small bites need to be reserved at least a day in advance. Most of their items are prepared using the wood fired oven (can reach 1,000 degrees Fahrenheit). Update: Emma is no longer working at Ashes & Diamonds but Ashes & Diamonds continues to employ winery chefs for their various food pairings.
The vibe here is young and hip with culturally and racially diverse employees often from urban backgrounds, yet the wine making style clashes dramatically with the young feel on premise and the style of wines that much of the Napa Valley is making today.

In a refreshing discovery, the wines are a throwback if you will to older wines from Napa from the 1960s and 1970s. Perhaps similar to the wines that Robert Mondavi, Inglenook and Martini among others, were making in those decades. These are restrained wines, much lower in alcohol, showing red fruit characteristics rather than big bold darker ripe fruit aromas and flavor, along with higher acidity and a reasonable pH. They are wines of lighter structure and are more food friendly in their presentation. And a style that Napa has already proven as being age worthy.
Select Wines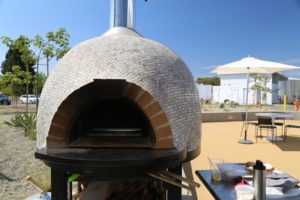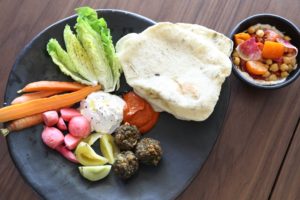 And to oversee their initial wine making, founding winemaker Dan Petroswki was hired (formerly of Larkmead Winery – his own label is Massican). 2014 was the first vintage of Ashes & Diamonds. While Dan is no longer involved noted winemakers Steve Matthiasson and Diana Snowden share wine making duties.
A very interesting side by side tasting includes two wines made from the property, from the same varieties with the same percentage of each variety in the blend – using similar wine making techniques. Both wines are 75% Merlot and 25% Cabernet Franc. The only difference is one was made from free run wine and the other from pressed wine. The side-by-side differences in each of the wines are remarkable.
The Ashes & Diamonds Vin de Table №1 – 2014 was made from pressed wine and its name perhaps indicates a more feminine style of wine then it's brother, the Grand Vin. Somewhat surprising stylistically as the pressed wines, we have tried over the years can be a bit harsher or robust in structure. The nose shows hints of stewed bell-pepper and white pepper along with red cherry. This is an everyday drinking wine – soft, balanced with fine grained polished tannins.
The Ashes & Diamonds Grand Vin №1 – 2014 was made from free run wine. The bouquet displays darker fruits including plum. Somewhat savory. Shows a sweetness of fruit on entry, blackberry and plum with robust muscular tannins that persist for some time. A big finish. As one of their former employees Dana Hunter called it, "this is red meat on your plate and a good time wine".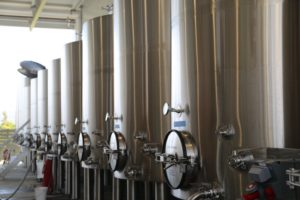 The 2015 Ashes & Diamonds Rancho Pequeno is sourced from a vineyard in Oakville owned by prominent vintners Bart and Daphne Araujo. The bouquet is appealing offering primarily darker fruit complemented by notes of desert spices and toasted cedar with a hint of mocha. Lots of depth but also plenty of balance on the palate. Plum and blackberry flavors – tannins run almost the length of the palate and are slightly dusty in nature. It will be nice to try this wine in 5 or 10 years. Should age very well.
And then there is the remarkable 2014 Ashes & Diamonds Napa Valley Rutherford Vineyard 1 100% varietal Cabernet Sauvignon. This wine is sourced from one of the most well-known vineyard sites in Rutherford – where many producers focus on making a ripe style of wine. Unbelievably this wine is only 12.6% alcohol; the only other Napa Cabernet Sauvignon of the probable thousands of current release Napa Cabs we have tried over the years at this level of alcohol was from the bonded winery at Napa Valley College (and even that wine was a bit higher in alcohol then this Cabernet Sauvignon).
This wine has a hint of jalapeno on the bouquet, white pepper and a touch of tobacco smoke but the aromas are mostly dominated by fruit. An appealing kiss of brown sugar shows as the wine continues to evolve in the glass. On the palate it shows mostly higher-toned fruits including red cherry and red currant. Well integrated fine-grained tannins linger softly. The wine is somewhat savory on the palate. Should be another long-lasting wine.
A&D Q&A Speaker Series
Founded the same year the winery opened, the A&D Q&A brings inspiring and well-respected leaders working in the wine business together in a series of ticketed forums open to the public (held at Ashes & Diamonds on select dates, and always in the evening).
Past speakers have included Paul Draper, Randall Graham, Carole Meredith, Randy Dunn and Robin Lail. They share insights into the industry and life lessons learned – often from decades working in the industry. Each session is built around a specific topic, i.e., sustainability, agriculture, or challenges facing the wine industry. There were no Q&A sessions held from late 2019 through 2022 but these have since resumed.
NOTE: First time Lyft users can use code "ASHESNAPA" for $10 off your ride to or from Ashes & Diamonds – more details here.
Their current annual production is around 3,000 cases but they will continue to ramp up production until they are around 10,000 cases. For more information and or to join one of their three membership levels (including The A&D Traveler with access to concierge services for Napa Valley, special Napa Valley room rates, access to exclusive pools in both Hollywood and Napa Valley) and discounts to private planes, visit: www.ashesdiamonds.com