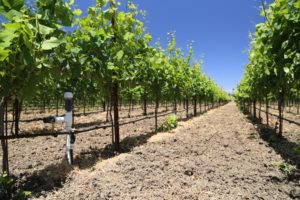 Art House Wines was founded by the talented couple John Bonick and Dona Kopol Bonick with their inaugural release in 2010. John and Dona met while both were living in Chicago. John earned a degree in English from the University of Notre Dame. His first introduction to the world of wine and spirits came when he worked for a small distributor, delivering various alcoholic beverages to restaurants in Chicago.
Applying to a number of alcohol related trade magazines, he ultimately accepted an offer at Beverage Industry news – and he and Dona moved to the San Francisco Bay area in 1980. Eventually they settled on the Napa side of Carneros, purchasing 8 acres of land. At the time the property was home to numerous fruit trees – many of which they kept. Today they grow six varieties of Asian pears which they selectively sell to a number of premium restaurants in the area.
In 2014 after removing a number of Asian Pear trees (and tightening up the spacing in their remaining orchard) they planted three acres of Pinot Noir and named this site the Marvin Jack Vineyard, after both Jack, Dona's father and Jack's best friend for some 70 years, Marvin Leibowitz. When they were ready to plant the vineyard, they invited Marvin (who lived into his 90's) to join them in a small ceremony in which he planted the vineyard's first vine. This part of Carneros is fairly cool, often with fog in the mornings and the appellation's iconic breezes. Their vineyard site is merely a half mile from Cuttings Wharf and the edge of San Pablo Bay.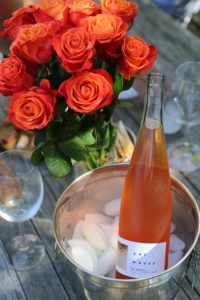 The name Art House refers to their own home in which art plays a prominent role in their lives and John's tiny studio where he paints and stores some of his work. It is also a tribute to he and Dona's contributions to the artistic worlds – both are prolific photographers; John is also a painter with works in galleries in Boston, Los Angeles and San Francisco. And his works are in numerous permanent collections including Bloomingdale's in New York, Chicago and San Francisco, and much closer to home, the di Rosa art center in Carneros.
John and Dona have covered numerous events over the years in the Napa Valley. John recalls a more recent event held at Robert Mondavi Winery where his paintings and Dona's photographs were on display (the last art show at the winery that Margarit Mondavi attended). And more recently Dona worked with author Michelle Mandro to photograph the book, Wine Country Women of Napa Valley (released in late 2017).
And their artistic talents are certainly convenient when it comes to creating labels for their wines – alternating each year between one of Dona's photos and John's paintings.
Their wine making philosophy is to not create a certain style of wine each year but rather coax the best wines from each particular vintage. Their wines are made in a minimalist style – no filtering or fining on the reds and always fermenting with indigenous yeasts. Production is small – roughly 150 cases for each of the wines.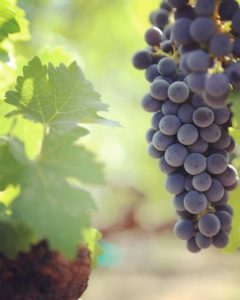 Their focus is on Napa Carneros grown grapes and varietals that do best in this cooler part of the valley including Pinot Noir and Pinot Grigio. Through their son Max, they were introduced to McKenzie Mueller and winemaker Bob Mueller. Bob has been their winemaker since the the first vintage. This relationship works well – Bob's winery is within a short drive of their property, Bob focuses on Carneros grown fruit and there is a connection between both families to the art world – Bob's wife Karen is a retired art teacher who still paints. Art House has been focusing on wines made from grapes from the McKenzie Mueller's Carneros vineyard.
There are not a lot of Napa producers making a Pinot Grigio – most are centered in the southern part of the valley. This is one of the finer Napa Pinot Grigio wines we have tried. The 2015 features a very aromatic bouquet with plenty of fruit. John likens the aromas to "slicing up a diversity of fruit for making a fruit salad". There are aromas of honeysuckle, tropical fruits along with citrus. Creamy and rounded the mouth feel is immediately noticeable. Flavors of red apple and hints of apricot, the finish is highly satisfying, finishing cleanly but with a rich intensity of flavor.
The 2016 rosé (a blend of both Pinot Noir and Pinot Grigio) is named "The Breeze" in homage to the often breezy conditions in Carneros. Is dark salmon in the glass. Aromatically reveals notes of strawberry, watermelon and dried rose petal. Shows some roundness on the palate with surprisingly intense fruit flavors.
John prefers to hold his Pinot Noir back before release, often a year behind the normal release cycles of many area wineries. The 2012 Pinot Noir offers a powerful bouquet with spicy plum, a hint of toasted cedar, earth notes, spicy pepper, darker cherries and as it breathes a kiss of mocha. Superbly balanced on the palate, with flavors of cherry and cranberry – especially towards the finish which lingers with some tartness. Noticeably lighter in style then the 2013 vintage.
The 2013 Pinot Noir shows a similar bouquet to the 2012 but a bit bolder in its aromatic presentation – as the wine opens notes of dessert spices show and a spice component (white pepper). A sweetness of fruit (not sugar) shows on the entry with a noticeable brightness and liveliness of fruit on the palate. Good acidity with flavors of cherry cola, a noticeable spiciness and well integrated tannins. Drinks quite well young and keeps begging for another sip.
The wines are found in a number of fine restaurants in the Napa Valley including at the French Laundry and at Bistro Don Giovanni. For more information and or to join their allocation club, visit: www.arthousewines.com and for Dona's photography site, visit: www.dkbphoto.com