Arrow&Branch was founded by Steve and Seanne Contursi. Both have enjoyed Bordeaux wines since the 1980s and have collected wine from a number of premium Bordeaux based, primarily Right Bank producers. Living in Laguna Beach (Southern California), they soon gravitated towards Napa Valley and in 2007 purchased a small property in what is now Coombsville (east of the city of Napa). This property was noted winemaker and founder of Etude Winery, Tony Soter's former Napa residence. He sold this property to move back to the Willamette Valley in Oregon to focus on Soter Vineyards. This property was already planted to three acres of Cabernet Franc at the time (the original Cabernet Franc planting on site was from 1991) with fruit from this vineyard being used in Soter's "Little Creek" Cabernet Franc. Since the purchase, an additional 2 acres of Cabernet Franc has been planted using the cuttings from the existing vineyard.
Steve has been interested and intrigued by coins since he was a young boy growing up in the Bronx in New York City. He channeled his passion for coins into a business and became a professional numismatist in 1975 when he founded his first coin company. Today he owns Arrow&Branch Coins, Rare Coin Wholesalers and RCW Financial, helping collectors find and purchase museum quality rare coins. One of his most interesting and high-profile sales was in 2010 when he sold a special 1794 Flowing Hair Silver Dollar for a world record price at the time of $7.85 million dollars. To date he has overseen over 2 billion USD in coin sales and currently has the largest inventory of U.S. rare coins in the world.
The name Arrow&Branch directly ties into his love of numismatics and is a tribute to coins minted in the USA. It also represents the symbol on the back of many US minted coins with an eagle holding both an olive branch and arrows in its talons.
Helen Keplinger was hired as their first winemaker; wine was made in 2008 and was merely 65 cases due to a very rare frost that damaged many vineyards in Napa County including theirs, but did not release this. 2009 was their first commercial release. Helen later left to become winemaker at Bryant Family and suggested accomplished winemaker Jennifer Williams who was winemaker at Spottswoode Estate Vineyard and Winery at the time to take her place. Jennifer has been the winemaker at Arrow & Branch since the 2011 vintage. While at Spottswoode, Jennifer was partly responsible for grower relations; her vineyard expertise and vineyard contacts cultivated while at Spottswoode have have certainly been helpful for securing additional premium vineyard sources beyond Arrow&Branch's own estate vineyards.
Select Wines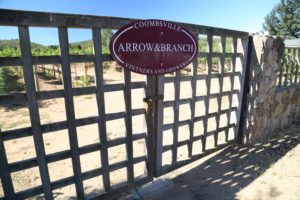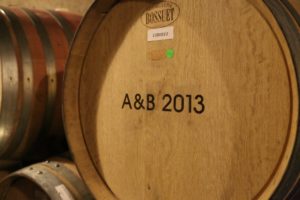 While the focus is on premium red wines, they do produce a Sauvignon Blanc each year. The 2014 Arrow&Branch Sauvignon Blanc is a seamless wine throughout from the bouquet onto the palate and shows no harsh or overtly acidic edges. The bouquet reveals both lemon and lime nuances and floral notes while framed subtly with tropical undertones. On the palate this wine drinks lively; it is fresh and vibrant with the perfect balance of acidity and fruit.
The 2012 Arrow&Branch Cabernet Sauvignon "Black Label" was sourced in equal proportions from the historic Lewelling Vineyard in St. Helena and Stagecoach Vineyard (the Pritchard Hill part of this vineyard). Arrow&Branch has worked with Stagecoach fruit since their earliest vintages. Like their other red wines, this wine often spends between 20 and 22 months in oak and another year in bottle before being released. The bouquet is elegant with aromas of currant, red cherry, cinnamon and toasted cedar. Ample but not overbearing somewhat dusty tannins anchor a long and satisfying finish.
The 2012 Arrow&Branch "Red Wine" (Bordeaux styled blend) features a majority of their estate Cabernet Franc blended with varying percentages of other sourced red varieties from locations within Napa Valley. While starting with excellent grapes, this wine always gives Jennifer a chance to showcase her blending talents based on each particular vintage. The bouquet reveals deeper notes of darker fruit including blackberry, with chocolate undertones along with some floral notes (lavender). As it opens it becomes more floral with some aromatics of raspberries also showing. Rounded on the entry, this wine delivers plenty of flavor and acidity. Smooth integrated tannins along with a sweetness of mocha anchor the finish.
Dr. Crane Vineyard is one of Beckstoffer Vineyards six Heritage Vineyards identified as the most historically significant and premium quality vineyards under their ownership. This particular vineyard was originally planted in 1858 by Napa pioneer Dr. George Belden Crane. Jennifer introduced them to the site; today they are only one of seven producers making wine from this special slice of St. Helena. The 2012 Arrow&Branch Dr. Crane Vineyard Cabernet Sauvignon is dark ruby in the glass. One could most likely pick out its aromatics in a blind tasting of other Napa Valley Cabernet Sauvignon wines; it offers a pleasing mix of dustiness and smoke framed by elegant fruit. It is also, slightly floral. As the wine breathes this element of 'dust' continues to show. The mid palate structure is impressive revealing a noticeable density of fruit. This wine drinks very well young. And if you are familiar with the 2012 vintage, make a point to seek out the 2013 vintage as this wine is equally if not more impressive.
—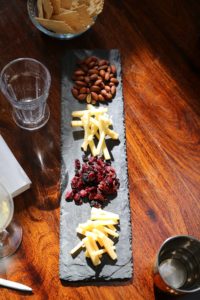 Their bottles are an homage to First Growth properties in Bordeaux; they are the same green Bordeaux bottles these chateau's use for their own red wines. This is one of only several Napa Valley based producers using these particular bottles for their red wines. And each bottle is creatively labeled; a quote by American statesman, Benjamin Franklin is printed on every cork. Quotes have varied over the years and have included several Franklin quips such as, "mind your own business" and "wish not so much to live long, as to live well." And their recognition of Franklin is a more subtle nod to his role with France as our country's first American Minister (the equivalent of Ambassador at the time) and to his love of wine. Each label is unique with multiple references to coin heritage in the United States. Even their capsules have a numismatic theme.
Most of the wine is sold direct via a mailing list although they have some select distribution in California, Georgia, and North Carolina. Locally several retails outlets carry some of their wines including ACME Wine Shop in St. Helena as well as at K. Laz Collection in Yountville. They are members of the Napa Valley Vintners, Napa Valley Grapegrowers and the Coombsville Vintners and Growers.
Tastings used to be held at Wheeler Farms by prior appointment but in 2019 winemaking and hospitality move to Brasswood Estate (located a short drive north of St. Helena). This premium winery is home to a select number of boutique brands who make their wine here including Arrow & Branch. Several tasting experiences are offered including the current release tasting, a Beckstoffer "Dr. Crane Vineyard" tasting and a culinary wine pairing. Located at 3111 St. Helena Highway North.
Arrow&Branch Winery, Yountville

NOTE: in late 2020, Steve and Seanne purchased the 10-acre Williamson Family Vineyard (already planted to vines including 7 acres of Cabernet Sauvignon) in the Oak Knoll District (next to Silenus Winery). After the purchase the name of the vineyard was changed to l'Attitude. The property came with a coveted winery permit and as of Spring 2022, construction is underway for a dedicated winery for Arrow & Branch on the site. As of late 2023 construction continues at a healthy pace and the framework of the building is now completed.
Winemaker Jennifer Williams played an important role in the design of the winery. Once completed, the winery will house production and hospitality for Arrow & Branch as well as several other small premium wine brands. And these producers will be able to host a limited number of visitors on site for tastings. This is similar to how nearby Silenus Winery operates, Brasswood Estate and also Arrow&Branch's former home, Wheeler Farms. And while the winery is surrounded by vineyards and is in the country, it is only a 5 minute drive from the center of Yountville or 10-15 minutes from downtown Napa.
This review has been identified as needing a major update and we will do so once the new winery is completed most likely later in 2024.
Arrow & Branch Home, Laguna Beach
This boutique lifestyle retail space was founded by Seanne and is operated in conjunction with her two daughters Lexie and Nicolette. Arrow & Branch Home opened in 2021 on Pacific Coast Highway (Highway 1) in south Laguna Beach and contains vintage garments, one of a kind antique pieces and accessories such as handbags and décor. A number of culinary items are also available. Select bottlings of Arrow&Branch are also available for sale (but not for tasting). Special in-store events are sometimes offered including their Sip & Shop.
In 2022 Lexie joined the Arrow&Branch team, focusing on client relations. Lexie has long been an actress and dancer having performed in television, film and commercials and along with her sister, operate Chat Noir Jewels, a vintage fine jewelry line based in Laguna Beach. And jewelry available by Chat Noir Jewels is also sold here.
The space is located within a very short walk of several beaches including Thalia Street Beach. Parking is curbside along Highway 1 or if available along several nearby side streets.
For more information, to purchase wine, to join their mailing list or to join one of three levels of membership in The Society, visit: www.arrowandbranch.com