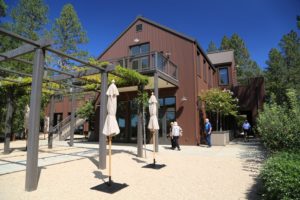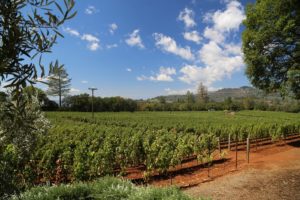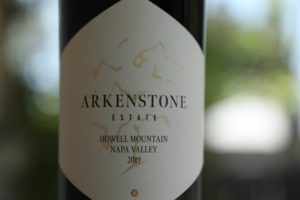 Arkenstone Vineyards. The Krausz's, Ron (from northern California) and Susan (from Minnesota) purchased 40+ acres of former pastureland on Howell Mountain in 1988. Both were in their early 30s at the time, Susan was a marriage counselor and Ron was and still is a practicing attorney and operates The Krausz Companies, Inc – a real estate development company. Both wanted a home in the country and had no intention at the time of planting grapes and building a winery. There were no vineyards on site, no winery and no cave.
When one digs into the history of their property one soon realizes that the Krausz's decided to move slowly – carefully taking their time to plant vineyards, eventually producing their own wine and constructing a winery. The property is located on the western slopes of Howell Mountain at an elevation ranging between 1400 and about 1,600 feet in a vineyard neighborhood with excellent pedigree; nearby neighbors include Lail and Bravante Vineyards.
Arkenstone planted their first vineyard blocks in 1998 choosing to plant only in open areas so that few native trees would have to be removed. Today 13 acres are farmed, separated into 24 unique blocks based on soil types and varietal selections. Howell Mountain is a beautiful appellation and because of its elevation and exposure is a region that contains a number of trees and other vegetation similar to parts of the Sierra Nevada mountains to the east around the same elevation. As with other Howell Mountain vineyard sites the soils are extremely rocky, iron rich red in color and parts of their vineyard are on steep slopes. Initially the site was so rocky, large D9 tractors had to be brought in to break up the rock; over time some of these rocks have been used in their landscaping and as construction materials for select buildings on the property.
Several factors contributed to the Krausz's growing grapes on site – they had a background in farming and neighbor and good friend Robin Lail offered encouragement and advice. Through Lail, well regarded soils, viticulture expert and winemaker Philippe Melka (originally from Bordeaux, France) walked the property and soon helped them match specific soils to specific varietals, rootstocks and clones. Philippe also served as their consulting winemaker in the early years. Arkenstone did not produce any of their own bottled wines during their first five years of production. During this time, they were identifying the "sweet" spots in their vineyard as well as making minor adjustments to certain blocks by changing out clonal selections and rootstocks to better match the specific site.
Their first vintage dates from 2006 (a Sauvignon Blanc), eight years after their vineyards were planted. Their vineyards are farmed organically and managed sustainability. And serious enthusiasts of J.R.R. Tolkien will recognize the winery's namesake. Arkenstone, meaning the "heart of the mountain" was the coveted gemstone described in his book, The Hobbit.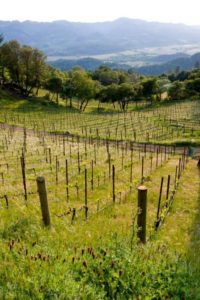 Arkenstone produces around 2,000 cases per year of which 1,000 cases comes from their estate vineyards and 1,000 cases from grapes purchased from premium also hillside vineyards located in the hills primarily along the eastern side of the valley (the Vaca mountain range). For a small producer, therefore it is somewhat surprising to discover that their cave is so large – around 25,000 square feet. However, Arkenstone does not use all the cave space for their own wines, rather they rent out parts of the cave to select small premium producers. This is one of the nicer winery caves in all of Napa Valley.
Winemaker Sam Kaplan oversees their winemaking team and played a prominent role in helping design the wine making facilities including a very specific tank design. Often tanks have built in glycol-controlled temperature 'jackets' but Arkenstone has temperature control features built directly into the floor. Everything in this elegant cave is designed with the wine making in mind and is state of the art. Sam is also their vineyard manager; they employ their own vineyard management crew rather than using a vineyard management company (this "in house management" is certainly becoming rarer in the valley).
Arkenstone currently produces wines bottled as estate, single vineyard or NVD, from other premium vineyards located in the eastern hills of Napa Valley.
Select Wines
Arkenstone is one of only several vineyards we know of on Howell Mountain growing Sauvignon Blanc commercially. Napa Valley Sauvignon Blanc is not always known for being age-worthy but the Arkenstone Sauvignon Blanc is thoughtfully made and has the characteristics to be able to age for more than several years. Numerous styles of Sauvignon Blanc are produced ranging from green and grassy to overtly tropical depending on both terroir characteristics, harvest decisions and how it is treated in the cellar. The Arkenstone bottling is the style of this wine that we enjoy drinking. It's made more in the French Graves style in that Sémillon (also grown on site) is blended in, the wine does not see tank at all, rather it is barrel fermented and then aged sur lie in French oak for an extended time. This helps contribute a rich and rounded texture.
The first Arkenstone release of Sauvignon Blanc was the 2006 vintage. The 2006 Arkenstone Sauvignon Blanc shows bright color (golden honey); there are no grassy notes in the nose or on the palate. The bouquet offers some mineralities and notes of honey with tangerine blossom. The small amount of Sémillon also contributes to the very aromatic bouquet. It is a wine that offers complexities of flavor, depth and viscosity. The palate reveals intense fruit including apple and pear with an attractive note of baking spices. The finish is lengthy with a pleasing crispness lingering with subtle flavors of grapefruit. Only 180 cases of this wine were produced. This is certainly not a quick to market Sauvignon Blanc, instead it was aged up to 2.5 years prior to release in both French oak and concrete 'eggs' with further time spent in bottle.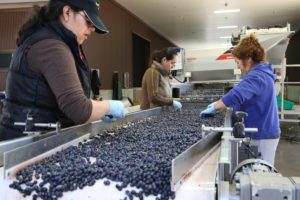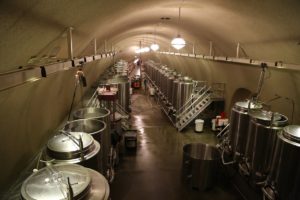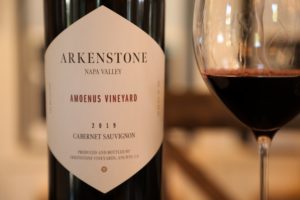 The 2019 Arkenstone Estate Red Wine is deep ruby in color with an amaranthine rim; the aromatics on this bottling are an olfactory dessert, an aromatic dance of depth showcasing both ripeness of fruit and influence from its barrel aging. It offers pronounced scents of dark plum, black cherry (its U-pick cherry season in Brentwood, CA as we write this, having personally just returned from the orchards today), blackberry jam and boysenberry. These aromatics are complemented by old cedar box, dark pepper, coffee grinds, a meatiness, black olive and a dried herb and sage-like character. There is plenty of aromatic layering here which continues to reveal as it opens further. The palate offers ripe and dark fruited flavors including of blackberry and boysenberry. One of Arkenstone's priorities in how they craft their red wines is tannin management – much of which they actually conduct in the vineyard (row orientation, canopy management, harvest time etc.). And this is reflected in how their red wines feel across the palate including this bottling. The tannins are rounded, lightly grainy and almost chalk-like in their textural feel. This wine lingers for some time with a light dryness, plenty of fruit and a darker savory character including a woodsy spice and of dried tobacco leaf. This wine is built to impress now, but it's also built to age.
The 2019 Arkenstone Amoenus Vineyard Cabernet Sauvignon (100% varietal) is deep ruby and opaque with a purplish colored rim in the glass. This wine offers aromas of blackberry jam, cocoa powder, chocolate, mocha, espresso, old cedar box and a lightly toasted oak. The bouquet features both aromatic depth and simultaneous elegance. The hedonistic palate sports a sweetness of dark and ripe fruit with flavors of chocolate covered dark cherries, ripe mulberries, chocolate brownie, mocha and a note of Graham Cracker. There are plenty of secondary characteristics present here, both on the bouquet and the palate from its barrel aging profile but not resulting in any 'oakiness'. The tannins are broadly distributed, rounded but chewy and linger with a very subtle note of tobacco on the finish. This is a very pleasurable wine by itself in its youth and doesn't necessary need to be paired with food. This wine was aged for 22 months in French oak barrels and then in bottle for an additional 5 months before it was released. The Amoenus Vineyard is located in Calistoga and is farmed by Peter Heitz, the winemaker at Turnbull Cellars and also for his own brand, Shypoke Cellars.
Their Estate Red was originally called Obsidian, a Bordeaux style blend named after the glassy obsidian found on the property. Native Americans used to winter camp on the site (warmer than the valley floor at times) and carried up obsidian from lower elevations. The 2006 Arkenstone Obsidian is the first release of this particular wine. The line is a fine one between a wine that is ready to consume at the time of release but also has the acidity, structure and fruit to age and develop additional complexities over a number of years. This wine walks that line well and was already well-balanced in its youth at the time of our tasting. Dark fruit, forest floor notes and a unique dustiness show on the bouquet along with hints of brown chocolate. The bouquet is complex and reveals more layers of aromatics as it continues to breathe. The entry is rounded and soft and gains intensity starting from the mid palate. More dark fruit shows than red fruit including blackberry and dark cherry. The finish features beautiful fine-grained tannins. This is an elegant wine that will appeal to a variety of tastes. 450 cases were produced.
We re-tasted this wine in 2015 after it had a number more years of age – the color of the wine in the glass looks like a wine of much younger age. The bouquet has some age reflected in the aromas however this wine is just as balanced as when we first tried it. The tannins have held up well. They are delicate; both wood and fruit tannins and linger softly for some time on the finish.
—
Arkenstone also produces a tiny amount of Syrah from grapes growing on the property (usually only 50 cases offered first come first serve through their membership list). Arkenstone is open by appointment for serious wine enthusiasts. Visits are relaxed and educational with visits to both part of their vineyard and winery. Tastings are hosted in a contemporary & chic salon in part designed by Susan. For more information, to join one of their membership levels, to join their mailing list, or to request and appointment, visit: www.arkenstone.com
Winery/Cave

Winemaking

Vineyards

Hospitality