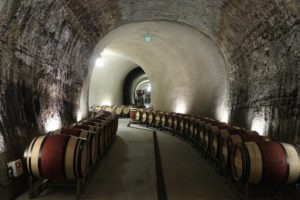 Arietta was founded by long time Napa winemaker John Kongsgaard, his wife Maggy and Fritz & Caren Hatton. Today Fritz and his wife are the proprietors as they bought out the Kongsgaard's ownership in 2005. Fritz has enjoyed wine since the early 1970's when he was at college. He "grew up" drinking French wine. While earning a degree in Management Arts he found himself working in a wine shop in New York City. Hearing about an opening at Christie's Auction House for their first wine auction, and appreciating "rare wine" – he interviewed and quickly earned the job of cataloging wine. He fondly remembers drinking a number of older vintages including a 47′ Mouton Rothschild. Soon his job was upgraded to "office manager" and then after Christie's Director of Wine Operations left the company, Fritz took over his position.
Arietta was originally founded by a shared love of music and wine – Fritz plays piano and John along with making wine truly appreciates classical music (he even had a classical piece composed in his honor). The word "arietta" is owed to the great classical composer Beethoven. It was part of the original manuscript (the Arietta movement) in Beethoven's last piano sonata, Opus 111. The label on each bottle depicts a couple of bars from this sonata. Music has always been a passion in Fritz's life – he even took a sabbatical and studied piano in San Francisco for several years.
Arietta's wines are characterized by their European influences, wonderful aromatics, top vineyard sources in the valley within cooler climate locations, blending varieties to create additional complexities, creating harmonious wines with good acidity – thus ensuring they are food friendly, and using naturalistic wine-making processes (the idea that winemaking starts and ends in the vineyards and using wild yeast for their fermentations).
Fritz is a well-known auctioneer of rare wine and is often mentioned in the same breath as the annual Napa Wine Auction. This charity auction was founded in 1981 (donates proceeds to local Napa County non profits, health care, youth organizations, affordable housing, etc.) and Fritz has been at the helm as its auctioneer since 1992. A highlight of his auctioning career was in June 2011 when the Napa Valley Auction hit a milestone of 100 million dollars raised since 1981 and the sparkling wine drenching/celebration that quickly ensued once this magic number was reached.
He has lots of stories from his time as auctioneer at various auctions around the world including one time a bidder offered to double a $120,000 bid *if* Fritz made the flight to Asia to be at the auction. Needless to say, Fritz quickly caught a flight to the auction and the bidder went through with his word for a $240,000 bid!
Select Wines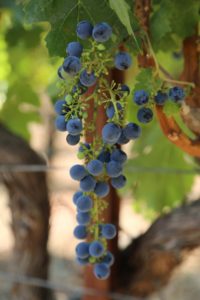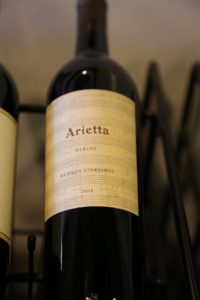 Arietta's first ever white wine is the "On The White Keys" 2009 vintage. Fritz started thinking about a white wine to complement their portfolio of reds several years ago. After tasting many Sauvignon Blancs with his winemaker he decided his favorites were Sauvignon Blanc/Semillon blends… agreed, our favorite Sauvignon Blancs in the valley typically have been been those always blended with some Semillon.
Hillside grown and fruit from older vines comprises their 2009 vintage; it was barrel fermented. Bright fruit shows on the bouquet, baking spices, a bit floral (perhaps sweat pea), and graphite. There is nice weight on the mouth-feel with some mineralities present on the lively finish. Also good acidity makes this wine favorable for pairing with a variety of foods.
The 2008 Arietta Quartet is their Bordeaux blend (the only principal Bordeaux variety missing in this vintage is Malbec). The nose is full of fruit, deep, dark and inviting with a bit of spice showing up later in the bouquet. This wine is hand crafted to be approachable early on and it certainly is that. Its soft upon entry with a wide range of flavor – fine grained tannins anchor the pleasing smooth finish.
A hallmark of Arietta's wines are their beautiful aromatics and the 2008 Arietta Cabernet Sauvignon showcases these well. Its a rich, yet elegant bouquet with black cherry, cassis and a hint of sweet vanilla. The palate is complex and expressive throughout – it is a full bodied wine with dusty tannins anchoring the fairly long finish. The fruit for this wine is sourced from a prominent vineyard in the Coombsville region planted on volcanic soils. This is probably their most age-worthy wine.
The Cabernet Franc is Arietta's flagship wine and was their first commercially released wine (1996). Usually this wine is blended with Merlot in the style of St. Emillon but in 2008 the Cabernet Franc fruit really stood out by itself in the tasting trials and this is Arietta's first 100% varietal Cabernet Franc wine. This may be a one-time wine – in 2009 they returned creating a blend from these two varieties. The fruit for this wine has come from the same small block (H) of Hudson Vineyard in Carneros since their first vintage. The bouquet is somewhat dusty, almost earthy initially but as it breathes a beautiful classic Cabernet Franc nose emerges showing elegant fruit. The wine has nice texture, reasonable tannins and a finish that is extremely well balanced.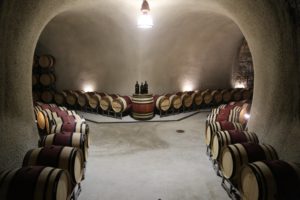 A most unique wine is Arietta's blend of Syrah and Merlot, a "marriage of opposites" as Fritz describes. They have tried a number of different blends of these two varieties over the years but ultimately reached a point where slightly more Syrah is used each year to create the blend. The Variation One 2008 vintage is Arietta's "biggest" wine – their powerhouse wine if you will. It is a dark wine with dark fruit aromas both black (blackberry) and blue fruit (blueberry). Fritz calls this is his "Katharine Hepburn – Spencer Tracy wine"! The finish is dynamic and voluptuous with well structured tannins and flavor of fruit that continues for some time.
—
Highly sought after Andy Erickson who has worked at prominent Napa wineries including Dalla Valle, Harlan, Screaming Eagle and Staglin, has been their winemaker since the 2005 vintage.
Arietta's wines are well distributed in California and are available in select states including New York, New Jersey and Texas as well as several countries. For more information visit: www.ariettawine.com