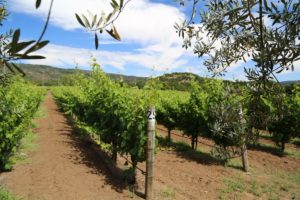 Ardente Winery is located at 1500 feet on the rocky volcanic slopes of Atlas Peak. This winery is owned by Carlo Di Ruocco and his wife Marie Francoise. We recently met with Carlo during a very typical summer weather day at his winery. Atlas Peak is generally characterized as a rugged appellation (topography) that is located in the cooler part of the south Napa Valley. Case in point on this same day we drove up to Calistoga which is located much further north and the weather was at least 15-20 degrees warmer. As a result of this cooler growing climate Ardente's vineyards see a much longer growing season than up valley. Like other Cabernet Sauvignon growing regions in the south valley, (Coombsville for example), harvest generally occurs in late October and sometimes even into early November. This gives the grapes significant time to mature and develop additional complexities on the vine. However this can sometimes be a challenge depending on the type of weather experienced during the tail end of harvest.
Carlo was born in Italy and raised in Salerno, a city of 150,000 on the coast south of Naples. Incidentally this city is where American troops landed during WWII in 1943 and Carlo vividly remembers that day. Carlo worked for a coffee roasting plant in Palermo for several years before immigrating to the USA. There are a number of similarities to roasting coffee and grape growing/wine making and we have met with several Napa vineyard owners who originally started out in the coffee industry before getting into the wine industry.
Sometime after Carlo immigrated to the USA in the late 1970's he founded Mr. Espresso, a coffee roasting company. This was a time when boutique coffee was certainly not what it is today and Mr. Espresso was on the forefront of specialty coffee roasting in the USA. The Di Ruocco's tried to find similar coffees to what they enjoyed when living in Europe and initially started their business by importing espresso machines from Italy. Compared to how oak is used for aging wine, Mr. Espresso also uses oak – but for roasting their coffee. For more information about Mr. Espresso visit: www.mrespresso.com
Now in his 80's Carlo is still very much actively involved in the day to day operations of his small winery as well as Mr. Espresso. Looking to "retire" in the early 90's he started looking for vineyard land in the Napa Valley and located their 20 acre estate on Atlas Peak. Part of the estate was already planted and they later added additional blocks bringing their total current vineyard acreage to 10 acres. 1996 was their first commercial vintage and until 2000 Phillipe Melka was their winemaker. Phillipe is a master in the vineyard as well as being a top notch winemaker and Carlo remembers learning much about viticulture during those first few years.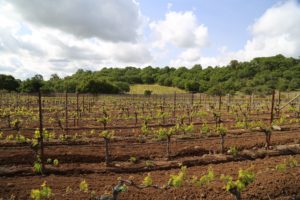 Ardente is Italian for passion or a "burning desire" and Carlo says this is a word he feels best describes his passion for the land, grape growing and wine making.
The estate is fairly self contained, as the physical winery is on site – minutes from the actual vineyards. The vineyards are separated into blocks and they can pick and then vinify small lots depending on when certain parts of the vineyards ripen. Having the winery located so closed to the grapes is an ideal situation during harvest. Their vineyards have been certified organic since 2005.
Carlo styles his wines in the tradition of Italian wines in that they are aged longer then many of the current area releases on the market. The mountain tannins are very well managed and his wines are extremely pleasurable to drink upon release. We tried the 2002 Sangiovese; it is hard to find good Sangiovese in Napa (not many being produced for one thing) and this one does not disappoint. Unfortunately this is their last vintage but at the time of this review they still have availability. This wine is a light ruby color in the glass with a very aromatic bouquet including dried stone fruit. The mouth feel is soft and smooth throughout with flavors of red cherry, red currant and strawberry. As with their Cabernet Sauvignon this wine is also well balanced from start to finish.
We are always looking for standout red wines that are balanced and are "smooth with structure". Their 2004 "Grande Riserva" Cabernet Sauvignon delivers all this and for a small production hand crafted wine it is priced extremely well. This wine is 90% Cabernet Sauvignon, 8% Merlot and 2% Petit Verdot and spent 2 years in barrel and then another 2.5 years in bottle. The bouquet shows refined elegance with fruit driven aromas including ripe blackberry. The fruit continues on the palate with concentrated dark fruit flavors including more blackberry as well as black cherry. The finish lingers deliciously and contains broad fairly soft tannins.
Ardente also has library wines available in limited quantities – all reasonably priced. Their wines are distributed via their mailing list.
NOTE: this property has sold to a St. Helena vintner – we will archive once we have more details.