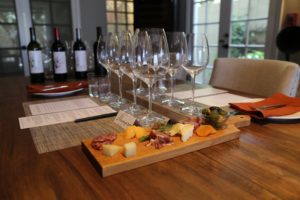 Apriori Cellar was founded by former high school classmates Patrice Breton and Georges Sabongui. Both met in high school in Ottawa, Canada – were friends and then as often happens after high school they lost contact with each other. Interestingly both became involved in the high tech industry. Georges has enjoyed wine for many years and moved west to be closer to California's wine industry. He started Napa based Vice Versa Wines in 2003.
Much later Georges reconnected with Patrice through social media; Georges was interested in investing in a winery or vineyards and used Patrice as a resource. As it so happens, Patrice was looking to start a second brand and offered the opportunity to partner in Apriori Cellars. Conveniently both George and Patrice now live in the area. This partnership works well – Georges is involved in the day to day business side of the operations and Patrice is more involved with the vineyard and wine operations.
The name Apriori in Latin means "deductive reasoning" and is a homage to their heritage, a term often used in French speaking parts of Canada.
Apriori focuses on creating wines that are both reasonably priced yet over deliver on quality. In this regard, they produce two types of wines – an appellation series which are higher produced wines and their single vineyard, limited production wines – often with productions of around 100 cases. Both types of wines work well in the market place – their appellation series wines are distributed and are found at restaurants often by the glass. As Georges indicates, "these are usually the wines consumers are initially exposed to but when they research us a bit further they discover our single vineyard wines".
And for Napa grown and produced wines, the single vineyard wines are also offered at an excellent quality to price ratio.
Apriori does not own vineyards rather they establish long term contracts – often with family owned growers. With 10+ years of overseeing Vice Versa Wines, Patrice has established relationships with growers that have proved important to securing fruit for the Apriori wines. And with the help of noted winemaker, Philippe Melka (who consults for them) they have additional premium vineyard sites to source from based on his vineyard contacts.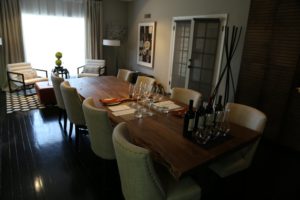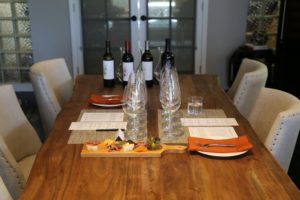 Winemaker Shawn Johnson was raised in Pismo Beach California – and came to the Napa Valley in 2001 to as he says, "learn more about Northern California". He took a basic job at Trinchero Family Estates – then worked with Merus (when that winery was still producing wines commercially out of their garage in the city of Napa). While not formally trained at University, Shawn has worked with some of the best and brightest winemakers in the valley and attributes their generosity and willingness to share information as a critical part of furthering his own career.
The 2014 Sauvignon Blanc is 100% varietal sourced from several Napa vineyards ranging from Coombsville to Yountville – some of the vines from these vineyards are 40+ years old. The wine initially shows notes of graphite and a mineral note on the bouquet – as it continues to open it reveals more fruit including an orange zest and a floral note. On the palate the wine is rounded and slightly creamy but without heavy weight. The palate includes flavors of citrus but without to much tartness. In both these regards, the wine is superbly balanced. The finish is rich and lingers for some time. This is a versatile wine that drinks well by itself but has decent acidity to hold up to food.
The 2014 Proprietary Red includes Cabernet Sauvignon, Malbec, Merlot, Cabernet Franc and Petite Sirah. A Bordeaux style wine if you will – with a twist. The Petit Sirah is the only non Napa fruit in this blend – sourced from Mendocino County. The bouquet shows spicy fruit notes – white pepper and plum. Aromatically this wine is generous with pleasing aromas of blackberry and red cherry. There are lingering notes of subtle toasted oak and earthy tannins.
The 2014 Cabernet Sauvignon is 100% varietal with earthy notes on the bouquet and aromas of plum. Needs time to open – as it does, it shows brighter aromatics. The entry is soft with a richness of fruit on the palate that certainly over delivers on the price point. Structurally this is a light to medium bodied Cabernet Sauvignon that is well balanced. The finish features well integrated tannins.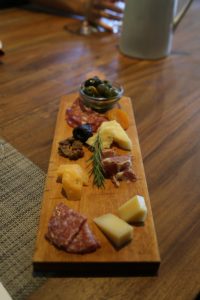 The 2014 Reserve Cabernet Sauvignon is a blend of both hillside and valley floor Napa vineyards. We tried this as a barrel sample, just before bottling – while the wine is made from several vineyards, barrel selection plays a key role in the final product. The bouquet shows a dark ripe lusciousness of aroma – notes of blackberry (somewhat briary) with notes of black licorice, a baking spice component, wet rock and cedar. The palate shows a pleasing density and richness of fruit – notes of black fig with medium bodied tannins, slightly chalky that linger for some time. A subtle sweetness from the oak lingers delicately.
In mid 2016 Apriori Cellar opened an elegant and intimate tasting room in a quiet part of St. Helena just off of Main Street (all visits are by appointment). Visits usually last about an hour and focus entirely on their small production Napa Valley grown and produced wines. A charcuterie board with cheeses is offered per person with each wine tasting. And private lunches can be arranged ahead of time; Apriori Cellar uses a premium local caterer for the food.
NOTE: this experience is no longer offered. This brand is undergoing a transition in the name of its label and downsizing the quantities produced each year. As a result, this review has been identified as needing a *major* update.
Their wines are made at Napa Wine Company in Oakville and for a short time were available for tastings at the Tasting Room at Napa Wine Company (no longer offered).