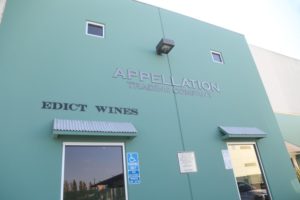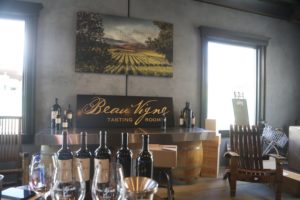 Appellation Trading Company was founded by Charles Bartlett in 2008. Charles spent his formative years in Napa Valley (graduate of Justin Sienna High School), went to college at Chico State University and after graduating worked in printing in San Francisco. Tired of commuting from Napa to San Francisco he started his own printing company in Napa and began printing labels for various wineries.
2008 brought a financial downturn and he began looking for other opportunities besides printing labels. He began buying and selling barrels, worked in winery equipment sales but then discovered that because of the economic hardships at the time, wineries had plenty of inventory but were having difficulties selling their wines. Sensing an opportunity and leveraging his relationships with wineries, he purchased finished wines which were not yet bottled. And he would then privately label the wines and offer premium wines at very reasonable pricing. This entrepreneurial spirit formed the early roots of Appellation Trading Company.
As the economic crisis faded and the economy became stronger these deals from the wineries were no longer available. So, he began to purchase bulk wine and sell to niche markets – similar to negociant model. He developed numerous labels in house (at the time of our latest update to this review they own nearly 40 individual wine brands). And over the years they have also acquired existing Napa Valley based brands, beginning in 2013 with Edict Wines, in 2019 Beau Vigne, in 2020 Frisson and in 2022, On Q. Production has been remarkable over a fairly short amount of time; today they produce over 200,000 cases of wine each year.
The name fits their business model perfectly, Appellation in regard to purchasing wines from various wine appellations and trading, referring to the buying and selling of wine. Their 10,000 square foot operations are in a business park in south Napa; all primary fermentation is done off site. Their role is storing wines in barrel and tank with final blending decisions made on site. And they have their own mobile bottling truck so they can bottle at their convenience, for their own projects only (rather than offering custom bottling services) and also label on site. A number of their services include custom production for wineries, private labeling and logo and packaging work. Minimum orders begin with a pallet of wine.
Appellation Trading Company works with a number of winemakers for the brands under their ownership. And they have access to some highly regarded vineyards. On the sales side, they have formed a number of relationships with distributors across the country so that their wines are now available in almost all states.
Our first interaction with Appellation Trading Company was in early October 2020 when we were helping friends deliver water to a number of up-valley properties under siege by the Glass Fire. ATC let us borrow several plastic totes for our firefighting efforts.
Select brands/wines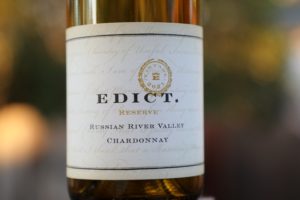 The following wines are among some of the more prominent labels owned by Appellation Trading Company – with a primary focus on Napa Valley grown wines. We maintain separate reviews on this site for Beau Vigne and Frisson Wines.
The first vintage of Edict Wines was in 2008. The 2021 Edict Russian River Valley Chardonnay Reserve is medium to deep gold in the glass; this wine offers fresh and lively aromas of apple, pear, lemon drop hard candy, pineapple guava, pineapple, citrus blossom and notes of honeysuckle. There is nothing overripe, oaky or buttery 'californiaesque' about this bouquet. Its texture is creamy and supple without being heavy or viscous due to the complementary acidity. It reveals flavors of Golden Delicious apple, peach, apricot, pineapple, lychee and baked pear. This wine offers plenty of flavor and intensity accompanied by a bright and lively finish. Very nicely done.
The 2019 Edict Napa Valley Proprietary Red is deep ruby in color with some purplish tinges on the rim; the bouquet is generous and well layered and smells both opulent and hedonistic with ripe fruits including blackberry jam, boysenberry spread and dark cherry. Its aromatics are complemented nicely with a light baking spice influence. Plush yet also powerful on the palate with its richness and intensity of flavors, this wine shows notes of dark cherry and plum framed by dark, chewy, earthy and gravelly textured tannins. This wine has plenty of depth, complexities and savory qualities including dried herbs. The finish is long-lasting, dark and fleshy.
—
The 2020 Verdon Estate Proprietary Red Wine, Blueline Vineyards Napa Valley Reserve No. 3 is deep ruby in the glass and almost opaque with purplish tinges on the rim; the bouquet offers ripe, dark and fruit forward and bountiful aromatics including of blackberry, black cherry and boysenberry accompanied by a light and pleasing combination of dark chocolate and wood spice. The fruit takes center stage in this bottling both on the bouquet and palate. The palate is rich, featuring primarily darker fruits including blackberry and dark plum. Despite the intensity of flavor, it lingers with more of a lighter textural touch with dense, slightly chewy and a chalky or silty-like feel of the tannins. Also present on the finish is plenty of fruit and a darker savory quality – both of which continue to persist for quite some time. This wine is a crowd pleaser. It was aged in 60% new French oak for 18 months.
The 2018 Verdon Estate Cabernet Sauvignon Napa Valley Reserve No. 5 is deep ruby in color; the two bottlings of Verdon Estate we have tried are certainly not lacking in color. This wine reveals aromas of dark plum and blackberry, a sweet baking spice, mint and dark chocolate. This wine delivers a mouthful of flavor including of blackberry, dark cherry and black pepper. The chewy tannins showcase a noticeable grip while casting a lingering dry character but are well-integrated into the persistent, savory and fruit-filled finish. While tasting this wine we were salivating for something medium rare (like a juicy steak) directly from the BBQ.
Verdon Estate takes its name from the Verdon River in the Provence-Alpes-Côte d'Azur in southern France. And in particular, referring to the part of this river which is located between the towns of Castellane and Moustiers-Sainte-Marie where the river cuts through solid limestone forming a gorge nearly 2300 feet deep.
—
The 2020 Dolum Estate Napa Valley Cabernet Sauvignon is deep ruby in color; the generous bouquet is richly layered with plenty of fruit including blackberry, dark plum, prune and dark fig/fig newton along with dark chocolate, sweet tobacco spice, espresso and mocha. This wine delivers plenty of pleasure on the palate with flavors of black cherry, black licorice and loads of darker plums. Mouthwatering, juicy and well layered, its structure is held by a density of darker but well-rounded tannins. This wine also lingers with some notes of dried tobacco leaf and a dusty character. It delivers immediate gratification in its youth.
The 2019 Dolum Estates Cabernet Sauvignon Cask #14 Rutherford Napa Valley is deep ruby in color; the elegant aromatics sport a darker note both in fruit and baking spices including scents of violets, bramble, blackberry, tobacco, milk chocolate, cardamom and clove. The layered palate is focused on darker fruits including plum with some notes of boysenberry and mulberry in the mix. The textured but well-integrated tannins anchor a finish showing notes of Rutherford dust, dried tobacco leaf and dried herbs; in summary it lingers with some light savory characteristics.
—
The 2018 Erikson & Caradin Napa Valley Cabernet Sauvignon Reserve is 100% varietal Cabernet Sauvignon, sourced from vineyards on Atlas Peak and St. Helena. This wine is deep ruby in color with purplish tinges on the rim in the glass; the bouquet offers dark aromatics including of sweaty saddle leather, dark plum, black licorice, light citrus peel notes and black cherries. Dark and layered with plenty of complexities both with flavor and structure this wine should be on the radar of those looking for a well-made and balanced Napa Valley Cabernet Sauvignon. Reveals flavors of dark plum, blackberry, cedar and tobacco leaf. Chewy but not coarse textured tannins complete the long finish. This wine shows both a freshness and a savory character on the palate. 70% of this wine was aged in new French oak barrels.
The 2020 Erikson & Caradin Bilateral 2020 Oakville Napa Valley Cabernet Sauvignon is bottled under their 'Innovative' series of wines in which each bottling is named after the type of trellising system used. This wine is deep ruby in color and nearly opaque in the glass; the aromatics reach out with notes of dark plum, dark cherries, mulberry, a hint of chocolate and mocha. This is a dark but elegant bouquet. Reveals flavors of spicy plum skin, dark pepper, blackberry and a noticeable lingering note of dried tobacco leaf; this nuance reminded us of visiting a tobacco farm several hours outside of Havana in Cuba. Juicy. Its texture is one of its appealing characteristics with ripe, well-structured and rounded tannins lingering with persistent dry and dusty grip.
This is one of the better 2020 Napa Valley wines we have tried from a much-maligned vintage due to the terrible fires that burned in the valley that year and it should be on the radar of serious Napa Valley Cabernet Sauvignon collectors.
For more information visit, www.atcwines.com