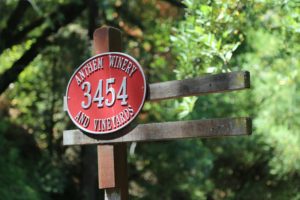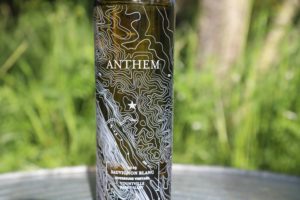 Anthem Winery was founded in 2009 by Julie and Justin Arbuckle. They met while both were attending the University of California, Berkeley. Visiting the Napa Valley together in 1996 before they were married, Julie immediately fell in love with the natural beauty, the wine, and the restaurants. She and Justin later spent their honeymoon in Napa Valley and subsequently would visit as often as they could.
Justin's mother Barbara co-owns Corrales Winery in Corrales New Mexico (about a 30-minute drive from Albuquerque) with her husband Keith Johnstone. With his mother's interest and ownership in wine, Julie and Justin decided they would also like to make wine – focusing on Napa Valley. They began searching for property in 2006. "We soon zeroed in on Mt. Veeder," as Julie puts it – they were already familiar with Mt. Veeder wines. With the help of their realtor, they located and purchased two parcels (one 28 acres and the property next door is 21 acres). This property features some neat recent history – it was the original piece of land used by Jessup Cellars to make their wines. A small crush-pad and cave were built for their operations and still exist on the property. Anthem currently makes their wine at a nearby winery, but eventually Julie and Justin would like to move the operations on site – featuring part of the existing winery and crush-pad in their plans.
Their vineyards are about 400 feet in elevation and are among the lower vineyards in the Mt. Veeder appellation. To the east, their property drops off dramatically into the Oak Knoll AVA. During an afternoon visit, the pleasant breezes on an otherwise fairly warm summer day kept the property cool. That is typical of Mt. Veeder – especially in the southern part of the appellation with the cooling air blowing up from the nearby San Pablo Bay.
At the time of their purchase, the property was planted to a small vineyard of Merlot. With the help and encouragement of noted viticulturist, Mary Maher (long time vineyard manager for Harlan Estate), they soon planted additional acres of vines. Today the property features not only Merlot but Cabernet Sauvignon and Cabernet Franc with a tiny amount of Petit Verdot.
Julie spent significant time interviewing winemakers; she conducted over 100 phone interviews of area winemakers. In the process she learned more about what she was looking for in regard to hiring a top winemaker. This person must have access to premium vineyards, they must have access to premium French oak barrels (from high end limited production coopers) and they must have an established pedigree of making premium wines. Julie was also looking for a winemaker whose time was not spread too thin and consults for a manageable number of clients.
In interviewing all the candidates, over time one stood out. This was Jeff Ames, who used to produce wine bottled under his own label called Rudius; he continues to consult for a handful of premium wine brands. They hired him and he has made every vintage of Anthem since their inaugural 2009 release.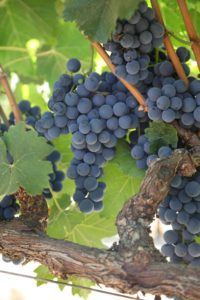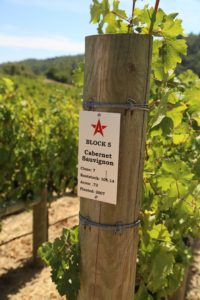 They chose the name "Anthem" for several reasons – not only for its patriotic value, but primarily because it is a word one associates with bringing people together and symbolizes what happens when wine is shared among family and friends. Both Julie and Justin gravitate towards the letter J and A; and in a rather bizarre coincidence and play of letters – in addition to their own names, their three children's names start with J and their winemaker and vineyard manager share the same first and last initials as they do – Jeff Ames and John Anthony.
And take note of the extremely unique silk-screened labels on all of their bottles. The front features the topography of their property; one can easily see their vines are planted on some of the gentler slopes as both east and west of their property feature steep hillsides. But what is more intriguing are the back labels. Justin creatively developed the idea for these. They are updated accordingly for each of their wines and vintages. They depict and list many factors that went into making that particular wine ranging from vineyard sources, climatic information including the years' rainfall total, barrels, wine making techniques, aging and more. It is quite impressive they are able to fit all of this information on the back of a wine bottle. As a result, these wines have been popular with restaurants as guests often ask certain questions about the wine; chances are the answer is already listed on the back of the bottle.
For several years they sold their Merlot to other producers where it was used for blending and wasn't bottled as a stand-alone wine. Eventually they decided it would be more rewarding to use these grapes to make their own wine. Ultimately this was a smart decision; their Merlot has already received very high accolades from the Wine Spectator and was voted the top Merlot at a competition held by the invitation only American Fine Wine Competition.
Select Wines
The 2019 Anthem Sauvignon Blanc Riverbound Vineyard, Yountville is medium gold in the glass; the bouquet offers an exciting diversity of aromas including pineapple, vanilla extract, wood spices, apricot, honeycomb, ripe Golden Delicious apple and yellow peach. Its aromatic intrigue is found in its layers. Its texture is creamy and rounded across the palate with flavors of pineapple, cantaloupe and lemon merengue. The wine lingers with a long rich and satisfying finish; it shows a noticeable brightness of acidity without being tart which is complemented by rich fruit and desert spices. This is not a linearly driven Sauvignon Blanc defined only by varietal characteristics; rather it was crafted to embrace both the variety and the barrel regiment in the cellar. It was fermented and aged in French oak barrels of which 50% was new Taransaud and 50% used Ermitage. It is a blend of 97.5% Sauvignon Blanc (Musqué clone) and 2.5% Sémillon. 200 cases were produced of this beauty.
The 2016 Anthem Cabernet Sauvignon, Mt. Veeder Estate is a blend of 87% Cabernet Sauvignon, 7% Cabernet Franc and 7% Petit Verdot. It was fermented using indigenous yeast and aged in 100% new French oak barrels. This wine is deep ruby and quite opaque in the glass; it initially offers an aroma of sweaty baseball mitt leather, but this dissipates quickly and makes way for a union of both fruit and dessert spices. The scents include mulberry, ripe plum, old cedar box, a subtle hint of Graham Cracker, chocolate and a nutmeg spice. There is a sweetness to the bouquet. The palate offers flavors of ripe blackberry, plum, tobacco spice and dark licorice. The dry and dusty finish lingers with both oak and grape tannins of a moderate grip, a note of dried tobacco leaf and flavors of dark cherry and plum.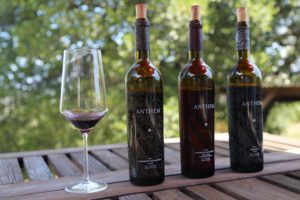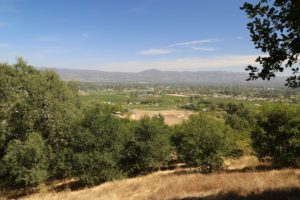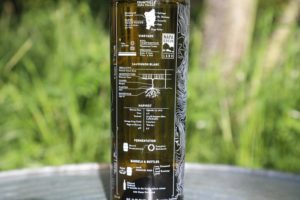 The 2012 Anthem Merlot shows an inviting bouquet – the aromas leave one wanting to try this wine immediately. Pretty fruit shows, with a sweetness of plum, red cherry and desert spices including mocha, cocoa powder and chocolate. On the plate this wine is seamless with a richness of flavor complemented by fine grained well integrated tannins. The finish lingers softly for some time.
The Beckstoffer managed Las Piedras Vineyard is one of their six Napa heritage vineyards – vineyards that are unique and exemplary based on history and quality of vines. This particular vineyard is located in St. Helena – west near the base of the Mayacamas mountains. Its vine history dates back some 150 years; the vineyard takes its name from the gravelly river washed loamy soil – Las Piedras, in Spanish means "little pebbles". Fruit from this vineyard is much sought after and a number of vintners source grapes from it including Paul Hobbs and Schrader Cellars.
The 2012 Anthem Las Piedras Vineyard is 100% varietal Cabernet Sauvignon. The bouquet shows ripe aromatics – blackberry tinged with a sweetness of caramelized brown sugar aroma. It is rounded, plush and soft on the palate – with a focused intensity and density of both red and darker fruit on the mid palate through to the finish. The tannins are earthy (with a perceptible chalkiness) and in balance with the richness of fruit. Drinks well young.
The 2012 Anthem Estate Mt Veeder Cabernet Sauvignon is held back a year from the 'normal' cycle of releases; at the time of our tasting, this wine had just been released 4 years after the vintage date. The Cabernet Sauvignon was blended with 13% Cabernet Franc. There is a noticeable intensity of aroma featuring more dark fruit than red fruit along with toasted cedar and a sweet spice note. The aromatics are ripe yet balanced. The tannins are fairly robust and linger for quite some time, showing even after the fruit has dissipated.
—
The wines are selectively distributed in a handful of states including in Illinois. Locally the wine can sometimes be found at The French Laundry in Yountville; Brix in Oakville; Rutherford Grill in Rutherford; Press in St. Helena; Farm at The Carneros Inn, Backroom Wines in the city of Napa and the Oakville Grocery. Total annual production each year is around 1,100 cases. To join their mailing list and for more information, visit: www.anthemwinery.com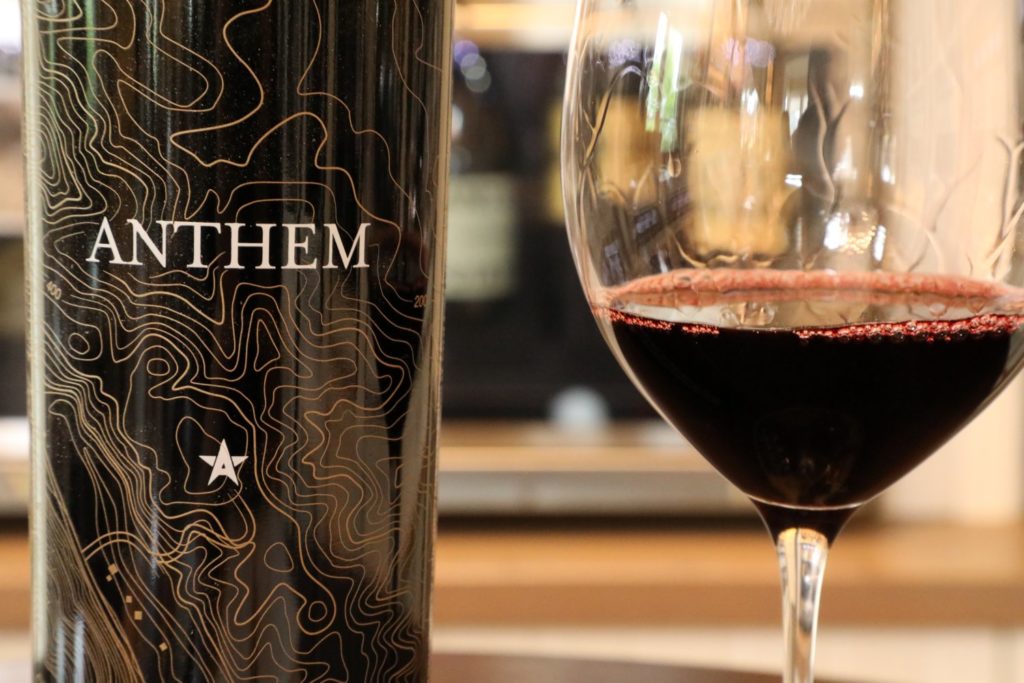 Corrales Winery, New Mexico
Visit & photographs coming by 2024 or 2025.