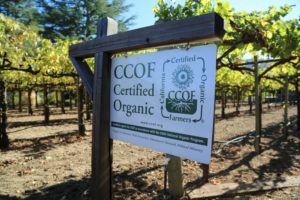 Anomaly Vineyards is a hidden gem, located in the western city limits of St. Helena at the base of the Mayacamas mountains, right where the housing from the town ends and vineyards begin. Anomaly Vineyards was founded by Steve & Linda Goldfarb. Steve was one of the founders of Goldfarb & Lipman LLP in 1971, a San Francisco Bay Area based legal firm that focuses on real estate projects – now with offices in Oakland, Los Angeles and San Diego. Steve was partner in the firm for 25+ years – Linda worked at the firm as a paralegal.
Facing mounting commute times between their home in Berkeley to their office in San Francisco they began to consider retirement. They eventually moved to the Napa Valley in 1997 with the intent to simply enjoy the views of all the beautiful surrounding vineyards. But as invariably happens to those who move to the Napa Valley the lure of the vineyards takes over and there is nothing one can do but make wine. Resistance to what we call the "Napa allure" is futile. When Steve and Linda moved to the property their tiny home vineyard was planted to only 149 vines, 6 rows of grapes. When these grapes ripened in 1997, they harvested them and armed with only a small hand-destemmer, tiny press and an old barrel, they made their first vintage in their garage (Steve was the winemaker at this time). Visitors to the property will pass right by this garage before reaching the tiny parking lot for the winery.
Buoyed by high praise from friends and family, they took the next steps, hiring several employees and increasing production significantly. Their first commercial vintage in 2000 was 300 cases. They hired prominent architect Jon Lail of St. Helena based Lail Design Group Inc to design their winery. By the 2002 harvest, the stone winery was operational. Despite many years of making wine, their production has not grown that much – and that is perfectly fine with the Goldfarbs – preferring to remain small and focus on quality and primarily estate grown wines. Total production now is around 1,700 cases per year.
The footprint of the winery is small but incorporates three floors. The cellar room is located about 20 feet below ground and is completely isolated from the surrounding water table which rises quite high during the winter months. This is one of the few below ground winery cellars on the floor of Napa Valley. Others which come to mind are Nickel & Nickel, Foley Johnson and Del Dotto St. Helena. The winery itself is one of the smaller ones in the Napa Valley (although not the smallest by any means); their offices are located on the third floor.
This is a prime vineyard neighborhood – nearby historical vineyards include the Hayne Vineyard (old-vine Zinfandel) and the Beckstoffer owned Bourn Vineyard. Pellet & Carver Winery which dates from the 1870s, remarkably has not yet been restored and although deteriorating quickly, still stands on Vallejo Street just down this street from Anomaly Vineyards. This is one of a number of historic buildings that have been identified by Napa County as priority landmarks buildings to restore.
Anomaly's vineyards are planted to three blocks; Cosette's Vineyard is the smallest and their original vineyard, slightly less than an acre of Cabernet Sauvignon bordering the winery, Indee's Vineyard is the largest block at 5 acres, planted to Cabernet Sauvignon with smaller sections of Cabernet Franc and Petit Verdot and Ashby's Vineyard, about 2 acres planted entirely to Cabernet Sauvignon. Taking advantage of one of their historic vineyard neighbors, the Lewelling Vineyard – Anomaly purchases a small amount of fruit from this premium site every year.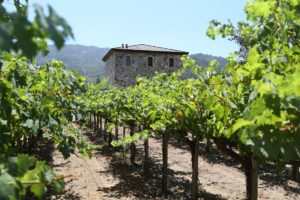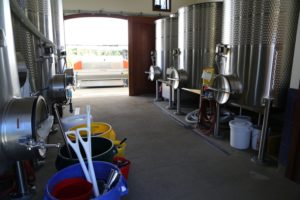 So with no more messy commutes, the Goldfard's live on the property and their commute to the winery is only about a minute or two walk. And when we met Steve and Linda, it was obvious that they were having a lot of fun with their new careers.
Their vineyards are CCOF certified and are growing in prime soil for Cabernet Sauvignon; this area features gravel based sandy loam soil. Grapes from nearby vineyards are sometimes used in small wineries' higher end offerings. Rather than purchasing grapes from their immediate neighboring vineyards, as luck would have it, their neighbors ended up selling several pieces of land to the Goldfarbs – increasing the overall size of their vineyard.
Their vineyards are somewhat sheltered because of the horseshoe shape of the surrounding mountains which effectively protects their location from frost. The vineyards are planted to four clones of Cabernet Sauvignon with smaller amounts of Petit Verdot and Cabernet Franc which are used as blending wines. Their winemaker Mark Porembski has been with Anomaly since 2002, first as an assistant winemaker and now their head winemaker. Endowed with plenty of passion, energy and drive Mark is an ideal fit for Anomaly; this was one of his first primary winemaking jobs.
The focus of Anomaly Vineyards winemaking is on crafting limited production premium Cabernet Sauvignon. These wines are energetic yet balanced upon release – containing plenty of life and a noticeable vibrancy, even on older vintages, while showcasing the variety with oak being a complementary character, not a defining one. The Anomaly Vineyards 'house style' highlights the more elegant and inherent characteristics of the variety, rather than a uniformity or sameness which often shows in 'riper' styles. These are also wines that are built to age.
Select Wines
While Anomaly produces Cabernet Sauvignon, they also make a very limited production Petit Verdot which is only offered to allocation list members during release offerings. Sometimes it is blended with a small amount of Cabernet Sauvignon. The 2018 Anomaly Vineyards Petit Verdot (100% varietal) is noticeably dark and inky in the glass; the aromatics show sweaty saddle leather, dark fruit including plum overtones and some earthy nuances along with hints of cardamom. The texture is lovely across the palate with a feel that showcases dense but rounded tannins. Offers flavors of blackberry and dark cherry.
The 2018 Anomaly Vineyards Cabernet Sauvignon (78% Cabernet Sauvignon, 11% Cabernet Franc, 6% Petit Verdot and 5% Merlot) is medium to dark ruby in color; offers elegant aromatics including red cherry, berries, dried herbs, dust, a lavender note and old cedar box. Give this time to open, the bright fruit aromatics need to be coaxed out in its youth. Also, a hint of espresso as the wine continues to evolve in the glass. Lively with plenty of energy, the palate is well layered showing flavors of cherry and berry fruits. Features gravelly tannins. This is the first vintage that some fruit from the nearby Bressler Vineyard was introduced into the blend. It is obvious, even in its youth that this wine has many years ahead of it. Beautifully done.
The 2017 Anomaly Vineyards Cabernet Sauvignon (81.6% Cabernet Sauvignon, 5.6% Cabernet Franc and 12.8% Petit Verdot) is medium to dark ruby in the glass; the wine offers a sweetness of aromas on the bouquet, especially as it breathes – including of fig and dark cherry along with notes of Graham Cracker, espresso and an Asian 5-star spice. Also notes of old cedar box and a subtle hint of green pepper. The tannins are earthy, rounded with a noticeable density. Long lasting with a medium grip. Lingers with notes of red licorice, rose stems and dried tobacco leaf. Long lasting tannins with a liveliness and freshness across the palate, both in fruit and acidity.
The 2016 Anomaly Vineyards Cabernet Sauvignon (84.6% Cabernet Sauvignon, 4% Cabernet Franc and 11.4% Petit Verdot) offers aromatics which highlight not only fruit but other layers within; the bouquet offers notes of black raspberry, shishito peppers and tobacco smoke with hints of clove and cardamom deeper into the aromatics. Balanced across the palate, offers flavors of red cherry, currant and some graphite notes. The textural density is a hallmark of this wine with earthy well-integrated, yet long lasting tannins of medium grip. Lingers with a hint of dried tobacco leaf on the fringes of the finish along with white pepper and old cedar box. Shows quite nicely 5 years post vintage date at the time of our tasting.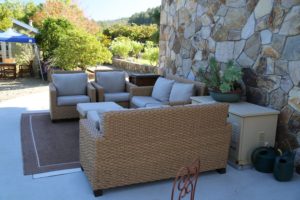 2011 in Napa Valley was a challenging growing year with cold temperatures and rain at inopportune times between spring and autumn. This wine reflects this particular growing season well. The 2011 Anomaly Vineyards Cabernet Sauvignon shows characteristics not as commonly found in the Napa Valley but more so during a cool year in Bordeaux. On the bouquet it shows more red fruit than dark fruit with notes of dust, bell-pepper, and cigar smoke. This is a very balanced wine with excellent acidity and delicate tannins that linger for some time. The finish shows a slight tartness; this wine will have good age-ability.
Contrasting the 2011 vintage with the following year (2012), one immediately notices remarkable differences between the two wines. The 2012 Anomaly Vineyards Cabernet Sauvignon shows bright lively fruit aromatics complemented by dessert/baking spices (cinnamon) and toasted cedar. The wine is mouthwatering on the palate, showing more robust, yet tannins with a chalk-like texture that persists much longer than the 2011 vintage.
During our first visit to the property, we tried the 2004 Anomaly Vineyards Cabernet Sauvignon. This is a very approachable wine that is food friendly with a seamless texture across the palate; this 'feel; is one of its appealing characteristics. It has perfectly balanced tannins with rich layered fruit and a pleasing supple finish. Shows hints of cherries, cocoa and select other herbal notes. Like their early vintages (which we tried years later) this wine should also age quite nicely.
Their most coveted wine is called Designation; its inaugural vintage was only 2 barrels in 2009 and in more recent years has seen a production of up to 12 barrels. It is a barrel selection each vintage of what the winemaking team feels will create an exceptional wine. Each bottle is assigned a specific number as printed on the label. This wine is only available to active allocation list members.
—
The branding on each of their bottles is of a coyote howling at the moon. A Fort Bragg based artist created a beautiful solid bronze likeness of this image; the original statue is housed in their cellar. And Florida based Tupee Studios oversaw the design of their label and packaging.
The wines are distributed in select restaurants in a number of states including Michigan and Nevada and California. Locally the wines can sometimes be found at the French Laundry and at Meadowood. Anomaly is also involved in several charity organizations. Those interested in staying updated from Anomaly Vineyards can join their mailing list online.
For more information, to schedule an appointment or to join the Designation Club (choose from one of several tiers), visit: www.anomalyvineyards.com or their very informative but no longer updated blog: http://anomalyvineyards.blogspot.com
Winemaking