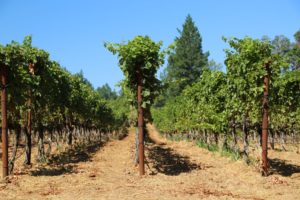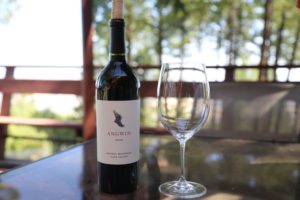 Angwin Estate Vineyards was founded by Jon Larson (died early 2022) and his wife Angela Henszel with their first vintage from 2011. This tiny (approximately 2 acres) extremely rocky vineyard is located at about 2,150 feet on the slopes of Howell Mountain. This part of Napa is special and an area I have always gravitated to for the views, the vegetation (very similar to what grows at an equivalent elevation in the Sierra Nevada Mountains to the east) and the often-rocky red soils. Views from the property are impressive – with glimpses of Pope Valley far below between the pine trees. And when there is fog in the valley and the property is drenched in sunshine – the views are even more memorable.
Jon spent a number of his childhood years growing up on this property; his parents purchased this land in the 1970s (after the family moved here from Los Angeles). It was not planted to wine grapes at that time but rather was planted to fruit trees, table grapes and vegetables. As a fairly 'remote' property, he and his brothers were free to explore the surrounding woods; the feel here is quiet and serene about as far as one can get from the freeways of Los Angeles.
Jon left to pursue a career in medicine. He studied Molecular, Cell and Developmental Biology at Princeton. While at the University of Nevada, Reno – he was working in Las Vegas where he met Angela. Both moved around the country for work, Jon practicing as a General and Thoracic Surgeon and Angela as an anesthesiologist.
In 2002 Jon received a call from his brother Bjorn (owner of tiny Bjorn Vineyards) who told him he was working on a job nearby their family's property on Howell Mountain and was wondering if they should take advantage of his timing and prepare part of their own property for vineyards. Jon gave him the ok and they planted their first vines in 2002. Jon sold grapes in subsequent vintages until 2011; today all the fruit from the property is used for their own wines.
When it comes to wine making and vineyards, growing up in Napa Valley has its distinctive advantages. Jon became friends with a number of vintners in the valley including continuing a friendship which started in elementary school in Los Angeles with Napa's Brown Estate winemaker, David Brown. In addition, he has known Lisa Togni for many years – among other winemaker friends. Jon considers Philip Togni one of his mentors and consultant and calls upon Philip as needed for wine making questions. Philip is one of Napa's most treasured winemakers – now into his 90's he is still very much involved in every harvest for his own winery on Spring Mountain.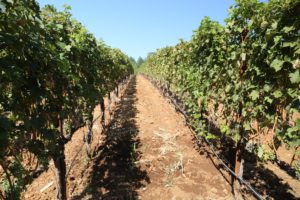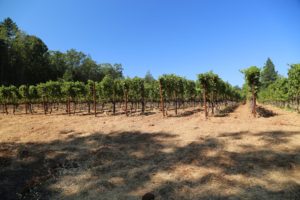 Jon relishes in the challenges of growing and maintaining the health of grapes (100% Cabernet Sauvignon) on a site that comes with a number of inherent stresses. There are no immediate vineyard neighbors, and the property is surrounded by natural forest vegetation. They have no frost control protection (would be difficult to implement such a system) and constantly face a barrage of grape vine diseases (Eutypa – otherwise known as the 'dead arm disease' or Armillaria – otherwise known as 'oak root fungus'). But as Jon told us, now retired from medicine, "the feeling from when a grapevine dies, is certainly a different feel than being responsible for operating on someone who doesn't make it through surgery."
And by no means are these diseases confined to just his vineyard, they certainly also effect other vineyards in Napa Valley.
Rather than replace diseased vines, in a number of cases he was able to mitigate the problems caused from the various diseases and resuscitate the grapevines (even after a number of experts told him particular vines were not worth saving).
Their yields vary dramatically from year to year but are always small. One year saw as little as only 2/3 of a ton from the 2 acres while they harvested slightly over 4 tons another year.
Jon was very much involved in much of the viticulture and day to day farming (although he did have some vineyard help). He farmed the vineyard as organically as possible using no insecticides rather introducing ladybugs and lacewings to eat the harmful insects. A diversity of cover crops and other plants grown near the vineyard to create a habitat and diversity of vegetation for beneficial insects. And Jon introduced an innovative way to control gophers; spreading peanuts far enough away from the gopher holes so that the gophers would have to crawl quite some distance. The waiting hawks in the nearby trees would then swoop down and eat the gophers. This worked well until some animal started eating the peanuts…the unique challenges of maintaining a healthy micro-hillside vineyard.
2011 was a difficult year to enter the wine market in Napa Valley. It was one of the coolest years in recent memory with rain lasting late in Spring and arriving again early in the Fall. This was especially challenging for Jon – as he and Angela had recently moved back to the Napa Valley only to discover their vineyard needed significant work. Jon recalls spending hours, as he describes it, "crouching in the Rodin thinker position" among the vines sampling grapes and removing a significant amount of the crop to ensure only the best fruit remained for their final pick.
The 2011 Angwin Estate Vineyards Cabernet Sauvignon (already sold out at the time of our tasting) is an impressive wine from this vintage. Very approachable 6 years after vintage it shows an appealing elegance and ripeness on the boquet (not overripe). Aromas of red cherry, the inside of a cedar box, graphite and red licorice. As it opens it reveals subtle floral notes. Nicely balanced and very approachable on the palate. Good acidity – a clean finish shows more fruit then feel of tannins.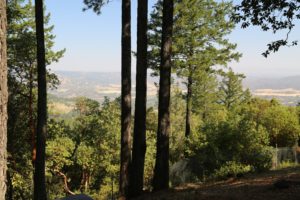 Jon made the wine at Judd's Hill Winery since his first vintage. He embraced the 'learn by doing' philosophy over the years. He worked on his own schedule and was able to have full control of his own wine making (often at larger custom crush facilities one works around a set schedule and aren't always able to personally do the hands-on work). During aging the pressed wine and free run juice are kept separate from each other – blending only to create the final wine. The Angwin Estate wines typically range in alcohol levels from the upper 13s to the low 14s.
Jon often grappled with a particular question, "What is quality in wine" – is it a style – approachable upon release, or built to age, alcohol levels, can you gain quality by manipulations during the wine making process, and from his medical background and perspective, is quality found in the health attributes of wine? Perhaps the relentless pursuit of quality is a collection of all these components. And from his days of surgery where he could enjoy small amounts of wine between workdays but not necessarily finish an entire bottle, quality of a wine that is opened and then can be revisited days or weeks later is very important to him.
As a result of select wine making techniques his wines can be opened and consumed days later and still hold up in quality. To test this, prior to every vintage release Jon and Angela will open a bottle of their young wine (replacing the cork) once a week to see how long it will last before noticeably changing in aroma and flavor. Some wines they have tested this on have lasted nearly two months before they become unpalatable. Consumers may not necessary want to keep an opened bottle of their wine that long – but these wines can hold up quite well for some time after being opened.
The 2012 Angwin Estate Vineyards Cabernet Sauvignon is the current release at the time of this review. The bouquet immediately piques one's interest – it shows an initial spice or pepper note along with a jalapeno pepper and or bell pepper (a smell of a cooked bell pepper, not one that is fresh). Neither of these are unpleasant aromas and are combined with ripe blackberry aromatics and aromas of dried rose petal. The palate shows a richness of flavor that persists through a rather long finish. Like the 2012 vintage, the finish is more about the fruit rather than the dominance of tannins or oak.
2013 was generally considered an ideal growing year in Napa, often producing wines that are intense in flavor and structure. The 2013 Angwin Estate Vineyards Cabernet Sauvignon is noticeably dark in the glass; it is a bit savory aromatically and reveals layers of dark fruit on the bouquet complemented by a subtle sage nuance and eventually opens to subtle hints of mocha. Smells ready to drink young but this is a vintage and wine that needs some time to really open. Showcases a diversity of dark fruit on the palate with a cigar smokiness and notes of cedar with young still somewhat tight and astringent tannins at the time of our tasting. This wine certainly has power at the outset and with good acidity, fruit and structure should age well for many years.
A second label, called The Kissing Trees is named after two large Madrone trees that grow next to the vineyard. These trees grow so that they are bent over with their canopies touching each other. This wine is hand crafted based on barrel selections that are not used in their primary wine.
Their wines are sold through a growing mailing list and are selectively distributed in California (locally at ACME Wine Shop in St. Helena and V Wine Cellars in Yountville), among others – and in Texas and Florida.
For more information about this extremely passionate producer, and or to join their mailing list, visit: www.angwinestatevineyards.com