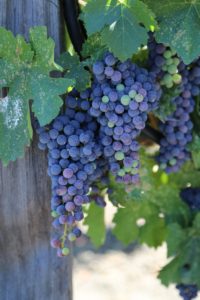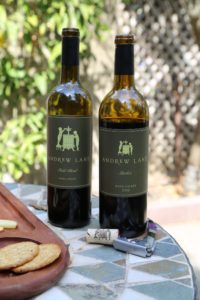 Andrew Lane Wines has a long history of producing wine in the Napa Valley – dating back to 1978; they were founded by David (since deceased) and Sandee Dickson. Over the years, the Dickson Family has also been involved in a diversity of businesses. Relatives in the early 1900's ran one of Canada's largest canneries along the Frazier River (near Vancouver), later other relatives were involved in the ketchup business and the airline industry. Sandee and David's son Andrew Dickson describes the progression of his families various business involvements as starting with the 'provisions era' to the 'convenience era' to finally the 'gourmet' era with his family's own contributions to Napa's wine industry.
David first visited the Napa Valley in 1969 – at the urging of his mother to look at a cannery business in nearby Solano County. Being a surfer (who was living in Southern California), he surfed most of his entire trip up and down the state. Falling in love with the natural beauty of the Napa area, he moved here in the early 1970's. He met noted area vineyard manager and vineyard developer, Rex Geitner. Based on some of Rex's vineyard contacts, he was able to provide grapes to David – and David would make wine and then provide bottles of wine as a token of his appreciation to whoever had provided the grapes.
David made home wine and used to enter some of his wines in the state and county fairs. In 1983 his Sauvignon Blanc won the Best of Show award at the well-regarded (at the time) Napa Town & County Fair. David made his wines at a property the family still owns – an acre they call their 'garagist' operation or winery cottage near Deer Park (below Howell Mountain).
In 2002, Andrew decided to build upon his father's efforts and start producing wine commercially. Andrew studied Journalism at the University of Montana in Missoula (later changed to economics) and learned wine making from his father (who was never formally trained but learned by doing and working with others who had more experience). For a number of years they made their wine in Emeryville (Alameda County), then in Sonoma County and in 2016 they plan to make their wine at a small family owned winery in Howell Mountain.
When David was making his home wine, the label was an image of a frog & toad – inspired by reading the book, "Frog & Toad's Big Adventure" to his children which tied in well with chorus of sound made most nights by the frogs living near their cellar. After Andrew started producing wine commercially, they changed the name to honor both he and his brother – combining each of their first names – Andrew and Lane. Later he changed the label to an image of he and his brother (when they were young) looking into an old press – Andrew is standing on the right side of the press. Incidentally the press depicted on the label represents the actual press David acquired in a trade for one of his Mickey Munoz surfboards in 1983. Andre still uses this press every harvest.
Today Andrew is the winemaker and his brother Lane helps to some extent with selling it; Andrew calls him their "east coast ambassador".
Andrew Lane has never owned vineyards in the Napa Valley. They source all their fruit from premium area vineyards – often with long term contracts that date back many years – using Rutherford, St. Helena and parts of far eastern Napa County.
While their focus is on red wines they do produce a very tiny amount of Napa Carneros grown Chardonnay blended with a small amount of Muscat Canelli. Andrew named this wine the Boxing Girl in tribute to his daughter who he calls "tough" but in reality he says, "she floats like a bee but does not sting like a bee."
Currently they focus their production on Cabernet Sauvignon, Cabernet Franc, Merlot, and a Gamay Noir, a relative of Pinot Noir. Gamay is a varietal which used to be one of the most abundant varietals planted in Napa County. Andrew attributes its historic popularity in Napa to two events. One was a Charles Krug field blend – a Gamay Noir centric wine that earned a World's Fair gold medal in Belgium for their 1948 vintage. The other was when Elvis Presley was in the Napa Valley in the early 1960's filming for his movie, Wild in the Country. One of his film locations was at Battuella Vineyards in St. Helena (long time Napa growers) in a vineyard with Gamay vines. Andrew Lane continues to source from this vineyard for their Napa Gamay.
Over time this varietal fell out of favor and today there are very few vines within Napa. Production of this wine is very small due to the less then 1 acre vineyard they source from, and as a result it often sells out rather quickly. They are one of the very few Napa wineries producing a varietal Napa Gamay.
Select Wines
The 2010 Andrew Lane Rutherford Cabernet Sauvignon was the last wine Andrew's father helped work on. It was blended with some Merlot and Cabernet Franc. The bouquet is very inviting and focuses on the fruit – with blackberry, is somewhat briary and has a spice component (cardamom) along with hints of mocha. The Cabernet Franc brings its own varietal characteristics to the bouquet – no greenness but a floral component. The richness of aromas carries onto the palate – with generous flavors of ripe fruit and approachable tannins.
The 2012 Andrew Lane Rutherford Cabernet Sauvignon has the same vineyard sources at the 2010 but without the Cabernet Franc. The absence of this varietal changes the complexity of the bouquet – this vintage shows more red fruit then darker fruit – raspberry and red currant. It is superbly balanced on both the bouquet and the palate with both fruit and nuances of smokiness. The aromatics are bright and lively, continuing onto the palate with great acidity. Clean smooth finish.
The 2010 Andrew Lane Merlot shows a voluptuous bouquet with spicy aromas, mixed with fruit and notes of cardamom. There is a hint of oak but it is more in the background. On the palate there is a sweetness of fruit initially. Very balanced with delicate tannins. Drinks very well by itself. A very pretty and inviting Merlot.
—
They always release a vintage field blend each year but one year they released a non vintage field blend of four varietals, Zinfandel from the well-regarded Beatty Ranch on Howell Mountain, Napa Gamay, Carignan and Petite Sirah. This non vintage is balanced nicely in the glass and on the palate. On the bouquet there is a savory herbal characteristic – green tea with notes of black olive. The palate shows a nice balance between fruit, acidity and structure showing more red then darker fruit. Nice food wine. Andrew was doing a tasting in Monterey California – Clint Eastwood was one of the guests. Andrew noticed Clint was enjoying his field blend – later he was told Clint usually drinks Margaritas. Not a bad sign when a Margarita drinker chooses your wine instead.
The most wine they made was around 2,000 cases/year – today their production is much more manageable at about 300 cases. Andrew focuses most of their sales direct through the website but maintains select restaurant distribution in San Diego, Monterey and the Silicon Valley. Locally the only place the carries his wine is Backroom Wines in the City of Napa.
Napa Valley Paddle
While busy with making and selling the Andrew Lane wines, Andrew has also built a formidable Stand Up Paddle boarding and tour business. He was the first to introduce Stand up Paddle boarding to Napa – and now offers both trips on the Napa River as well as from downtown Petaluma in neighboring Sonoma County (where he owns Petaluma Stand up Paddle). Paddle boards and kayaks can be rented by the hour or daily.
Andrew also offers several guided trips including a unique experience built around water and wine – what he calls his Beaujolais + Oysters trip. Guests stand up paddle board on the Napa River, work up an appetite and then later enjoy both oysters paired with the Andrew Lane Gamay. The inspiration for this came from a wine business trip to Los Angeles. He met someone who has just returned from France, Andrew tasted him on his Napa Gamay and the suggestion was that this wine would be perfectly matched with oysters.
Other Napa River experiences including fishing, a full moon paddle and paddling combined with a picnic.
For more information about Andrew's area Stand up Paddle boarding trips and experiences, visit: www.napavalleypaddle.com
—
NOTE: last Napa wine was from 2012 and wine produced from 2015. Will keep an eye on this producer to see if they produce any more newer vintages.
For more information or to join their "wine society" wine club, visit: www.andrewlanewinery.com