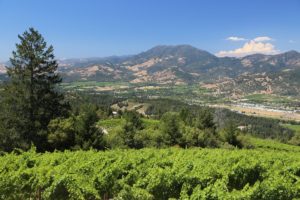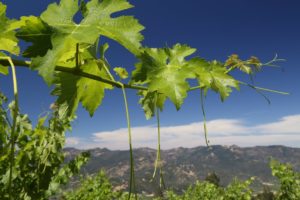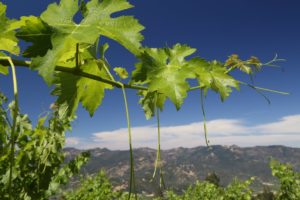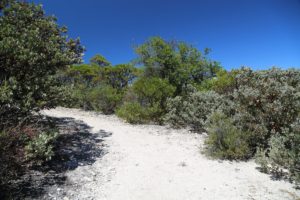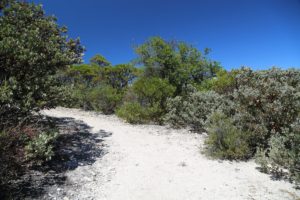 Andrew Geoffrey Vineyards is located towards the top of Diamond Mountain Road and features some of the best views in the entire northern part of Napa Valley. This is one of those under-the-radar hillside Napa producers that only those "in the know" will ever discover. This site is a vineyard only as there is no winery located here – rather the wines are made at a small family owned winery in the southern part of the valley. The vineyard and brand was founded by vintner and retired lawyer, Peter Thompson, one of the hardest working vintners in all of the Napa Valley.
The name of the winery comes from the first names of Peter's two sons, Andrew and Geoffrey. Following in his father's footsteps, Andrew is a lawyer in the San Diego area and Geoffrey studied at the Culinary Institute of America and is an accomplished chef currently working in the Chicago restaurant scene.
This is the only mountain vineyard in the Napa Valley that we have visited, accessed via a well cleared trail through chaparral to actually reach the vines. The trail to the vineyard is short and ends at a deck that affords one 180 degree views of the Napa Valley and nearby mountains including the tallest, Mt. St. Helena. A 1000 square foot redwood deck is the only structure on the property.
The 13+ acre vineyard sits at almost 2000 feet and usually receives a light dusting of snow each year. One year there was enough snow to take sleds down the hill in between the vine rows. Peter has held a coveted permit to plant more vines on his property for many years and in 2020/2021 the additional acreage will finally be planted to Cabernet Sauvignon. In addition to grapes from the property used for his own wines, Peter also sells grapes to several premium Napa Valley based wineries.
Peter first fell in love with the Napa Valley while attending college at the University of Southern California (USC) in Los Angeles. During a trip north in the early 1970s to attend a USC Stanford football game, his friends took him north to the Napa Valley for some wine tasting. Knowing next to nothing about wine he soon became hooked by the industry. His career was non-wine related (other then an educated consumer of wines) until 1999 when he retired from law in San Diego.
During the mid 1990's he spent 2.5 years looking for a prime piece of hillside Napa Valley property before settling on the totally undeveloped brush covered land on some of the highest slopes of the Diamond Mountain Appellation. He remembers first visiting the property – parking his vehicle because he could drive no further and walking down a brush-covered fire road. He was able to see glimpses of the valley far below through all the trees but had no idea of the spectacular views from here until he actually cleared the land for the vineyard.
In addition to law, Peter's background is also in geology; each part of the vineyard was carefully planted based on soil type in relation to which varieties and rootstocks would grow the best. This vineyard is predominately planted to Cabernet Sauvignon (78%) with smaller plantings of other red varieties including Cabernet Franc (18%) and Petit Verdot (4%). The vineyard is composed mostly of tuff and tufa along with a smaller percentage of volcanic ash (hence the whiteness of some the rock in the vineyard). Water is available here, but in any usable quantity, is located very deep – their well was drilled down 850 feet.
Several clones are planted on this hillside vineyard and during the wine making, each clone is treated separately. As a result, the individual clones are fermented and aged apart from each other – this gives Peter's veteran consulting winemaker (John Gibson) additional options when crafting the final blend. For instance if there is a block of the vineyard that isn't up to their quality standards, it will be left out of the final blend.
Select Wines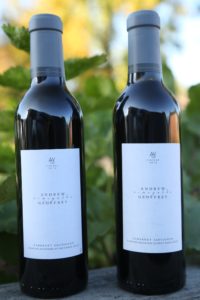 Typically only one wine is produced each year – a delicious Cabernet Sauvignon. This wine will always be predominately Cabernet Sauvignon based but the other varieties in the blend will change depending on the vintage. Single variety productions of Cabernet Franc and Petite Verdot are only available to club members as these are usually produced in quantities of only 25-50 cases each vintage and are not made every year.
The current release Cabernet Sauvignon tends to receive a bit more age then many wineries' current releases. Unlike many wineries that don't have library wines available for sale – Peter holds back some of his older vintages and refreshingly, they are available at the same price as his current releases. The 2003 Andrew Geoffrey has a solid backbone, rich in black fruit including dark cherry with a wonderful supple mouth-feel. This is a premium Napa Valley hillside grown wine.
The 2012 Andrew Geoffrey Vineyards Cabernet Sauvignon. Dark red in color offers both an opulent and an elegant bouquet with aromas of blackberry jam and ripe black cherry complemented nicely by hints of vanilla. There is a sweetness to the fruit aromatics but not an over-ripeness. Also darker sweet desert spices and additional redolent aromas of old cedar box. On the palate shows darker fruit notes including plum and blueberry. A fine showing of polished and chalky tannins runs the profile of the palate – structurally, shows a noticeable density of tannin which lingers on a very long finish along with notes of cedar and dark spice. This is a very balanced offering.
The 2014 Andrew Geoffrey Vineyards Cabernet Sauvignon is dark garnet in the glass – reveals dark fruit aromatics including blackberry; the bouquet also shows notes of saddle leather, bacon fat, truffle oil, black licorice and some spices including cardamom and clove – but the aromatics are primarily about the gorgeous fruit. A slight bit savory in its aromatic presentation. Offers plenty of depth and layers on the palate. The tannins are more tightly woven then the 2012 (a younger wine) but still shows that classic Andrew Geoffrey structure – fine-grained with density, slightly chewy on the finish.
—
Peter often takes the Andrew Geoffrey wines on the road (to select locations across the country and sometimes internationally) – hosting intimate winemaker lunches or dinners at restaurants or people's homes. He is a talented chef; we had a peak at his menu and the entrees are sure to make one's mouth water including the Gran Padano Italian cheese, a special sausage he sources from a premium purveyor in San Francisco, a dry rubbed Chateaubriand and a delicious arugula salad (the recipe created by his son Geoffrey).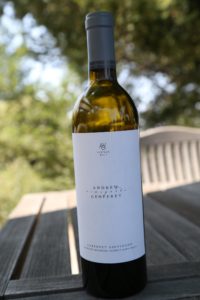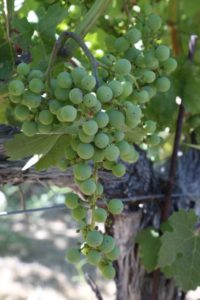 Peter also hosts special wine, food and travel cruises focusing on specific regions within Europe. These are small river cruises – the focus of the wines on board are select vintages of Andrew Geoffrey. Guests also can choose to accompany Peter on pre and post trips either before or after the river cruise.
With very few exceptions, the wines are not distributed and are only sold direct. A limited number of large format bottles are available. For more information or to join the mailing list, visit: www.andrewgeoffrey.com