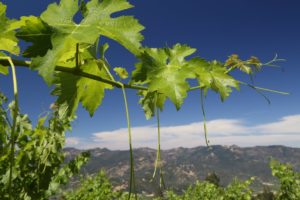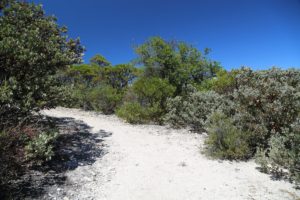 Andrew Geoffrey Vineyards is located towards the top of Diamond Mountain Road in the Diamond Mountain District and features some of the best views in the entire northern part of Napa Valley. This site is a vineyard only as there is no winery located here – rather the wines are made at a small family-owned winery in the southern part of the valley. The vineyard and brand were founded by vintner and retired lawyer, Peter Thompson (no relation to Peter Thompson Wines in Penola, South Australia). Peter is one of the hardest working vintners in all of Napa Valley.
The name of the winery comes from the first names of Peter's two sons, Andrew and Geoffrey. Following in his father's footsteps, Andrew is a lawyer in the San Diego area and Geoffrey studied at the Culinary Institute of America and is an accomplished chef who spent a number of years working in Chicago.
When Andrew was around 9 years old while in school, he created a rough image of the initials AGV. Peter brought this to his label designer Tony Austin who stylized it; this is on the front of every Andrew Geoffrey bottle of wine. Geoffrey was several years younger at the time and wanted his own design on the bottle. One day after tracing a large image of a grape at school, he approached his father and asked if this image could be put on the bottle. So, Peter went back to Tony who was anticipating this might happen, Tony resized the image and this appears on the back label of all their wines.
The 66-acre site (16.5-acre vineyard) sits at almost 2000 feet and usually receives a light dusting of snow each year. One year there was enough snow to take sleds down the hill in between the vine rows. Peter has held a coveted permit to plant more vines on his property for many years and did so in mid 2021. This additional acreage was planted to clone 169 Cabernet Sauvignon. In addition to grapes from the property used for his own wines, Peter also sells grapes to several premium Napa Valley based wineries and has sold or is selling to notables such as Jackson Family Estates (Cardinale and Lokoya brands), Haber Family Vineyards and Gamble Family Vineyards.
The vineyard used to be accessed via a well cleared trail through chaparral. The short trail ended at a deck which afforded one 180-degree spectacular views of the Napa Valley and nearby mountains including the tallest, Mt. St. Helena. In 2020 the Glass Fire severely burned through the Diamond Mountain District including through Peter's property and incinerated the deck. Another deck similar in size (approximately 1,000 square feet) has since been rebuilt, slightly above the site of the original deck (which is now planted to grapevines).
Peter first fell in love with the Napa Valley while attending college at the University of Southern California (USC) in Los Angeles. During a trip north in the early 1970s to attend a USC Stanford football game, his friends took him to Napa Valley for some wine tasting. He remembers visiting all six wineries along Highway 29 but wasn't able to visit Christian Brothers in the old Greystone Winery building because his visit was on a Sunday, and they were closed. Knowing next to nothing about wine he soon became hooked by the industry. His career was non-wine related (other than an educated consumer of wines) until 1999 when he retired from law in San Diego.
During the early 1990s he spent 2.5 years looking for a prime piece of hillside Napa Valley property before settling on the totally undeveloped brush covered land on some of the highest and most rugged slopes of the Diamond Mountain Appellation. He purchased this site in 1995. He remembers first visiting the property – parking his vehicle because he could drive no further and walking down a brush-covered fire road. He was able to see glimpses of the valley far below through all the trees but had no idea of the spectacular views from here until he actually cleared the land for the vineyard. Peter purchased this property from the Bechtel family (reference Bechtel Corporation); the Bechtel's originally owned a much larger piece of land but subdivided it into smaller parcels.
Peter was also part of the four core individuals that founded the Diamond Mountain District in 2001 including Rudy von Strasser, Norm Kiken and Al Bronstein. The AVA starts at 400 feet in elevation and covers up to the Sonoma County line at the top of the Mayacamas mountains. The total AVA is 5,000 acres.
And the site has numerous exposures ranging from north and south facing to vines planted in a westerly direction (unusual in the fact that the slopes on Diamond Mountain typically face east.
In addition to law, Peter's background is also in geology having worked a year for an oil company. The vineyard is composed primarily of volcanic ash (hence the whiteness of the rock in the vineyard) along with tuff and tufa. One can almost call this site a moonscape. The volcanic ash has a chalk-like very fine texture and when dry and the wind blows, it quickly becomes airborne. As a result of the soil composition, the vineyard is extremely well drained. There is absolutely no shortage of rocks on the property; this is among some of the rockiest vineyard sites that we have visited in Napa Valley.
An existing well was on the property when Peter purchased the site, but it was not a very productive well. So, Peter had another well drilled. He hired Laurie Wood, grape grower and water witcher to walk the property. Peter recalls the original well was closed off and then covered with topsoil; Laurie walked right over it in his search for water and mentioned something like, "there is water here but let's see if we can find more." He chose a spot to drill and hired Huckfeldt Well Drilling (for several years this family produced their own wine brand, Igneous Wines). After reaching 500 feet Peter called Laurie and asked where the water was; Laurie said to keep drilling. Peter kept calling Laurie every subsequent one hundred feet but still no water. Finally, they reached 850 feet, found a layer of sand, drilled through that and reached an aquifer which was so strong that water blew some 60 feet into the air.
Each part of the vineyard was carefully planted based on soil type in relation to which varieties and rootstocks would grow best. The vineyard is predominately planted to Cabernet Sauvignon (78%) with smaller plantings of other red varieties including Cabernet Franc (18%) and Petit Verdot (4%).
Three individual clones of Cabernet Sauvignon are planted and during wine making, each clone is treated separately. As a result, the individual clones are fermented and aged apart from each other; this gives Peter's veteran consulting winemaker (John Gibson) additional options when crafting the final blend. For instance, if there is a block of the vineyard that isn't up to their quality standards, it will be left out of the final blend.
Peter first met John at a joint wine event hosted by the Napa Valley Vintners and the Napa Grapegrowers at Vine Cliff Winery in the mid 1990s. John remembers Peter telling him that he had just purchased a sizable piece of land on Diamond Mountain that was completely forested and Peter asking him if he could offer insights on how to develop this raw land to a vineyard. John had no experience developing forested land to a vineyard but knew someone who did. John introduced Peter to Rex Geitner, who was vineyard manager for Warren Winiarski at the time at Stag's Leap Wine Cellars. Rex had also worked with vineyards on Diamond Mountain including Diamond Creek and Sterling Vineyard's property.
Select Wines

Typically only one wine is produced each year – a delicious mineral laden Cabernet Sauvignon. This wine will always be predominately Cabernet Sauvignon but will be blended slightly with several of the other varieties growing in the vineyard, depending on the vintage. Single 100% varietal bottlings of Cabernet Franc and Petite Verdot are only available to club members as these are usually produced in quantities of only 25-50 cases each vintage and are not made every year.
The current release Cabernet Sauvignon tends to receive a bit more age than many wineries' current releases. Unlike wineries that are sold out of library wines, Peter holds back some of his older vintages and refreshingly, they are available at the same price as his current releases.
The 2016 Andrew Geoffrey Vineyards Cabernet Franc offers an elegant riper bouquet with aromas of dark cherry, black currant, a hint of mocha, old cedar and tobacco leaf. I'm not sure we could pick this out as a Cabernet Franc from a lineup of Cabernet Sauvignon. Well layered across the palate, this wine shows more dark fruits than red fruits including plum and blackberry. Offers a somewhat savory finish with tighter, drying tannins which linger for some time along with some notes of cracked peppercorn. Good acid, and while certainly a bigger showing of this variety both in flavor and alcohol, it is still nicely balanced.
In 2016 Peter made a very limited production wine from the only two rows that wrap around the entire vineyard footprint on his property.
The 2014 Andrew Geoffrey Vineyards Cabernet Sauvignon is dark garnet in the glass – reveals dark fruit aromatics including blackberry; the bouquet also shows notes of saddle leather, bacon fat, truffle oil, black licorice and some spices including cardamom and clove – but the aromatics are primarily about the gorgeous fruit. A slight bit savory in its aromatic presentation. Offers plenty of depth and layers on the palate. The tannins are more tightly woven then the 2012 (a younger wine) but still shows that classic Andrew Geoffrey structure – fine-grained with density, slightly chewy on the finish.
The 2012 Andrew Geoffrey Vineyards Cabernet Sauvignon. Dark red in color offers both an opulent and an elegant bouquet with aromas of blackberry jam and ripe black cherry complemented nicely by hints of vanilla. There is a sweetness to the fruit aromatics but not an over-ripeness. Also, darker sweet desert spices and additional redolent aromas of old cedar box. On the palate shows darker fruit notes including plum and blueberry. A fine showing of polished and chalky tannins runs the profile of the palate – structurally, shows a noticeable density of tannin which lingers on a very long finish along with notes of cedar and dark spice. This is a very balanced offering.
Because of the elevation of the site, the vineyard has less temperature variation than lower elevation sites and the vines are typically above the valley fog. This was ideal during the cooler and wetter 2011 vintage in particular, when unusually cooler temperatures and an abundance of fog blanketed the valley and the lower slopes. Peter recalls critics had already released their negative reviews of the 2011 vintage even prior to harvesting his own grapes! For the record, 2011 was an excellent vintage for Andrew Geoffrey.
The 2011 Andrew Geoffrey Vineyards Cabernet Sauvignon offers a very distinctive bouquet that hints at the vintage, offering slightly different aromatics than the other Andrew Geoffrey wines. Still shows a sweetness of fruit on the nose that a number of the older vintages also display, but with some slight pyrazine notes which complement rather than detract from the bouquet including aromas of rose stems, jalapeno pepper and a dust note. Offers lovely mouthwatering flavors across the palate, lingering with finely grained dusty, almost chalk-like tannins. This is clearly one of the nicer 2011s we have tried over the years.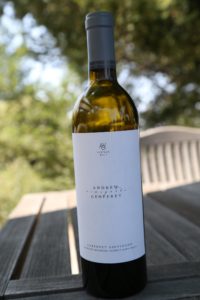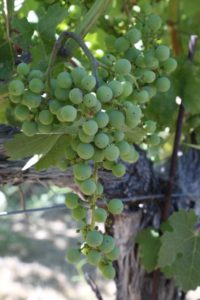 The 2008 Andrew Geoffrey Vineyards Cabernet Sauvignon (tasted 12 years post vintage date) is dark ruby in the glass. The bouquet offers aromas of sweet red and black licorice, tea leaf, dark olive, old saddle leather and some trailing desert spice aromatics including mocha, clove and cardamom. The entry is plush with flavors of blackberry and plum. The tannins are medium bodied, abundant and dense but not course in their textural feel. Sports a slightly earthy, darker finish with notes of white pepper.
The 2007 Andrew Geoffrey Vineyards Cabernet Sauvignon (tasted 13 years post vintage date) is noticeable dark ruby in the glass. This wine has held its color very well over the years. Offers ripe plum aromatics and a fruit sweetness throughout the bouquet including black licorice. Also features a ripe sweet very ripe plum note to the aromas that we have sometimes enjoyed in 100% varietal Syrah. Just a hint of dried tobacco leaf. Shows some similar desert spice notes as the 2008 vintage. Offers a noticeable richness of fruit across the palate, complemented by a mouthwatering brightness. This wine is well-layered. Lingers with medium bodied (yet dense in feel), dusty and earthy tannins which persist for quite some time. Still lots of life ahead of this big boy.
—
Peter often takes the Andrew Geoffrey wines on the road (to select locations across the country and sometimes internationally) – hosting intimate winemaker lunches or dinners at restaurants or people's homes. He is a talented chef; we had a peak at his menu and the entrees are sure to make one's mouth water including the Gran Padano Italian cheese, a special sausage he sources from a premium purveyor in San Francisco, a dry rubbed Chateaubriand and a delicious arugula salad (the recipe created by his son Geoffrey).
Peter also hosts special wine, food and travel cruises focusing on specific regions within Europe. These are small river cruises – the focus of the wines on board are select vintages of Andrew Geoffrey. Guests also can choose to accompany Peter on pre and post trips either before or after the river cruise.
With very few exceptions, the wines are not distributed and are only sold direct. A limited number of large format bottles are available. And Peter crafts a limited number of private-label wines for a client. For more information or to join the mailing list, visit: www.andrewgeoffrey.com